Return to the Home Decorating Forum
|
Post a Follow-Up
---
| | | |
| --- | --- | --- |
| Teach me more about mixing furniture styles/what works | | |
Posted by
chinchette
(
My Page
) on
Sat, Nov 27, 10 at 20:01
I've been wishing that I could in the future use a bit of my mom's beautiful French Provincial furniture BUT my style is nothing at all like that. We have some modern, some transitional. Mostly simple lines.

I was reading about what Mag said about contrast, but is there any situation where the curves of the French Provincial could mix with the modern well? I would love to have a piece that reminds me of the family, and it was made so well compared to my contemporary furniture. I feel like a jerk for letting it all go to my brother and not saving one piece. Not that he wouldn't love it, but he's got almost all of it already. What if I took an arm chair from the dining set, or two of them. What could I do with that? Is it just a bad mix? Do you have any pictures of that style mixed with other styles successfully?
---
Follow-Up Postings:
| | | |
| --- | --- | --- |
| RE: Teach me more about mixing furniture styles/what works | | |
I hope this gives you some ideas.

Our DR chairs are 30 yr old Italian Provencial with an old world appearance. I wanted to paint them black but was talked out of it. The table is modern, plainn and simple. We went with modern print for the chair pads. It's hard to see the chandy's true dimensions, it is art deco influenced and is larger than it appears. We are planning on using oversized modern art over our mirrored buffet which we did not have when I snapped this picture.
---
| | | |
| --- | --- | --- |
| RE: Teach me more about mixing furniture styles/what works | | |
Or more funky:

Here is a link that might be useful: source for photo
---
| | | |
| --- | --- | --- |
| RE: Teach me more about mixing furniture styles/what works | | |
Do I really spy a houseplant with a black plastic pot with a price sticker on it in that room?! Oy.
---
| | | |
| --- | --- | --- |
| RE: Teach me more about mixing furniture styles/what works | | |
I love your sofa gwbr. My mom had a lamp like that when I was growing up or something similiar.
I wonder if people match their rooms? Gmbr has a Betsy Johnson vibe going on, only younger.
Chinchette, I would say that a 1960's french provincial bedroom set would never go in a modern bedroom.
But we are not talking 1960 bedroom furniture or even bedrooms.
I would love to see pictures of your living room and dining room, my guess is Mag will want to see pictures as well.
At any rate, if I wanted my mom's chairs I would get them.
---
| | | |
| --- | --- | --- |
| RE: Teach me more about mixing furniture styles/what works | | |
Chinchette, let's face it: there are some things that, put next to each other, simply don't make for a good look, but not as many as you'd think. And even in those cases, often a change of color, or upholstery, or maybe the background against which they're seen will bring things into harmony. In school, we used to have assignments like, after we had our designs for aproject pretty well worked out, the instructor would atand up & say something mot very far off what you're asking about: "OK, class, your client just called. Her great uncle died & she's inherited a family piece that she wants to incorporate in the room. It's not up for discussion." Then we'd have to stick our hand in the envelope & pull something out, praying it would be a picture of beautiful oriental rug or a cool painting or a piece of clasic Modern furniture (and sometimes it was) but just as often, it was a grandfather clock or a hideous lamp that would totally wreck our scheme. Our job was to somehow, figure out a way to incorporate whatever it was and (hopefully) make it look like an invited guest, not a party crasher. Anyway, it can be done. Usually. But to give you any really useful suggestions, we need pictures. Around here, we always need pictures.

While we wait, here's a photo of the lounge of one of Chicago's most prestigious private clubs, known for bringing Modern art to Chicago a hundred years ago, back when the Art Institute didn't want any part of that crazy stuff. The room is stark, high-contrast Modern, but look at the grouping on the right in the color photo: every stick of furniture on that rug has been with the club since Day One, as you can see by the snippets of old black-&-white photos of the club's rooms back in 1919, and it all looks just at home with spotlit satin curtains & black granite floors as it used to be in a pink-walled salon with floral French rugs. OK, they changed the lamopshade and they probably reupholstred the chairs. Maybe in a different color than the one they had when they started out. Not bad for something picked out 90 years ago. The loop-back chairs aren't French Provincial, the way your pieces are, they're Italian Provincial--the real thing, from the early 19th Century--but what's a few hundred miles between countries? You can see how versatile the stuff is. So maybe, with a little tweaking, we can make your family chairs look like they were made for your current room. Then again, maybe not. But we'll never know until we try, so post some pics & we'll see what we can do.
---
| | | |
| --- | --- | --- |
| RE: Teach me more about mixing furniture styles/what works | | |
That room is amazing Maganverde.

Here is another example of mixing. Everything is this room is used with the exception of lamps and headboard. This is our guest bedroom. Headboard is modern (I made it). Bed tables are provencial (of some sort from my Mom's BR) painted black. Mirror is very ornate. Bureau modern from the 1960"s (second hand). There is also an oriental rug in the room. Pictures are from previous home and traditional (sprayed the frames). The headboard is a taupey gray tweed with blue running through it. This is the room I always post when people are talking about painted ceilings. The ceiling and interior doors are RH Graphite.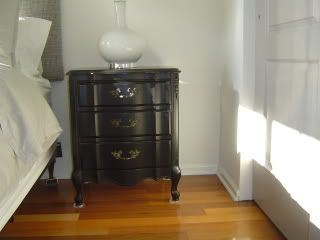 ---
| | | |
| --- | --- | --- |
| RE: Teach me more about mixing furniture styles/what works | | |
Here's my Mom's midcentury modern room divider in my 230 year old colonial. Ignore the moving boxes since we were still setting up this room when the photo was taken. The antelope sculpture is also too modern for my taste, but my Mom loves it. My daughter wants the room divider that will go with the 2 modern sofas and 3 modern coffee tables (not in this picture!) that my parents also bought when they built their new house in 1955. All these things have had to find a place in my house since my daughter lives in a 230 sq ft apartment on Beacon Hill that was once a school.
---
| | | |
| --- | --- | --- |
| RE: Teach me more about mixing furniture styles/what works | | |
I really like looking at the photos of mixed furniture. Thanks. I am trying to find a picture of my mom's chairs but can't find it so I'm looking for one on the net. They were purchased around 1944 by my grandmother and are John Widdicomb and are hand carved and very curvey. A beautiful fruitwood.

Here is a link to a previous thread where you can see my space. The dinette table is leaving and the new one is from Saloom. Its modern. Its from the Skyline collection. Bowtie chairs and an ellipse shaped table. The table will be honey top with black legs. Same with the chairs (4 of them).

I can see where if I had not done this dinette I could have used mom's chairs in the future with a glass table. Oh well. Also, a little tension because my SIL really wants it and lives in a Victorian. But she has all the rest of the goodies, and I'd like to have something from that era when things were made well...
Here is a link that might be useful: old thread with pictures
---
| | | |
| --- | --- | --- |
| RE: Teach me more about mixing furniture styles/what works | | |
Gwbr54
I LOVE that room, and I'd definitely live in it. Which brings me to my small contribution to the OP: have what you love. Indeed there is stuff that doesn't go together but not, as someone said, very much. There is a Greek word: Arete, that refers to the perfect ideal. Some people behave as if there were an unseen Perfect Decorating Book and if one tried hard enough, one could achieve that perfection, in furniture, furnishings, and color. I call BS. There in no one perfect room, style, or combination. Many people copy magazine rooms, but the original didn't have a guide, only a vision.
That doesn't mean there is no art in creating a room,there is. Certainly (for example) there is a huge gulf between cookie cutter stamped cheap hotel rooms, and a modest but beautiful room created be an artist with a light purse but a great eye.
I spose this is more of an answer than you were requesting.
---
| | | |
| --- | --- | --- |
| RE: Teach me more about mixing furniture styles/what works | | |
Ah, sorry. I am not coming up with a good photo of the French Provincial chairs. They aren't exactly like Jerseygirl's, but close enough. They are nice and curvey. They are sort of a cherry color.
---
| | | |
| --- | --- | --- |
| RE: Teach me more about mixing furniture styles/what works | | |

This is the island and kitchen...
and below is the connected breakfast room, minus that farm table and chairs.
href="http://s282.photobucket.com/albums/kk266/smellycatohsmellycat/?action=view&current=IMG_1657-1.jpg" target="_blank">
And this is the dinette that will come soon, but the table will be in an ellipse shape, and have the black legs but the table top and chair seat will be honey color.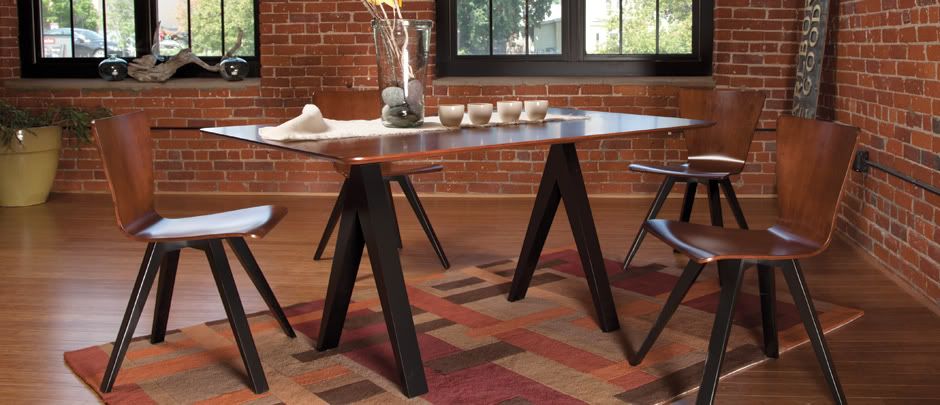 The two legs will be in the center as a pedestal base. Like this:

And here is the connected Great Room

And I do have a separate dining room, but that's not a great match either. I'll show that in a bit.
---
| | | |
| --- | --- | --- |
| RE: Teach me more about mixing furniture styles/what works | | |
Chinchette,

If I remember correctly from a past post, you were thinking about 2 more chairs to add to your new dining furniture. What I visualize from the pictures you just posted, 2 Armchairs from your Mom's set may work and adding a little softness to the straight lines of your furnishings. Mixing always brings additional interest to a room.

I also like clean lines and no clutter but I still find myself needing a little more interest when I am using modern furniture pieces. So, I have the tendency to mix it up a little.

It would be helpful to see pictures of the chairs.
---
| | | |
| --- | --- | --- |
| RE: Teach me more about mixing furniture styles/what works | | |
Thanks for all your responses. I'm very interested in learning how to mix styles. I always thought that my metal chairs were too much competition for anything else near them with detail.

I did find a picture from the 1970s of Chinchette sitting on one of the side chairs. You see, mom is still using her set so its not currently at my house. This is a consideration of who gets them in the future. Sorry this is not much of a photo....I might be able to get a better picture if I can teach mom how to snap one with her cell phone and send it to me. It think you can see how nice the carving is.
---
| | | |
| --- | --- | --- |
| RE: ...Teach me more about mixing furniture styles/what works | | |
Jerseygirl, I do see from your photo that modern glass looks good with curves and I can really see that with modern art. You really like the idea of mom's chairs on the ends of my ellipse table? I may be looking for "permission."

gwbr, I love that photo. Can definitely see that modern rug and prints with the curvey sofa.

Lucille, I agree, perfection for me is my own mix but that has been difficult.

Magneverde, I'd love to see more photos or examples of a good mix/bad mix. I liked what you said earlier about describing it verbally to yourself to see what would contrast with what you have. I think I need more practice.

So here a photo I think Sarah Richardson's. She is using a modern desk with a seagrass chair. I think that works well. Maybe it fits what Mag said in an earlier thread about each being a good example their style.

Conversely, my dining room below. The host chairs are wicker. I can't see putting French Provincial with it. Nor modern. I am thinking modern contrasts better with French Provincial than Transitional. But I can see how something Asian would make the room look more interesting. But I'm not sure why.
---
| | | |
| --- | --- | --- |
| RE: Teach me more about mixing furniture styles/what works | | |
hi,
I like to give you a suggestion here, before selecting any furniture style, first keep in mind your wall color and the space in the room, because sometimes when space is less then things get messy
---
| | | |
| --- | --- | --- |
| RE: Teach me more about mixing furniture styles/what works | | |
Chinchette,

I have those same trees on a small wall in my kitchen.

If you are looking for permission, You have it. Go for it. I have seen so many pictures of modern chairs together with antique chairs at the end of a dining table. Break your rules! As you can tell I love mixing.
---
| | | |
| --- | --- | --- |
| RE: Teach me more about mixing furniture styles/what works | | |
chinchette - If you treat the French provincial piece like an exotic work of art, and have a good piece, it works well. If you are timid about it, it looks like you hope no one notices the style. Flaunt its differences.

One of the prettiest rooms I've seen was a simple traditional/modern room with an ornate curvy foo-foo French or Italianate chest serving as a buffet and table linen storage. Some of the wood in the room was close to the chest's finish, but it sat there like a Frenchified great aunt and looked excellent.

Another was simple modern sofa with a pair of voluptuous curvy French chairs, upholstered in a Chinoiserie print that picked up some of the other colors from the room and from the oriental style rug.
---
| | | |
| --- | --- | --- |
| RE: Teach me more about mixing furniture styles/what works | | |
Thank you for permission granted! It may be quite some time until anyone gets those chairs, as mom is only 86. May be 10 years before she down-sizes. : )

And LG, I get what you mean about the flaunting. I am starting to get the idea of what goes together and I really do think it is more interesting to add something that is not expected into the mix. I guess I am trying to find the right not expected item.

You know, my first thought on it was to use a settee against that wall where the painting is in the dinette. and put the table next to it and the chairs on the other side and the ends. The settee would be maybe a curvey style and be the unexpected. The table is oval, but I don't know if that really matters. I think there would be at least one comfortable seat, maybe two on a settee. Not sure if it would be odd due to the table being an ellipse and not a rectangle.

In the future, I'll have to weigh how important it is to my brother and SIL to have the whole set not broken up/ compared to my wanting part. I can live with them enjoying it intact. If they take the whole set , then I would ask them to give me one of my mom's 45 year old black leather club chairs that I've always loved. They've had them for about 17 years now. It may be a solution that would make everyone happy. It would work in my Great Room. I don't think they actually like the leather chairs.
---
| | | |
| --- | --- | --- |
| RE: Teach me more about mixing furniture styles/what works | | |
Help. My home is open concept and I have some vintage Duncan Phyfe lyre style end tables and coffee table. I also have a pediment secretary desk which I inherited from my husband's mother. How would a english mahogany queen anne dining room set fit into the mix? Paint is neutral with traditional cabbage rose pattern below chair rail. Hardwood birch floors. Antique piano, harps also share living room space.
---
Post a Follow-Up
Please Note: Only registered members are able to post messages to this forum.
If you are a member, please log in.
If you aren't yet a member, join now!
---
Return to the Home Decorating Forum
Information about Posting
You must be logged in to post a message. Once you are logged in, a posting window will appear at the bottom of the messages. If you are not a member, please register for an account.
Please review our Rules of Play before posting.
Posting is a two-step process. Once you have composed your message, you will be taken to the preview page. You will then have a chance to review your post, make changes and upload photos.
After posting your message, you may need to refresh the forum page in order to see it.
Before posting copyrighted material, please read about Copyright and Fair Use.
We have a strict no-advertising policy!
If you would like to practice posting or uploading photos, please visit our Test forum.
If you need assistance, please Contact Us and we will be happy to help.

Learn more about in-text links on this page here