Return to the Home Decorating Forum
|
Post a Follow-Up
---
| | | |
| --- | --- | --- |
| Pre paint wall cleaning? | | |
Posted by
skyla78
(
My Page
) on
Tue, Nov 17, 09 at 19:58
I am just wondering what everyone uses to clean their walls with before you paint? regular soap n' water?
---
Follow-Up Postings:
| | | |
| --- | --- | --- |
| RE: Pre paint wall cleaning? | | |
i have never done this, but there was something on the today show this morning about this. maybe check their website?

I think they were specifically talking about odor, but could still work . . .
---
| | | |
| --- | --- | --- |
| RE: Pre paint wall cleaning? | | |
Dirtex-following directions on the box. :)

Nancy
---
| | | |
| --- | --- | --- |
| RE: Pre paint wall cleaning? | | |
I wash anything obvious off when I notice it on a fairly regular basis. Other than that we've never washed/cleaned walls prior to painting and never had a problem. I do clean the woodwork before painting it and if hubby paints woodwork (before I have a chance to clean) he just starts painting over dust or whatever, grrrr! But I've never noticed a problem with that either, lol! But we don't have children or pets so I'm guessing that makes a difference.
---
| | | |
| --- | --- | --- |
| RE: Pre paint wall cleaning? | | |
Powdered Dirtex is "King of the hill" for pre-paint cleaning!
Normally, you don't have to rinse it, unlike TSP.
LIQUID detergents can leave a residue on the wall, unless rinsed WELL.

See my "Good stuff" pic below!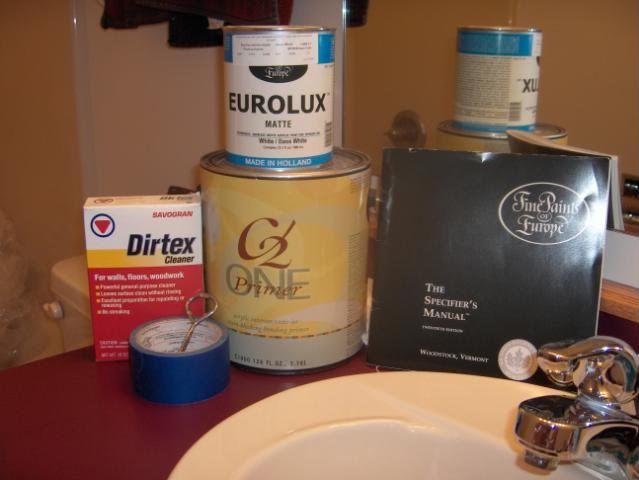 Faron
---
| | | |
| --- | --- | --- |
| RE: Pre paint wall cleaning? | | |
Another vote for Dirtex. It's the only way to go.

Just make sure you don't ask your husband to do the prep and then give him an old dishtowel to do the washing with, which he fails to notice is disintegrating on the ghastly orange peel textured walls, thus leaving about a bazillion microscopic bits of fiber behind on the "now-clean-and-ready-to-paint" walls.

Ask me how I know this...
---
Post a Follow-Up
Please Note: Only registered members are able to post messages to this forum.
If you are a member, please log in.
If you aren't yet a member, join now!
---
Return to the Home Decorating Forum
Information about Posting
You must be logged in to post a message. Once you are logged in, a posting window will appear at the bottom of the messages. If you are not a member, please register for an account.
Please review our Rules of Play before posting.
Posting is a two-step process. Once you have composed your message, you will be taken to the preview page. You will then have a chance to review your post, make changes and upload photos.
After posting your message, you may need to refresh the forum page in order to see it.
Before posting copyrighted material, please read about Copyright and Fair Use.
We have a strict no-advertising policy!
If you would like to practice posting or uploading photos, please visit our Test forum.
If you need assistance, please Contact Us and we will be happy to help.

Learn more about in-text links on this page here