Return to the Home Decorating Forum
|
Post a Follow-Up
---
| | | |
| --- | --- | --- |
| Can you help me make a lamp shade decision? | | |
Posted by
marti8a
(
My Page
) on
Fri, Nov 13, 09 at 19:11
I have taken a lot of pictures and am resizing them now & putting them on my blog, but will put the original lamp & shade here so you can see it without my commentary to influence you.

Here is the lamp with no shade:

And the lamp with its original shade:

Here is the first shade:

I can add more pictures as I get them cropped and resized if you want, or you can look at my blog entry. It's just one more step to put pictures here, not really a big deal.
Here is a link that might be useful: My blog with more pictures but also biased opinions about shade choices
---
Follow-Up Postings:
| | | |
| --- | --- | --- |
| RE: Can you help me make a lamp shade decision? | | |
some of your other choices didn't cover enough of the lamp (the mechanics of the lamp). I like the dark brown one, but it needs to be longer. Sorry, I'm not much help.
---
| | | |
| --- | --- | --- |
| RE: Can you help me make a lamp shade decision? | | |
I think the original looks best. If it needs a new shade for some reason I can't see, the barrel shade is the best of the shapes you have shown, but it needs to be longer or have a shorter harp to cover the switch.
---
| | | |
| --- | --- | --- |
| RE: Can you help me make a lamp shade decision? | | |
I have to admit I can't abide those barrel shaped shades; they have no grace at all that I can see. You know what this lamp actually makes me think of? Those very fancy shades that look like a skirt with a crinoline (or whatever you call a lace petticoat) underneath. Either that or a glass shade that echoes the porcelain part of the base. That would be a little involved technically, but they were a colonial style thing.

The shade I'm thinking of is very vintage, as is the lamp. Even if that's not your taste, I think the shades you are looking at are all too new, too formal, too... something. Try a vintage store, craigslist, flea market, thrift store, or other source of stuff the same vintage as the lamps.

I have a shade that shows what I mean... I'll snap a photo if I get a chance.

KarinL
---
| | | |
| --- | --- | --- |
| RE: Can you help me make a lamp shade decision? | | |
One of the antique stores I went to today had a booth with custom shades similar to this:

I finished loading the pics onto my blog, and had the bright idea to copy the code here, but when I did, they were enormous. I can load them onto photobucket if anyone would prefer to see just pictures without dialog. I also put a poll on the blog if anyone has an opinion but doesn't feel like doing any more than just clicking a button. What I explained there was that I bought a shorter harp and after seeing several shades, decided they would all look better with it. I also described the colors of everything & gave some options there, and I don't really want to rewrite the whole thing here.
I thought I was posting this to the small house forum, but had both windows opened and didn't notice it was the decorating forum. I'd move it if I could as I know most here don't like links to blogs, but since I can't, you can either ignore the blog link or ask me to put the pics on photobucket. Hope you understand.
---
| | | |
| --- | --- | --- |
| RE: Can you help me make a lamp shade decision? | | |
That's actually another shape I was thinking would work, maybe with less embellishment but maybe not.

Here's the lampshade I was thinking of... I forgot this one doesn't have a crinoline. It's kind of a butt-ugly lamp but somehow the exuberant tackiness of the shade makes even it look tolerable. I'm not using it at the moment so just put it on the floor for a photo. Don't mind the unfinished wall behind the curtain...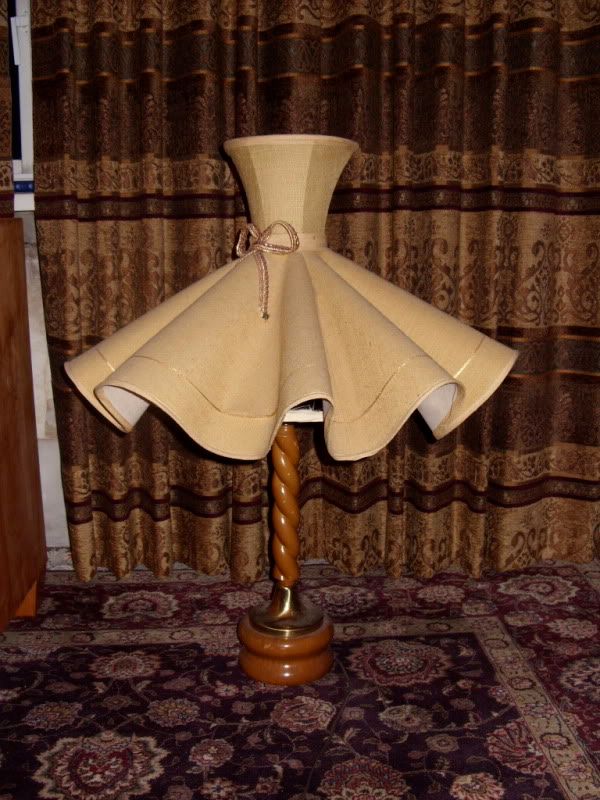 By the way thanks for mentioning the small house forum - I'd missed that. Reading those threads makes me feel normal :-)
KarinL
---
| | | |
| --- | --- | --- |
| RE: Can you help me make a lamp shade decision? | | |
I think shade #9 looks best.
---
| | | |
| --- | --- | --- |
| RE: Can you help me make a lamp shade decision? | | |
If you want to spend big bucks for an antique shade, that is of course the best choice for a victorian lamp, however the first one the white one works great on a victorian lamp such as you have there and picks up the white from the base, use a shorter harp, and it will look great!
---
| | | |
| --- | --- | --- |
| RE: Can you help me make a lamp shade decision? | | |
Karinl, I love that shade. I haven't seen one of those in years and yours looks perfect. I think my dh would absolutely freak if I got one that that or the fringed one. lol

You're right Susieq, those shades are big bucks and since I don't love the lamps, I just can't see spending that. In fact, I don't want to spend $20 each on them, but if I keep them, I probably will spend that or more. I did put an even shorter harp on it last night and it looked better with the shades I have here at home. I think it's the long skinny neck with such a slender lamp that bothers me. The only part of the lamp I love is the brass middle piece.

thanks everyone.
---
| | | |
| --- | --- | --- |
| RE: Can you help me make a lamp shade decision? | | |
Marti8a,

I second Gracie01's choice of shade #9!

FW
---
| | | |
| --- | --- | --- |
| RE: Can you help me make a lamp shade decision? | | |
Why don't you go to a lamp place and take the lamps apart, use the middle brass piece with a difference base, and get rid of the glass/roses section? Lamp kits are cheap, and you will end up with lamps you can love, rather than just live with.

Then take the two rose base parts, put a votive candle in a glass holder inside, and use them as decorative accents in the room - or use one with a votive, one with some pretty cream roses and greens in silk as a decorative vase.
---
| | | |
| --- | --- | --- |
| RE: Can you help me make a lamp shade decision? | | |
Les, I did go to a lamp place today. I ended up getting the name of someone who can rebuild the lamp, or make a custom lampshade, and then the lady I was talking to pulled out a couple of shades and one of them looked pretty good. I haven't had time to put it together in the room yet, but I think it's going to work and I'll be happy with it now.
---
Post a Follow-Up
Please Note: Only registered members are able to post messages to this forum.
If you are a member, please log in.
If you aren't yet a member, join now!
---
Return to the Home Decorating Forum
Information about Posting
You must be logged in to post a message. Once you are logged in, a posting window will appear at the bottom of the messages. If you are not a member, please register for an account.
Please review our Rules of Play before posting.
Posting is a two-step process. Once you have composed your message, you will be taken to the preview page. You will then have a chance to review your post, make changes and upload photos.
After posting your message, you may need to refresh the forum page in order to see it.
Before posting copyrighted material, please read about Copyright and Fair Use.
We have a strict no-advertising policy!
If you would like to practice posting or uploading photos, please visit our Test forum.
If you need assistance, please Contact Us and we will be happy to help.

Learn more about in-text links on this page here