Return to the Home Decorating & Design Forum
|
Post a Follow-Up
---
| | | |
| --- | --- | --- |
| The powder room evolves again | | |
Posted by
franksmom_2010
(
My Page
) on
Sat, Nov 24, 12 at 19:09
This is what our powder room looked like when we moved in. I don't think I need to point out all of the areas of concern.



And this was the door. Hollow core, beat up, scratched, holes drilled in it, and very unflattering hardware.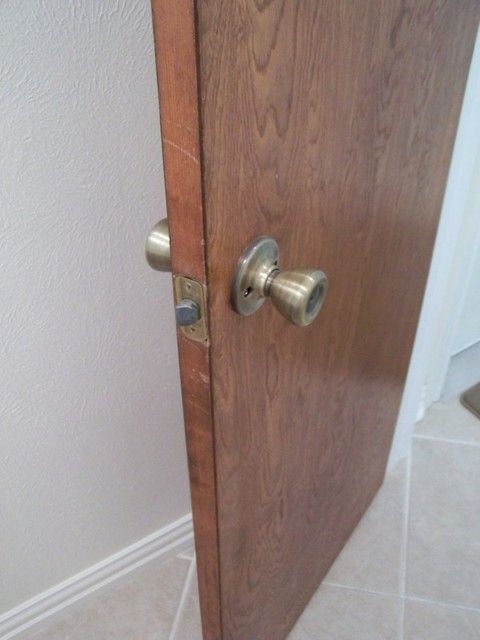 We didn't have the time or budget to really do much with it, but I felt like I had to do something. We changed the towel and TP holder, added a curtain, and changed the light fixture. I know that getting rid of the combo paper towel and TP holder wasn't a practical choice, but sometimes aesthetics just win. The ugly door stayed.
Oh, and I had this little shelf that was just the right size for the wall facing the toilet, so I painted it the green from the toile.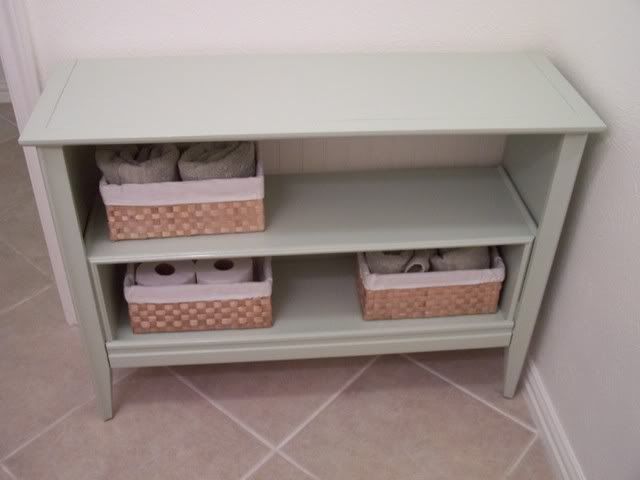 It was a great improvement, but after a while, it just seemed a bit bland and boring. And stark. I decided on a paint color, and then found a fabulous fabric remanant to make a new window treatment with. Now, I've lived with white walls for decades, so actually putting a color on the wall was a big hurdle.
I almost chickened out on this project many times, but kept at it and here we are today: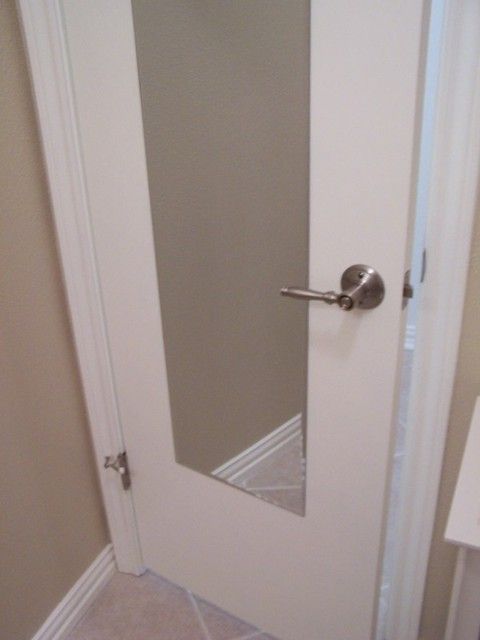 The total budget for this last step was just about $220. The biggest expense was hardware and paint, but most everything else came off of clearance racks, thrift stores, and ebay. Replacing the door wasn't in the budget (it's not a standard size) so it was cleaned, patched, sanded, primed and painted. I added the mirror to give a little more light to the room and heft to the door. It worked!
I was really happy with the end result, but wanted something lighter for the spring and summer, so I shopped the closets for accessories, and made up another WT out of fabric I already had. The towels were left over from the former green.







And that's it! I know that some consider beige dated/boring/whatever, but I can be fickle with fabrics and accessories, so changing out to navy or red or pink or almost anything else will work without having to redo the whole room.
---
Follow-Up Postings:
| | | |
| --- | --- | --- |
| RE: The powder room evolves again | | |
You should be very proud of your accomplishment and you did it all yourself!!! Bravo!!
---
| | | |
| --- | --- | --- |
| RE: The powder room evolves again | | |
Wow...great looking room. I love the freshness of it all. The fabric at the bottom pic looks different from the one on the window ??? And I kind of liked that combo towel/tp holder...I sure remember those :)

You did great and I thought it was a new door ! c
---
| | | |
| --- | --- | --- |
| RE: The powder room evolves again | | |
I don't think you chickened out at all - you created a beautiful room that meets your subdued design needs. It's not boring in any way!
---
| | | |
| --- | --- | --- |
| RE: The powder room evolves again | | |
| | | |
| --- | --- | --- |
| RE: The powder room evolves again | | |
| | | |
| --- | --- | --- |
| RE: The powder room evolves again | | |
It looks wonderful! Congratulations!
---
| | | |
| --- | --- | --- |
| RE: The powder room evolves again | | |
What is the paint color on the walls?
---
| | | |
| --- | --- | --- |
| RE: The powder room evolves again | | |
It looks great! I really like your new valance. The paint color made a huge difference compared to the stark walls. I also like that you can change out with the seasons. Yay! :)
---
| | | |
| --- | --- | --- |
| RE: The powder room evolves again | | |
Thanks so much!

I'm still not totally satisfied with the accessories on the shelf, but I'm glad to have it all finished for the holidays. I just got that door hung Thanksgiving morning!

The paint color is "Parachute Silk" from Behr. I wanted something warmer than the white, but not too gray or golden. And I'm afraid of much darker colors. I actually tried a sample of Kilim Beige, but it turned a weird pinkish on my walls.

Did anyone notice the missing vent cover from behind the sink? I took it off to paint, and discovered that there was a large hole cut out of the drywall. No, not a functioning vent, just a big whack of drywall cut out, shoved back in, and hidden with the vent cover. The PO's were fond of that fix, because that's the third one I've found. I'm getting pretty good at drywall patching ;)

I can also be a bit of a fabric junkie, so I like the idea of changing colors and styles out with my latest find, and since it just needs hand towels, it's very affordable to be fickle in this room!

Last on the list is replacing the toilet. That's actually a shorter than standard old toilet, so I'm hoping after the new year to replace it.
---
| | | |
| --- | --- | --- |
| RE: The powder room evolves again | | |
| | | |
| --- | --- | --- |
| RE: The powder room evolves again | | |
that is lovely! the paint and accessories made such a big difference. great choices!
---
| | | |
| --- | --- | --- |
| RE: The powder room evolves again | | |
Really pretty!! I like your Spring accessories a lot, too!

Do those vents cover plumbing? Cause in my house (before we moved in, OF COURSE) they would have been stash holes. We found needles, etc., under loosened toekicks in the kitchen, and in the HVAC vents.

Nancy
---
| | | |
| --- | --- | --- |
| RE: The powder room evolves again | | |
Very nice! Love that blue background Waverley fabric.
---
| | | |
| --- | --- | --- |
| RE: The powder room evolves again | | |
| | | |
| --- | --- | --- |
| RE: The powder room evolves again | | |
That looks so great! Crisp and pretty - what an amazing transformation.
---
Post a Follow-Up
Please Note: Only registered members are able to post messages to this forum.
If you are a member, please log in.
If you aren't yet a member, join now!
---
Return to the Home Decorating & Design Forum
Information about Posting
You must be logged in to post a message. Once you are logged in, a posting window will appear at the bottom of the messages. If you are not a member, please register for an account.
Please review our Rules of Play before posting.
Posting is a two-step process. Once you have composed your message, you will be taken to the preview page. You will then have a chance to review your post, make changes and upload photos.
After posting your message, you may need to refresh the forum page in order to see it.
Before posting copyrighted material, please read about Copyright and Fair Use.
We have a strict no-advertising policy!
If you would like to practice posting or uploading photos, please visit our Test forum.
If you need assistance, please Contact Us and we will be happy to help.

Learn more about in-text links on this page here