Return to the Home Decorating Forum
|
Post a Follow-Up
---
| | | |
| --- | --- | --- |
| how to hang christmas lights on 2nd-story roof | | |
Posted by
purrus
(
My Page
) on
Wed, Nov 11, 09 at 18:21
Hi everyone!

It's going to be our first holiday season in our new house (YAY!) and I want to be really ready for my all-day decorating extravaganza the day after thanksgiving. So, I need advice on how to hang lights on the second story of our house--it's not super high, but I despise ladders. Do those extension poles and clips work ? Paying someone to do it is totally out of the question--we just got new windows.

Some pictures for scale--I'd also love thoughts on what would look best as far as decorating goes. Our last house was a ranch and we only lived thre for a couple of years due to a job change, so I didn't really get to enjoy decorating it much (and the height wasn't an issue).

Thanks in advance!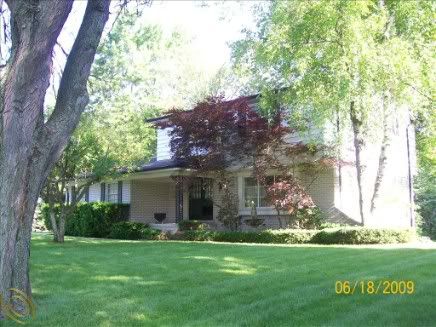 ---
Follow-Up Postings:
| | | |
| --- | --- | --- |
| RE: how to hang christmas lights on 2nd-story roof | | |
VER-RY CAREFULLY. oops couldnt resist too much scotch. bad bad day.
---
| | | |
| --- | --- | --- |
| RE: how to hang christmas lights on 2nd-story roof | | |
| | | |
| --- | --- | --- |
| RE: how to hang christmas lights on 2nd-story roof | | |
For me, I'd have to get a new husband. I convinced my DH to hang wreaths on the 2nd story windows a few years ago. One by one, they all fell off before Christmas Day, except one lonely straggler. That thing stayed up until mid-January b/c DH was convinced it would eventually fall and spare him another trip up the ladder!
---
| | | |
| --- | --- | --- |
| RE: how to hang christmas lights on 2nd-story roof | | |
I'd skip hanging lights on the 2nd story....and make a lovely display of that red maple to the right of the front entry.
You can drape lights with an extension pole....and it would be lovely.
Linda C
---
| | | |
| --- | --- | --- |
| RE: how to hang christmas lights on 2nd-story roof | | |
I don't know how well the extension pole works. It may be worth a try! Our neighbors use a ladder and clips or hooks that stay up along the gutter all year.
I was also going to suggest wreaths on the 2nd story windows. I also like the look of greens fake or real outside on the window sill with a big bow hightlighting a window candle inside. It is very exciting to decorate your first house - it is a beauty! Have a great time doing it. Perhaps ask one of your neighbors how they do it? It may be a bonding moment! hmmm neighborhood decorating get together? a grand turning on of the lights?
---
| | | |
| --- | --- | --- |
| RE: how to hang christmas lights on 2nd-story roof | | |
DH always pulls out the ladder, climbs onto the roof, tethers himself to the chimney, and rappels and swings out to hang the lights. Tying off to the chimney is really important because we're in upstate NY and the roof can get icy & slick. It helps that we have ropes & belays from when we were free-wheeling, mountain-climbing adventurers whose SUV actually left the pavement. Now we're minivan driving sideline parents.
---
| | | |
| --- | --- | --- |
| RE: how to hang christmas lights on 2nd-story roof | | |
Yeah, talk to the neighbors. And make sure to check your attic or basement for Frosty--wouldn't want to be the one they come after for not putting it on the roof!

**If you have not read Skipping Christmas or seen Christmas with the Krumps, I'd suggest both for a fun time :) (Book is better though)

Seriously, we gave up on lights and now just do wreaths. To hang them, I use floral wire that I wrap around the top of the wreath. Then I make a long loopy thingy that I thread inside through the tops of the windows and then wrap it around a pencil, then close the window to hold it in place. You get to stay inside for this project!! I've know too many people to fall off ladders/roofs for the sake of lights. It scares me to death!
---
| | | |
| --- | --- | --- |
| RE: how to hang christmas lights on 2nd-story roof | | |
Congrats to you on your new home and your first holiday decorating.

I can't give any advice on putting lighting on a second floor (I live in a rancher), BUT, if it is OK I will post some photos of a home near my neighboorhood. It is a 2 story, but she has made it exciting with the lighting she uses thru the trees and bushes. She used simple white christmas string lights, and some spot ligts. She also has many pairs of the lighted deer you can buy at Kmart, HomeDepot, Walmarts etc. She also has simple green wreaths with bows that match the color of her shutters and door. She also used 2 small lighted faux topairy type trees on either side of her door. Last year she even had an outdoor music system for all who walk by to hear Christmas music, it just really make a wonderful atmosphere (I bought an outdoor music system from Kmart myself yesterday, I am excited to give it a try). So I guess what I am trying to say, she gave a wonderful, winter wonderland look to her yard and home with no danger of putting lights on the 2nd floor. (and fairly inexpensively)
So, here are some pics of her home from last year. Oh, yes, the photos do not even do this home justice, and unfortunately I do not have any night shots, I can only promise you the home is stunning at night.

PS. sorry the pics are large, I don't know how to make them smaller (plus if they were small you would not be able to see the details as well.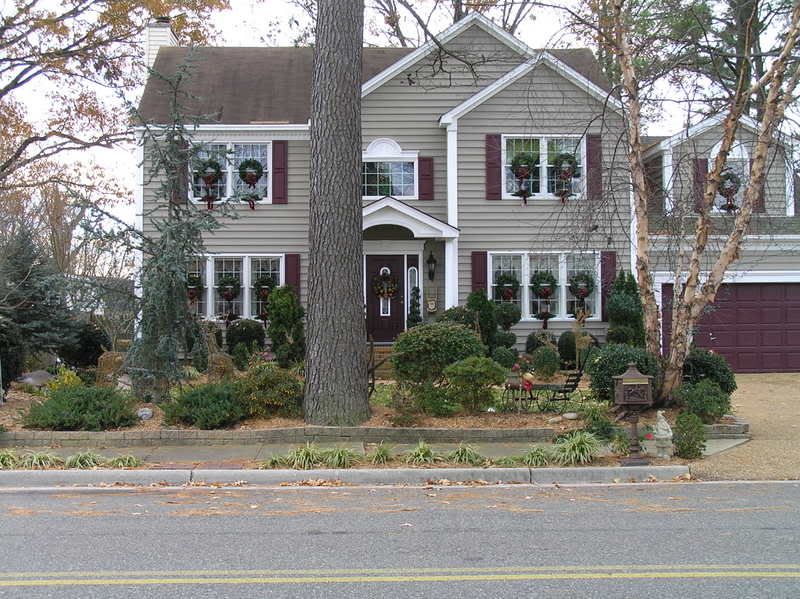 You can see the strings of lights going thru the crepe myrtle here, and the lower bushes, as well as the deer.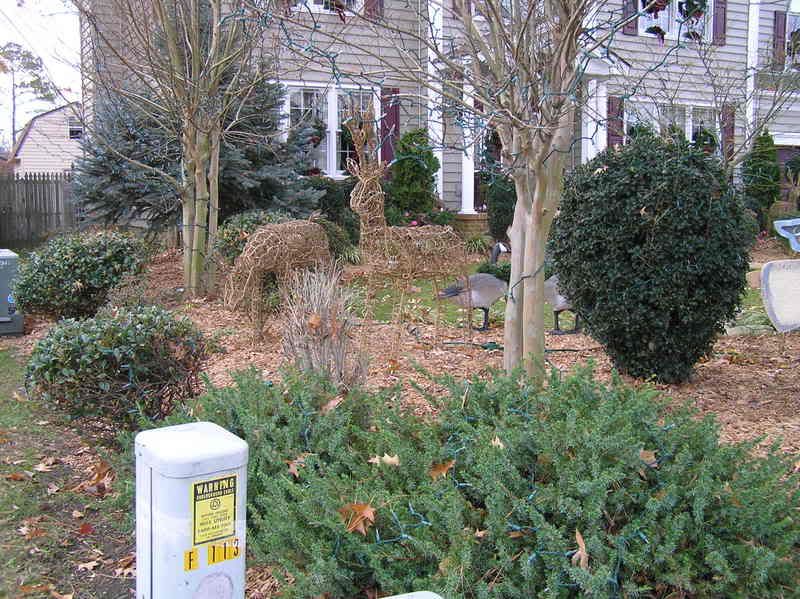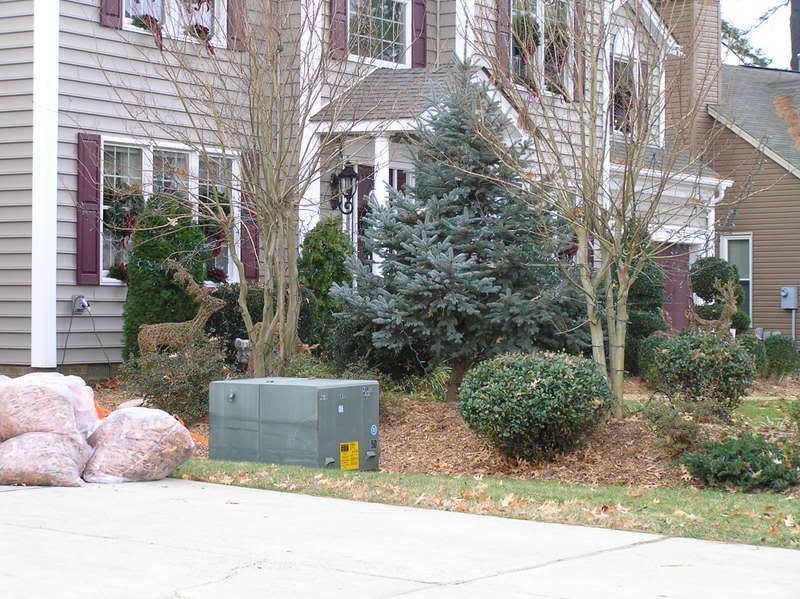 I hope this was helpful, I am looking forward to see what you do.
---
| | | |
| --- | --- | --- |
| RE: how to hang christmas lights on 2nd-story roof | | |
Bumped for Purrus, are you still out there? ;)
---
| | | |
| --- | --- | --- |
| RE: how to hang christmas lights on 2nd-story roof | | |
I've always liked the look of a string of lights following the horizontal line of the roof. If you don't want to do that on the second level, you could run the lights horizontally across the front and then also put some in the tree on the right front. Now that they have LED Christmas lights, it won't even be too expensive no matter how much you choose to do! Can't wait to see the pics!
---
| | | |
| --- | --- | --- |
| RE: how to hang christmas lights on 2nd-story roof | | |
DH wraps the outdoor lights around a paint roller on a long extendable roller handle. Then as he lays them on the branches they unroll from the roller. He also uses one of those extension poles made for that purpose. When our house was sided with rough sawn cedar he would staple lights to the front porch peak and down each side of the four supporting posts. Everyone thought it looked like the Parthenon. Now that we have resided the house, staples are a no-no.
---
| | | |
| --- | --- | --- |
| RE: how to hang christmas lights on 2nd-story roof | | |
I've hesitated to post because I didn't want to get booed, but if you aren't afraid of ladders, and have one tall enough, I'd put it on the back of your house and climb up to the roof that way. Your roof is not steep at all, so should be easy once you are up there. Mine has a 12 and 12 pitch over one section and it scares me a little, but I do it every year. For the section with a lower slope like yours, I just get on the roof and scoot next to the edge on my rear sticking those plastic things under the shingles. On the part with steep pitch, I do the ridge while on the roof, and do the edge from a ladder on the ground, even though I really hate moving the ladder every few feet.
---
| | | |
| --- | --- | --- |
| RE: how to hang christmas lights on 2nd-story roof | | |
Thanks to all for your thoughts! I think I'm sold on the wreaths in the windows idea, with a single tree or some other kind of decoration to the left of the double doors on my porch. I am afraid of ladders and the roof, and was hoping someone would have some magic extension pole product I hadn't heard about. darn it!

My christmas tree will show through that big front picture window--do I still need wreaths on it? Or should I just do lighted garland somehow? We have aluminum siding so nails or staples are not possible. Do those 3M hooks work on aluminum?

How do you all attach wreaths to windows? Again, the bottom floor double hungs will be easy, but I'm much more concerned about the second story double hungs. Also concerned about the wreaths blowing all over the place in the wind.

Regarding the porch, should I get a tree or just a small topiary to the left of the doors?

I really want to go nuts, at least as much as I can afford to within my budget which is somewhat limited.

Regarding the japanese maple--we just had it trimmed (it hadn't been maintained in YEARS) and so it's looking sort of sad right now. It might still work to decorate it with lights ,but it doesn't look now as it did in the picture.

I want to also hit the mailbox with some decorations, but not sure what yet.

thanks to all for the ideas so far!! Judithva, I adore that house you posted--would love to achieve something close to that look!
---
| | | |
| --- | --- | --- |
| RE: how to hang christmas lights on 2nd-story roof | | |
It is super easy to hang wreaths from the second floor if the tops of your double hung windows open. You attach a ribbon to the top of the wreath, open the window from the top, drop the wreath out, and then close the window on the ribbon.
---
| | | |
| --- | --- | --- |
| RE: how to hang christmas lights on 2nd-story roof | | |
graywings, thanks for the instructions on hanging windows wreaths. I'm gonna try it.

p.s. All the homes look classic & lovely!
---
| | | |
| --- | --- | --- |
| RE: how to hang christmas lights on 2nd-story roof | | |
judithva and graywings thanks for sharing your lovely pictures. Are those real wreaths or do you use artificial? Are they lit in any way? I'm tempted to try it; however in our area of the Midwest/plains we get a great deal of wind & I'm not sure how they'd hold up or whether they'd damage the windows.
---
| | | |
| --- | --- | --- |
| RE: how to hang christmas lights on 2nd-story roof | | |
I use artificial wreaths, no lights. But a floodlight on a stake in the ground is a nice touch.
Here is a link that might be useful: Portable spike light
---
| | | |
| --- | --- | --- |
| RE: how to hang christmas lights on 2nd-story roof | | |
Hilltop, the photos I posted are from a person in a neighborhood near me, but she does used all artifical wreaths and they are not lighted. BUT, she places INSIDE the house one of those single electric candles behind each window, and she does use some spotlights in her yard. It is truly beautiful at night.
---
| | | |
| --- | --- | --- |
| RE: how to hang christmas lights on 2nd-story roof | | |
Is that your house, graywings? It's very pretty!
---
| | | |
| --- | --- | --- |
| RE: how to hang christmas lights on 2nd-story roof | | |
I love the wreathes in the windows, what size do you think for 3ft wide window? Yikes, we've got 9 windows on the front of the house! And it's windy here too, but I need *something* besides candles. I don't want to hang a wreath on the front door b/c even if the hanger doesn't mark up my new finish, the wreath will. Maybe put a ribbon/wire at the bottom and close the bottom sash on it too to keep it from knocking around too much in the wind?

I thought from the description that the house with deer and lights would be tacky, but it's really very nice - can just imagine how it looks with snow! Our boxwoods are very tiny and sad (maybe in 10 years we'll be able to put lights on them), now I want deer (the fake ones) in front of our porch...
---
| | | |
| --- | --- | --- |
| RE: how to hang christmas lights on 2nd-story roof | | |
It was my house two houses ago. It was a lovely house.

Right now I am working on wreaths for my current house, and trying to decide whether 24 inch wide wreaths look too skimpy.
---
Post a Follow-Up
Please Note: Only registered members are able to post messages to this forum.
If you are a member, please log in.
If you aren't yet a member, join now!
---
Return to the Home Decorating Forum
Information about Posting
You must be logged in to post a message. Once you are logged in, a posting window will appear at the bottom of the messages. If you are not a member, please register for an account.
Please review our Rules of Play before posting.
Posting is a two-step process. Once you have composed your message, you will be taken to the preview page. You will then have a chance to review your post, make changes and upload photos.
After posting your message, you may need to refresh the forum page in order to see it.
Before posting copyrighted material, please read about Copyright and Fair Use.
We have a strict no-advertising policy!
If you would like to practice posting or uploading photos, please visit our Test forum.
If you need assistance, please Contact Us and we will be happy to help.

Learn more about in-text links on this page here