Return to the Home Decorating Forum
|
Post a Follow-Up
---
| | | |
| --- | --- | --- |
| The dining room is done! | | |
Posted by
franksmom_2010
(
My Page
) on
Tue, Nov 9, 10 at 17:44
Well, mostly! LOL!

I tend to ramble, so I'll try and keep this short. We found the chandelier in the attic, and it sort of influenced the rest of the room. I was really anxious about that chandy...didn't know if it would be too small, too sparkly, too bright, too dim, too retro, too whatever, but I'm really, really happy with it.

We don't actually eat in this room (yet) but we use it as a serving area when we entertain.

I painted the china cabinet, played around with some accessories, and finally chose a window treatment. I wanted something with a curved hem, to mimic the pass-through arch.

Here are the "before" pics, and my idea for a wt.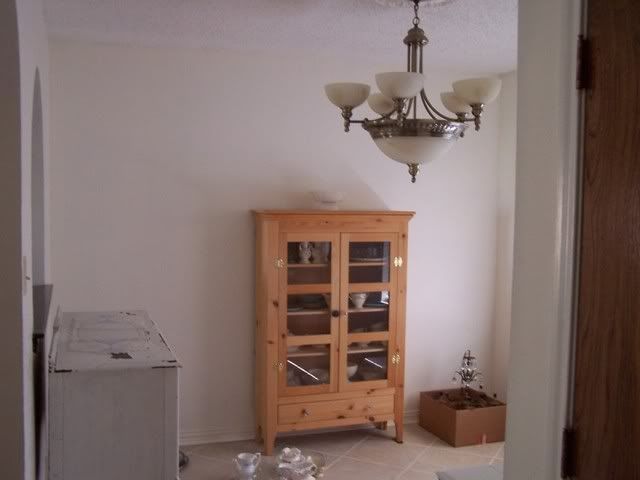 And here it is now: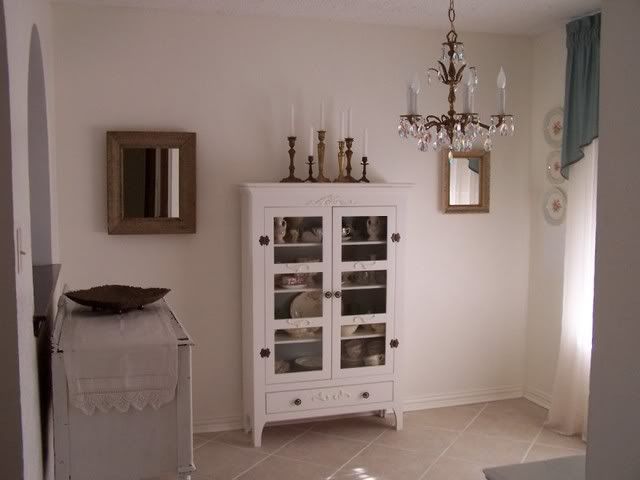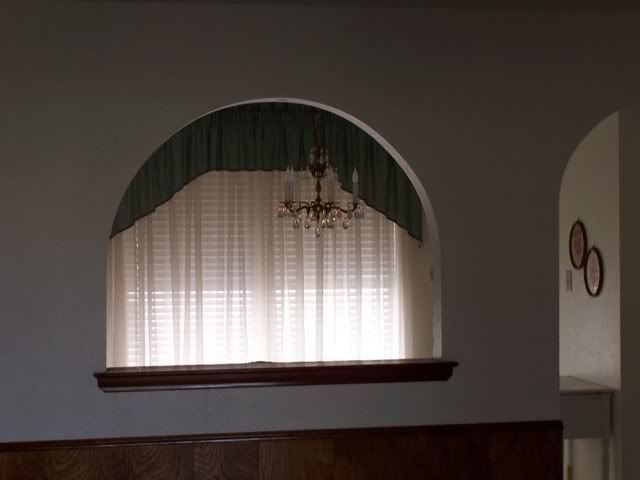 The details: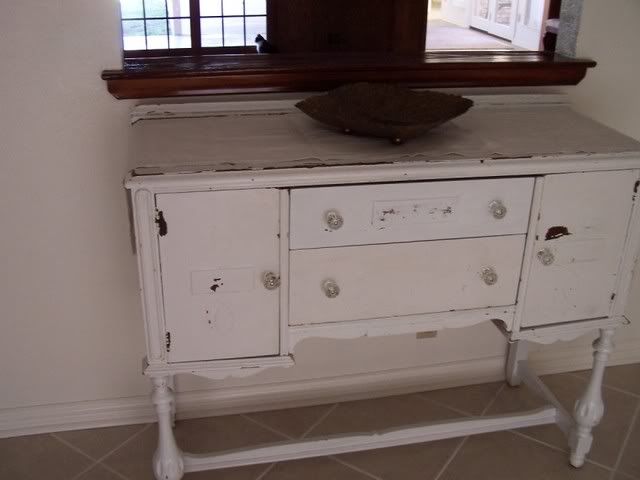 Still to do: paint the built-in, replace that small white table with an old mahogony cabinet (it needs a lot of work, so it'll be a winter project), that's why those old prints look like they might be hung a bit high...the old cabinet is a bit taller than the table. If I can ever find a tiny, two seat pedestal dining table, I'll move the buffet to the other side of that pass through, and we can actually eat in there. It's a small room, I think 9x10, so I'm kind of limited with the furniture.
---
Follow-Up Postings:
| | | |
| --- | --- | --- |
| RE: The dining room is done! | | |
Oh wow...that looks so good ! I love what you have done with the white paint and the chippy look on the sideboard is great too. But you really hit it with the lightfixture. It is the perfect touch.

I usually don't look at blogs but have started lately. Your DR looks like some of the best redo's I have seen lately. You really have a great start...can hardly wait to see the table and the builtin when complete. c
---
| | | |
| --- | --- | --- |
| RE: The dining room is done! | | |
Thanks so much!!

I can't believe I didn't get a good pic of my plates! I've had these a few years, and almost got rid of them when I was downsizing. When we found the chandelier, I knew I had to use them, because the colors are the same as in the crystals. I've got a set of three on each side of the curtains.



---
| | | |
| --- | --- | --- |
| RE: The dining room is done! | | |
very pretty! i love the chandelier, plates, table--well everything! nice job!
---
| | | |
| --- | --- | --- |
| RE: The dining room is done! | | |
What a transformation! White paint, decorative trim pieces and new hardware made a dramatic change to your china hutch. I had to look back at the original to make sure it was the same piece. The chandelier is lovely and the wooden platter on the sideboard is very interesting. I would love to have one just like it. Thanks for sharing.
---
| | | |
| --- | --- | --- |
| RE: The dining room is done! | | |
Lovely! Worth waiting for! I especially like the textured bowl on the chippy buffet, and the candles on the china cabinet -- a greek chorus for the hero candles in the chandelier. The appliques on the china really age it. Next time you snap photos, would you turn the chandelier on?

What color did you decide on for the built-in? Are you going to paint the back wall a different color from the rest? The horizontal part?
---
| | | |
| --- | --- | --- |
| RE: The dining room is done! | | |
What a beautiful change you made in this room. The chandelier is stunning. Plates go so nice with it and the valance. I love the wood look on your built in but would look nice painted also. Do you plan on painting the nice wood trim on the pass through also?

I'm still loving the redo on the other cabinet. The new curtains on the pass through and chandy make this look so modern. Give yourself a BIG pat on the back and keep us updated on this room.

Punk
---
| | | |
| --- | --- | --- |
| RE: The dining room is done! | | |
Absolutely beautiful....esp the chandy!
Homer Laughlin plates??
---
| | | |
| --- | --- | --- |
| RE: The dining room is done! | | |
Here's a better pic of that china cabinet: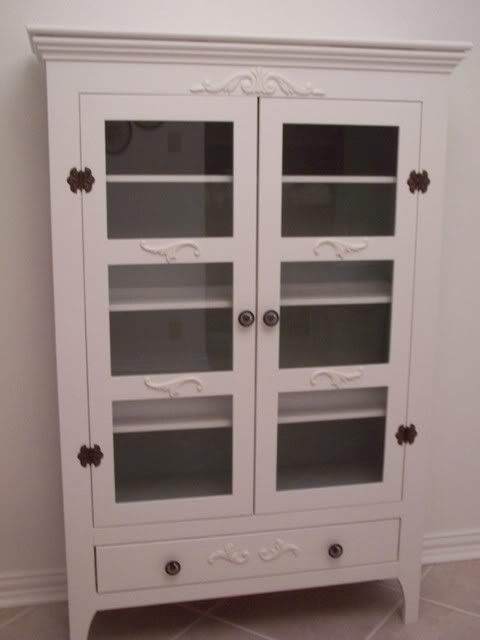 It was a LOT of work, but totally worth it. And adding those appliques was a whim, but I think made all the difference. Thanks again to Paintergirl, who gave me great advice on another forum on finishing that.
That big bowl is actually brass!
I haven't decided what to do with the built-in. It's not great quality wood, and it was kind of haphazardly finished with a LOT of polyurethane. I thought about staining it a darker color, but that would be a huge chore.
The old chippy buffet actually came that way. I found it in an antique shop, but it had some really tacky decals and pulls on it, so all I did was remove the decals and swap out the hardware for something old.
Lori, yes! I used to collect several HL patterns, but have since downsized a lot. I love old dinnerware!
---
| | | |
| --- | --- | --- |
| RE: The dining room is done! | | |
What a lovely room and gorgeous chandelier! You did a wonderful job! I love the buffet, too.
---
| | | |
| --- | --- | --- |
| RE: The dining room is done! | | |
O M G! Beautiful! Doesn't look like the same room!
---
| | | |
| --- | --- | --- |
| RE: The dining room is done! | | |
Fabulous transformation. I love all of the attention to detail. Your chandelier is wonderful.

What size table can your room accommodate? The bigger rounds, I've found the hard way, can be difficult to fit into a smaller space, unless you use a table for two, which would be very pretty as well. I've recently noticed some posters have found a bit bigger sized round occasional side-type tables. That look would be nice in your space, especially once covered.

Nice job. Thanks for sharing!
---
| | | |
| --- | --- | --- |
| RE: The dining room is done! | | |
Good job! I like the change. I was wondering how you got your plates on the wall. I was planning on doing the same thing and got plate hangers from Michaels, but you can see the little grips on the top and bottom. I don't see any on yours. How did you do that? Thanks!
---
| | | |
| --- | --- | --- |
| RE: The dining room is done! | | |
Everything ties together very well. Nice job!
---
| | | |
| --- | --- | --- |
| RE: The dining room is done! | | |
Great job! LOVE the chandelier!!! :)

For the built-in -- simply brush on Liquid Sandpaper (yes thats the actual name of the product!) -- wait about 30 minutes or so until the finish has gone a bit "cloudy" -- prime -- and paint.

Paint the built-in in the wonderful white -- and it will actually blend into the whole room!

Jan at Rosemary Cottage
---
| | | |
| --- | --- | --- |
| RE: The dining room is done! | | |
Well done! I love what you did with that room, you've got a knack and the fact that you re-used stuff from the attic, reworked it with your own hands, and made a tired room sparkle makes it even better :)
---
| | | |
| --- | --- | --- |
| RE: The dining room is done! | | |
Put my finger on something, finally.
I think an auradescent bulb would look good in your chandy.
---
| | | |
| --- | --- | --- |
| RE: The dining room is done! | | |
So beautiful! (can you come to my place?)

I love your chandy & hutch (& the candles on top). Would you mind if I ask where you got that wonderful brass bowl?

I have a rectangular pass-through in my kitchen (not nice like your arched one). Your pic gave me an idea. Maybe I can put a rod there with a cafe curtain just on the lower half.

Really great job.
---
| | | |
| --- | --- | --- |
| RE: The dining room is done! | | |
WIP, I'm looking for a 42" table, but a 36" would probably be better. And certainly cozier. I'd love to find a vintage piece, but haven't seen anything I like yet. I've seen small pedestal accent tables, but they're all too short!

Gobruno, I used those adhesive discs. I found mine on Amazon, but I've seen them on ebay as well. People seem to either love them or hate them, but so far, I'm happy.

Jan, that's what I was thinking. It's sort of a dark corner right now, and I'm thinking a creamy white, with maybe a contasting color for the back wall of it. I don't think I want an all-white room, though. I'll be adding the small dark stained cabinet, and hope to find a stained dining set.

Thank you all so much! I sometimes have a lot of anxiety about my decorating choices. DH rarely has an opinion about any of it, although when a room is done, he acts sort of impressed and amazed, which is sweet. Most of my family and friends have very different tastes than I do. They also tend to be the "go buy it from the store and throw it in the room" kind, and I'm more of a "find a way to make the things that you collect/find/love work together" so when I try and run ideas by people, I get the furrowed brow, wrinkled nose, "ew" kind of response.

That chandelier was a work of love. I saw it in the attic when we first looked at the house (a '70's ranch)and that was the first thing I looked for when we got the keys. DH dug it out of the insulation, and (bless his heart) picked through the insulation to find the crystals. He found all but two of them! I took the whole thing apart, cleaned it, ordered the missing parts, and had it rewired.

Everything in the room is something that I've found that I just loved. The frame from a thrift store I found 8 years ago, the buffet from the antique mall, the candlesticks from ebay, etc.

Anyway, thanks again! It's nice to get some props for making it all work!
---
| | | |
| --- | --- | --- |
| One more thing | | |
Decordummy, I found that on ebay. I was looking for a few things to finish the room off, and just did a search for "vintage brass." The pictures of it didn't do it justice, so I was really happy when I unwrapped it!

Oh, and about that sideboard/buffet...when people see it, they either gasp and say they LOVE it, or they make a face, and say something like "You're going to refinish that, aren't you?"

And this is why I have angst. Really, I don't decorate for the support and approval of others. I decorate with things that are meaningful to us, things that are useful, things that I've enjoyed rehabbing into something pretty, things that suit the way we live.

I wanted that room to be really pretty, not because we actually use it as a dining room every day (which many people think is weird), but because I walk past it about 20 times a day, and can see it from my back porch. Do you know, someone actually suggested covering over that arched pass-through with sheetrock? Either that, or knocking down that whole wall to make it all open? We have several arched doorways in that part of the house, and that's one of the things we love about the place!

I'm still trying to figure out this whole decorating thing. I struggle with color and pattern, texture, scale. I soak up every bit of wisdom that I run across, I do a lot of trial and error, I buy and return a lot, and some days, it feels like there's a revolving door at my local thrifts. I've sewed and re-sewed curtains and pillows. But I know what I like. If I like it and it makes me happy, I'll try to find some way to incorporate it into the house.
---
| | | |
| --- | --- | --- |
| RE: The dining room is done! | | |
The original owner of our place had a lovely antique stained glass window hanging inside the pass through. For years I wanted one but too expensive, not the right colours, etc. Now we are considering knocking down that wall.
Sounds like you suffer about exactly the same things that I do (you shouldn't your room is lovely). I have experienced the wrinkled nose Ewww reaction many times.
I have never bough anything over the internet, but if you'll excuse me I'm off to google vintage brass (at the very least it will be fresh eye candy - thank you).
---
Post a Follow-Up
Please Note: Only registered members are able to post messages to this forum.
If you are a member, please log in.
If you aren't yet a member, join now!
---
Return to the Home Decorating Forum
Information about Posting
You must be logged in to post a message. Once you are logged in, a posting window will appear at the bottom of the messages. If you are not a member, please register for an account.
Please review our Rules of Play before posting.
Posting is a two-step process. Once you have composed your message, you will be taken to the preview page. You will then have a chance to review your post, make changes and upload photos.
After posting your message, you may need to refresh the forum page in order to see it.
Before posting copyrighted material, please read about Copyright and Fair Use.
We have a strict no-advertising policy!
If you would like to practice posting or uploading photos, please visit our Test forum.
If you need assistance, please Contact Us and we will be happy to help.

Learn more about in-text links on this page here