Return to the Home Decorating Forum
|
Post a Follow-Up
---
| | | |
| --- | --- | --- |
| Automotive paint on furniture? | | |
Posted by
Gigi421
(
My Page
) on
Mon, Nov 7, 11 at 16:07
Has anyone used an automotive paint company for furniture? We have limited space and the fumes from spray painting are too much for the asthmatics in the family. The furniture has been painted/finished so I'm not too concerned about an unevenly applied finish. But I am concerned about the high gloss. It could be interesting. I spoke with someone from a national automotive paint chain and the price wasn't too bad. Any experience. Thank you
---
Follow-Up Postings:
| | | |
| --- | --- | --- |
| RE: Automotive paint on furniture? | | |
The only thing I've used automotive paint on was vintage metal dental cabinets and a vintage metal porch glider, never used it on wood though. Even without the lacquer it is very shiny!
---
| | | |
| --- | --- | --- |
| RE: Automotive paint on furniture? | | |
Zipdee - your furniture looks really nice. Did you do it yourself or send it out. It does look shiny but that seems appropriate for metal.
---
| | | |
| --- | --- | --- |
| RE: Automotive paint on furniture? | | |
My parents took their house shutters to the local body shop to be sprayed. And I know the guy would paint anything I took to him.

Automotive paint is the most expensive paint you can buy. Why would you use that on wood, unless you WANT a shine. I'm sure your auto body shop would use whatever paint you wanted them to use and it wouldn't need to be car paint.
---
| | | |
| --- | --- | --- |
| RE: Automotive paint on furniture? | | |
Auto paint supplies will take any paint you have and fill spray cans if you want to do it yourself. They also have different sheens now, flat black is popular for the speed guys. Ask about the sheens. Guess they could do wood, but think it might be better to find a furniture craftsman.
---
| | | |
| --- | --- | --- |
| RE: Automotive paint on furniture? | | |
Gigi .. my husband painted them for me. He dapples in old car restoration and has taught himself how to paint. The paint is super toxic, so we bought him all of the saftey gear needed. For stuff like this, he uses thick plastic to set himself up a little paint booth in the cottage we have outback.

Like Cindyloo said, auto paint is fairly expensive. We used a cheaper grade enamel car paint on these pieces. Not something you'd want on your car, but for this purpose it works fine.

I bet if you contacted local house painters in your area, they might be able to direct you to someone with a spray gun that would take on your work. Around here building is slow, some work is better than no work. That way you could use latex paint in whatever sheen you want.
---
| | | |
| --- | --- | --- |
| RE: Automotive paint on furniture? | | |
I took my double entry front doors to EconoPaint Auto Body Shop. They used a "deglosser" to cut the shine. They painted one side hunter and the inside cream. They did a great job and IIRC it was about $115. Not that this picture will show detail but you can get the idea in this picture.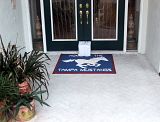 ---
| | | |
| --- | --- | --- |
| RE: Automotive paint on furniture? | | |
I've never used it on furniture but, like Mustangs, had a new exterior door painted by a body shop once. It was a metal security front door with a very realistic wood grain embossed on it. We bought it after burglars kicked in our wood front door. The place we bought it from suggested having it painted by an auto body shop. They said the color choices were endless and the finish would last for much longer, and it did. We had it painted a soft turquoise (the house was adobe and this is New Mexico) and the shop actually used something to keep it unshiny.

Oh and Zipdee, I still remember those dental cabs you painted. What an awesome redo they were!! I love them and am glad you showed us a photo of them once again.
Lynn
---
| | | |
| --- | --- | --- |
| RE: Automotive paint on furniture? | | |
I have a bedroom suite being painted in automotive paint right now. Actually, they may deliver it today.

I wanted the furniture pearlized, so my cabinet maker did it in auto paint.

Our auto body shop recently painted a vintage refrigerator for us.
---
| | | |
| --- | --- | --- |
| RE: Automotive paint on furniture? | | |
Thanks everyone for your input.

Zipdee, Cindyloo, Lynn and Emagineer : I had not thought about using underemployed painters or using other types of paint - something less shiny but providing a hard finish for a table that is well used.

Mustangs - I need to explore price. There may be a regional differences or maybe it's just the price for prepping the furniture but your cost seemed a lot more reasonable.

WhiteRiverSooner - please post a picture of your furniture. I really like the energy and imagination of the people here
---
| | | |
| --- | --- | --- |
| RE: Automotive paint on furniture? | | |
Gigi, the furniture did not come today afterall. The cabinet builder said he wanted to give the furniture one more day to dry, and it was raining today.

I will post a picture when it gets here.
---
| | | |
| --- | --- | --- |
| RE: Automotive paint on furniture? | | |
The furniture came today. Here is a link to my thread about the furniture and a picture of it finished.
Here is a link that might be useful: Bedroom furniture
---
Post a Follow-Up
Please Note: Only registered members are able to post messages to this forum.
If you are a member, please log in.
If you aren't yet a member, join now!
---
Return to the Home Decorating Forum
Information about Posting
You must be logged in to post a message. Once you are logged in, a posting window will appear at the bottom of the messages. If you are not a member, please register for an account.
Please review our Rules of Play before posting.
Posting is a two-step process. Once you have composed your message, you will be taken to the preview page. You will then have a chance to review your post, make changes and upload photos.
After posting your message, you may need to refresh the forum page in order to see it.
Before posting copyrighted material, please read about Copyright and Fair Use.
We have a strict no-advertising policy!
If you would like to practice posting or uploading photos, please visit our Test forum.
If you need assistance, please Contact Us and we will be happy to help.

Learn more about in-text links on this page here