Return to the Home Decorating & Design Forum
|
Post a Follow-Up
---
| | | |
| --- | --- | --- |
| how should I "fix" these?? | | |
Posted by
joneyjmw
(
My Page
) on
Fri, Nov 9, 12 at 15:15
I have two endtables that have put up with long enough. They were given to me almost 7 years ago, and I have always thought they were hideous. So I finally have the means and the time to refinish them, but I'm not sure what I should do with them. Our house is going to have light blue wall, white trim, dark wood floor, and were getting a dark colored leather sofa. Should I restain them also the be dark? Should I paint them a lighter color to contrast all the other dark? They get A LOT of use so I worry about the paint holding up. The room will also be the dinning and kitchen, the kitchen will have white cabinets, and the dinning table is a dark wood. I really dislike mixed wood tones, so I also plan on refinishing our tv cabinet mostlikly the same way. What do you suggest, Dark stain, or light paint?
---
Follow-Up Postings:
| | | |
| --- | --- | --- |
| RE: how should I "fix" these?? | | |
Do you have a style you prefer? They'd look cute painted white and lightly distressed, if you used oil paint they'd be pretty indestructible.
Here is a link that might be useful: white distressed table.
---
| | | |
| --- | --- | --- |
| RE: how should I "fix" these?? | | |
Since you said you have always thought they were hideous, have you considered the idea of just putting them on craigslist and also looking there for replacements you might like better? I had furniture in our guest bedroom that I was tired of, so sold it on CL and got replacements--headboard like new on CL for only $25, then ordered one nightstand and repurposed a lowboy previously used elsewhere in our home. I love the way this looks so much more than my initial thought of just painting the existing stuff I had, and it actually cost me nothing.
---
| | | |
| --- | --- | --- |
| RE: how should I "fix" these?? | | |
Here are some examples of things you could do. If a painted table fits in your decor, I think those would be great!

I love this one, with darker legs and the design around the edge that you could create with a stencil:

Your table is suited to something really fun!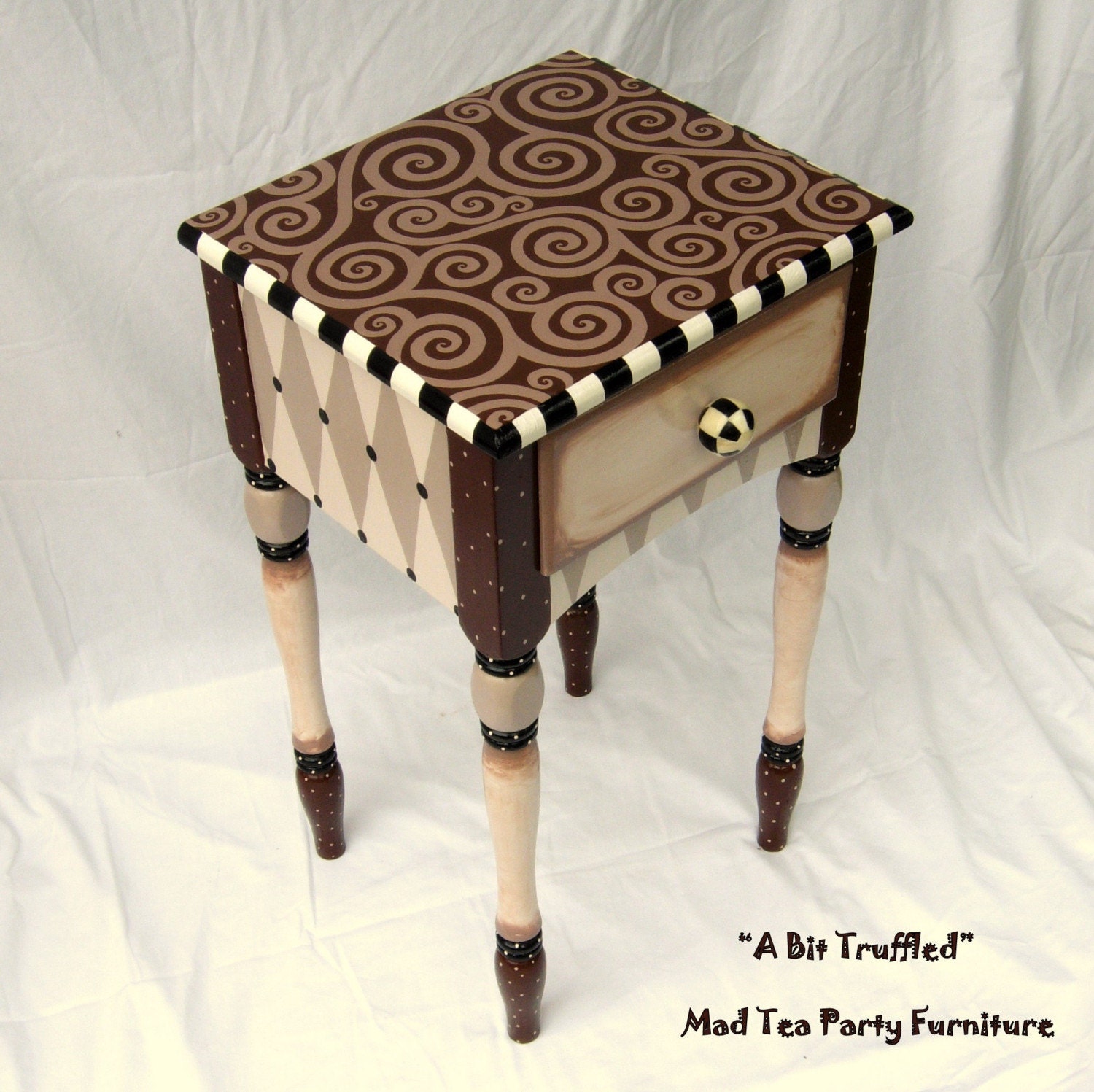 ---
| | | |
| --- | --- | --- |
| RE: how should I "fix" these?? | | |
If you don't like the lines, get rid of them. You could get new end tables off of CL for a good portion of what you would spend on paint.
They are not worth refinishing.
---
| | | |
| --- | --- | --- |
| RE: how should I "fix" these?? | | |
I'm not much of a craigslist fan, but I like the pic you posted olychick, they jump started my imagination. Thanks
---
| | | |
| --- | --- | --- |
| RE: how should I "fix" these?? | | |
Like others mentioned... you don't like them. Don't keep them.

Why invest time and money on things you never liked?
---
Post a Follow-Up
Please Note: Only registered members are able to post messages to this forum.
If you are a member, please log in.
If you aren't yet a member, join now!
---
Return to the Home Decorating & Design Forum
---
Instructions