Return to the Home Decorating & Design Forum
|
Post a Follow-Up
---
| | | |
| --- | --- | --- |
| Decorating with what you love? | | |
Posted by
joaniepoanie
(
My Page
) on
Sun, Nov 10, 13 at 15:00
I hear designers say this all the time...only put things in your home you love. Well, this puts me in deep doo-doo because I seldom find items I love...maybe that's why finishing/accessorizing a room is so hard for me.

After our kitchen remodel 18 mos ago, DS got engaged so we decided to escalate redoing the rest of the downstairs. No problem picking out the major things...sofas, chairs, etc...but the details..oy vey! I did buy some artwork and some candle sconces just so walls would not be bare...but six mos later everything just Looks so ho-hum to me! I do have one piece of art I've had for 40 years that I still love. Also some decorative wrought iron pieces that I would probably never buy but they were made by my grandfather so sentimental...that's about all I have that I would not part with.

I know I need more accessories but when I shop it all just looks so meh to me. How do you go about finding and picking out those details that make a room look welcoming and inviting? Thanks for your thoughts and advice.
---
Follow-Up Postings:
| | | |
| --- | --- | --- |
| RE: Decorating with what you love? | | |
I scour flea markets and garage sales for vintage pieces like pottery. My late MIL collected glass. Find out what you like, then go looking for it; that's half the fun. That being said, I don't have a lot of accessories out. If I don't like something it doesn't come home with me. My home is pretty neutral so I switch out accessories seasonally.
---
| | | |
| --- | --- | --- |
| RE: Decorating with what you love? | | |
I'm with you joanieponie. Picking furniture is the easy part. Arranging it, a little harder. Picking accessories, almost impossible.
---
| | | |
| --- | --- | --- |
| RE: Decorating with what you love? | | |
I wholeheartedly agree with decorating with what you love. I use that mantra with fabrics too - I don't care if under conventional wisdom it doesn't "go" with my other fabrics. The last thing I want is for someone to tell me that my house looks like a Pottery Barn catalog (not that there's anything wrong with Pottery Barn, but I find most of their stuff boring and "meh", as you say). As an aside, someone once did tell me my house looks like a Pottery Barn catalog. I about died! But what she meant was things were just so, and carefully curated, that it looked put together. Well, those were the words I used to interpret her comment and she agreed with me. : )

As for going about accessorizing, I agree it is hard. So, I wait. If accessorizing a particular spot, I wait to find something I love that fits. I am not an impulse buyer - I am an over-analyzer by nature. But when the time comes, I know if I love something. I would rather have a bare mantle or bookcase than buy something just to have something there.
---
| | | |
| --- | --- | --- |
| RE: Decorating with what you love? | | |
This post was edited by Fun2BHere on Mon, Nov 11, 13 at 19:40
---
| | | |
| --- | --- | --- |
| RE: Decorating with what you love? | | |
Our art work is stuff that we have had for years. Oils that my grandmother painted and prints from places that we have been to.

I have found some of my actual accessories (vases, pillows) at Home Sense. Now where they get there stuff I don't know, but at least when I buy something I haven't left 14 more on the shelf. I like to buy neutral colours or something with a hint of blue or copper (both of those are a colour theme through my house) but I will specifically buy something if the shape is interesting. I have very few things on display as I don;t like clutter so I have, through the years, figured out what "speaks" to me and it is interesting shapes.
---
| | | |
| --- | --- | --- |
| RE: Decorating with what you love? | | |
I would want to figure out why you don't like anything. That seems to be the root of the problem here.

I've known people who were perfectly happy with bare walls and no accessories, though, as long as they had comfortable functional furnishings.
---
| | | |
| --- | --- | --- |
| RE: Decorating with what you love? | | |
I don't like most decorative accessories and can relate to the OP. For me, I don't like clutter or stuff just for the sake of filling the space. I like things to be functional, mainly. So, my decor that surrounds me currently includes: lamps, houseplants, trays, books, throw pillows, throw blankets... almost everything has a purpose beyond being decorative. (I sound boring, huh? :p)

Joanie - do you have particular spaces that especially need help?
---
| | | |
| --- | --- | --- |
| RE: Decorating with what you love? | | |
I am like you-- rarely find things that I love, or rather, find things within my budget that I love.

If money were no object, I'd be able to create what I want pretty readily.
---
| | | |
| --- | --- | --- |
| RE: Decorating with what you love? | | |
joanie, do you gather inspiration photos on pinterest or elsewhere? Can you post a couple here?

People on this board have a lot of great ideas. If you post a couple photos of your current space plus spaces that you love, I bet you'll receive lots of specific feedback. And then you can purchase or at least have a better idea of what to hunt for.
---
| | | |
| --- | --- | --- |
| RE: Decorating with what you love? | | |
I love things that I have sentimental attachment to, or were collected during a family trip or experience (hence the sentiment). Rarely do I love a "thing", I love the emotion or memory that a thing envokes. Perhaps you are like me and are trying too hard to find things rather than things that jog your memory? We have two large areas of blank wall that are waiting until I can figure out to memorilize our last 2 or 3 family vacations. Everyone is different in what they "love".
---
| | | |
| --- | --- | --- |
| RE: Decorating with what you love? | | |
Can you post a picture of the piece of artwork that you love?
Only because I'm curious....I probably don't have anything constructive to add regarding accessorizing, I too think it's really challenging. But I love art.
---
| | | |
| --- | --- | --- |
| RE: Decorating with what you love? | | |
If possible -- post some photos from around the whole room ....
---
| | | |
| --- | --- | --- |
| RE: Decorating with what you love? | | |
As anele said, it is the budget, too. My husband does not value quality art as much as I do, so I cannot just fork over hundreds of dollars for something because I like it. I once had an item that was sentimentally significant to both of us professionally framed as a surprise, thinking it was a sure winner. It bombed badly. My husband has no problem spending money for quality doors, and other home furnishings. But I cannot seem to get a read on his taste in art. Makes it difficult, and the stress saps a lot of what could be a fun experience.
---
| | | |
| --- | --- | --- |
| RE: Decorating with what you love? | | |
Thanks everyone, I'll try to post some pics tomorrow.
---
| | | |
| --- | --- | --- |
| RE: Decorating with what you love? | | |
The best idea is to mix new with old. Antique stores have a lot of great things~it's not just granny's attic leftovers anymore. Shabby chic, cottage, primitive, French, English, as well as American antiques are just a few of what can be found these days. Too much new and your home will end up looking like Hobby Lobby or a furniture showroom.
---
| | | |
| --- | --- | --- |
| RE: Decorating with what you love? | | |
""If you want a golden rule that will fit everything, this is it: Have nothing in your houses that you do not know to be useful or believe to be beautiful."
― William Morris

William Morris was born in 1834 and died in 1895. Decorators today are stealing from a master.
---
| | | |
| --- | --- | --- |
| RE: Decorating with what you love? | | |
Don't get hung up that everything has to be pieces that you love as those take time to accumulate. Decorate with less expensive pieces that you like and replace them over time with pieces that you love.

Also, think about collections. A single piece of anything is ok, but a collection of (3 or more) items regardless of how simple become far more important when put together to make a statement.

For example, antique walking sticks as a single item would be uninteresting, but as a collection, they make a more important statement.

---
| | | |
| --- | --- | --- |
| RE: Decorating with what you love? | | |
OK...here are some pics Colors are gray, gold with rust as an accent......this is the painting I have liked for 40 odd years which is in foyer now...
Pics of the LR/DR....rug should have been bigger and I dont like how coffee/end tables are as dark as furniture--didnt realize either until both were in...too much of a hassle to dismantle and ship back....Pic over sofa is my homage to Mad Men..lol...I know I need some colorful pillows for the sofa...but what else?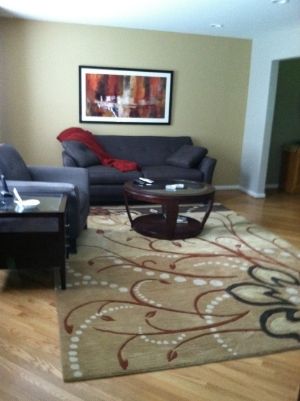 I saw these in a magazine and liked them a lot..now...not so sure..
I put a lot of pictures here so I wouldnt have bare shelves...not that I dont want family pics in the mix!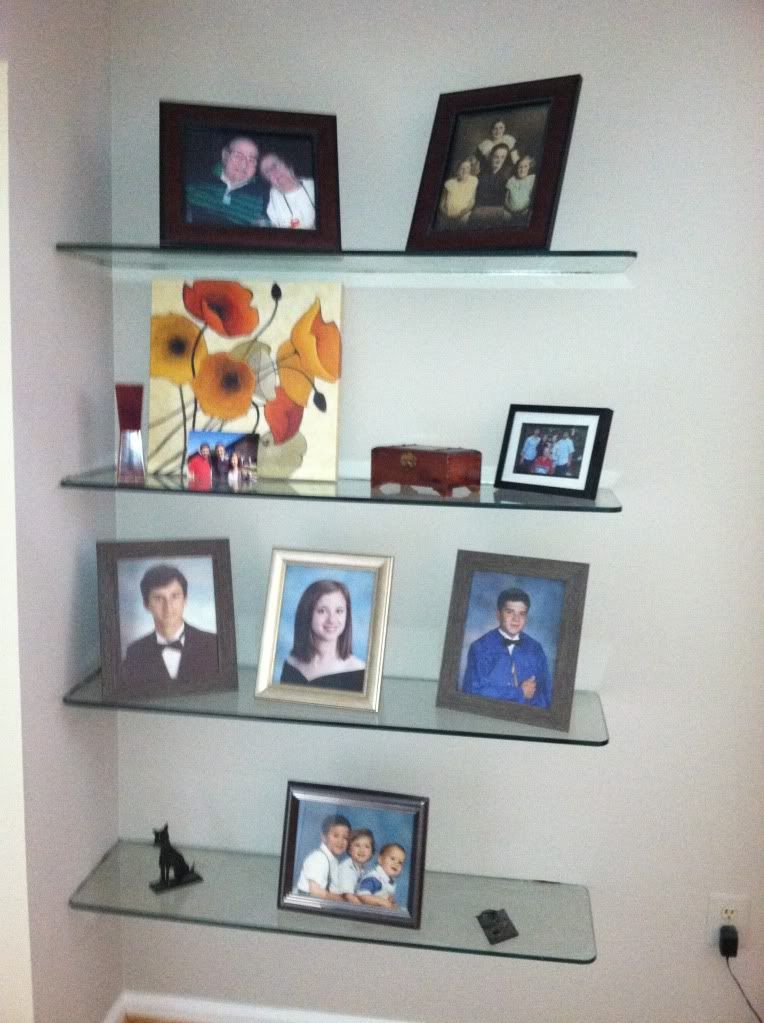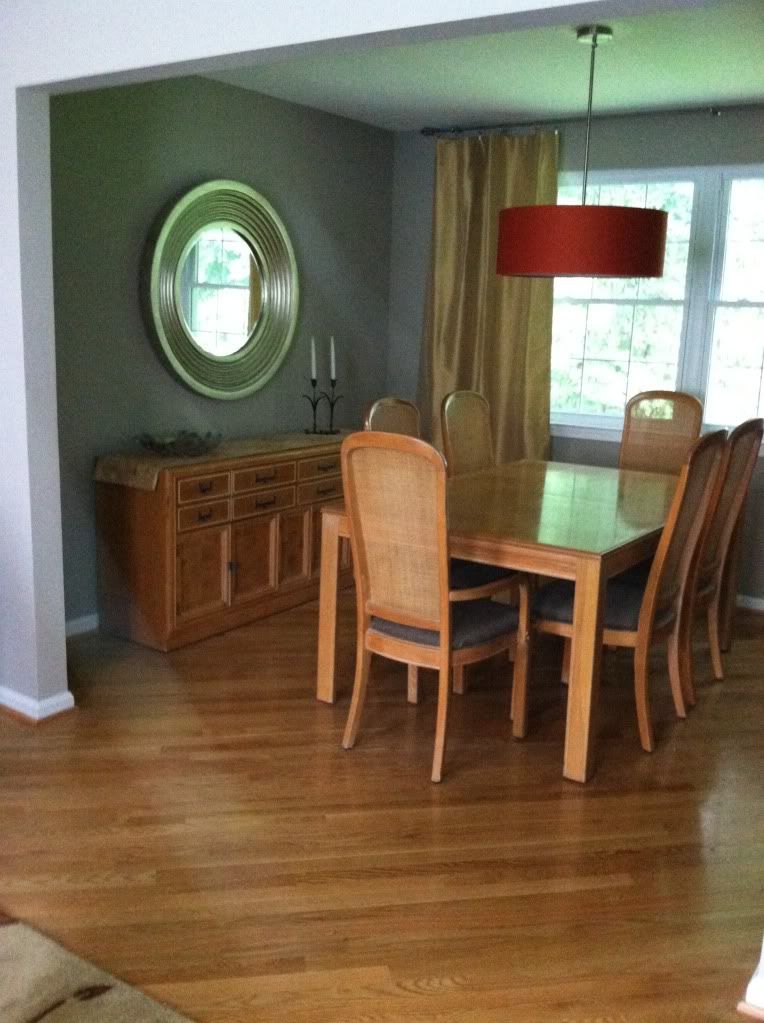 Thanks for looking and any help/suggestions...feel free to be brutally honest!
---
| | | |
| --- | --- | --- |
| RE: Decorating with what you love? | | |
Annie...I think you are right....maybe I should just pick up pieces I kind of like at Home Goods, Ikea, etc...and switch them out as I find more things. Maybe I am overthinking it...but accessorizing and what would look good where has me stumped and my rooms never look finished off.
---
| | | |
| --- | --- | --- |
| RE: Decorating with what you love? | | |
I think adding some white crown molding will dress up your rooms.

Have you tried removing the living room rug to see how the room looks w/o the rug? The rug looks beautiful by itself, but I feel like its main color might be a bit too light to tie your beautiful wood floor and the dark furniture together.
---
| | | |
| --- | --- | --- |
| RE: Decorating with what you love? | | |
I think you should shop at home-- move what you already have around!

Is the LR rug too big for the DR? I am guessing yes, but wonder if you could try it in there . . .
---
| | | |
| --- | --- | --- |
| RE: Decorating with what you love? | | |
I shop at Good Will...since they often have amazing stuff, you can't find anywhere else. Flea markets and antique stores are fine, but often have less variety and are more expensive.

Since you seem to like Mad Men, why not shop with that style in mind. Ask yourself, will this fit in my idea of that early 60s style? It doesn't have to be rigid...just what you picture as your idea of that style. Have some fun! Since it's not expensive, if you don't love it after a year....donate it back to Good Will and do something else :)
Here is a link that might be useful: Link to images of Mad men decor
---
| | | |
| --- | --- | --- |
| RE: Decorating with what you love? | | |
First of all, I have to confess that I wouldn't mind my house looking like a Pottery Barn catalog. I could definitely live with that.

However, it doesn't, and never will.

I tend to not accessorize, in my home or personally, besides earrings. It's just too much to worry about. I do have things in my rooms: photos I love, old pieces from my family (most of zero monetary value, one beautiful Lalique piece). I prefer a calm, subdued look in furnishings with a bright pillow or something to liven things up. Everything else is a dust-catcher.

I don't understand how people can put objects--that do nothing but sit there and look good--in the middle of living space. Like on a coffee table, carefully arranged pieces. My coffee table holds magazines I'm reading/saving, mail I need to open, possibly a meal, my feet when I watch TV, a reclining cat. "Decor" would simply get in my way.

I recently had some old friends over for lunch who had never been to my house. For days I cleaned and fretted about their impressions of me via my home. Silly me.
---
| | | |
| --- | --- | --- |
| RE: Decorating with what you love? | | |
In the living room, I think a torchiere lamp in the corner next to the dining room. Maybe a small end table on the other side of the sofa with a houseplant in the corner (looks to be plenty of light) or on the table. A table lamp on the end table. A large decorative bowl on the dining table. And definitely pillows. I think your house is not meh or blah. And I don't think it is suited to a lot of layering.
---
| | | |
| --- | --- | --- |
| RE: Decorating with what you love? | | |
Linelle...I am glad your coffee table is my twin. And the "run" which occurs if company is showing up. Although admission I do have various unique boxes which hold most of the CT stuff for easy shoveling to a clear top. They really belong in those boxes, but this is my LR and I do live in here. Guess this was OT.
---
| | | |
| --- | --- | --- |
| RE: Decorating with what you love? | | |
technicolor, I know, right? Like, who am I kidding?

I did whisk the cats' nail clippers and my omnipresent floss container, etc. away and out of sight. I do understand some things change when company comes over. :) Clean is what I shoot for. Hygienic.
---
| | | |
| --- | --- | --- |
| RE: Decorating with what you love? | | |
I agree with geogirl about decorating with items that remind you of experiences that make you happy and with Annie about taking time to accumulate things you like/love. I don't like a lot of clutter, and I like to fill wall space simply - with pictures of places I've been or things/colors that make me happy. It doesn't have to be expensive. I purchased a poster of Arches National Park while I was at the park. Had it framed and hung it above my desk. I've never seen that same poster online. I love the look of it, even though it's not some expensive collector's piece. I also like to go to local craft or art shows because there are great pieces of pottery, glass, wood, and wall art that are "authentic" and reasonably priced. And, usually a lot of what you like will tend to be in the same color families, so they can work together.

Anyway, why not take a look through photos you've taken (you can get them professionally enlarged), or look for posters/prints online that remind you of places that you've been (or would like to go) - have them framed and hung in some of your wall spaces. Or, frame scarves or other textiles that you like and have them framed for your walls?

I think it's also easier to think about filling big spaces - like you did with the homage to Mad Men picture - than it is to think about the smaller accessories. Like Annie said, it doesn't have to be expensive "loved" items at first, so feel free to find poster prints to mat and frame. Look online or in shops of places that you visit. Change them out later if you do find something that you love.
---
| | | |
| --- | --- | --- |
| RE: Decorating with what you love? | | |
And, it looks like you do have colors that you lean towards - shades of gray and orange/red tones. Was that intentional, or do you feel comfortable in those colors and just "drift" towards them? Either way, I think that that shows a "love" for that aspect of decorating.
---
| | | |
| --- | --- | --- |
| RE: Decorating with what you love? | | |
I really love the end table and the coffee table -- both in color and shape! Is there one end table or two?

It would be nice to see lamps on each end of the sofa -- maybe a table on a side table on the left hand side -- and a standing lamp on the right-hand side .... always nice to have warm pools of light around a seating area ....

Also consider add a modern lamp at the far end of the buffet in the dining room -- again -- nice to have lighting options ....

For the coffee table -- simply add a dark wood bowl filled with red apples for a simple splash of color. Or add a round dark woven tray -- handy to hold items and makes it easy to grab -- and stash stuff too! :)
---
| | | |
| --- | --- | --- |
| RE: Decorating with what you love? | | |
Your paint colors are very nice.

When I look at your rooms, I'm looking for some softness and texture. So I think an area rug under the DR table would be nice, I'd move the candles and bowl to the center of the DR table and add some buffet lamps and something else in the center of the buffet. Never underestimate the power of lamp light.

In the LR, I would want some end tables with lamps on them to add more warm light to the room. And that would give you a little more display space.

On the shelves in the LR, I think the photos are nicely arranged, but a few photos go a long way. I think they would be more interesting intermixed with maybe a few boxes/baskets/tchotchkes and some books with interesting book ends. And beware of scale. You have a few little things there, but they don't carry enough weight to stand up to the size and shape of the photo frames.
---
| | | |
| --- | --- | --- |
| RE: Decorating with what you love? | | |
I try to "think outside the box". For example, I went to Goodwill this morning and found a white pottery pitcher. $2.69. I am now using it for a planter....I have a nice healthy looking pothos in it... I also have a pitcher in my bathroom with grapes and artificial greenery filling it, and I have, on my family room shelves, a small birdcage filled with greenery and a red pillar candle in the center. At Christmas time, I wrap my sofa pillows with Christmas cloth napkins and tie a big red bow around them....etc. etc. I shop my house (lol) and change things around till they please me. I do not have a lot of "things" sitting around at any one time.....too hard to lift up and dust.....just enough to make it homey. The advice you have been given by the other ladies is good.
---
| | | |
| --- | --- | --- |
| RE: Decorating with what you love? | | |
My decorating items are either things that mean a lot to me that are family pieces or items that I have purchased at a consignment, antique or gift shop. I am way too lazy to do seasonal decorating with the exception of Christmas. I like interesting pieces and I have never been moved by items that are mass marketed. I think that may be why my home looks dated. I like quality pieces and just love shopping in antique stores. DH and I went antiquing this weekend and I found a lovely velvet riding cap. We also found some lovely old pediments that I considered mounting on our walls. Still not sure that I want to pull the trigger on that.

Joanie maybe you just really like a minimum of items in your home and that is why you don't find much you like when shopping for items. I would add some items but that is because I love a lot of interesting items on display. Coffee table or end table décor is zilch though. Our coffee table has DH's laptop on it, his mouse and mouse pad, a Longeberger basket to hold all of his clutter, a tv remote, and a glass container filled with Cheerios that we give our pupsters for treats.
---
| | | |
| --- | --- | --- |
| RE: Decorating with what you love? | | |
Teacats...we just have the one end table. I picked this coffee table because it has hidden casters and we are always rolling it around to eat from, put our legs up, etc..

We have recessed lights overhead so I have been dawdling getting a lamp on the end table. I have it narrowed down to two..one from Etsy and one from Lumens. I will post pics if I can. I am also thinking of getting a round brass table on wheels from Ballards as we frequently eat while watching TV. Am also looking at pillows on Etsy and Overstock.

Annie...great point about scale on the shelves...I feel so clumsy about dressing a bookshelf. I will do some rearranging.

Linelle---my coffee table often looks like what you describe....Sunday paper, catalogs, cups, ipad, etc..!!

Before the makeover I had cerulean blue carpet in there and the walls were taupe, taupe furniture, oak tables. Was glad to get rid of the carpet...it was from the 80's when the walls were peach!

Will hit Goodwill, Sal Army for inexpensive finds. Here's one of the lamps...
Here is a link that might be useful: Lamp #1
---
| | | |
| --- | --- | --- |
| RE: Decorating with what you love? | | |
Here's the other lamp from Etsy....or open to suggestions...
Here is a link that might be useful: Lamp #2
---
| | | |
| --- | --- | --- |
| RE: Decorating with what you love? | | |
I was about to say pretty much exactly what Annie said so, thanks, Annie.

Definitely get some pillows, or even just pillow covers, instead of the ones that match the sofa fabric.

There is something a little "off" about the placement of the ottoman. I can see how you probably don't quite have room for it by the chair, if I'm seeing the space accurately in the pic, but I would be inclined (if it can't be placed by the chair) to just get rid of it or use it elsewhere, and either leave that corner empty or maybe place a small upholstered bench there -- higher and more shallow than the ottoman.

I'd recover the dining room chair seats with a printed fabric that brings the red, gold, and gray together.

I like to arrange shelves with mostly smaller things toward the top, bigger things on the bottom. Intersperse your photos in with other things. To bring some warmer tones/texture onto the shelves, I'd replace the metal frames with wood ones, not necessary totally matching but similar. Then maybe add in some small pottery pieces or dark wicker covered baskets or something...again thinking texture and warmth.

Definitely a couple of lamps!

I would be tempted to fiddle with your furniture arrangement to see if there is space for another chair. Is this a room you entertain in? If so, do you need additional seating for visitors?

I have the opposite problem...I love too many things.
---
| | | |
| --- | --- | --- |
| RE: Decorating with what you love? | | |
To me your room calls for some interesting red chair or chairs somewhere with a quirky little side table. And, as already mentioned some cool sofa pillows. Also, a little bit of bling with a collection of Mercury glass vases on the dining table.
This is how I see it!

This post was edited by jterrilynn on Mon, Nov 11, 13 at 20:36
---
| | | |
| --- | --- | --- |
| RE: Decorating with what you love? | | |
Thanks jterrilynn...I like the mercury glass...will hunt for those....
---
| | | |
| --- | --- | --- |
| RE: Decorating with what you love? | | |
| | | |
| --- | --- | --- |
| RE: Decorating with what you love? | | |
Ha ha Cyn....my problem is I may love it today and then a month, three months, six months down the road not so much.

A big thanks to all! I'm taking it all in!
---
| | | |
| --- | --- | --- |
| RE: Decorating with what you love? | | |
I would personalize this space in a very economical and low-commitment way with spraypaint and more photos of my family and local landmarks.

Spraypaints come in a variety of metal finishes, and I would choose one (I found a matte silver the other day that I like), and I would paint a few key elements in each room to tie the rooms together, including the artwork frames (I can *always* go back to black if I don't like them painted otherwise), photo frames, the hardware on the TV console, the items over the ottoman, the candle holders in the dining room, etc. I like your artwork, for example, but the black frames are too generic. Black frames can be very distracting from the artwork they're supposed to highlight. In addition, your family photos on the shelves are priceless... spraypainting the frames a consistent finish would accentuate the photos themselves and add some cohesiveness to the collection.

With the upcoming holidays, I would take additional family photos and frame them in the same spraypaint finish and place on the dining room hutch, and perhaps in row of frames above the TV. Plus, I would go to a local park, my downtown area, or other geographically significant areas (my family's favorite restaurant sign, my kids' high school, etc.) and take photos. Local landmarks can make wonderful photos. I would have them printed in a poster size and frame them, again, in a frame painted in the chosen spraypaint finish. (At this point, I might choose a second spraypaint finish as an alternative!)

The above would cost about $7 per spraypaint can and the price to develop photos. And any frame can either be painted again, or easily replaced. Photos can be replaced with artwork that you find later on that you like better.

Additionally, I would replace the living room rug with a simple rug, like seagrass. I would add throw pillows in navy and cream, or another color that complemented the nearby art. I would get a big, simple bowl for the center of the dining room table, and put a seasonal items in it (pine cones, decorative balls, etc.). I would also replace the satin-like curtains with a simple fabric that worked with the throw pillows in the living room. (Off-white linen is easiest to match. Ikea has super-cheap, low-commitment but nice curtain panels.) I also would add a lamp lighting in both rooms, and change the dining room shade color, if I wanted to keep the drum style.

If my overall goal is to personalize my space, Hobby Lobby and HomeGoods are not my starting points. They are ways to fill in afterward.
This post was edited by peony4 on Tue, Nov 12, 13 at 1:02
---
| | | |
| --- | --- | --- |
| RE: Decorating with what you love? | | |
From your choices in furniture you seem to like transitional style which doesn't usually need many accessories. However since you think it looks unfinished adding more should help. I`d recommend looking at lots of pics online to determine what you might like. For many years pre-internet days I saved pages from home decor magazines which showed me what resonated with me.

I always like to see accessories that have personal interest and reflect the owner's hobbies, collections, or lives in some way. Otherwise a house can have that anonymous 'show-home' look.

It could be my monitor and it`s a nice rug, but it`s color does not do much for the room. Is it a similar color to the accent wall or is it brown? I'm not a fan of accent walls and wonder if that is one of the problems with the room. What does that color refer to?

My personal opinion is that sometimes when people say they can't find what they love it is because they are afraid of being untrendy or choosing items others may not like. Find courage to decorate in a unique way and expose your personal preferences. Give yourself permission to like what others may not.

For many years I was too busy to spend much time on planning my decor. I used wedding gifts, family heirlooms, and plants as accessories and it seemed enough at the time. Later, after I retired and traveled more I quit having plants in my house and also had more time so began collecting and subsequently acquired way too many accessories so have been editing. It was fun finding and buying a lot of accessories I loved especially on trips. Even tho I really went overboard with it most items were purchased in 2nd hand venues so didn`t cost as much as retail. One of our favorite activities on a Saturday morning was garage saling especially in semi-upscale areas which often have the best stuff at amazing prices. Now I only buy original art and handmade one-of-a-kind accessories so my decor is becoming even more unique which greatly pleases me.

I think the suggestion of red chairs is a good one.
---
| | | |
| --- | --- | --- |
| RE: Decorating with what you love? | | |
Joanie, this is a bit OT, but I really like your paint colors. The LR is London Fog? Is it a gray gray or does it lean towards blue? Grays are so difficult. And your accent wall is a brown?

The DR looks green? or is it a darker gray?

Appreciate any info you can give me. I'm in the collecting samples phase....
---
| | | |
| --- | --- | --- |
| RE: Decorating with what you love? | | |
Jamie...yes the LR is London Fog, the DR is on the same chip--Plymouth Rock. The accent wall is Bridgewater Tan at 75%. This is also in the kitchen. The foyer is Lighthouse Landing. Bridgewater Tan is similar to Deer Path which is on the same chip as Lighthouse Landing. In my house, the grays lean more towards green than blue.

Lucky--thanks. The rug is the same color as the accent wall---a gold/tan. No, I don't want it to have that cold, model home look. I think that I have come to the conclusion that I am overthinking this. I will start scouring thrift shops, Home Goods, etc...and pick up what grabs me TODAY....if I havent spent a fortune on any one thing, then no harm in tossing it or donating it down the road when I am tired of it. Also, we are in the midst of cleaning out our basement....maybe I will find treasures I had forgotten about!
---
| | | |
| --- | --- | --- |
| RE: Decorating with what you love? | | |
I think this is an interesting problem. You feel you "need" accessories; buy stuff, but then come to dislike the stuff. Kind of foreign to me as I like and buy accessories readily, but agonize over major elements.

In addition, to the very helpful comments above, I offer the following:

1) You don't necessarily "need" "stuff" -- despite what popular magazines and internet fora would leave you to believe. Some people relish calm and uncluttered environments. Further, just buying to buy stuff is never a good idea imo. Your house does not need to look like a designed space in a magazine. Concentrate on function first; and address irritants second (by "irritants" I mean those things which make you frown when you walk in the door.) Relax and wait for things to come to you.

2) It might be worth your while, if you have the time and the inclination, to make a study of overarching design principles -- things like color values, scale, shape, use of texture, etc. (And I'm talking out my patooty here, 'cause I am in no way a design professional.) My idea is if you study and think about these things for a while, it may come to you what you really want and like for your spaces.

3) I also suggest you think about your own and your family's hobbies and interests. Surely there must be some things you are into, be it science fiction, birding, or square dancing, and use those as a stepping stone to unique accessories.
---
| | | |
| --- | --- | --- |
| RE: Decorating with what you love? | | |
I hadn't noticed this thread until now... I'm struggling right now with accessorizing... and furniture --- really blending old stuff and new stuff to minimize buying all new stuff.

I didn't follow closely, but did someone suggest re-orienting the sofa (floating it) and making the accent wall the area with the TV? There seems to be quite a bit of distance between the TV and the couch. The rug I think emphasizes this by sticking out so much in the long direction. Does it fit the other direction? Can it slide more under the couch? You could put the one grey chair and ottoman in the corner and form a reading corner. Then use the new red chairs in a new grouping.

Do you have a pin board of things you like (can be anything), a scrapbook (the version 1.0 pinterest) or a design board?

ETA: I'm still tossing up my "temporary" decor from years ago.
Here is a link that might be useful: Maybe a bit matchy-matchy, but does echo the rug.
This post was edited by gooster on Tue, Nov 12, 13 at 23:48
---
| | | |
| --- | --- | --- |
| RE: Decorating with what you love? | | |
Some above mentioned a plant - don't underestimate the value of a large green plant to provide a warm, inviting and often needed softened counterpoint to harder edges and cold feeling areas. I would recommend a floor plant, not overly huge, that is right for the light and one you think is attractive, placed in a plain and simple pot - on a plant 'trivet' on casters to move it about easily.....Agree with Violet...I would avoid going out and buying more of what you have already indicated you will likely tire of soon. Maybe instead add very needed lamps that you really like and then live with and study the effect for a while. I will go against the crowd and recommend keeping the existing pillows for now to avoid a cluttered effect and adding for the sake of adding. Sometimes less is a lot more, and just throwing things into a room will not resolve any existing underlying issues. I always recommend establishing the foundation first, which includes scale and balance. If those are off, accessories cannot provide a fix. Accessories should be thought of last. The shelves are a good place to start in learning more about scale and balance and experimenting with the major impact even minor tweaking can make. You have some really nice pieces in your living room, you're off to a good start.
---
| | | |
| --- | --- | --- |
| RE: Decorating with what you love? | | |
Joanie, I haven't read the replies yet but I asked GW if they'd create an Accessories board. I never heard back from them. :(

IMO, accessorizing is one of *the* most important things in decorating. It's not the sofas or chairs, it's the little things we set on tables, etc.

I don't like asking specific questions here about where to put something because it always turns into a paint-the-walls-buy-a-new-rug type topic. lol.

I did buy a few books specifically on accessorizing and they really helped, along with looking on Google Image.

I still want an accessorizing board though!
---
| | | |
| --- | --- | --- |
| RE: Decorating with what you love? | | |
Is the LR rug big enough to go under your dining room table? I think that would really warm up that room. If it won't fit try to find a rug that will fit under your table. Someone mentioned recovering your dining room chair seats I think that is a wonderful idea, & either add a valance to your dining room the same print or color of your chairs. I would also agree with the other posters that said to get matching buffet lamps.Also I would add a silk flower arrangement that is low on the table, position a pair of candle sticks with long taper candles to match your colors. You already have the candle sticks they are on your buffet. As for the silk flower arrangement look at places like Micheal's or Hobby Lobby are any of your local craft stores. I know Micheal's usually have coupons for as much as 50% off that way you can save money. I really like Hobby Lobby, I can find things that just scream my name & tell to buy them..

You said you had some wrought iron pieces, could you take a pic of them & post it??? I love the idea of the red chairs! That will give your LR a pop of color as will new throw pillows for the couch & love seat. As someone else posted I would "float" my couch & move the entertainment center to the long wall.'Then I would put the loveseat/chair to the right of the sofa & put the red chairs where the loveseat/chair is now with a small table between them with a floor lamp behind the table. Maybe if you or your DH likes to play chess you could set up a board on the small table. For the coffee table, every home decorating magazine I have ever read, says use either groups of 3 or groups of 5. I think your coffee table could support a group of 3. Maybe a wrought iron lantern with one of those electric candles in it, a wooden bowl that you can change with the seasons. Like at Christmas fill it with brightly colored Christmas balls, for winter wooden balls etc..and lastly the third item should be a large round silver plate that you could put a couple pieces of fruit on,,,to tie in with the big mirror you have over the buffet. I would also add two big plants on either side of the entertainment once it is on the long wall..a tall one & a short one(but big & bushy) But before you buy anything make sure it screamed at you to buy it...lol

Well that is my opinion add $5.00 to it and you can have a cup of coffee at Starbucks...lol
---
| | | |
| --- | --- | --- |
| RE: Decorating with what you love? | | |
I would find an interesting box that maybe relates in some way to the wood tone of your dining room set and put it on the coffee table. These little boxes are not only decorative but incredibly handy for storing and hiding the TV and other remote controls from guests.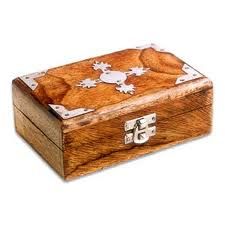 ---
| | | |
| --- | --- | --- |
| RE: Decorating with what you love? | | |
Do you have a Hobby Lobby near you? You will find EVERYTHING you need as far as great accessories. Tons of decorators shop there. Awesome lamps, framed art work, home accents, etc. Another great place is Home Goods. Hope that helps!!!
Here is a link that might be useful: Hobby Lobby Home Accents
---
| | | |
| --- | --- | --- |
| RE: Decorating with what you love? | | |
I think someone mentioned Mercury glass?? Tuesday Morning has several beautiful pieces, and some are etched, also larger than most pieces i've seen. Bigger is always best as you need less to fill a space. It would be a great start for the holidays too. ;o)
---
| | | |
| --- | --- | --- |
| RE: Decorating with what you love? | | |
Thank you so much for creating thread like this .It's really helpful to get idea for Interior decoration of entire room from antiques.
---
| | | |
| --- | --- | --- |
| RE: Decorating with what you love? | | |
I lost power for a few hours this weekend so batterie operated candles come to mind. They come in all sorts of colors and sizes and its comforting to know if you lose power exacty where a light source is without any digging threw drawers in the dark to find candles or flashlights. A few in assorted sizes in reds and oranges would look great with your pics and be useful.
---
| | | |
| --- | --- | --- |
| RE: Decorating with what you love? | | |
Lol, Joanie, I dislike the phrase "decorate with what you love" for a completely different reason---- it's a symptom intellectual laziness. "Decorate with what you love"----- well, duh....... are you going to decorate with what you hate? It's one of those stupid catchphrases that somebody said, then somebody repeated, and now it's taken on a life of its own.
---
| | | |
| --- | --- | --- |
| RE: Decorating with what you love? | | |
Kswl- LOL! I always thought it was a response to Christmas gifts and wedding presents...just decorate with what you love and store/give away the rest.

I love accessories, but they have to fit my 'theme' at the time. I got some cute things for Christmas, but they don't fit...so someone at Goodwill is going to be very happy.

I know that when my dad sent them, he wasn't sure what I wanted and he guessed pretty well on a couple, but a few others, not so much. I know he won't be offended, since he loves to shop at flea markets and sends me things he thinks I might like :)
---
| | | |
| --- | --- | --- |
| RE: Decorating with what you love? | | |
I store those things that I am not using. Renting a storage house is quite inexpensive compared to replacing a $4000 or even a $400 rug or a $100 set of dishes you purchased years ago and quit using, and is now back in fashion but is 20 times the original price. It will always work somewhere unless it was just shoddy from the get-go.
---
| | | |
| --- | --- | --- |
| RE: Decorating with what you love? | | |
Do you think pink stripes will be nice for my daughters room? TIA
---
Post a Follow-Up
Please Note: Only registered members are able to post messages to this forum.
If you are a member, please log in.
If you aren't yet a member, join now!
---
Return to the Home Decorating & Design Forum
Information about Posting
You must be logged in to post a message. Once you are logged in, a posting window will appear at the bottom of the messages. If you are not a member, please register for an account.
Please review our Rules of Play before posting.
Posting is a two-step process. Once you have composed your message, you will be taken to the preview page. You will then have a chance to review your post, make changes and upload photos.
After posting your message, you may need to refresh the forum page in order to see it.
Before posting copyrighted material, please read about Copyright and Fair Use.
We have a strict no-advertising policy!
If you would like to practice posting or uploading photos, please visit our Test forum.
If you need assistance, please Contact Us and we will be happy to help.

Learn more about in-text links on this page here