Return to the Home Decorating Forum
|
Post a Follow-Up
---
| | | |
| --- | --- | --- |
| Where do your pets eat? Do they eat 'in style'? | | |
Posted by
gardenwebber
(
My Page
) on
Wed, Nov 19, 08 at 13:56
My kitty will be getting some new feeding gear for Christmas, and I was thinking of putting it on the end of our island (visible to most of the house) so I want it to look cute. (is that ridiculous?)

Where do your pets eat? Are their food bowls in high or low visibility areas? What lengths have you gone to to pull them into your decor?

I would love to see pics!

Thanks in advance!
---
Follow-Up Postings:
| | | |
| --- | --- | --- |
| RE: Where do your pets eat? Do they eat 'in style'? | | |
We raise Great Danes so they need theri bowls raised up quite high.. so We feed them on top of a rustic trunk that is right around the corner from our kitchen. Eventually the area will be *foofed* up.. but honestly if I had the option I would rather feed them some where out of sight.

Maddie
---
| | | |
| --- | --- | --- |
| RE: Where do your pets eat? Do they eat 'in style'? | | |
Although they aren't shown in this picture, my kitties eat from large, round Fiestware serving bowls (2 turquoise for water, 2 tangerine for dry food) that are placed on the floor beneath the sideboard. The height is just right for the cats, and the dishes stay out of the way of humans, although it's easy to keep an eye on them to see when they need to be refilled.
---
| | | |
| --- | --- | --- |
| RE: Where do your pets eat? Do they eat 'in style'? | | |
Ooops, meant to post this too. Here's a water bowl. ;-)
---
| | | |
| --- | --- | --- |
| RE: Where do your pets eat? Do they eat 'in style'? | | |
Well, at the table, of course!!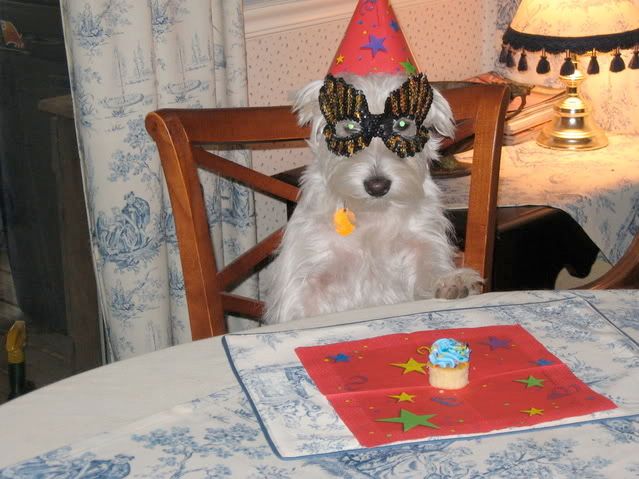 Only on their birthdays, that is! The rest of the time they both have bowls put down in the kitchen, with mats underneath, because one of them likes to take bits of her dry food out of her bowl and sets it on the floor before she'll eat it. She's a rescue from a Missouri puppy mill, and I think was accustomed to eating off the ground, only, because she's always been leery of food in a bowl.
---
| | | |
| --- | --- | --- |
| RE: Where do your pets eat? Do they eat 'in style'? | | |
Maddie - We used to feed our cat in the bathroom (her litterbox was kept there as well). Then, we moved the whole operation to the basement and added a kitty door for her unlimited access, and the food got moldy :( Now, she has litter in the basement, but we've moved food to a corner of the kitchen that blocks a cabinet door. I thought we'd try something different and try to make it feel like part of our home instead of hiding her away.

I might not like it that way, because I used to be a fan of hiding the foodbowl. We'll see.

Anyone else have opinions on whether pet food should be out of sight, or incorporated into the main areas of the home?
---
| | | |
| --- | --- | --- |
| RE: Where do your pets eat? Do they eat 'in style'? | | |
I'm still working on our pet areas (we just moved into the house) but I'd say they eat in style :) Or they will be.

I had an area opened up beneeth our stairway, in the hall right outside the kitchen and dining room.

It's currently about 5x3 but when finished will have an opening, accessed up high in the 4' ceiling to another larger space (a big existing closet) in our garage. This will allow me to get the kitty box out of the house, and give the kitties a place to get away when we have company. The floor of the room is golden travertine and I'll do a venetian plaster finish on the ceiling. I have a collection of french cat prints which I will frame and put on the walls. It has a little chandelier to light the space. Their food (cats) is up high so the dog won't get it. The dog food is on the floor.

Outside the door I'm having an artist paint some faux art for me. It will be a picture spoof of the "Dogs Playing Poker" painting, with my cats playing poker and our dog dealing :o)
---
| | | |
| --- | --- | --- |
| RE: Where do your pets eat? Do they eat 'in style'? | | |
There's no mistaking that we have seven cats, so I figured long ago that I wouldn't try to hide their food bowls. Back when I just had one or two kitties, I'd put the dishes out of sight, and that usually meant in the same room with the litterbox. I think having the food and litterbox too near one another, though, is setting up for inappropriate elimination (especially if you have one that's very sensitive/finicky), and besides, I wouldn't want to eat next to the toilet, so I don't make my "kids" do that anymore either. ;-)
---
| | | |
| --- | --- | --- |
| RE: Where do your pets eat? Do they eat 'in style'? | | |
Good question! We are small renovating our small kitchen so that it is more fitted with cabinets. Now we don't know where to put the cat bowls w/o blocking a cabinet? My husband suggested putting them in the dining room under a piece of furniture but I thought that was too strange. But if AuntJen can do it in her fabulous dining room, so can I. Does anyone else do this?
---
| | | |
| --- | --- | --- |
| RE: Where do your pets eat? Do they eat 'in style'? | | |
We have five dogs, three Basset Hounds and two Aussies. Two of our Bassets have eating issues and need to be fed seperately from the rest of the pack. They are both rescues, both were emaciated when we got them, one fairly close to being starved to death. Both are food guarders when it comes to the other dogs, they are fine with people. Our dogs aren't on demand feeders, we feed them in the morning, the bowls goes up and we feed them evenings, then bowls go up. I dole out snacks during the day as they wish. ;) The two eat in their crates, seperated .. the other three I feed by the back doors since they go out to use the bathroom after eating. We have two of the X-large self watering systems, one at each end of the house .. they are fine with sharing water, it's just the food that causes problems. So nothing pretty here. :) It sounds more complicated than it is, we've found it's what works best for our situation though.
---
| | | |
| --- | --- | --- |
| RE: W2here do your pets eat? Do they eat 'in style'? | | |
Nanny2A - hysterical picture!

Igloochic - I have the "dogs playing poker" on a fringed carpet/tapestry thing... My uncle gave it to me, it was a relic from his old 70's bachelor pad.

Where will I ever put that thing? Do you hang something like that? (sorry for the OT, you just made me think of it)

That is really cute, the way your artist will customize that w/your own pets!
---
| | | |
| --- | --- | --- |
| RE: Where do your pets eat? Do they eat 'in style'? | | |
Thanks for posting this question cause I want to know too. We're just finishing up a kitchen reno and have installed a hardwood floor. My dog is quite fluffy, and thus has a very drippy chin so I no longer want to feed her in the kitchen.

I've been feeding her in the master bathroom during renovations and was considering just continuing with that. There is a built-in tile step up to the bathtub and her bowls rest nicely there, with the added bonus that she doesn't have to lean over as far for the food.

If anyone is currently feeding a sloppy dog on a hardwood floor, I'd love to know how the floor is holding up!
---
| | | |
| --- | --- | --- |
| RE: Where do your pets eat? Do they eat 'in style'? | | |
LOL GW what a fun dilema. If you have pets, I'd hang it low and in front of their feeding station. Or my quirky sense of direction would also tell me it would be a great quirk in an elegant room (I love whimsey). I actually really like the dogs painting :) They're well done..and quite fun :)
---
| | | |
| --- | --- | --- |
| RE: Where do your pets eat? Do they eat 'in style'? | | |
Our humanoid (Welsh Terrier) has similar drippy issues, happytobehome. He eats on the side of the island near our table. We have hardwood flrs to protect so I've placed a small washable, fun doormat under a large plastic tray which holds his two white soupbowls. It's unobtrusive, fits in with our decor and easy to maintain.
---
| | | |
| --- | --- | --- |
| RE: Where do your pets eat? Do they eat 'in style'? | | |
My 5 cats eat in the laundry room. The set up is ridiculous. They all have to have their own bowl. Two of them do not like to eat right next to the others, so one has a shelf above the cat door that she climbs up on to eat. The other eats on the countertop, so I have a small ottoman in there so she can get up there. The other three have bowls along with a large water bowl lined up on the floor under the window.

The dog eats in the kitchen, with her bowls on a little mat on the wood floor. She's not too messy. Here's a pic of the elevated bowls I want to get from Petsmart

Today she went into the laundry room and inhaled the cat food in the bowls on the floor. I guess the amount of food provided in the kitchen was not sufficient today.
---
| | | |
| --- | --- | --- |
| RE: Where do your pets eat? Do they eat 'in style'? | | |
We used to have a dog and a cat. They ate in the laundry room, right off the kitchen. The cat's dishes were on the dryer and the dog's on the floor. The cat's food had to be placed higher or the dog would have snapped it up. Their dishes were placed on cute placemats which were easily wiped down.
---
| | | |
| --- | --- | --- |
| RE: Where do your pets eat? Do they eat 'in style'? | | |
we have a little recessed area below our counter in the kitchen where we keep our dogs bowls (the previous owner had a stool there and used it as a breakfast bar, although i'm not sure why since it's pretty small and the refrigerator is at a ninety degree angle to it). we have cute little placemats with their names stitched on them under the bowls
---
| | | |
| --- | --- | --- |
| RE: Where do your pets eat? Do they eat 'in style'? | | |
For years, my dogs ate out of (homegoods) bowls in the laundry room. Then, DD and her DH had to stay with us for a few months and 'their' dogs had to eat in the kitchen. I patiently explained to the Little Girl that her dogs would eventually eat wherever their food was, but she does not listen. Plus, the laundry room has little room for 3 extra dogs. So all bowls went into kitchen and mine stayed there when DD moved into her house. When I have company, the bowls go back in the laundry.
The bowls are cute, but feeding dogs is not, so I don't worry about incorporating it into the decor. (Please don't tell my dogs 'cause they think all decor is arranged around them!)

Red
---
| | | |
| --- | --- | --- |
| RE: Where do your pets eat? Do they eat 'in style'? | | |
Geez, You all make me feel so uncreative.

I have a pretty lime green plastic mat (to match my decor)with black trim on the floor at the end of one of my cabinet runs in the kitchen. It's out of site when you walk into the kitchen but it can been seen from the table. Just some cute cat bowls. It's doesn't bother me to see them since both my cats share the bowls and they don't take up a lot of space.
---
| | | |
| --- | --- | --- |
| RE: Where do your pets eat? Do they eat 'in style'? | | |
In my last house, my Golden, Sammy, ate in the laundry room/pantry. I'd planned an area for his food storage and actual eating, and it worked out well. Because he tended to walk away while still drinking and/or chewing, his placemat was an old bath towel that could go in the washing machine weekly.

Sadly, we had to put him down last December at the age of 13, and when we get into the new house we'll get a Golden puppy. His/her eating space will be in the laundry room, but this time under the large folding table, where his training crate will also go.

Smart move, huh? New house, new hardwood, new carpeting . . . obviously calls for a new puppy!

Arlene
---
| | | |
| --- | --- | --- |
| RE: Where do your pets eat? Do they eat 'in style'? | | |
Hey Howling Angel,

I used to live on Quintana Street! How did you come up with that name?
---
| | | |
| --- | --- | --- |
| RE: Where do your pets eat? Do they eat 'in style'? | | |
She's the grandpuppy aka the princess and she even eats in style at grandma's house...lol. Here's a pic I took of her today. She visits when her mom has to work a 24 hr shift. She has a little braided oval rug in the kitchen with her silver water bowl and food dish ready and waiting when she arrives :-) This is Lucy.
---
| | | |
| --- | --- | --- |
| RE: Where do your pets eat? Do they eat 'in style'? | | |
Laundry room for breakfast, snacks and 1st dinner.

Kitchen rug for leftovers.

nanny2a - That one cute dog! :)
Tonight, my dog decided not to wait for her "2nd dinner," and she jumped right up in the dining room chair. lol
---
| | | |
| --- | --- | --- |
| RE: Where do your pets eat? Do they eat 'in style'? | | |
happy to be home, it's john turturro's character's last name from the movie big lebowski, which is my husband and my favorite. that's so funny you lived on a street with that name! we mostly call her quinn.... it's just like with a kid, she only gets the full name when she's bad
---
| | | |
| --- | --- | --- |
| RE: Where do your pets eat? Do they eat 'in style'? | | |
When we remodeled the kitchen we had a drawer installed under the pantry cabinet. I can fit 2 stainless steel bowls in the drawer for food and water. It's nice to be able to just close the drawer when mopping.
I also found china coasters w/gold trim @ Marc's for a nickel each to use for special treats like ice cream. The're perfect, since the edges turn up.
---
| | | |
| --- | --- | --- |
| RE: Where do your pets eat? Do they eat 'in style'? | | |
You guys are so funny!!
Our dogs eat in the kitchen, just like us.
We have 2, a lab and a beagle. They get fed in the morning and at night. We have a rug that matches the rest of them with a self waterer and their food bowls on it. Nothing fancy.
The really funny thing is that the lab is older...she is almost 9 and the beagle is only 3, we put the food in the labs dish first and she waits for the beagle to get hers before she eats...she has manners!
Ok, that was probly more than you wanted to know.
Love the doggies though!
Karen L
---
| | | |
| --- | --- | --- |
| RE: Where do your pets eat? Do they eat 'in style'? | | |
When we reno'd the kitchen, my biggest, totally non-negotiable, must-have, was a feeding area for our cats! After 7-8 years of people knocking over the cats' water dish, there just had to be a place in the new kitchen to keep the dish soit would be out of the way of moving feet.

Here's it is: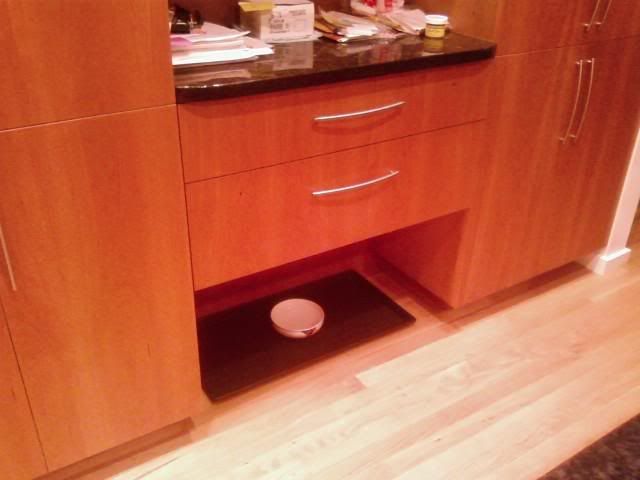 ---
| | | |
| --- | --- | --- |
| RE: Where do your pets eat? Do they eat 'in style'? | | |
Not in style at this time. The dog eats in the mudroom; he has a big ceramic bowl for water and small stainless steel bowl for his food - he eats wet food so we needed bowls that we could buy in bulk cheaply (bought a dozen from a kennel supply catalog), store efficiently, and put in the dishwasher - set on a placemat from Wallyworld. The only time he drinks, weirdo dog, is at mealtimes so he needs a big water dish even though he's not a big dog because he'll slurp down most of a quart at each meal! (But when the bowl is refilled after the meal, the water just sits there all day.) I wish I could move the feeding area to the half-bath off the mudroom but he's afraid to go in there. I think he's scared of the toilet. LOL

When I can justify the expense of having one custom made to accomodate the two different sizes of bowls (half a can of dog food only needs a pint bowl, water in a quart), I'd love to get a raised feeder made in oak kind of like this, since the dog's dining area is right in front of you when you walk in the back door, but almost $200 for something to hold a dog bowl is just nutso IMNSHO. Of course what I would REALLY love is one of Bungalow Bob's pet feeders but I think those are built for people with far more money than sense!

My late cat could be trusted to free-feed without overeating (in fact she preferred to "nibble" - if presented with a meal she would eat two bites, walk away, and be back screeching for more in an hour or so) so we had one of those gravity-type dispensers that held a week or so's worth of kibble. Plastic and unattractive but very efficient. New cat, whenever she gets here, will eat in the laundry room so she can be behind a gate to keep the dog out of the cat food. If she can't be trusted to free-feed, this timed kibble dispenser is extremely cool.
---
| | | |
| --- | --- | --- |
| RE: Where do your pets eat? Do they eat 'in style'? | | |
Our dog is free fed and is outside all day, so her food bowl is outdoors on the covered porch. When we bring her in at night, her food bowl is placed near the dining table, along with two water bowls (one is for the cats). Our dog also has a water bowl outside, but prefers to drink out of the creek (when we walk her), flower pot trays, or puddles.

The cats' food bowls and another water bowl are on the second floor, where the dog can't get to them (we have a "gate" across the stairs).

Nothing fancy or in style here!
---
| | | |
| --- | --- | --- |
| RE: Where do your pets eat? Do they eat 'in style'? | | |
cat mom....what a great idea!

Two of our cats eat on the desk area in the kitchen...but they only eat there. One MUST drink out of a big plastic cup by the kitchen sink, the other drinks out of my bathroom faucet upstairs (not DH's...only Mom's :o) My fat cat can't jump onto the counter, so she eats/drinks on the dining room table (that gets used twice a year). She has to jump to a chair, then to the table. I would love to be able to feed them in the laundry room or on the floor under the kitchen desk, but thanks to my little Boston Terrier I can't do that!

My BT eats off of a small paper plate (very fancy)! He eats raw food, and I am a freak about raw food. So he eats it in a matter of 20 seconds, and I throw the plate away.

I would love to have cutsie bowls or something, but for now this works for us.
---
| | | |
| --- | --- | --- |
| RE: Where do your pets eat? Do they eat 'in style'? | | |
We have 2 large dogs and 1 cat--just saying that so you'll know I'm a pet lover. However, just like I don't leave human food out all day on the counter or in dishes under the counter (even dry food), I also am grossed out by the sight of usually slightly dirty pet dishes (I realize that part wouldn't apply to any of you here) with half-eaten food in them, usually in locations where they get bumped or small hands can touch. So we have a little cat door that leads to the garage where the cat's litter box and food/water dishes are. The dogs also have theirs outside, but since we have outbuildings, their food is kept there available through a dog door.

We've tried the laundry room and bathrooms, but it's such a pain for everyone to use the rest of the room since where there are cats, there's usually stray litter box filler, and spilled water, etc. Believe me--your non-pet friends (and many pet ones) will love you! And no amount of cute bowls will change that.

OK---quickly dodging the rotten tomatoes as I race for cover!
---
| | | |
| --- | --- | --- |
| RE: Where do your pets eat? Do they eat 'in style'? | | |
My pets are my kids. So I figure...if someone doesn't like it...they don't have to come over :o)~ I go to my friends and deal with all of their kids crap all over the place...so they can put up with a water/food dish on the counter at my house! None of my pets free feed, so I am able to keep all of their areas clean.
---
| | | |
| --- | --- | --- |
| RE: Where do your pets eat? Do they eat 'in style'? | | |
Baxter eats in the kitchen. I don't even have a dog bowl for him anymore. He eats his meals out of a food ball (he has a tendency to gulp and it slows him down). He loves it and wags up a storm as soon as it comes out.
---
| | | |
| --- | --- | --- |
| RE: Where do your pets eat? Do they eat 'in style'? | | |
My pets are my kids. So I figure...if someone doesn't like it...they don't have to come over.
Exactly! ;-) My kitties do free-feed (dry Iams), but their bowls aren't unsightly by any means. Sujafr, isn't the garage cold in the wintry months for your furbabies to have to go out there and eat? Maybe not ... I guess it would depend on where you live, and I also guess some people might have heated garages! (Ours is detached; definitely wouldn't be an option for us.)
(Oh, and that's the only rotten tomato I'm gonna lob your way. **grin**)
---
| | | |
| --- | --- | --- |
| RE: Where do your pets eat? Do they eat 'in style'? | | |
Just a point that I've read about pet feeding bowls, esp. for wet food or water: if you use ceramic, esp. ceramic that is made in another country (e.g. China), the water will gradually work its way past the glaze and it's possible that toxic chemicals will leach into the water.

We use stainless bowls for our feeding just to be safe. There are plenty of stylin' stainless bowls/feeders around :)
---
| | | |
| --- | --- | --- |
| RE: Where do your pets eat? Do they eat 'in style'? | | |
| | | |
| --- | --- | --- |
| RE: Where do your pets eat? Do they eat 'in style'? | | |
In our classic coca cola themed kitchen we have a couple of jadite berry bowls on a metal coke tray for kibble. The water is a fountain that doesn't match but after $2k in vet bills for a urinary blockage, who cares?
---
| | | |
| --- | --- | --- |
| likes company with dinner | | |
I forgot to add that one of my dogs will get a mouthful of food and carry it over to wherever I am: living room, bathroom, bedroom...then spit it all out to slowly eat each piece. So, we have ground up dogfood all over the house from when she misses a piece and someone steps on it.
---
Post a Follow-Up
Please Note: Only registered members are able to post messages to this forum.
If you are a member, please log in.
If you aren't yet a member, join now!
---
Return to the Home Decorating Forum
Information about Posting
You must be logged in to post a message. Once you are logged in, a posting window will appear at the bottom of the messages. If you are not a member, please register for an account.
Please review our Rules of Play before posting.
Posting is a two-step process. Once you have composed your message, you will be taken to the preview page. You will then have a chance to review your post, make changes and upload photos.
After posting your message, you may need to refresh the forum page in order to see it.
Before posting copyrighted material, please read about Copyright and Fair Use.
We have a strict no-advertising policy!
If you would like to practice posting or uploading photos, please visit our Test forum.
If you need assistance, please Contact Us and we will be happy to help.

Learn more about in-text links on this page here