Return to the Home Decorating & Design Forum
|
Post a Follow-Up
---
| | | |
| --- | --- | --- |
| Shopping for a mantel shelf | | |
Posted by
franksmom_2010
(
My Page
) on
Fri, Nov 30, 12 at 13:46
I posted about our mantel a while back, and now can't find that old thread. We removed the mantel shelf when we moved in, because it was dangerously precarious. It's a rough cut piece of raw lumber which we think is either cedar or redwood, and it was also a bit splintery. This is what it looked like when we moved in:



I dug it out of the garage the other day, and decided to see if I could sand down the splinters and finish it. Sure enough, this is what I ended up with after sanding and a clear stain: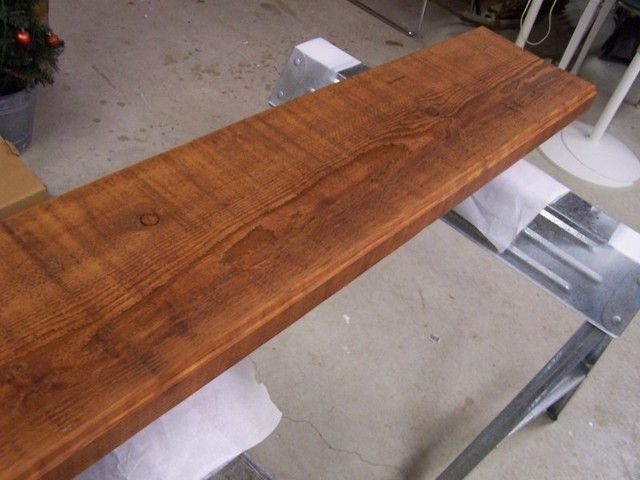 Brought it in to check the stain color, and remembered why is was so unstable. The brick supports are 6.5" deep, and the shelf is 11.25" deep. It really needs to be no more than 10" deep to be stable when it's installed, so I'm considering my options. The shelf is also 60" long, the brick is 62.25".
One other tiny problem...one end of the shelf is a wee bit warped. It's not terribly noticeable, but I wonder if that will bug me.
Here are my questions:
1)would you have the current shelf cut down to a 10" depth, or buy something new?
2)if I buy something new, would you go with a shorter length? Here is what a 48" wide shelf would look like:
The 60" length just seems out of proportion to me, but I'm bad with scale, so???? And I don't know if it seems out of scale because of the depth.
3)would you keep the current shelf and have both the depth and length cut shorter to minimize the warp?
I'm going to browse at a wood carving place today, and I suspect that if they don't have anything ready made, they can certainly either make me something, or cut the existing shelf.
---
Follow-Up Postings:
| | | |
| --- | --- | --- |
| RE: Shopping for a mantel shelf | | |
It's a shame the current piece won't work, but understand that you don't want something precariously balanced up there! I prefer the longer length - I think the 48" looks too stubby. I'm not sure whether I'd use your current wood or replace it (the warp might bother me if it's very noticeable), but I'd definitely stick with the 60" length.
---
| | | |
| --- | --- | --- |
| RE: Shopping for a mantel shelf | | |
The mantel was the right (width) size before. Anything smaller would look wrong.

If that piece of wood is warped, go find something else to use. Home Depot and Lowes will cut wood for you, assuming you buy it there. It shouldn't be too expensive to replace and cutting it to the right size should be easy.
---
| | | |
| --- | --- | --- |
| RE: Shopping for a mantel shelf | | |
Well, the wood carving place was a bust. They only did rustic, split log type mantels. And they were very pricey, too.

Here's some pics that show the warping: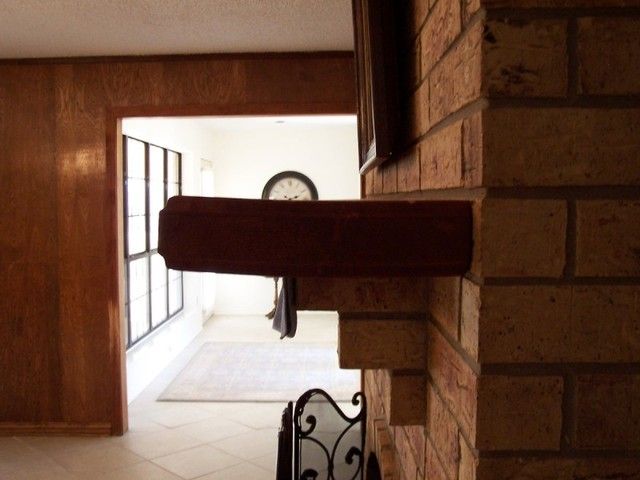 Really, I don't know if it's going to bother me that much, and I don't know how noticable it will be with "stuff" on it. I suspect not much. You really can't tell if you're looking at it straight on, just from the side.
DH is going to try and cut that piece down to 9" deep tommorrow.
---
| | | |
| --- | --- | --- |
| RE: Shopping for a mantel shelf | | |
A slab of fieldstone or bluestone would look great and you should be able to get a thick piece cut to size from a local garden stone/gravel/paver place.
---
| | | |
| --- | --- | --- |
| RE: Shopping for a mantel shelf | | |
I like the size, length and depth of it as is. The scale looks perfect for the fp and that wall of built ins. The warping is barely noticeable and when you have things on the mantel, probably even less.

Can you look into having it securely attached to the brackets? Seems like you could drill into the brackets, straight down and bolt it down and also glue it to the brackets. That would secure it without having to cut it. you could fill the holes if needed, or just hide them with decor.
---
| | | |
| --- | --- | --- |
| RE: Shopping for a mantel shelf | | |
I don't think the bowing looks too bad. If it is cut down to 9", it should be less noticeable...

(Fieldstone and bluestone are readily available only in certain regions, right?)
---
Post a Follow-Up
Please Note: Only registered members are able to post messages to this forum.
If you are a member, please log in.
If you aren't yet a member, join now!
---
Return to the Home Decorating & Design Forum
Information about Posting
You must be logged in to post a message. Once you are logged in, a posting window will appear at the bottom of the messages. If you are not a member, please register for an account.
Please review our Rules of Play before posting.
Posting is a two-step process. Once you have composed your message, you will be taken to the preview page. You will then have a chance to review your post, make changes and upload photos.
After posting your message, you may need to refresh the forum page in order to see it.
Before posting copyrighted material, please read about Copyright and Fair Use.
We have a strict no-advertising policy!
If you would like to practice posting or uploading photos, please visit our Test forum.
If you need assistance, please Contact Us and we will be happy to help.

Learn more about in-text links on this page here