Return to the Home Decorating Forum
|
Post a Follow-Up
---
| | | |
| --- | --- | --- |
| Bed Under Window | | |
Posted by
camarodreamer67
(
My Page
) on
Sun, Nov 29, 09 at 13:28
The head of my king size bed is currently on the wall opposite a set of double windows. When looking into the room you see the foot of the bed not the head. The only other wall that will accomdate it is the wall with the windows. I currently don't have a headboard. I am wondering if a padded headboard would look right if it were placed in front of the windows with window above it!

Inspiration Pics welcomed!

Alicia
---
Follow-Up Postings:
| | | |
| --- | --- | --- |
| RE: Bed Under Window | | |
If I am understanding correctly, the headboard would be under the window but not blocking the window. If that is the case I dont see why it couldnt be placed under the window. But if the headboard is in front of the window blocking any portion of it, then no it would not look right. Is is possible to angle the bed in a corner or would that take up too much room.
---
| | | |
| --- | --- | --- |
| RE: Bed Under Window | | |
If I put a headboard it would be blocking a portion of the window. I'm afraid there just isn't room to caddy corner the bed. I wish I could move my old bedroom to this house! Hehe!

Alicia
---
| | | |
| --- | --- | --- |
| RE: Bed Under Window | | |
I have a bed under a window in both houses. In the lakehouse we used the bay window for our bed placement because it was the best place for it, and it allows for a deep headboard to someday display art in. I like to see the northern lights at night and this placement allows us to see them while relaxing in bed. I bought a platform bed for the space and had a cabinet built (which is used for christmas storage) to which the bed butts up. The counter is just the right height for setting a cup of coffee or wine on while relaxing (and for a cat or dog to sit on and enjoy their high perced view of the neighborhood).

This is the cabinet while being built: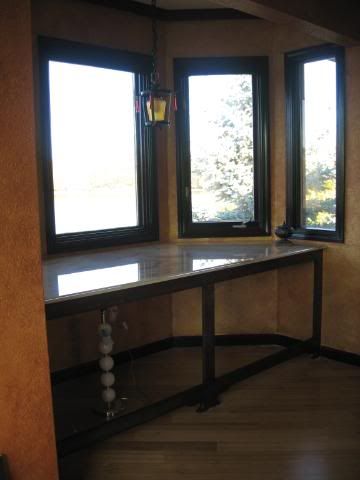 And with the bed in place (which is always rumpled like this because the dog and cat think it's a trampoline just for them)

In our new house there is one room with the bed in the window and really it's the only place for the bed. They have a little shelf behind the pillows for lamps. CUrrently it has no headboard (like mine above) but I'm going to use an iron bed in the same place. The headboard will be in front of the window but because it's iron and open for the most part, I think it will look nice. I wouldn't use a solid wood headboard in the same place because I'd hate to block the window...here it is without the headboard:'

---
| | | |
| --- | --- | --- |
| RE: Bed Under Window | | |
Igloo, I love your rooms. I could go without a headboard and the view is tremendous from our bedroom. Privacy is in no way an issue where we live but light control is since dh sometimes works nights. The only concern I have is that we sit up in bed and read at night and I can't imagine leaning against a window. I thought maybe a short padded headboard that only covered the bottom 12" or so of the window might look ok with the proper window treatments.

Thanks
Alicia
---
| | | |
| --- | --- | --- |
| RE: Bed Under Window | | |
Hi,

I don't think there's anything wrong with a headboard in front of a portion of the window if there's a good reason for it. In this case, I was trying to spare our guests the sometimes noisy rattling/sounds of the plumbing/pipes behind their heads lol...it was adjacent to the guest bath. I also prefer for guests to be able to walk straight out towards the bath vs having to walk around the bed in the dark...especially older people. Most of the light came from the other window which faced south/west.

That, along with the fact that I like seeing a bed straight on when entering a room and the furniture layout worked out much better is why I did this. I do think the look is better when the WT's help frame out the bed.

This was my guest room 13 yrs ago. I designed it with my mom in mind...she loved her florals. :)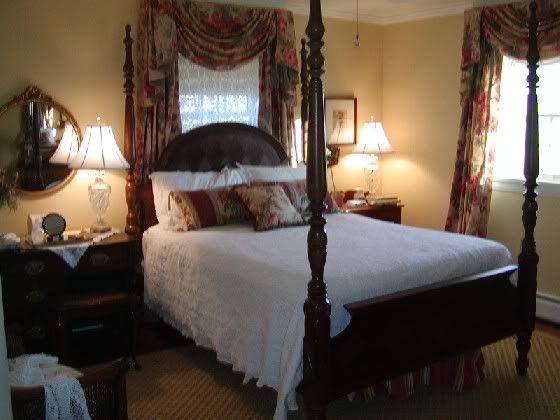 ---
| | | |
| --- | --- | --- |
| 2RE: Bed Under Window | | |
Igloo....I covet that view and bed...sigh. You have some marvelous "stuff".
---
| | | |
| --- | --- | --- |
| 3RE: Bed Under Window | | |
OH...I just noticed that slip of fabric DANGLING under the bed...LOL! I had been experimenting with a look for a dust skirt...which I never did get around to.
---
| | | |
| --- | --- | --- |
| RE: Bed Under Window | | |
Jant, I love it! I have seen two different rooms done this way on HGTV in teh past week! I am thinking I am gonna go for it!

Alicia
---
| | | |
| --- | --- | --- |
| RE: Bed Under Window | | |
I also have positioned my 4 poster the same way Jant did. If it looks balanced go for it. My room has an odd set up with hardly any wall space so the bed must go in front of either of the two windows. One window is able to be nicely balanced with the headboard, the other is slightly off due to a radiator, but pictures on the wall help balance it out.

I think your plan will work out great!
---
| | | |
| --- | --- | --- |
| RE: Bed Under Window | | |
Igloo, the bed placement at your lake house has always been my favorite to look at! I've shown the picture to my husband and he too likes it.

We have a longish window and I've sometimes put our bed under it and it looked great.

Beds under windows are pretty,IMO. It gives a cozy feel to a bedroom which is a must for me.

Even with a headboard I use one of those big pillows to prop up on to read and watch TV. Then throw it in the floor when I go to sleep. lol
---
| | | |
| --- | --- | --- |
| RE: Bed Under Window | | |
Thanks oakley I miss that darned view (ok I have an ocean view here with a ferry, but I miss the northern lights)

I don't have pics, but have since added black out shades at the lake house (with the view) and they're wonderful when you want darkness (summer) but most often the shades are up so we can enjoy the northern lights...you can see them easily from the bed when lying down (of course it helps that there are windows on the side as well).

You know on that bed the "headboard" (back of the cabinet) is really only about six inches high. But we have firm pillows that are leaning against it, then pile a few more on when sitting up and it's very comfy.

We did move an iron bed in front of that other room window as well and it looks great.

I adore the placement of jant's bed...I would have thought that blocking would look bad, but her bedroom shows it's not a big deal at all! I probably wouldn't block a view window but other windows? Sure...after all, how attractive can the neighbor's roof really be :oP (the view from a few of the windows on the third floor here) heh heh

I actually really do love a bed under a window and particularly in the bay window like we have it in alaska. It sort of makes the big piece of furniture a statement (even more than it is). I suppose that puts the pressure on to have the statement made LOL but it's worth it.

Our master here in the victorian does not have a place to put the bed in front of windows, but we do have side windows. The danged headboard is so freaking tall you'd block most of a window anyhoo, and it's required to stay with the house LOL So I guess I'll get used to turning my head :o)

You know, in thinking about this...I would only add one thought. Look at the floral bed in my new house, with no headboard at all (and not even the six inches we have in the lake house). See how the pillows lay flat? I think that looks less finished than if you compare it to the lake house window, with not much behind the bed, but just enough to hold the pillows up at an angle. I think that little bit makes a big difference in how well the window set up looks...don't ya'll?
---
| | | |
| --- | --- | --- |
| RE: Bed Under Window | | |
Jant, what a pretty room! I love your decorating style!
---
| | | |
| --- | --- | --- |
| RE: Bed Under Window | | |
I love a backdrop of a window behind a bed. We had our last bedroom that way and I really enjoyed lying on my stomach in the morning and looking out at the garden and the people and the birds out our window. At the time we had our bed on a platform that had drawers under it although you couldnt see the bottom and we actually put our old footboard at the head of the bed and used the window and the view as the decoration, so to speak. We found it was the best way to use the space in that room.
Everyone complimented the way it looked. Good luck.
---
| | | |
| --- | --- | --- |
| RE: Bed Under Window | | |
Here is ours bed in front of two windows.
The headboard is iron and wicker, so the part of
the window it covers still can peek through.
---
| | | |
| --- | --- | --- |
| RE: Bed Under Window | | |
Jan and Joanne it's wonderful to see more window beds :) I could easily curl up in either of those rooms LOL
---
| | | |
| --- | --- | --- |
| RE: Bed Under Window | | |
Igloochic, I've never seen the Northern Lights before but it's always been my dream to do so! I can't even imagine laying in bed at night and gazing at them.

I like an ocean view too, but give me the Northern Lights any day of the week!

I also agree, the floral bed does look unfinished with the pillows laying flat. But it's still pretty!
---
| | | |
| --- | --- | --- |
| RE: Bed Under Window | | |
I'll take a pic tomorrow with the iron bed there. WE had a suprise guest drop by (with 22 of his friends) today so I had to clean it out (all of the christmas ornament boxes were on the bed LOL so I had to rush to hide them in an hour).

I miss my northern lights oakley....they're magical, honestly, the most magical thing I've ever seen. After moving to AK I saw them from the city one night and from then on was mesmorized. I've now seen them from planes (flying through them which is awesome) as well as deep in the arctic and from the city. It's magic, real magic.

And much better than the ferry lights that light up our house at 5:30 am now LOL (we're on a bluff over the ferry and they hit our master for ten mins each morning when they come on) LOL It's a killer...I miss my northern lights!!!!
---
| | | |
| --- | --- | --- |
| RE: Bed Under Window | | |
I tried to add all my photos of beds in front of windows earlier, but then goofed and closed the window. Getting used to both windows seven and firefox and it's just a hair different, but that's enough to do what I did. So instead of taking the chance of doing so again. I'm just going to link you to my bedroom inspiration album below. None of them are rooms of my own. Our bed is at an angle in the corner between a double window and a full glass door to the sleeping porch. I planned it that way since I love angled beds. All the windows in our homes original plan were on the wall that now has the door to the porch.
Here is a link that might be useful: I added some new ones, but you'll have to look at both pages to see all with windows behind the beds.
---
| | | |
| --- | --- | --- |
| RE: Bed Under Window | | |
Justgotabme, do you have any notes on your inspiration pictures? I LOVE the bedding and wall color in the aqua and checks picture, and would love to know the source.
---
| | | |
| --- | --- | --- |
| RE: Bed Under Window | | |
lovesummer,I've never kept paint information on my inspiration photos. I'm sorry.
---
| | | |
| --- | --- | --- |
| RE: Bed Under Window | | |
Talk about Inspirational! I love the pics and now can't wait for my dh to go out of town again. Hehe! I will move it around while he's gone!

Thanks so much!
Alicia
---
| | | |
| --- | --- | --- |
| RE: Bed Under Window | | |
You remind me of me. My dear hubby used to say that he was never quite sure if he was in the right house or not because I moved our furniture around so often. LOL I think he's finally used to it. He should be after almost thirty years!
---
| | | |
| --- | --- | --- |
| RE: Bed Under Window | | |
If it were up to my hubby, nothing would ever move! When we built our former home, he told everyone that he designed it so that everything would have to stay in one place! I did leave the Master Bedroom alone there though! Hehe!
---
| | | |
| --- | --- | --- |
| RE: Bed Under Window | | |
Even him? I bet he moves all the time. At the very least he moves when he breaths. That tells me that moving is normal. So I'll always find a different place to move things that can't move on their own. Tell him you're only helping them out since they can't do it for themselves.
---
| | | |
| --- | --- | --- |
| RE: Bed Under Window | | |
There is no law that I know of, that say's you must have a headboard?? I do not, I made a fake one, with wallpaper, and dh made a frame around it, no window above, but on each side there is a window as bed is set into a tuck out wall..
---
| | | |
| --- | --- | --- |
| RE: Bed Under Window | | |
>There is no law that I know of, that say's you must have a headboard??

No, but if you like to read in bed, for most people it's more comfortable with one, especially if there's a window sill behind you. It's also easier to get in and out of a bed with a headboard when you're in bad shape, like after surgery. Nice to have something to work your way up when you're feeble.
---
Post a Follow-Up
Please Note: Only registered members are able to post messages to this forum.
If you are a member, please log in.
If you aren't yet a member, join now!
---
Return to the Home Decorating Forum
Information about Posting
You must be logged in to post a message. Once you are logged in, a posting window will appear at the bottom of the messages. If you are not a member, please register for an account.
Please review our Rules of Play before posting.
Posting is a two-step process. Once you have composed your message, you will be taken to the preview page. You will then have a chance to review your post, make changes and upload photos.
After posting your message, you may need to refresh the forum page in order to see it.
Before posting copyrighted material, please read about Copyright and Fair Use.
We have a strict no-advertising policy!
If you would like to practice posting or uploading photos, please visit our Test forum.
If you need assistance, please Contact Us and we will be happy to help.

Learn more about in-text links on this page here