Return to the Home Decorating & Design Forum
|
Post a Follow-Up
---
| | | |
| --- | --- | --- |
| #2 sitting room mostly done... | | |
Posted by
trailrunner
(
My Page
) on
Tue, Nov 20, 12 at 11:46
This room has been the DR and the sitting room at different times. It is the original DR for the house as there is a built in china cab with the original bead board. I have my Mom's and Grandmother's china in it and it will stay there.

One thing you will note about these two rooms is the height of the central light fixture. Due to changing the use of the rooms we haven't found a way that we can raise and lower the fixtures so they have to stay high enough to not kill DH LOL ! So if anyone has a great idea on that score I would love to know. The DR fixture needs to be a lot lower when it is the DR.

Now to this room . I have never used this rug anywhere except under the DR table. So this is all new color exploration. It has been used in both rooms..the chocolate and the navy just not with these furnishings.

The other big big change is bringing the Pembroke tables and leather wing back chairs in to this room. I have always thought of them as formal and had them in the music room. It was DH 's idea, and a good one I think, to use them in here. With the more formal animal Tabriz rug and the colors in that rug it works well..at least I think so. The leather sofa brings out the butterscotch/rust in the rug and the chairs bring out the small accent in the rug that has a maroon tone. Again this rug has a dark and light side. I have it light toward the main entrance of the room.

I have made the tables and the gate leg table more casual by tossing small Oriental rugs on them...this is done in the Netherlands and Belgium in the pubs...we lived there in the 80's and I always loved the look and feel.

DH and I pull the gate leg table over and place it between the chairs and have our dinner in here on cold nights. With the fireplace and the portieres in the doorways..the rich colors ,leather and the rugs it is very very cozy .

One last thing I moved the Moroccan tile table back in front of the windows. It came from a market in NYC a long long time ago and I got it from a friend. I have some cobalt dishes that were my Mom and Dad's and grandmother's on it as well as some French plates that DS1 and DIL brought me when they were there on a trip. I love the way the light plays on them and the shadows.

So..after all the long-winded details...pics. It is very very hard to photograph this room..the light is so bright from the windows and the flash messes up the colors...ah well.

sofa:
rug: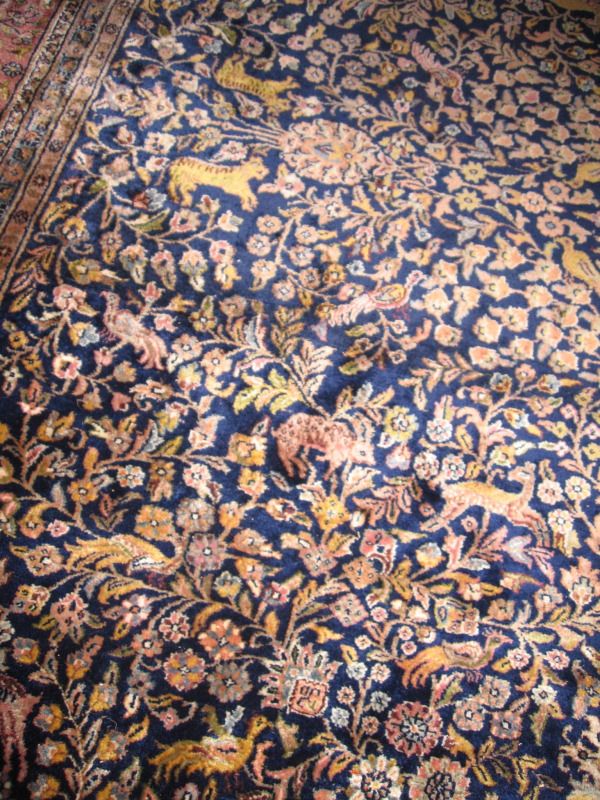 another view:
wingbacks with pembroke tables and an antique stool that was Mom's..brings in the blues...
another view:
tile table and cobalt glass :
---
Follow-Up Postings:
| | | |
| --- | --- | --- |
| RE: #2 sitting room mostly done... | | |
VERY charming!!

What a cozy, warm and elegant room! :) Great idea to try the rug in here -- it has the perfect colors! :)
---
| | | |
| --- | --- | --- |
| RE: #2 sitting room mostly done... | | |
I really like the room. The rug is great.

I find the table a little discordant, but it is hard to see how it reads in the room vs the close up aerial shot. And something with fond memories is never really discordant ...
---
| | | |
| --- | --- | --- |
| RE: #2 sitting room mostly done... | | |
thanks tea...we have had the rug in here before when it was the DR but that was with the light maple furniture..so a completely different look. I can always change it out again LOL !!

mnt..you are right..it is impossible to convey how cozy it feels to have the gate leg out in the middle. I tried like 10 pics and none get the right colors and feel..sigh...also I am NOT the best at photos !

The gate leg lives on the wall under the still life..to the right of the door as you enter the room. That was where the tile table was but it never looked as good there as it does in the light by the window. The only time we move the gate leg is at supper and then we put it back. I would love to be able to have it out all the time but I just can't find a way for it to work. Would have to get the Pembrokes out of the room ...

Thank you for your thoughts...it helps to see things through others' eyes..and you are so right about find memories . c
---
| | | |
| --- | --- | --- |
| RE: #2 sitting room mostly done... | | |
just a thought -- consider hanging a flat round basket in that space just above the sofa -- just under the middle artwork ... it will bring the arrangement "down" to the sofa ....
---
| | | |
| --- | --- | --- |
| RE: #2 sitting room mostly done... | | |
Lookin' good C!!!!

Such vibrant blues in the tile on the table and the glassware--love!
---
| | | |
| --- | --- | --- |
| RE: #2 sitting room mostly done... | | |
tea...I have thought for sometime that it needs something there...I have a lot of baskets ...thank you for the suggestion ...this room is not finished....

thank you cat...the sun is shining on them at present and it is delightful. c
---
| | | |
| --- | --- | --- |
| RE: #2 sitting room mostly done... | | |
Beautiful room TR, and I just adore your fireplace!
---
| | | |
| --- | --- | --- |
| RE: #2 sitting room mostly done... | | |
I absolutely love your house! Always have, but I particularly like the changes you've made. Everything just looks so interesting and cozy and conducive to pleasant evenings just staying in and reading and relaxing.
---
| | | |
| --- | --- | --- |
| RE: #2 sitting room mostly done... | | |
I love everything you've done, your furnishings are so settled and comfortable feeling. I could walk right in and feel at home. I love a home that feels so inviting and yours certainly is in that category. Put on the kettle, I'm on the way over lol.
---
| | | |
| --- | --- | --- |
| RE: #2 sitting room mostly done... | | |
What a beautiful, relaxing room. I like the collected over year feeling. Love the wall color rug and table.
---
| | | |
| --- | --- | --- |
| RE: #2 sitting room mostly done... | | |
Love your color scheme and the warm, comfortable, understated, unpretentious, and collected look you have created.
---
| | | |
| --- | --- | --- |
| RE: #2 sitting room mostly done... | | |
thank you GV...it is a gas coal Victorian and puts out a good bit of heat and ambiance :) With the portieres it keeps it nice and toasty !

sunny you are so kind...that is the feeling I am going for in the room/house. I certainly have an eclectic mix...aka inherited bought over 40 yrs ...bunch of stuff ! We do a lot of the relaxing reading as we don't have a TV.

yaya...thank you ...you picked words that express better than mine what I am trying to achieve here. I will get the kettle on !

gmp: thank you !! It is a Martin Senour color Real Navy..we put it up 10 yrs ago and I still love it !

Lucky what a kind and generous thing to say ! Thank you.

I have moved the center pic down above the sofa so it is the lowest in the group...looks way better..not sure why I hadn't thought of it before...thank you tea !! We moved the predominantly navy still life over to the angled wall near the blue/yellow tile table...now the eye picks up the relationship ...thank you mntrd !! ( that is the table she was referring to I think ) . Took the pic from that wall and placed it over the gate leg table and put a small Oriental on it that picks up the colors in the silk screen. Then DH and I brought in the old SInger sewing cab that I refinished and placed it under the 3 prints and a rug and a wooden bowl and we are good to go. I believe I can call it done...!! Thank you all ...will post a done pic tomorrow. c
---
| | | |
| --- | --- | --- |
| RE: #2 sitting room mostly done... | | |
Lovely room!! It says sit down, relax and enjoy....!
---
| | | |
| --- | --- | --- |
| RE: #2 sitting room mostly done... | | |
What a nice cozy room to sit by the fire and enjoy dinner. Good call bringing in the leather wing back chairs.
---
| | | |
| --- | --- | --- |
| RE: #2 sitting room mostly done... | | |
loribee..thank you !! I am sitting in front of the fire now...

Holly,,DH has some pretty good ideas :)
---
| | | |
| --- | --- | --- |
| RE: #2 sitting room mostly done... | | |
Very cozy room, another great job!
---
| | | |
| --- | --- | --- |
| RE: #2 sitting room mostly done... | | |
Love this room! I particularly love the combination of the rug, the wall color, the sofa, and the wingback chairs.
---
| | | |
| --- | --- | --- |
| RE: #2 sitting room mostly done... | | |
thank you tinker !! I am trying.

pricklyperar....thank you ...I like it too glad DH had the inspiration cause I wouldn't have mixed these chairs in to this room :)
---
| | | |
| --- | --- | --- |
| RE: #2 sitting room mostly done... | | |
I love your beautiful home.
---
| | | |
| --- | --- | --- |
| RE: #2 sitting room mostly done... | | |
texan thank you ! It is a pleasure to share on this forum as there are so many delightful homes and they are all so different. Makes it lovely to get new ideas . c
---
| | | |
| --- | --- | --- |
| RE: #2 sitting room mostly done... | | |
I really like the "collected, evolved" look of the room. The thought of moving the gateleg table and eating dinner at it is so romantic to me.
I have a nice rug, chairs, gateleg an fireplace.Just need to find a husband and I could have dinners like that too!
As far as the light...I don't know a real solution but I have a light in my dining room that is on a retractable cord. It is from the 50's and not the most attractive but I love how you can pull it up and down....So fun. The little things amuse me.

Gorgeous room!
---
| | | |
| --- | --- | --- |
| RE: #2 sitting room mostly done... | | |
Just occured to me also that I have a friend who has a three story foyer with an a chandelier that goes up and down by a switch to clean....She told me that she used to lower and raise it just to entertain herself!
---
| | | |
| --- | --- | --- |
| RE: #2 sitting room mostly done... | | |
Lovely and that leather chair by the fire looks like a great place to curl up with a good book....or a stuffed with turkey nap tomorrow!
---
| | | |
| --- | --- | --- |
| RE: #2 sitting room mostly done... | | |
anninthedistrict...I have been thinking of something along those lines. we have one in the kitchen that is a pulley from England. Need to think on this !

As to a DH..hmmm...mine is really a good one :) after almost 42 yrs he is a keeper for sure. I do hope that if you are looking you find someone as amenable as he is to moving furniture !! thank you..what a sweet post.

island it is 2 leather chairs by the fire ! so we are doubly lucky !! I will find out tomorrow how good it is for curling up. We plan on surprising DD with dinner here in front of the fire...unless it is 72 like it was today..then we are eating out by the pool !!!!
---
| | | |
| --- | --- | --- |
| RE: #2 sitting room mostly done... | | |
I love your room - and the inherited, acquired over the yrs look. The colors are great too.

Is it an old treadle machine? love those - I learned to sew on one as a little girl. Can you post the pic if it is?
---
| | | |
| --- | --- | --- |
| RE: #2 sitting room mostly done... | | |
desert...thank you !! I am really loving the colors in here too..it is a surprise each time I walk in , as is the other room...my eyes are re-opened to the possibilities.

Unfortunately it is only the case...the machine was gone when I bought the old table. I refinished the table ..someone had coated it with dark stain and they ruined the veneer. I tore the veneer off and cleaned and cleaned. Wish it did have a machine in it. I don't sew but it would be cool. c

this is the dark stuff they had put on it :
veneer removed as much as possible and some of the stain removed :
all done except cleaning the black metal ( don't have a closeup pic of finished):
---
| | | |
| --- | --- | --- |
| RE: #2 sitting room mostly done... | | |
Love the colors, love the blue glass.

They do make counter-weight chandeliers that adjust up and down for rooms that are multipurpose, but they may be too modern for your space....
We used to have one of those ugly wall mounted things that everyone had in the 60s with the metal shade and the arm went over and the weight hung down by the wall...but they worked great for being able to adjust the light over the table....
---
| | | |
| --- | --- | --- |
| RE: #2 sitting room mostly done... | | |
What an inviting room! The colors are wonderful and it looks incredibly comfortable---- IMO the two most important features of any room. I know you will really enjoy it this winter. Happy Thanksgiving, c!!
---
Post a Follow-Up
Please Note: Only registered members are able to post messages to this forum.
If you are a member, please log in.
If you aren't yet a member, join now!
---
Return to the Home Decorating & Design Forum
Information about Posting
You must be logged in to post a message. Once you are logged in, a posting window will appear at the bottom of the messages. If you are not a member, please register for an account.
Please review our Rules of Play before posting.
Posting is a two-step process. Once you have composed your message, you will be taken to the preview page. You will then have a chance to review your post, make changes and upload photos.
After posting your message, you may need to refresh the forum page in order to see it.
Before posting copyrighted material, please read about Copyright and Fair Use.
We have a strict no-advertising policy!
If you would like to practice posting or uploading photos, please visit our Test forum.
If you need assistance, please Contact Us and we will be happy to help.

Learn more about in-text links on this page here