Return to the Home Decorating & Design Forum
|
Post a Follow-Up
---
| | | |
| --- | --- | --- |
| The room you helped with needs more help! | | |
Posted by
cottonpenny
(
My Page
) on
Wed, Nov 21, 12 at 11:25
A few months ago I posted about inheriting my grandmother's furniture since she moved from her house to a retirement community. You all helped me tremendously in choosing a light fixture, so I wanted to show the results and get some advice as to what to do moving forward.

The furniture was purchased in 1969 and is cherry. The upholstery is original and in fairly good shape. I'll reupholster eventually but don't want to rush into that decision. The green tablecloth and blue candlesticks are pieces my grandmother strongly felt should stay with the furniture - they are displayed for her benefit when I took the photo. The prints on the wall are something my great uncle brough back from Japan after WWII.

So what next? I think the most pressing issue is window treatments - it is a large window with transom and southern exposure. Suggestions?

How else would you decorate this room?
---
Follow-Up Postings:
| | | |
| --- | --- | --- |
| RE: The room you helped with needs more help! | | |
| | | |
| --- | --- | --- |
| RE: The room you helped with needs more help! | | |
Lovely furniture. Now, that said...the green tablecloth just does not go with the grey wall. The question is do you like the grey wall most or the green tablecloth most. Personally, I would not put a tablecloth on your table and put a colorful centerpiece on the table. I would get a rug that will go with your chairs AND the grey wall. A pretty mirror would look good over your buffet. The two small pictures are lovely but too small for your wall. Maybe they could be put on either side of of the china cabinet. Can't answer your question about curtains since I do not see the windows.
---
| | | |
| --- | --- | --- |
| RE: The room you helped with needs more help! | | |
I love the contrast between the warm cherry furniture and the cool gray wall. I agree with grandmaof3 about getting a rug, though. Furniture color + wall color is great, but the floor detracts somehow. And I love hardwood floors, so it's a puzzle to me as to why I think "needs a rug".

I would go with a rug that reads dark, both as a nod to the walls and to minimize appearance of dirt and spills.

The small pictures are pretty, but need to be on a smaller wall. Maybe on the other side of the doorway, arranged with one right over the other? This is a fairly traditional looking room, so a mirror or oil painting above the buffet would be nice. I suggest an oil painting because I think something with depth would be nice (mirror also gives a certain depth). Somehow a photograph doesn't feel right in this space.

Of course, the further my minds eye goes, the more I agree with you about relocating the candle sticks. I like them, but I'm not sure I like them in this room - unless you go for a very eclectic look.
---
| | | |
| --- | --- | --- |
| RE: The room you helped with needs more help! | | |
A rug

Drapery fabric with a fairly large, multicolored pattern.

More and larger artwork.

A mirror with a gold frame.

A floral arrangement or plants for the table or sideboard.
---
| | | |
| --- | --- | --- |
| RE: The room you helped with needs more help! | | |
Please could take a few more photos of the room showing the window? Always helps us to help you find window treatments ....

Yes -- a vote to move the two pretty Oriental prints -- perhaps stack them above the server? Or do try on each side of the doorway OR on each side of the buffet cabinet above a side chair.

Yes -- a rug would be very nice -- check out deals on indoor/outdoor sisal rugs -- might be on sale around the Web right now ....

Also -- perhaps look for a lamp for the server -- always nice to have lighting options! :)
---
| | | |
| --- | --- | --- |
| RE: The room you helped with needs more help! | | |
I'm so glad you chose to use your GM's furniture; I knew you were questioning this earlier. It is lovely in your DR. I like your wall paint also.

I don't think the table cloth and candlesticks are working with the room. What if you fold the pretty tablecloth into a neat square and store it in the china cabinet where you see a touch of green. I occasionally see vintage lines displayed this way. If you find something that works better for the table, you could also showcase the candlesticks in the cabinet for a pop of color.

I agree with Pal about patterned drapes.
---
| | | |
| --- | --- | --- |
| RE: The room you helped with needs more help! | | |
I love the set in your room.. as others have said, the wood and caning work beautifully with your wall color.

I would also like to see more art-- but please don't split the japanese prints. I'd stack them on one side of the china cabinet.

I love the idea of folding the green tablecloth and adding it to the china cab. I love to see color and texture in a china cab.

I can't see the windows but I think you should be able to go any direction with this look. I'd select a rug first and coordinate to that.. but I rather like the colors in the chair upholstery. Maybe some blue grays, sage greens and rust in a rug?

Very lovely.. and so nice that you could carry on and make such a beautiful room with your grandmother's furniture!
---
| | | |
| --- | --- | --- |
| RE: The room you helped with needs more help! | | |
As others have said, we sort of need to see how the window is placed in the room. I would put the prints above the server and get a HUGE mirror for the wall they are presently on..depending on where the window is. Your floor is beautiful, new fresh looking. I think the issue is the dining set is showing its maturity. When you reupholster you might want to freshen the wood with a new coat of wax or poly depending how it is finished.
---
| | | |
| --- | --- | --- |
| RE: The room you helped with needs more help! | | |
You have a very nice start. I love the style dining set from your Grandmother.

My suggestion is to re-frame the prints with larger frames and new matting. I agree with others who suggest stacking them over the buffet. If you have an AC Moore in your area, they have precut matting that will fit into larger frames.

Love your chandelier. The hurricane glasses on the buffet doesn't seem right to my eyes.
---
| | | |
| --- | --- | --- |
| RE: The room you helped with needs more help! | | |
Thanks!

How silly of me not to show the window!

I replaced the prints with a larger painting - ??? It needs to be higher, I know. I have others if you don't think this one works.

What color for the drapes? I don't even know where to start.
---
| | | |
| --- | --- | --- |
| RE: The room you helped with needs more help! | | |
| | | |
| --- | --- | --- |
| RE: The room you helped with needs more help! | | |
Personally I could not hide those windows behind too much drape. I would do sheers (these are from the BedBathstore and are very inexpensive). For privacy I would have some roll up shades. The rug is an Amy Butler.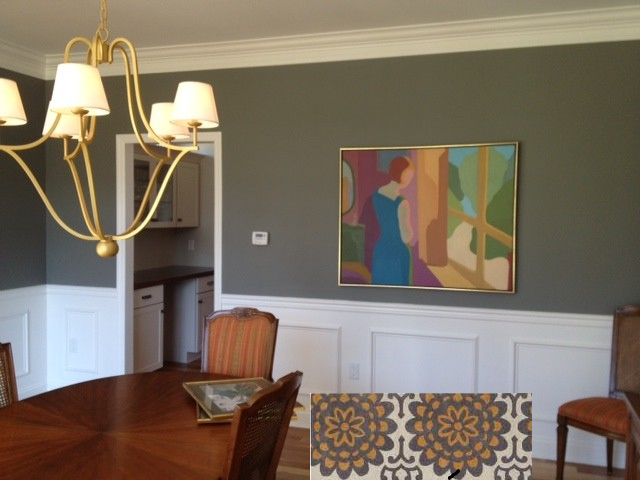 ---
| | | |
| --- | --- | --- |
| RE: The room you helped with needs more help! | | |
Love seeing the wood table top. Much more interesting and better coloring with the rest of the room.

Love the new art. Perfect amount of saturated color and zing of the gold tones and frame. It also ties in the upholstery colors so they work.

I like the draper selection offered above, but am not so sure about the rug style. I would want to know more about your region and how the other areas of the home are done before choosing a rug. I think that I might want a rug in similar colors with less visual contrast and a more filled in background
---
| | | |
| --- | --- | --- |
| RE: The room you helped with needs more help! | | |
I'd start by finding a rug that you love.
---
| | | |
| --- | --- | --- |
| RE: The room you helped with needs more help! | | |
Julie - the rest of my furniture is more modern, contemporary, or however you want to put it. I bought a lot of it from Room and Board if that gives you an idea. But it's not their real MCM-ish stuff. So the thing I struggle with in this room is finding items that I like and that fit into the rest of my house but still match the rather traditional furniture.

I am holding off buying a rug for now cause I want the floor to start to darken a bit before I put a rug down (it's natural cherry). But I need something for privacy. Should I buy roller shades and just hold off on drapes too?
---
| | | |
| --- | --- | --- |
| RE: The room you helped with needs more help! | | |
Here's what I'd do while waiting to choose and lay a rug.

Reframe the pair of prints with larger, cream colored mats, and hang them one over the other, with the lower one fairly close to the surface, above the small server.

Replace the candles in your hurricanes with cream ones...that way, you repeat the brass base and cream shades of your chandelier.

Hang a large gold-framed mirror on the wall where the prints are now.

Add two pairs of simple candle sconces, one pair on either side of the mirror, and one pair on either side of the painting. Use either tapers that match the ones in your hurricanes, or ones the color of natural beeswax.

Find a linen or dull silk fairly wide striped fabric in pale cream and the gold or butterscotch color in your painting, and make simple full-length curtain panels to hang out beside your lovely window. If you can find ready-made panels in those colors, so much the better.

Use the same striped fabric to cover the back wall of your china cabinet. You can do that with pieces of acid-free mat board cut to the right dimension(s) which you then wrap and tape. Little sticky-back dots of velcro work well to hold them in place. You'd be amazed at how much light and life a pale patterned back can give a large wooden cabinet like yours.

Replace the tablecloth with a long runner in a coordinating fabric.

I think those steps will make your room snap into focus, and none of them will argue with whatever you choose later for the floor.

(And if you are counting on exposure to deepen your floors, you should probably move your table and chairs aside from time to time, to change where the shadows fall.)
---
| | | |
| --- | --- | --- |
| RE: The room you helped with needs more help! | | |
Thanks bronwynsmom!

Do you think the current painting there is ok or would you still replace with a mirror? Or put a mirror over the server and move the small prints to the sides of the hutch?

I like the idea about the fabric on the back wall of the hutch. Sounds like an easy way to modernize it a little.

I know you said stripe for the curtains but I kind of really like this...?
---
| | | |
| --- | --- | --- |
| RE: The room you helped with needs more help! | | |
And would this sconce work? it's "antique gold"
Here is a link that might be useful: candle sconce
---
| | | |
| --- | --- | --- |
| RE: The room you helped with needs more help! | | |
I seem to have added a wall to your room!
I like the painting, and I think the simplicity and clarity of its image is a good touchpoint for the other patterns you choose...which is why I wouldn't choose the fabric you like, although I certainly see why you like it.

So, yes, put a big vertical rectangular mirror over your server, use candle sconces beside the china cabinet and the painting (which, in my view, doesn't need to be much higher - maybe a couple of inches at the most), use your hurricanes on the table with a big yummy bowl between them, and add a pair of slender candlesticks to your server, which I think will be more in proportion there.

Then you could move the two prints somewhere else, as I think keeping a dining room edited and simple lets the people and the food be the focal point.

I'm sticking with my recommendation for the curtains. Think about the room as a whole, rather than looking at the pattern by itself, and I think you will see the logic behind something more restrained.

Something like this fabric from Laura Ashley could work, if you wanted a little more than just two tones...

The vertical lines of the mirror and the striped curtains will also relieve the strong horizontal of your wainscot on the rest of the walls, and serve to raise your ceiling visually.
I like cottonpenny's sconces very much. They are tall enough, the mirrored bits are really good for expanding the effect, and they have good strong lines like your chandelier. I might use a slightly taller and thinner pillar, but otherwise I think they'd be great.
The other thing I would consider is reupholstering your chairs in blue, referencing the dress in the painting. It's a good place to repeat that color, which will make the painting settle in to the scheme. It will also save you from too much gold and brown, and will provide good contrast to the wood tones of your furniture, while modernizing it just a bit.
---
| | | |
| --- | --- | --- |
| RE: The room you helped with needs more help! | | |
Thanks!

Where can I buy Laura Ashley fabric then? Google images search only pulled up a Ukrainian website with some pretty fabrics but not that useful!

Can I use the blue candlesticks (need to buy the actual candles)? The centerpiece I think is too small, but experimenting with the blue color.
---
| | | |
| --- | --- | --- |
| RE: The room you helped with needs more help! | | |
Whoa. I know you didn't ask and apparently others like that chandelier, but I think it overwhelms everything else in the room. Any chance you could exchange it for a smaller size?

The room is beautiful so far and those windows are really pretty. I think you are right that the window treatments are the next thing to tackle. Maybe when the room is all finished the chandy will look more appropriately sized to me.
---
| | | |
| --- | --- | --- |
| RE: The room you helped with needs more help! | | |
Actually, I love the chandelier...

But having seen the hurricanes on the table, I think they may be a little too big as they are. Can you use them without the glass hurricane shades, and put shorter fat pillars on the bases? I think that would solve the proportion issue.

The blue ones are pretty, but I think a little too delicate for the spot. Slightly chunkier brass ones would work better, I think, and would keep the theme of brass and cream for all the lighting sources.

I don't know about the fabric source...anyone else? I know there are a lot of stripes like that out there. Have to run, but will try later to find something.
---
| | | |
| --- | --- | --- |
| RE: The room you helped with needs more help! | | |
CottonP, I love your house and remember when you were doing your living room. Did I miss it or did you post the finished pictures with the chair you decided on? Lets have a looky!
---
| | | |
| --- | --- | --- |
| RE: The room you helped with needs more help! | | |
Back to fabric...I found the Navona Stripe on the British Laura Ahsley site, where it is only offered in made-to-measure shades, which isn't what you're after.

Take a look at these curtains from Restoration Hardware:

http://www.restorationhardware.com/catalog/product/product.jsp?productId=prod1509100&categoryId=cat1608015

...and these...also look at these in Silver Sage, if you wanted to involve the colors in your painting in the curtains:

http://www.restorationhardware.com/catalog/product/product.jsp?productId=prod1158564&categoryId=cat1560020

I also saw these on Overstock today for practically no money, and if you wanted to bring the green of the painting in instead of blue, you could consider these:

http://www.overstock.com/Home-Garden/Pistachio-Stripe-Blackout-Back-tab-Pole-Pocket-Curtain-Panel/6971801/product.html
---
| | | |
| --- | --- | --- |
| RE: The room you helped with needs more help! | | |
Cindyloo - I think the chandelier looks bigger in the photos than it does IRL for whatever reason. It is a little oversized, but I like it that way.

Bronwynsmom - Oh, the hurricanes! The story behind those is that I purchased them for my wedding and have had them (actually I have 4) in storage ever since, having never had a place to put them. They are..."oversized" as well. They aren't really designed to be used separately. One came apart during the move though, and I tried it out, but it looks kind of precarious.

I really like those first RH ones (pavillion stripe in goldenrod)...but the price!!
I saw these at Overstock too but they are polyester and unlined so I'd have to line them.

Jterrilynn - so sweet of you to remember! I haven't finished the room or bought a chair. I can't find anything to work with the bright primary colors of my son's toys scattered all around, so I'm holding off for now ;-)
Here is a link that might be useful: overstock curtains
---
| | | |
| --- | --- | --- |
| RE: The room you helped with needs more help! | | |
Probably a bad idea, right?
Here is a link that might be useful: http://www.crateandbarrel.com/alston-ivory-gold-curtain-panels/f47330
---
| | | |
| --- | --- | --- |
| RE: The room you helped with needs more help! | | |
Hmmm...you might be able to use a horizontal stripe, but I think those have too much going on in the pale stripe.

I know those RH curtains are spendy...do you have a local store? Are they planning a sale? Their panels are lined, and reasonably well made, and for the cost of fabric, lining, and labor, the price is not unreasonable. But as I also know too well, we have the budgets we have!

So I'd keep looking. I do think something like the RH ones would look best.

And I see your point about the hurricanes. Perhaps you will have to keep looking for a proper place for them. Seems to me you could use them separately if you wanted to. They have a nice simple profile. Do you have a mantel they could live on?
---
| | | |
| --- | --- | --- |
| RE: The room you helped with needs more help! | | |
Whatever is going on in the pale stripe is just olioboard being weird...it's actually just ivory cotton. I am kind of leaning that way...I'm just more of a cotton girl than a silk girl, KWIM?

I wonder if I could put a small glass plate on top of the hurricane base and that would make it look more stable. Or I have these small hurricanes. What do you think? I don't have a mantel and they don't really go in any other room.
---
| | | |
| --- | --- | --- |
| RE: The room you helped with needs more help! | | |
| | | |
| --- | --- | --- |
| RE: The room you helped with needs more help! | | |
Oh, now that looks nice! Good idea!
---
| | | |
| --- | --- | --- |
| RE: The room you helped with needs more help! | | |
I saw a picture in a decor book last night that immediately made me think of your dining room. The room in the picture had traditional furniture, a big gold statement chandelier, and leopard print upholstery on the chairs. The look was classic, but contemporary all at once. Leopard would look beautiful paired with that striped fabric suggested by bronwynsmom, too. So my vote is for more golds and creams, with black accents.

I'm not a big fan of the painting, but I think it's purely a matter of personal taste, as I generally don't like that style of artwork. The colors in the piece do look very nice in the room. If that is the artwork you decide on, go with roman shades in a modern print that picks up colors in the painting, maybe a suzani or ikat pattern. Roman shades are crisp and angular, but still traditional, so they could help bridge the gap between the styles.

Also, I know you said you're not necessarily ready to reupholster yet, but I think it would be a good idea to decide on a color scheme or pattern for the chairs before you invest a lot of time or money in other items. Why match to something you want to get rid of anyhow?
---
| | | |
| --- | --- | --- |
| RE: The room you helped with needs more help! | | |
Cottonpenny the only thing that really matters is that you like the chandelier! I can see how the size may be distorted in the photos.

The bottom of your chandelier should be 30" off the table. I think this is a chandelier meant for a higher ceiling, but if you raise it up enough it will still work. The only reason the hurricanes are not working is that they are too tall for a light hanging that low.

Unless of course the height is distorted and it is already 30" high...in which case disregard!
---
Post a Follow-Up
Please Note: Only registered members are able to post messages to this forum.
If you are a member, please log in.
If you aren't yet a member, join now!
---
Return to the Home Decorating & Design Forum
Information about Posting
You must be logged in to post a message. Once you are logged in, a posting window will appear at the bottom of the messages. If you are not a member, please register for an account.
Please review our Rules of Play before posting.
Posting is a two-step process. Once you have composed your message, you will be taken to the preview page. You will then have a chance to review your post, make changes and upload photos.
After posting your message, you may need to refresh the forum page in order to see it.
Before posting copyrighted material, please read about Copyright and Fair Use.
We have a strict no-advertising policy!
If you would like to practice posting or uploading photos, please visit our Test forum.
If you need assistance, please Contact Us and we will be happy to help.

Learn more about in-text links on this page here