Return to the Home Decorating & Design Forum
|
Post a Follow-Up
---
| | | |
| --- | --- | --- |
| for those of you with artificial Christmas trees | | |
Posted by
massagerocks
(
My Page
) on
Sun, Nov 25, 12 at 10:56
We need to replace our old humongous one. I'd like to buy a slim tree if they make them at 9.5 or 10 feet. For those of you with artifical trees, do you have the pre-lit kind? Which do you prefer no lights or pre-lit? Any suggestions on a brand, or particular type for storage? Ours has individual branches. It takes hours to assemble and I have to put gloves on to avoid cutting up my hands. Over time the needles get stripped off. Hoping the newer ones are more user friendly?
---
Follow-Up Postings:
| | | |
| --- | --- | --- |
| RE: for those of you with artificial Christmas trees | | |
More expensive but high quality are the trees from Frontgate. And you no longer have to put in each branch. Pre-lit is good but if they go out in the future remember you can add more lights. They do have slim tall trees also.
Here is a link that might be useful: Frontgate Christmas Trees
---
| | | |
| --- | --- | --- |
| RE: for those of you with artificial Christmas trees | | |
We purchased our first artificial tree from Hobby Lobby about four years ago, end of season....very, very inexpesnsive. It is pre-lit and the branches fold in when stored. It is really very pretty w/nice thick branches and pinecones interspersed throughout. I do dread the day we plug it in and the lights don't turn on!
---
| | | |
| --- | --- | --- |
| RE: for those of you with artificial Christmas trees | | |
You might find a tree that will suit your needs here ....
Here is a link that might be useful: Balsam Hill
---
| | | |
| --- | --- | --- |
| RE: 2 artificial Christmas trees | | |
Also -- check out your local Big Lots -- LOTS of trees on sale right now .....
---
| | | |
| --- | --- | --- |
| RE: for those of you with artificial Christmas trees | | |
I own one from Costco that is Kirkland brand. It is a large tree, but is just three pieces total. They stack on each other and you straighten out the branches slightly. It takes about ten minutes for me to set up. It's prelit. I have had it for five years,.. no issues. I love how quickly it sets up and that the lights are perfectly spread out for me.
---
| | | |
| --- | --- | --- |
| RE: for those of you with artificial Christmas trees | | |
Also check your local garden/nurseries.....I'm not referring to the big box gardens.
I have 2 slim artificial trees I purchased at my local nurseries and I found their prices very reasonable.
---
| | | |
| --- | --- | --- |
| RE: for those of you with artificial Christmas trees | | |
I have both prelit and one with no lights. They both sort of fold like umbrellas but still require that time-consuming 'fluffing' of the branches to look good.

This is only the 3rd year for the pre-lit one and no problems so far altho I've heard stories about pre-lits that no longer work and the frustration that ensues.

I never like to spend a lot on Christmas trees so have always bought them on sale and never the really high-end ones. I find when they are decorated well it's unlikely anyone could tell the difference. I either add garlands or floral stems to fill spaces and use a lot of decorations.

We've had several different faux trees but used our first one for about 35 years and it was the type you describe with individual branches. Look very 'real' but was not fun to put up. I used to put up several trees in different rooms so have had various types over the years.

Good luck with finding a tree you like - I'd never buy one online as need to see it IRL. I think Costco has some nice trees and I've even bought a couple at Walmart.
---
| | | |
| --- | --- | --- |
| RE: for those of you with artificial Christmas trees | | |
Who stocks artificial trees that areNOT made in China?
---
| | | |
| --- | --- | --- |
| RE: for those of you with artificial Christmas trees | | |
jmc01 Check out "Christmas in America LLC"
---
| | | |
| --- | --- | --- |
| RE: for those of you with artificial Christmas trees | | |
We have two pre-lit trees from Litehouse Pools. The one is two years old and has the "newer technology" meaning even if a certain number of lights go out, an entire section won't. Somehow it always makes a circuit. (or something lol) Our other tree which is a few years older than that one does not have this feature. We have had sections go out and it is a PAIN to fix. So ask about this when you buy the tree. Both of our trees are in four sections I believe.
---
| | | |
| --- | --- | --- |
| RE: for those of you with artificial Christmas trees | | |
I would just remember to stay away from the crushable branches. Definitely go with the newer plastic then the crushable, the old crushable look terrible after you take them out of the storage box.

I would go with prelit, just the thought of restringing lights every year(and removing them)makes me cringe. I restring all my garlands, but please not the tree. Have fun shopping.
---
| | | |
| --- | --- | --- |
| RE: for those of you with artificial Christmas trees | | |
This is our first year with an artificial tree in the living room of our house. We have a very large artificial tree for our sunroom (tall ceiling), prelit from Sears, purchased after Christmas several years ago, and still going strong.

This year I had to drive my DD back to her apartment on Friday morning so I made an impulsive stop at the mall and scored a nice-looking faux prelit tree for the living room for 50% off. It took all of an hour to set up, fluff and start to decorate. I'm enjoying it...DH isn't too sure (the girls said "no to faux" but all have their own places so can do real trees there!)
---
| | | |
| --- | --- | --- |
| RE: for those of you with artificial Christmas trees | | |
Quite a few years ago we did a really small tree that we put on a pedestal and I wired all the lights and ornaments to it. Put a bag over it for off season and take the bag off to use. Last year we bought a larger one, and this year I will decorate it to coordinate with our library. It was pre lit but I added a lot more lights anyway. I will again wire the lights and ornaments on it and will again have instant tree. Sooo much easier, and I spend a lot of time with other decorating anyway, so it's not like I miss the process....
---
| | | |
| --- | --- | --- |
| RE: for those of you with artificial Christmas trees | | |
Annie, I dont want the "process" anymore either. It was part of "tradition", but over time, with the kids gone, it's not fun anymore. The tree is huge and I stress just thinking of getting started on it. Every branch needs to be fluffed and inserted into the proper row. Even on the ladder, I'm not tall enough and the tree always ends up decorated bottom heavy. Its a 2 day or more process because I need DH's help with the lights, and he's not as interested in getting everything up and neat in a timely manner. We have boxes of lights all over the place... All that being said, when its done, its truly beautiful. When I've looked at the stores, the pre-lit trees seem sparsely lit in comparison and maybe dimmer.
---
| | | |
| --- | --- | --- |
| RE: for those of you with artificial Christmas trees | | |
oops, didnt mean to post that, I was trying to pare it down, lol. The Frontgate fliptrees look interesting...Cind, thanks for the info on the circuit thing. Luckygal, I agree, they all look pretty when decorated and light up, and I cant justify/afford spending thousands on the tree itself. I'm going to check Costco and see if they have slim trees. We do have a Pool place here that has beautiful Christmas things this time of year. We sorta looked at trees at end of season, but not much was left. Still not sure about the prelit....but I think I just convinced myself to go for the prelit. As I'm writing I'm remembering the "traditional" mess, stress and ladder-balancing acts.
---
| | | |
| --- | --- | --- |
| RE: for those of you with artificial Christmas trees | | |
Love my prelit artificial slim tree, purchased at a local garden center a few years ago. Easy peasy, no fussing with strands of lights, cleaning up water on the hardwood because my pets have decided to use the tree stand as a water source There are so many options, and pricepoints, the sky is the limit. I didn't want to spend a fortune, so I use the Frontgate-type catalogs a more of an inspiration/idea reference.

I really believe that even the most reasonable priced tree can look fabulous if decorated well.
---
| | | |
| --- | --- | --- |
| RE: for those of you with artificial Christmas trees | | |
I bought my first fake tree about 23 years ago...DH hated fake....but I found one on sale and thought..."just in case"...and in about 2 year DH became ill with an aggressive cancer....and I was glad to have a tree I could set up myself.
That lasted easily 10 years....hated HATED putting oon the lights...that was DH's job....and he was no longer here.
And the tree lost it's bottom row of branches....just fell onto the presents under the tree!!
So the day after christmas I went shopping and got an amazing deal on a prelit one...think the clerk made an error because it cost me about $25!..7 1/2 foot 1200 lights!
Well after about 7 or 8 years that pretty well died....the lights died......and I had somany replacement lights that the tree was solid wires!!
SO...I bought another a couple of years ago...not as nice....fewer lights, easier to set up...it's umbrella style.
BUT...my advice is to consider the number of lights....and if you can set it up your self. The one with the individual branches I could do myself....the prelit ones I have to find someone to set them up.
My Christmas Tree display is all about the ornaments....not the tree. I have so many ornaments that you almost can't see the tree. I collect antique figural glass ornaments....and I like the Radko and similar ones too...so not much tree shows.
If your style is more spare...then you might consider the looks of the tree more than I do.
---
| | | |
| --- | --- | --- |
| RE: for those of you with artificial Christmas trees | | |
I decorate quite a few trees each Christmas season...all of them artificial. I personally prefer the trees that not pre-lit. It's so annoying to have a section go out completely and the last two years, I've had four trees that had this happen. I did buy a pre-lit for my own home this year and it looks great, but I dread the day I have to clip the dead lights out.
---
| | | |
| --- | --- | --- |
| RE: for those of you with artificial Christmas trees | | |
Just looked at the Frontgate site. $1600 for an artificial tree?? That is nuts. Think I'll stick with my $35 Home Depot special. Looks cute and smells good too, althoug I do appreciate the convenience of artificial. Maybe I'll check out Costco.
---
| | | |
| --- | --- | --- |
| RE: for those of you with artificial Christmas trees | | |
For people like me, allergic to pine trees, artificial trees have been a huge blessing! The scent doesn't bother me, but I'm not able to touch them without breaking out in hives. I actually prefer the non-prelit trees. The large, bushy, very realistic, 9 1/2 foot one we have now for the living room is gorgeous but last year we spent hours trying to get one large section to light . . . to no avail. I wish that I could have just thrown out that string of lights and added a new one. I did add a new one, but the unlit ones are still there. I have 2 narrow, unlit trees for the guest room and DD's room. I like them a lot. In fact, I love being able to keep all our Christmas trees up from just after Thanksgiving until Twelfth Night without worry of my trees drying out and dropping it's needles.
Lynn
---
| | | |
| --- | --- | --- |
| RE: for those of you with artificial Christmas trees | | |
For those of you with fake prelit trees with some strands gone, get a Light Zapper! These things are phenomenal and have restored about 2/3's of burned out strands here at my house.
This year, I bought a new fake prelit, as my older one (Martha Stewart Kmart) couldn't be zapped anymore and too many bulbs were burnt out. But it lasted over ten years, not bad.
Last week, I bought the Martha Stewart Downswept Dennison from Home Depot. ($200) It doesn't have as many lights as the last tree (1200) or tips, but its very nice. I wrapped several of my own light strands around the pole for inner fullness and over all it's great.
They were already sold out of this tree at one Home Depot, last week.
I have it up and can post a pic if you would like.
---
| | | |
| --- | --- | --- |
| RE: for those of you with artificial Christmas trees | | |
Sorry, it's called a Light Keeper, 20 bucks Walgreens, Wal Mart, etc. Worth It.
---
| | | |
| --- | --- | --- |
| RE: for those of you with artificial Christmas trees | | |
Costco has great artificial trees, and noticed a new feature this year - lights that change from multi-colored to clear! I believe that you can set them to stay on multi-colored or clear, or have them flash (I would find that annoying) This would have solved so many arguments in my house! The lights are LED, which would last a lot longer than the regular mini lights.
---
| | | |
| --- | --- | --- |
| RE: for those of you with artificial Christmas trees | | |
I am on the third year of my first pre-lit tree and can't believe I went so many years without it. I paid $159 for it at Walmart, it came with small pine cones built in, a few red berries in the tips, and some dried twigs. Everyone says it looks like a more expensive tree. I have 8' ceilings so went with 7.5' tree.

I have spent way to much time over the past 42 years of marriage fighting, cursing, ranting, stamping feet over strung lights that don't work. There is nothing more frustrating than UN-TRIMMING a beautiful tree to replace lights that don't work.

To date, I have $50 a year invested in my pre-lit tree that took about 20 minutes to take out of the box, put three sections together, fluff the branches, and be ready to decorate. Hoping for at least 5 years.

And of course to me, it's all in the ornaments.
---
| | | |
| --- | --- | --- |
| RE: for those of you with artificial Christmas trees | | |
Tuesday, I swear the reason we got an artificial tree was to avoid a divorce, lol! Even with a wide french door, DH was cursing, swearing, drilling, trimming the bottom, etc and then cleaning up the mess just getting the tree in the door and finding it crooked after we SWORE it wasn't at the lot, it wasn't worth it anymore. We bought one in a pre-Christmas sale at a high-end nursery about 5-6 years ago and it has loads of lights. It also takes about 20 minutes to put the 4 sections together, and another 20 minutes to fluff the branches out after being stored and it's ready to put the ornaments on it. We have 9-ft ceilings and there is just room for the topper.

I have another 4' cheaper tree I bought at Hobby Lobby that I use in the DR or elsewhere and it's also held up well, although the branches aren't quite as full, but it's more of a pine tree with bark and trunk showing.
---
| | | |
| --- | --- | --- |
| RE: for those of you with artificial Christmas trees | | |
Bumblebeez: thanks for the heads up on the Light Keeper!!! I'm picking up one tomorrow when I head into town :~)

Speaking of realistic artificial trees, I love for ours to look as real as possible. After all the ornaments are on ours, I tuck real pine cones into every tree. I have no idea why I can handle them and not a real pine tree without breaking out in hives, but I ~thankfully~ can. A pine scented oil diffuser and/ or plug-in air freshener nearby also helps add to the real factor.
Lynn
---
| | | |
| --- | --- | --- |
| RE: for those of you with artificial Christmas trees | | |
B, I also ordered the Light Keeper. I know we had problems last year and it was a PITA.

Lynn, I'm the same way with evergreens. All they need to do is touch my skin and the area breaks out into hives. And the pollen from them is also a problem. Whatever pollen is on the pinecones is probably long gone.

About Frontgate. Honestly, I don't know why anyone orders from them. I can't remember where I bought my pre-lit tree which is Frontgate worthy, but no way was I going to spend all that money on a tree when my tree can look the same. They're very proud of themselves. :)

Pre-lit all the way now. The good thing is, if lights do go out they make the same string lights on color coordinating cords.
---
| | | |
| --- | --- | --- |
| RE: for those of you with artificial Christmas trees | | |
Re lightkeeper, sounds great. Do i need to remove all the dead bulbs??
Thanx, bb!
---
| | | |
| --- | --- | --- |
| RE: artificial Christmas trees | | |
Never mind. Went online and see no removal. Loved
Learning about this great tool!
---
| | | |
| --- | --- | --- |
| RE: for those of you with artificial Christmas trees | | |
I got my slim pre-lit tree at Target a couple of years ago. It was on sale and (I think) no more than about $85.00. It looks just fine and fits the space perfectly!
---
| | | |
| --- | --- | --- |
| RE: for those of you with artificial Christmas trees | | |
I bought my first fake tree in 2002 after having my real tree hatch on me. It was covered in moth eggs that we did not notice until Christmas morning when our ceiling was covered with bugs. You never saw a tree get taken down and tossed so fast. The tree we bought was second hand and we paid 75$ for it hand tied and absolutely beautiful. Then 2 years ago after Christmas Walmart had a sale and I bought a little white tree for 7$ (6ft) but never noticed that it came with lights. Oh my I love not having to put the lights on each year. I too am now on the hunt for a nice fake tree with lights on but the cheap in me is having trouble. Last Christmas all the nice ones were sold out after Christmas (waiting for the awesome deal) I hope there will be some left on boxing day this year. If I had the money those frontage trees would be a dream no putting on lights and no fluffing .................ahhh
---
| | | |
| --- | --- | --- |
| RE: for those of you with artificial Christmas trees | | |
Hey, who's got what we just got: an Evergleam pom-pom aluminum tree with a color wheel? : ) We're so happy : ) It's only 4', so we can set it on a table and the cats can't pull a huge thing down, if they do get to it. There are also no lights in it so no electrical hazard, and it's SO moderne : )

Anyone else? We're going to set it up soon and I'm putting my beginning collection of midcentury ornaments on it! Anyone have any pics of a vintage aluminum tree set up?

(a slimline 7' aluminum tree just went for over $600 on eBay, so they're making a comeback)
---
| | | |
| --- | --- | --- |
| ps RE: for those of you with artificial Christmas trees | | |
oh, and CLBlakey, that's seriously disgusting...the stuff of nightmares.

BUT: now that I can edit, I want to say that I wasn't saying *you* were disgusting, or anything--just your story - gives me the shivers...but didn't mean to be a threadkiller!

(or was it the aluminum tree post? Did that kill it? Now I can keep asking questions over and over and over, now we have the edit function!)
This post was edited by flyleft on Tue, Nov 27, 12 at 1:49
---
| | | |
| --- | --- | --- |
| RE: for those of you with artificial Christmas trees | | |
At my living quarters this year I do not have room for my big tree - maybe next year at a new place.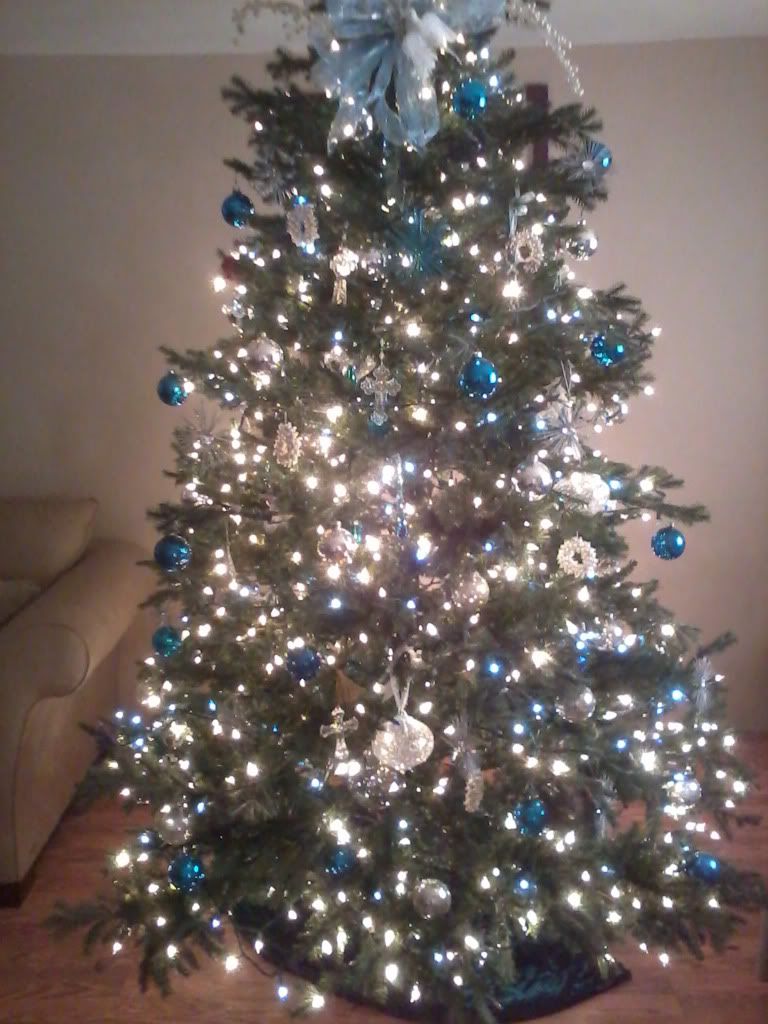 ---
| | | |
| --- | --- | --- |
| RE: for those of you with artificial Christmas trees | | |
Beautiful tree Eg3D! Is it real or artificial? If artificial, where did you purchase it?
---
| | | |
| --- | --- | --- |
| RE: for those of you with artificial Christmas trees | | |
I purchased it at Dillards in January a few years ago at the very end of season so it was $25 for a tree that was originally several hundred dollars. A lot of the pre-lit lights have gone out so I have many strands of lights I have added.

Thanks very much!
---
| | | |
| --- | --- | --- |
| RE: for those of you with artificial Christmas trees | | |
Fly....I have a six foot pom pom aluiminum tree that I purchased online (shop good will dot com) last year! I can't wait to set it up...as soon as I can find the dang thing...I apparently hid it well after buying LOL WHo loses a tree? Anyhoo, post pics when yours is done and I'll do the same. I love the thing!

I also have nine other trees up, all artificial. I purchased the artificial ones the day after christmas at a local garden center for 75% off. They were ungodly expensive prior to the sale but on sale they were an ok deal (I'm cheap when it comes to trees I guess LOL). Anyhoo, I have lights prewired on all of them. I absolutely HATE doing lights...if I had to I'd probably only have one tree :)

I had a couple of artificial trees go out on me two years ago that I'd bought used. I tried to rewire but man those lights are on well! I ended up tossing them because it was just too difficult. I have the last of those trees up now and the base lights are off. That's not a huge deal because it's up in the attic bedroom and only there for window candy, but I see I'm going to have to hit the sale again this year to replace it :( Buying trees is kind of like buying tires...I love a good one but I hate to pay for it!
---
| | | |
| --- | --- | --- |
| RE: for those of you with artificial Christmas trees | | |
igloo, thank goodness! I have to love your most eclectic taste : ) Six foot pompoms are going rather good prices this year on eBay...and if yours is a slimline (although I don't think they made them in 6', only 7'...?) one just went for over $600.

The place I want to put ours up is where I need to do some tiling that I've been procrastinating on - and if I actually move the materials it will mean that I won't get it done, you know, *next* weekend LOL...guess I have to pull myself out of denial and clear the space! I also have hidden some vintage ornaments *very* well, so I've only got a few to go on there now...but I'll post a pic when I can, when we've got the wheel up and running and everything : )
---
| | | |
| --- | --- | --- |
| say no to balsam hill | | |
I ended up with a beautiful tree from frontage but I would definitely advise against dealing with Balsam Hill. Their customer service is atrocious. If you can even get someone on the line they know nothing about the product and have no idea what their stock actually is. I ordered an item and was charged only to call 8 days later and be told they were all sold out (I was supposed to have 2 day shipping!). The customer service team is unprofessional and lacks any knowledge of their product. They honestly did not seem to care they they had made a mistake and offered nothing to compensate.
---
| | | |
| --- | --- | --- |
| RE: for those of you with artificial Christmas trees | | |
I posted a pic in the vintage decorations thread Fly...but let me ask you...

My tree is a bit crumbly. Not horrible, but I'm wondering if I should store it in the little individual branch sleeves or if i should wrap the branches each in bubble wrap...bulkier, but maybe they would last longer. How do you store yours?

I did finally find it (hidden with your ornaments maybe LOL) and it was hidden with a great old stand that revolves and plays music (music box style) but I think next year I want a wheel :) I think it would be fun lighted. It's actually five feet not six (I had forgotten) so I put it on a table in a parlor. I had wanted to put it in the basement because it's fun and funky, but it's too delicate to be where kids go nuts IMO. I do just love the thing :) And I will say...a tree that revolves is so much easier to decorate LOL
---
| | | |
| --- | --- | --- |
| RE: for those of you with artificial Christmas trees | | |
I have a 9 1/2' pre lit and it is freakin HEAVY! Has I think 1500 lights. It's in 5 sections that fold up like an umbrella (which of course never goes back in the box right) but I will never have another that's not pre lit. Yes it's tedious to fluff the branches etc but once your done with that - viola! Just hang the ornaments! Way too easy. It's the kind where if a light burns out the others stay lit.

If they start making ones with LED that's as pretty as reg lights, I will be wanting one of those!

Funny story - friend of mine bought a pre lit one year and when taking it down she actually FORGOT it was pre lit! So she starts tearing out the lights and pulling the wires out, saying "Dang these lights sure are stuck good" Of course, a whole section of lights no longer work :/. I still can't figure out how it didn't finally occur to her after she yanked out a couple wires.
---
| | | |
| --- | --- | --- |
| RE: for those of you with artificial Christmas trees | | |
Flyleft = no offense here I didn't even see the original post and yes the stuff of nightmares.

Igloochic= can you post a pic I searched for pom pom tree but no pics came up. I love aluminum trees. Had a 4ft one as a kid but haven't seen one since.
---
| | | |
| --- | --- | --- |
| RE: for those of you with artificial Christmas trees | | |
I ordered my white artifical tree last year from christmastreemarket.com. They have a great selection of trees and I think, are reasonably priced. My tree is pre-lit and fits/plugs together in 3 places. I intend to order a green tree from them as well. I was pleased with my purchase...
---
| | | |
| --- | --- | --- |
| RE: for those of you with artificial Christmas trees | | |
I bought a pre-lit one and added a lot more lights including a few that twinkle individually. I then wired on the ribbon and the ornaments so I just need to take off the few breakable ornaments and the star, cover in plastic and take it upstairs to the attic until next year. Rather than get a tree that is so tall and unmanageable, we got a shorter one (5') and then put it on a table with a skirt, so we get the height we want without the huge diameter you usually get with a tall tree. We park it in front of a window so, from the outside from where most people see the tree, it looks full height.
---
| | | |
| --- | --- | --- |
| RE: for those of you with artificial Christmas trees | | |
I know it's too late for this year, but I'm adding my experience for those who find this thread next year. We had a Frontgate or Grandin Road tree for about 5 years and it was OK until one part of the lights went out and it was pretty hard to figure out how to fix it. The Light Keeper tool mentioned above would probably have worked, but the tree was damaged during our move over the summer anyway. Plus, I have higher ceilings now so I wanted a taller tree.

I found the website christmastreeforme.com quite informative about the construction and lighting of artificial trees. I was going to buy from them, but the one I liked only came with multi-colored lights and I wanted clear. I ended up finding one on the vickerman.com website. Vickerman is a wholesale company and they have a good search engine for finding the size tree you want. I then used the model number to find it online at elightbulbs.com. They had very good prices, and I noticed a Vickerman tree on the christmastreeforme.com website for a couple hundred dollars more than it was at elightbulbs.com. I ordered on a Wednesday and had my tree 5 days later, on Monday. I was nervous about getting it because I ordered less than 2 weeks before Christmas. When I emailed elightbulbs.com to check on the status, they responded quickly. I'd order from them again.

The tree was easy to set up. Mine came in 4 sections and the lights had to be connected in a few places, but everything was well marked. The branches are all hinged, and it took well over an hour to fluff them out after I put the tree together. I chose a tree with Vickerman's "Dura-Lit" lights because they are supposed to stay lit even if multiple bulbs are removed or burned out. With 800 lights on the tree, I don't want to have to do a lot of troubleshooting so I hope the lights work for several years. I thought about getting LED lights that would last much longer, but I've seen some unfavorable reviews about the color and intensity of the light. My next tree will be LED, I'm sure. Overall I am happy with this tree. It's the 8.5'H x 60"W blue albany spruce. I bent some of the lower branches up a bit so it would fit in a smaller space, so it is probably closer to 54"W. I found 8.5'H is good for my almost 10' ceilings.

By the way, I like to put an angel on top of my tree and most artificial trees can't support the weight of it. I found a tree topper extension kit from balsamhill.com for $20 that worked well. I was able to put my angel exactly where I wanted it. Balsam Hill had quick shipping as well, and I got my extension kit the same day I got my tree.
---
| | | |
| --- | --- | --- |
| RE: for those of you with artificial Christmas trees | | |
thank you to everyone that posted their experiences. I did go out today to the garden center to look at their trees. They were 60% off. The 9 foot trees were reg. price $900-1200 prelit. All of them looked fake, I was so disappointed. The stems looked like bottle brushes and most were a weird color green (but maybe that was the lighting?). We decided just to keep ours for as long as we're able to assemble/light it. It looks so pretty once up.

this is a smaller one I put up in the dining room, but similar style:

---
| | | |
| --- | --- | --- |
| RE: for those of you with artificial Christmas trees | | |
So, after you get the nice, big, artificial tree, how do you store it? We bought a 9' tree last year at Costco and really like it. What we don't like is that we don't have a single place to put it. This past year we spread it out between a huge tree duffel and one of the Container Store totes that are 4' long. The duffel is tearing and we want something that will last. Started to look at the Tree Keeper, but our garage ceiling is 8' while our tree is 9'. Any suggestions?
---
Post a Follow-Up
Please Note: Only registered members are able to post messages to this forum.
If you are a member, please log in.
If you aren't yet a member, join now!
---
Return to the Home Decorating & Design Forum
Information about Posting
You must be logged in to post a message. Once you are logged in, a posting window will appear at the bottom of the messages. If you are not a member, please register for an account.
Please review our Rules of Play before posting.
Posting is a two-step process. Once you have composed your message, you will be taken to the preview page. You will then have a chance to review your post, make changes and upload photos.
After posting your message, you may need to refresh the forum page in order to see it.
Before posting copyrighted material, please read about Copyright and Fair Use.
We have a strict no-advertising policy!
If you would like to practice posting or uploading photos, please visit our Test forum.
If you need assistance, please Contact Us and we will be happy to help.

Learn more about in-text links on this page here