Return to the Home Decorating Forum
|
Post a Follow-Up
---
| | | |
| --- | --- | --- |
| How to paint a dividing wall/hallway/staircase | | |
Posted by
makeithome
(
My Page
) on
Sat, Nov 20, 10 at 10:49
So, after 3 weeks of living in this house, I have decided to take everyone's advice and wait until after the holidays before I paint any of the rooms in our new house. I am using this time to gather information, instead :)

However, I still have my heart set on painting my living room a light silver blue. For a while I was leaning toward beige, but the hubby was like "I don't want to be one of those people who lives in an all-beige house" and I had to agree. I am going to try to follow the "three main colors" rule and pick three main paint colors to cohesively tie the house together. I am leaning toward a neutral beige, a light gray, and the light silver-blue.

Here's our current living room: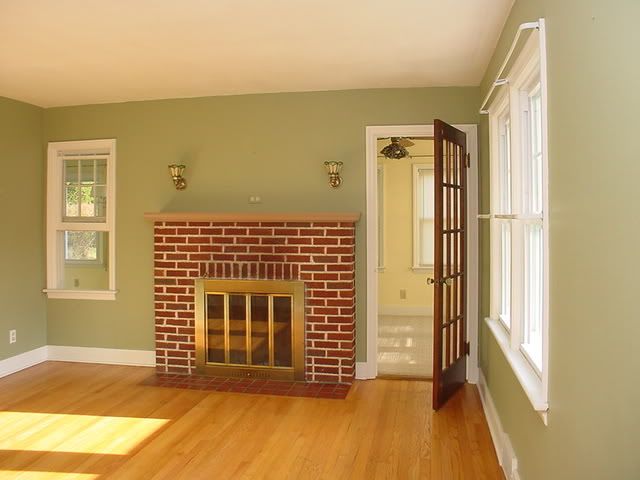 Here's my new favorite living room inspiration photo: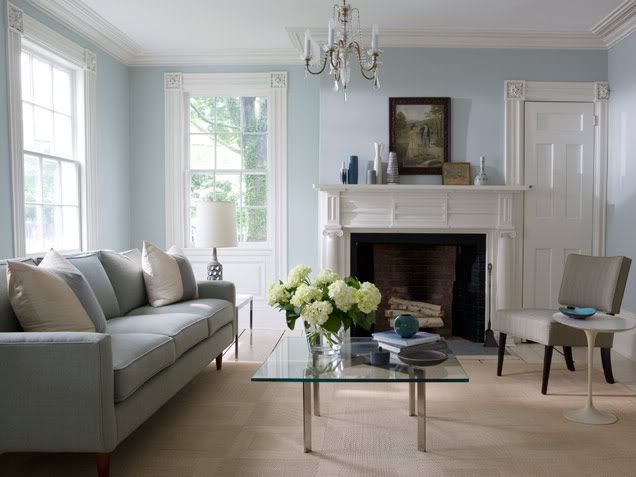 And here's a quick mock-up of our "finished" living room that I did in my HGTV design program. (please ignore the awkward square window to the left of the fireplace. I was just fooling around with ideas... and that one did not win, lol):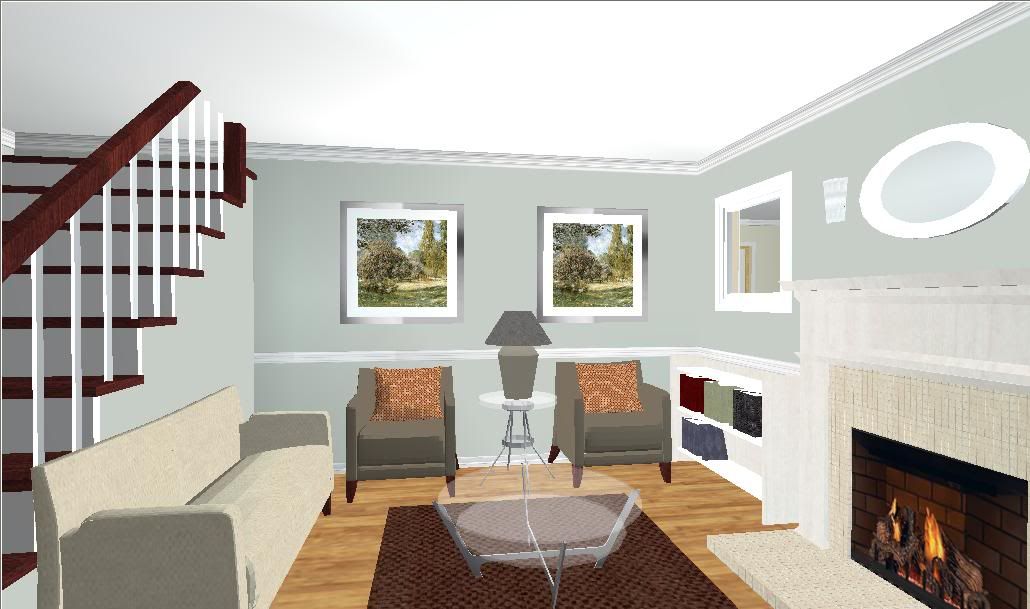 I know that the first room I will paint is the dining room... the yellow in there is killing me, lol. However, after that, I plan to have painters come in to do the living room. The reason I won't do that room myself is because it has a stairwell that needs to be painted, and I don't trust myself to paint such high-up wall surfaces.
Here's my dilemma... As of right now, the previous owners painted the living room green, the dining room yellow, and the stairwell white. The left wall of the stairwell (when facing it to go up) is the same wall that divides the living and dining room. Ideally, I'd like to paint that wall the same blue as the living room, so that the rooms feel more cohesive.
But... if I do that, what to I do with the right stairwell wall? Also make it blue? Does that mean that I have to paint the landing/hallway upstairs blue? What do I do with the curved stairwell ceiling?
My ultimate goal would be to create a similar look to this staircase, done by Kate at Centsational Girl. Imagine the picture frame moldings, but with blue instead of beige walls: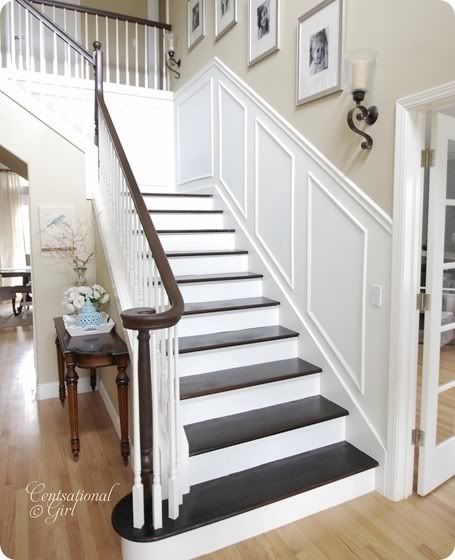 Thoughts?
---
Follow-Up Postings:
| | | |
| --- | --- | --- |
| RE: How to paint a dividing wall/hallway/staircase | | |
Your inspiration room is gorgeous! I thought about painting my house blue for about a second, but I didn't have the courage since my open floorplan would mean I'd have to paint the family room, dining room, and kitchen. So, now I get to live vicariously through you :)

I think I would take the blue paint to the top of the stairwell on both sides and stop at the corner.

Laurie
---
| | | |
| --- | --- | --- |
| RE: How to paint a dividing wall/hallway/staircase | | |
Hi Makeithome.

I'm not in love with that blue, but it's not my house, so that doesn't matter. What matters is not the specific color, but how it's handled. The existing scheme, with a different color on the stairway wall, looks really off, like the room was never completed. If the stairs were in a room of their own, having a different color in that area would make sense, but this just looks like the painter didn't come back after lunch.

So yes, paint the stairway's walls--both sides--the same color as your living room. And don't worry about painting the upper hallway the same color. Use whatever makes sense up there, and let the blue begin on the two separate sides of the stairs. Easy.

But here's a caution: the paneling on your inspiration photo looks awkward, and here's why: the dado rail (and the panels below it) is too high. These days, in new houses, building codes mandate higher stair rails than they used to, which messes up traditional proportions. But safety (or "safety") concerns trump aesthetics, so we just have to deal with it & do the best we can. At any rate, dados now need to be higher in stair areas than they used to be, in order to match the rail on the other side & keep the visual balance.

But in your inspiration photo, it's even higher than that, and as a result, the panels look clumsy & amateurish. They're too big, there's not enough height between them & the baseboard and there's too much horizontal space between any two adjacent panels. The overall design of this wall makes me think maybe the layout was done by the carpenter, not the architect, and while a few carpenters are up to that sort of thing, many are not. For someone with a better sense of proprortion, coming up with a better design would have only taken twenty minutes, while others could work on it all day and never figure it out.

Anyway, all the problems stem from the height of the dado itself. The height of the dado on the stair wall (not the perpendicular landing wall) should either have been lowered at the point where the two landing walls meet, or there should have been a step-down from the current height of the landing's dado down to a lower angled molding at the first step, in the same way that the actual stair rail drops down a foot or so at the same point. That would given the stair wall's panels much better proportions.

The good news is that since your stairs have a straight run without a change in direction & you won't be doing any structural work that might triggers the new codes' railing-height, you won't have to deal with that problem. Just make the dado top out at the height of your existing railing. Then add the panels.

BTW, if you're going to add a chair rail to your living room, I'd carry it all the way around the room. That way, it will look like it's always been there, rather than something somebody decided to add, then changed their mind.
---
| | | |
| --- | --- | --- |
| RE: How to paint a dividing wall/hallway/staircase | | |
I'd do a paint consultation with someone. You are talking cool colors, which can so easily clash with each other instead of blending.

I have painted my home upstairs and down so many times over the course of the 12 years we have lived here. Last Christmas, I did a color consult with Ellen Kennon. I sent her pictures, told her about myself, what I had done, what I was aiming for. I do not like a single color throughout the house either and do love color; my bedroom is brick red painted walls and all earth tones. She called me and we set up a game plan for the main level of my home. I had always painted with cool colors, but we did all warm tones and what a difference! I just finished my last room, our family room which was painted in Cafe au Lait - a wonderful color that looks like a cup of coffee with milk in it. Took me a while because we had wallpaper in our entry and stairwell that we had to remove - I made hubby do the stairwell stuff. I have perfect flow in the house now; golds, greens, browns and everything flows so nicely. The space feels so different! Her paint was awesome to work with, and I have painted with most brands so have a lot to compare with. I have 3 kids, so although I did use flat in some rooms, my preference is her Velvet Sheen, which is now called something else.

You have to pay if you don't order her paints, but the full spectrum paints are incredible; full of life. I don't think I would ever go back to paint mixed with blacks.
---
| | | |
| --- | --- | --- |
| RE: How to paint a dividing wall/hallway/staircase | | |
OK, the [future?] paneling on the stairs was only a side issue in the original question, but I got an email from a long-time client saying that she read my post & although she agreed with me about the color, she didn't get what I was saying about the paneling. Well, I figure if she didn't get it, maybe others didn't get it, either, so here's a visual to make it clearer. M.

---
| | | |
| --- | --- | --- |
| RE: How to paint a dividing wall/hallway/staircase | | |
Magnaverde... I totally see what you mean after you Photoshopped the picture. After seeing your edit, the original does appear awkward. Thanks for that explanation... now I know what to look for in my proportions when I decide to tackle that project!

Now, as to the color... I realize cool colors are kind of risky, but I am torn... I am so tired of browns, reds and yellows (all the colors of my last apartment)... and I very much dislike green. That's why I was leaning toward blue... and that blue is one of my favorite colors.

Is it possible to have a warm silver blue? and a warm gray?
---
| | | |
| --- | --- | --- |
| RE: How to paint a dividing wall/hallway/staircase 2 | | |
Oh, Magnaverde, I forgot to mention... I do plan on wrapping the chair rail all the way around the room. I tried to do it in the HGTV program, but it wouldn't allow me to apply it to the stairs. It's glitchy like that.
---
| | | |
| --- | --- | --- |
| RE: How to paint a dividing wall/hallway/staircase | | |
makeithome - I wouldn't worry about trying to find a warm blue/gray. It's all a matter of preference and if you get stuck on thinking you have to find a warm color, you may get away from your original vision. Just find a color you love and go with it. I spent about 30 minutes looking through centsational girl's blog after you posted her stairs and her house is full of cool colors.

Laurie
---
Post a Follow-Up
Please Note: Only registered members are able to post messages to this forum.
If you are a member, please log in.
If you aren't yet a member, join now!
---
Return to the Home Decorating Forum
Information about Posting
You must be logged in to post a message. Once you are logged in, a posting window will appear at the bottom of the messages. If you are not a member, please register for an account.
Please review our Rules of Play before posting.
Posting is a two-step process. Once you have composed your message, you will be taken to the preview page. You will then have a chance to review your post, make changes and upload photos.
After posting your message, you may need to refresh the forum page in order to see it.
Before posting copyrighted material, please read about Copyright and Fair Use.
We have a strict no-advertising policy!
If you would like to practice posting or uploading photos, please visit our Test forum.
If you need assistance, please Contact Us and we will be happy to help.

Learn more about in-text links on this page here