Return to the Home Decorating Forum
|
Post a Follow-Up
---
| | | |
| --- | --- | --- |
| Painting staircase railings - need advice! | | |
Posted by
thermsen
(
My Page
) on
Tue, Nov 30, 10 at 10:19
I am currently painting all of my oak trim white and only have the staircase to do on the first floor. I need to get this done so that I can get my garland on the stairs! I have painted the ballusters white and the carriage (I think that's what the molding underneath the stairs is called). I just have to paint the banister. I considered restaining the banister a darker stain that we refinished the floors in the kitchen/dining with. However, I have always loved the way the black painted banisters looked with the white ballusters. My house was very traditional looking with all of the wood and since I've painted the molding, it's taking on a cleaner look that I really like.

The inside of our front door was an off-white and I painted it BM Bittersweet Chocolate. I also painted my lower kitchen cabs the same color (uppers are white). So, my question is whether I should paint the banister the BC in a gloss on the banister or if I should go with black. I love the BC when the sun isn't shining directly on it. It appears black only softer. When the sun shines on it it's a lot more brown. The sun doesn't shine much at all on the staircase. I am thinking that I will get the BC and have them add more black to it? Any thoughts on this?

Here is a photo - I'm embarrassed to post it with this color on the walls next to the wood. That lasted for only a few months!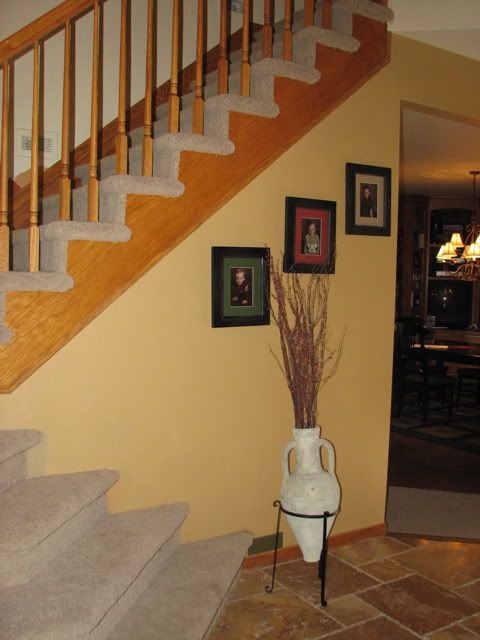 This photo is of the door and molding before being painted. This is directly accross from the stairs.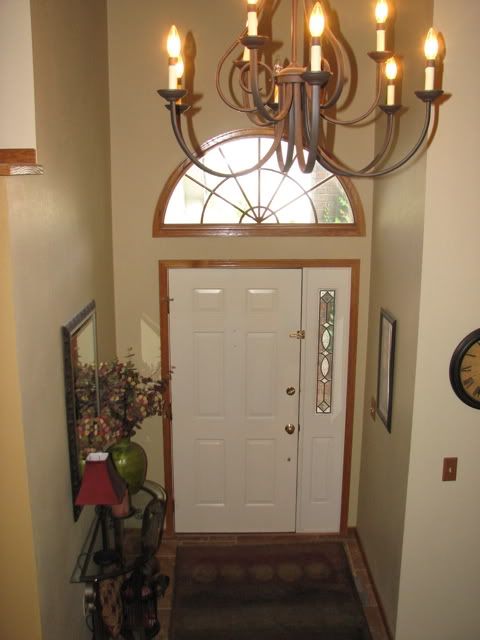 ---
Follow-Up Postings:
| | | |
| --- | --- | --- |
| RE: Painting staircase railings - need advice! | | |
I have oak banister and railings and recently tore the carpet off our stairs and painted everything. I debated between black and brown and went with brown in the end. It's SW Woodsy Brown in high gloss. I'm really happy with it. It reads a dark chocolate brown. Hope this helps you visualize. I don't know what Bittersweet Chocolate looks like IRL but I'd use a gloss.
This was before the painters tape was removed.

---
| | | |
| --- | --- | --- |
| RE: Painting staircase railings - need advice! | | |
Hi Thermsen.

You must be a lot more easily embarrassed than I am. I don't love that color on your lower wall, but then, I don't hate it, either. It's just a color. Here's my advice: life's too short to be shamed by a paint choice.

Which means that whether you go for the dark stain or the black paint on your hand rail, it will probably be OK. You say that the sun won't hit it much, but that when it does, it looks brown. I say if the brown were all that awful in the first place, why did you use it on your floors & cabinets? Or are you going to redo them too. It can't be all that bad.

Here's the thing: you say that, with molding stained, your house was looking very traditional--almost as though that's a bad thing--but that the painted balusters give things a cleaner look, and yet, actually, the combination of white balusters & dark railing is about as traditional as you can get. If you're not sure, consult an episode of "Ozzie & Harriet". Besides, traditional & clean are not mutually exclusive. Then again, the wrapped carpet on your steps is neither "traditional" nor particularly "clean", anyway. It just is. But you can't worry about everything: you've got garland to hang.

So put away the inappropriate shame over previous choices, knowing that whichever color you decide to use on your rail, it will probably be OK. After all, it's the dark-toned railing's crisp contrast against the white that matters, not the specific color you choose. Just keep repeating, It's only paint... it's only paint..."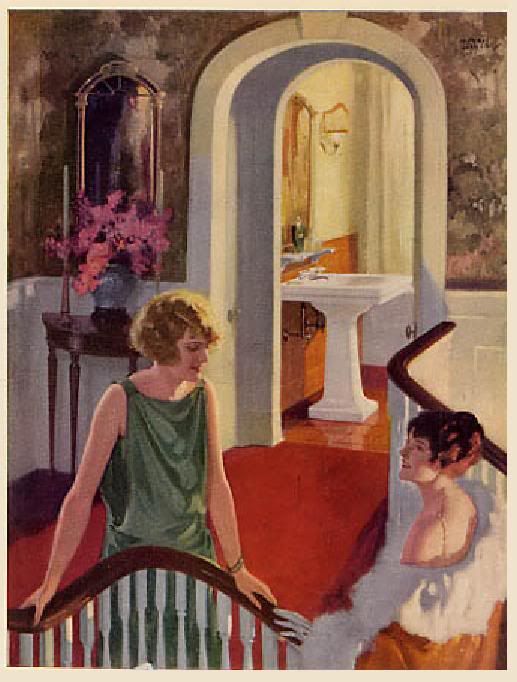 ---
| | | |
| --- | --- | --- |
| RE: Painting staircase railings - need advice! | | |
I did mine in black, but also painted the inside of the front door in black. I like the way they look together. So I'd go with the BC. Sounds pretty! If you don't like it you could always paint a coat of black over it.
---
| | | |
| --- | --- | --- |
| RE: Painting staircase railings - need advice! | | |
pssst, it's me, the crazy one. (you know, high gloss dark ceiling in the foyer, gray walls, and hot pink closet interiors) I would love to paint my railing too, or even stain it. However, this is the one project I'm too nervous about. It's just not easily "fixable" if I screw it up.

Here's my thought, do not do anything until after the holdiays. Just get the garland up. If you paint it with a high gloss enamel paint, you need to do several time consuming prep steps, and then probably at least 2 coats of paint, with time in between each one. Plus, you really shouldn't be attaching anything to it for probably 2 weeks to make sure it is really really really cured and you don't damage your paint job. Our painter told us to put nothing on the windowsills until at least 10 days or a mark might be left.

So, I say, just cover it with the garland, and then make it your January project.
---
| | | |
| --- | --- | --- |
| RE: Painting staircase railings - need advice! | | |
I would actually do what Bee said. My paint (SW porch and floor) literally took 2-1/2 months before it wasn't tacky. I did follow directions and prep right. I don't think it would be good to attach garland for a good while after you paint.
---
| | | |
| --- | --- | --- |
| RE: Painting staircase railings - need advice! | | |
"I don't think it would be good to attach garland for a good while after you paint."

I was thinking the same thing as I read the OP....
---
| | | |
| --- | --- | --- |
| RE: Painting staircase railings - need advice! | | |
Thanks for the advice and yes, great point about the garland on the uncured paint. I left my painted bookshelves for a week before I put anything on them and they are doing fine. I really don't want to wait 2 weeks (one week to finish and at least 1 to cure) before putting up garland though.

Magnaverde - The brown paint is on the lower cabinets and the door, the floors are a darker espresso stain on red oak. I do like it but sometimes wonder if I should have gone black and could see myself repainting black in a few years. I think I may do the chocolate but have the paint store add more black. And you're right, IT'S JUST PAINT! And that's why I don't want to stain it. I guess the dark and white stairs are very traditional, I don't think that's really the wording I should have used. The house had LOADS of orangey oak it it and now the wood is white which makes it look cleaner in my eyes. Not to mention, it's much easier to physically clean! And don't get me started on the carpet on the stairs! I'd love to get rid of it but then again they don't show the dirt that wood stairs would with 3 little boys!

SheeSharee - It looks beautiful! Thank you for the visual, it really helps.
---
Post a Follow-Up
Please Note: Only registered members are able to post messages to this forum.
If you are a member, please log in.
If you aren't yet a member, join now!
---
Return to the Home Decorating Forum
Information about Posting
You must be logged in to post a message. Once you are logged in, a posting window will appear at the bottom of the messages. If you are not a member, please register for an account.
Please review our Rules of Play before posting.
Posting is a two-step process. Once you have composed your message, you will be taken to the preview page. You will then have a chance to review your post, make changes and upload photos.
After posting your message, you may need to refresh the forum page in order to see it.
Before posting copyrighted material, please read about Copyright and Fair Use.
We have a strict no-advertising policy!
If you would like to practice posting or uploading photos, please visit our Test forum.
If you need assistance, please Contact Us and we will be happy to help.

Learn more about in-text links on this page here