Return to the Home Decorating Forum
|
Post a Follow-Up
---
| | | |
| --- | --- | --- |
| For those with Flat Screen TV's... | | |
Posted by
roorezzi
(
My Page
) on
Tue, Nov 18, 08 at 9:54
How tall is your TV Stand?

We just ordered a flat screen 46" and are looking for a console table to put it on. I think to start it will be on the stand and if we rearrange the room it may be wall mounted.

What is the best viewing height for the TV?

Some stands are 20" high and others are about 30" high.

Any opinions would help! Also if you could post pics of the TV stands/Entertainment Centers - I am looking for ideas. We definetely are looking for something wood - we would like to be able to have some closed storage to hide the video game mess.

Thanks
Ruth
---
Follow-Up Postings:
| | | |
| --- | --- | --- |
| RE: For those with Flat Screen TV's... | | |
The best height is eye level... which depends on your seating and your TV's stand.

Mine are wall mounted so I am no help for table height!
---
| | | |
| --- | --- | --- |
| RE: For those with Flat Screen TV's... | | |
Mine is from Steinworld and is 37 inches tall. I have seen really pretty cabinets at Marshall's Home goods. Try there.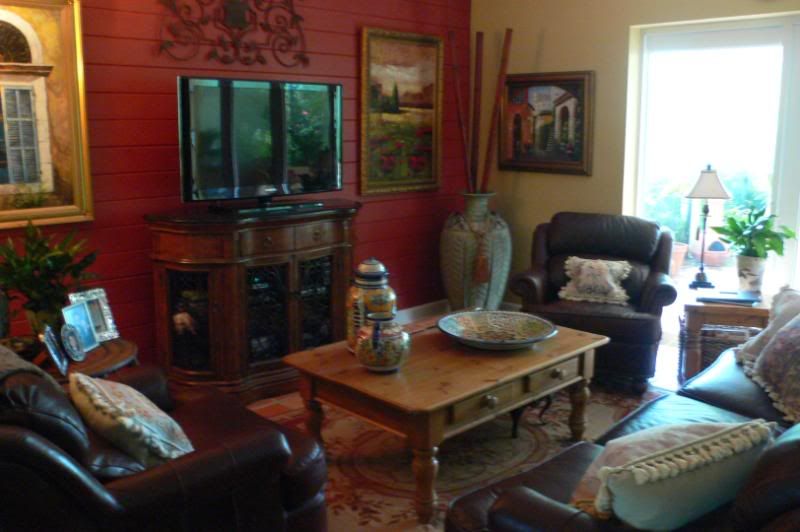 ---
| | | |
| --- | --- | --- |
| RE: For those with Flat Screen TV's... | | |
I'm looking for a tv stand as well. I want one that's low because it has to sit in front of a low window. I found this one yesterday http://www.crateandbarrel.com/family.aspx?c=994&f=24158. I think it would work but just don't want to pay $600 for it. There are several on the website and maybe you can find something to inspire you.

Cindy
---
| | | |
| --- | --- | --- |
| RE: For those with Flat Screen TV's... | | |
Our TV is 46" and stand is 30" tall. We had it lower before we got the stand and I like it higher better. I think some of it depends on how far away you are. We are about 10-14ft away depending on where you sit.

I didn't like the lower position because when laying down my feet were in the way.
---
| | | |
| --- | --- | --- |
| RE: For those with Flat Screen TV's... | | |
Our T.V. stand has a electric fireplace in , we just love it, 31" high and 77" wide the T.V. is a 42".Ours is the 794 Malibu Fireplace. Here's the link.and our picture
Here is a link that might be useful: T.V. Stands
---
| | | |
| --- | --- | --- |
| RE: For those with Flat Screen TV's... | | |
yvette - that is a beautiful cabinet.

sundown - mine right now will be near a window and that is one reason we were thinking lower but then we may move it to a different wall and may not need the stand to be too low - so I was thinking going the middle of the road. Love the one at C&B - I agree about the price too...

lyfia - so the 30" isn;t too high - do you feel like you are looking up to see the TV or is it about eye level. We have an old stand that we are going to have to use til we find one - so when the TV comes we will have to try that one out. I think that one is 30" as well.

lacombe - that is a really neat TV stand. Very interesting.
---
| | | |
| --- | --- | --- |
| RE: For those with Flat Screen TV's... | | |
I don't have a pic of ours in the house but this is what we have.
We bought it at Art Van in Michigan but Home Decorators sells the grouping under the 'Clive' collection.
It's well made, heavy, and we love it.
We paid less than $300 for it.
---
| | | |
| --- | --- | --- |
| RE: For those with Flat Screen TV's... | | |
Ours is 20 inches tall...we made it to my strict specifications. The tv is 52" and the wall it's on, is
10 foot long -- then it hits the doorway. I knew I wanted bun feet with a space underneath for dusting. I wanted to hide all the components behind glass doors, except the dvd --
that I wanted on an open shelf because the dvd changer slides in and out. I just recently took out the surround sound system from inside the cabinet, and put it by the tv, cause I got tired of having to bend to put in cd's :) I also wanted the sides encased around the tv and a nice mantle top for a light, and for all my small photos. We made the top narrower than the bottom.
The room is a pretty good size (23 foot long ) however the width is only 14 1/2 feet wide, so I didn't want a huge cabinet.
The drawers are for the cd's and the small matching DVD cabinet to the left, we made as well. I like the 20" height of the bottom cabinet. I think it's perfect for tv viewing, as I don't like looking up at a tv or looking down, I'm a straight ahead type of gal.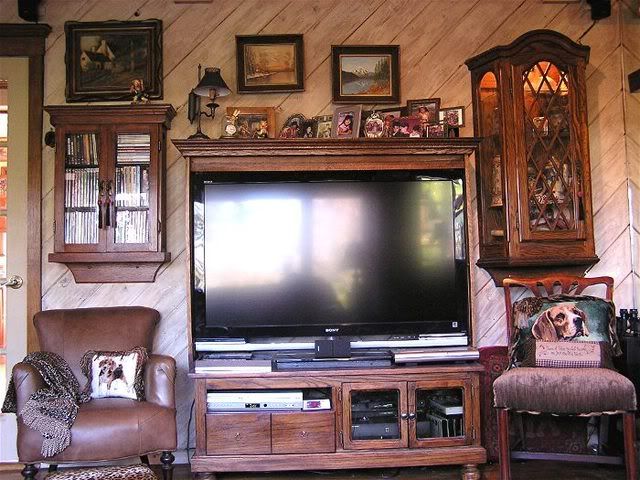 side view
---
| | | |
| --- | --- | --- |
| RE: For those with Flat Screen TV's... | | |
I kept searching for something and couldn't decide (plus all the stands are on the expensive side). I finally ordered this bench that I plan on putting in front of the wall where we'll hang the tv. I'll put all the components under the bench and I plan on hanging some kind of curtain panels on the wall to cover up the tv when we have company--that way it'll just look like another seating area instead of all the seating in the room facing the tv.

I haven't gotten it yet so I don't know how well it'll really work, but if I end up hating it I'm not out that much money.
Here is a link that might be useful: Bench
---
| | | |
| --- | --- | --- |
| RE: For those with Flat Screen TV's... | | |
It depends on your viewing position. We have a wall-mounted 42 inch flat screen in our bedroom that we watch from a sofa a few feet away and from the bed while we're lying down. We also have a 37 inch flat screen in the living room that stands on a stand that is about 32 inches high, but it could be even higher for comfortable viewing. It all depends on furniture placement, the position of the TV and the way you're going to be watching it. Sit, lie down, put some masking tape on the wall and put the TV anywhere that makes sense from your viewing standpoint.
---
| | | |
| --- | --- | --- |
| RE: For those with Flat Screen TV's... | | |
Our 46" tv is on a 27" high credenza. It's 56" long. I bought it from Bassett Furniture. It's their "Hanover" style. They have other TV cabinets to chose from as well, this one happened to fit our center channel which is unusually long so most TV cabinets couldn't accomodate it. That limited our choices quite a bit. You really have to pay attention to all the components you plan on putting into it. We were looking for a cabinet around 29" high when we found this one.

When the stand is too low you need to take coffee tables into consideration,you wouldn't want it or objects on the table to block the TV.
Here is a link that might be useful: TV cabinets
---
| | | |
| --- | --- | --- |
| RE: For those with Flat Screen TV's... | | |
Here's our 42 inch tv. This picture was taken before we drilled a hole in the back and moved the cable so that it sits inside the cabinet. Now I just need to get an electrician to move the plugs now that the cabinet is centered so you don't see the wires. I'm not sure of the height of the cabinet but I can measure it if you want me to.

The height is perfect for us, no straining.

---
| | | |
| --- | --- | --- |
| RE: For those with Flat Screen TV's... | | |
deborahnj, Can you tell us where you got your cabinet? It's beautiful.

yvette, I love your Stein World cabinet. I've been looking for a while for a TV cabinet that can be closed, and that is small enough to fit into the place in our LR where I want to put it. I was hoping to find a corner cabinet, but have not been able to find anything small enough. Now I'm thinking of a regular cabinet angled across the corner. Inspired by yours, I looked for Stein World cabinets and found one that I like. I was really looking for something simple, but for some reason the one below is appealing. I may be crazy to consider it.

The Stein World website does not give dealers. I'm going to call them and see whether they have a store near me so that I can see the piece in person.
Here is a link that might be useful: Stein World Oriental Media Cabinet
---
| | | |
| --- | --- | --- |
| RE: For those with Flat Screen TV's... | | |
Here is one that we saw and purchased this AM. It is a RTA cabinet. We are not sure about the color with the current furniture - so we plan on carefully opening the box and comparing the wood tones.

Here is a pic:

The dimensions are: 24in H x 47.75in W x 18in D
The TV is 44.5 inches wide - that leaves very little room on each side - will that look funny.
Here are some of the other stands we were considering.
Target Woolrich
I attached a link to the room that it will be going in - It will temp be where the armoire is and we may switch the room around and put it on one of the other walls.
Thanks
Ruth
Here is a link that might be useful: Living Room Album
---
| | | |
| --- | --- | --- |
| RE: For those with Flat Screen TV's... | | |
My tv stand is 14" high (for a 46" tv). I prefer my tv's closer to the ground. The most comfortable tv I've ever watched is my mom's 1970's console TV that sat on the floor. Its great for the kids who like to sit on the floor, and "grounds" the tv better.

How do you like to sit in a movie theater? Up close so you're looking up, right in the middle or in higher seats, so you're looking down?

When I sit on my couch, my eyes are 37" from the ground, so I try to make the center of my tv about that as well.
---
| | | |
| --- | --- | --- |
| RE: For those with Flat Screen TV's... | | |
lightlystarched -

Thats a good point. I think I am kind of middle-of-the-road. I should see what height my eyes are when sitting down. We tried to compare by looking at the armoire that we currently have an imagining where the TV will start and end. I think 20ish were about eye level for us - give or take. I think the ones that are 30 might be too high - but we aren't sure.
---
| | | |
| --- | --- | --- |
| RE: For those with Flat Screen TV's... | | |
Depends on how you view TV we have ours as high as was possible because we view from our chaise recliners always reclined way back, if TV was low we'd get a crick in the neck holding our head up trying to look down rather then up...our bedroom TV's as well are high to be viewed from bed.
---
| | | |
| --- | --- | --- |
| RE: For those with Flat Screen TV's... | | |
You're right Susie. If I'm not sitting on my couch, I'm probably slumped down sideways with my head propped on a pillow - even lower than 37". That's probably the REAL reason I like low tv's.
---
| | | |
| --- | --- | --- |
| RE: For those with Flat Screen TV's... | | |
Marisany, my cabinet is made by Stein World as well. I found it at Sofa Express when the stores were going out of business. I lucked out and only paid $400 for it.

Deb
---
| | | |
| --- | --- | --- |
| RE: For those with Flat Screen TV's... | | |
Thank you, Deb. It sounds as if Stein World furniture is sometimes available at good prices in discount stores or stores going out of business. I'll have to keep looking and hope to find something. I really like their stuff.
---
| | | |
| --- | --- | --- |
| RE: For those with Flat Screen TV's... | | |
I've often seen Stein World pieces at our local Home Goods stores. You have to check them carefully for damage but the majority of them are in excellent condition and discounted greatly from the price shown in the ad linked on this thread.

As far as the original question, our 42" flat screen sits on a 30" high credenza in our family room and hasn't presented any problems as far as viewing goes, whether laying on the TV, lying back in the recliner or sitting upright on any of the furniture. I do think it's one of those personal preferences, however, as I enjoyed it better when mounted on the wall. Maybe because it seemed less intrusive to me and less of a focus point in the room. I don't mind watching it in either place, though.
---
Post a Follow-Up
Please Note: Only registered members are able to post messages to this forum.
If you are a member, please log in.
If you aren't yet a member, join now!
---
Return to the Home Decorating Forum
Information about Posting
You must be logged in to post a message. Once you are logged in, a posting window will appear at the bottom of the messages. If you are not a member, please register for an account.
Please review our Rules of Play before posting.
Posting is a two-step process. Once you have composed your message, you will be taken to the preview page. You will then have a chance to review your post, make changes and upload photos.
After posting your message, you may need to refresh the forum page in order to see it.
Before posting copyrighted material, please read about Copyright and Fair Use.
We have a strict no-advertising policy!
If you would like to practice posting or uploading photos, please visit our Test forum.
If you need assistance, please Contact Us and we will be happy to help.

Learn more about in-text links on this page here