Return to the Home Decorating & Design Forum
|
Post a Follow-Up
---
| | | |
| --- | --- | --- |
| My First Garbage Find! | | |
Posted by
mpmg46
(
My Page
) on
Fri, Nov 30, 12 at 9:14
My mom's neighbor had thrown this marble top table out in his trash, b/c the legs were broken and the marble was stained. My mom rescued it for me. My cousin builds furniture, so he fixed the broken leg in no time for me. I have been able to get most of the staining off, and am still working on it. Maybe it's junk, and it still needs some TLC (but that will have to wait until spring time now). But I'm happy that it didn't find its way to the junk yard.
My parents have a marble top table from the early 1900's that was my grandmother's, and this one is similar (but smaller). My parents live hundreds of miles away, and this little piece reminds me of home.
---
Follow-Up Postings:
| | | |
| --- | --- | --- |
| RE: My First Garbage Find! | | |
I love it. You deserve a pat on the back for saving its life. It would have been a shame if something with that much potential had ended up in the trash. I bet it ends up on Antiques Roadshow and makes your great grandchildren richer than Croesus. Don't mess with that original finish. LOL
---
| | | |
| --- | --- | --- |
| RE: My First Garbage Find! | | |
Nice save nice table you might want to post a photo in Antique forum of garden web. They are very nice and can tell you a lot about your table.
---
| | | |
| --- | --- | --- |
| RE: My First Garbage Find! | | |
NIce ! A little Restore a Finish on the wood or even just a good cleaning and oiling and you are going to have a gorgeous piece. I love saving things !! c
---
| | | |
| --- | --- | --- |
| RE: My First Garbage Find! | | |
Nice indeed! I have an antique birdcage I found in someone's trash, but it doesn't come close to your find. Really cool, and so what if you can't make it perfect? Perfect is so overrated. :)
---
| | | |
| --- | --- | --- |
| RE: My First Garbage Find! | | |
The stains on the marble is called patina.
---
| | | |
| --- | --- | --- |
| RE: My First Garbage Find! | | |
Great idea nyboy! (I'm a former NY'er living in the south now.)I didn't know that there was an antiques page on GW. I'd like to know more about the piece. Perhaps they will be able to tell me whether I should leave it as it is, or if I can refinish/clean it up a bit.

LOL about Antique Roadshow, dedtired!

@nyboy: The stains I'm referring to were dirty, sticky substances that were on the marble when I got it, that has left some light staining. You can't see them too well in the picture, but there are 3 faint marks left on the right hand side and corner. No big deal. I should have taken a picture of it before I cleaned it. You could barely tell it was marble! lol
---
| | | |
| --- | --- | --- |
| RE: My First Garbage Find! | | |
Great find! Love furniture with a story!
---
| | | |
| --- | --- | --- |
| RE: My First Garbage Find! | | |
I love those tables. I have two and would buy more if I didnt' have toddlers. They are so sturdy feeling, but I fear they will topple over and kill the kids anyway. :) They go for anywhere from $200-300 usually around here at auction.

In my old house I used them as nightstands in the guestroom. :)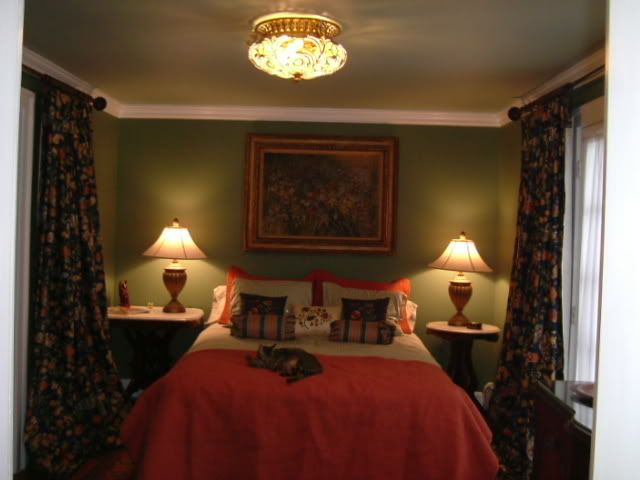 One of these days I will put them in my master bedroom I think in my current house.
---
| | | |
| --- | --- | --- |
| RE: My First Garbage Find! | | |
What a nice find! Hooray!
---
| | | |
| --- | --- | --- |
| RE: My First Garbage Find! | | |
Oh my goodness! I love it!
---
| | | |
| --- | --- | --- |
| RE: My First Garbage Find! | | |
Great find! I was shocked to see your table because my Mom passed away in July and my sisters and I divided up her "treasures" and I have the same table from her home! I oiled my with lemon oil and the wood looks great except for some patina : ) My marble has a crack in it but it is still intact and when I get a few minutes I plan on putting it next to a chair in my living room...if I can only figure out what to do with the table I already have there. Enjoy your find!
---
| | | |
| --- | --- | --- |
| RE: My First Garbage Find! | | |
Pretty room, Boopadaboo!
Thank you all for the kind words. It was definitely a keeper of a find!

@joshuasamah: I'm sorry to hear of your loss. How special that you have something that reminds you of her. That's how I feel about the one at my parents' house. My dad is almost 85 and he used to tell us that his job, when he was a boy was to dust their marble top table every week. :) I will have to search for lemon oil to see if that spruces this one up a bit.
---
| | | |
| --- | --- | --- |
| RE: My First Garbage Find! | | |
lovely

that is an Eastlake table
Here is a link that might be useful: eastlake table
---
| | | |
| --- | --- | --- |
| RE: My First Garbage Find! | | |
Thank you jejvtr. I've never heard an actual name for this type of table. I'm checking out your link now. Very cool, thanks again!
---
| | | |
| --- | --- | --- |
| RE: My First Garbage Find! | | |
Love it! I have one we inherited from DHs grandfather, and I just love it.
Glad you rescued it.
---
Post a Follow-Up
Please Note: Only registered members are able to post messages to this forum.
If you are a member, please log in.
If you aren't yet a member, join now!
---
Return to the Home Decorating & Design Forum
Information about Posting
You must be logged in to post a message. Once you are logged in, a posting window will appear at the bottom of the messages. If you are not a member, please register for an account.
Please review our Rules of Play before posting.
Posting is a two-step process. Once you have composed your message, you will be taken to the preview page. You will then have a chance to review your post, make changes and upload photos.
After posting your message, you may need to refresh the forum page in order to see it.
Before posting copyrighted material, please read about Copyright and Fair Use.
We have a strict no-advertising policy!
If you would like to practice posting or uploading photos, please visit our Test forum.
If you need assistance, please Contact Us and we will be happy to help.

Learn more about in-text links on this page here