Return to the Home Decorating & Design Forum
|
Post a Follow-Up
---
| | | |
| --- | --- | --- |
| Paint results and Q re fireplace mantel | | |
Posted by
secondhalf
(
My Page
) on
Thu, Nov 22, 12 at 8:57
Hi everyone-
Revere Pewter and Edgecomb Gray are such chameleon colors. I love the way light plays on them now that they are actually up on the walls of our renovation project. Thanks for all the help with them. The trim is Marscapone - on the tongue and groove ceiling too.
When looking at the pics, if you have any thoughts about how to handle the orange stained fireplace mantel on the stone fireplace, I'd be grateful.
New family room in Revere: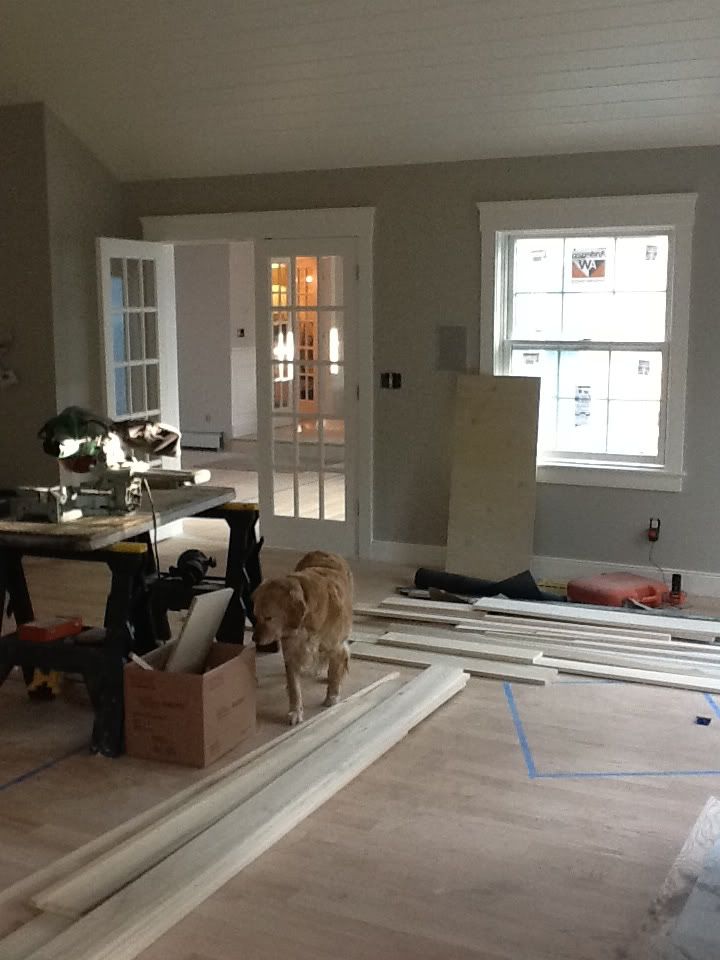 Lower Breakfast Room Painted Edgecomb- note Orange stained mantel that needs desperate help:

Builtins in Breakfast room- will be painted Marscapone when done:

Kitchen - painted Edgecomb Gray:

Thank you for letting me share. Hope everyone has a safe and happy Thanksgiving!
---
Follow-Up Postings:
| | | |
| --- | --- | --- |
| RE: Paint results and Q re fireplace mantel | | |
I love everything you've done with it, sooooo nice. As for the fieldstone fireplace I'd white wash it. I have one at my lake house that I did over following the directions below. I'm very very pleased.
Here is a link that might be useful: fireplace redo
---
| | | |
| --- | --- | --- |
| RE: Paint results and Q re fireplace mantel | | |
I love the fieldstone with the two paint colours and I also think the orange mantle goes perfectly with the new paint (as does the furry monster in the foreground). I love orange with greys and the mantle warms the space beautifully. If you really feel you must change it just for the sake of change, I'd stain it a darker reddy toned brown. If you paint it, it will look flat and cold. Right now, it brings some life to the room.

I adore the paint in all the rooms. Your whole home is gorgeous - windows, doors, kitchen, ceilings. I can hardly wait to see it all done.
---
| | | |
| --- | --- | --- |
| RE: Paint results and Q re fireplace mantel | | |
I have an aversion to the orange toned woods-- and I have a mantle with the same problem (but much worse). And yet.. I agree with the others that it works well with the fieldstone-- it brings out the warm colors of the stone and adds a touch of warmth to the room.

My advice would be to bring your furniture back and see how it looks then. You are looking at a mostly empty room with a lot of cool color.. add in your furnishings and I bet the warmth of the mantel fits right in.

If not, I'd either sand and refinish or use a gel stain-- but I'd hesitate before going much darker.

Your rooms are lovely-- love the colors and the fresh, organic feel.
---
| | | |
| --- | --- | --- |
| RE: Paint results and Q re fireplace mantel | | |
Did I miss it- what are you doing with the floors? Will they be stained or natural? As mentioned, you are focused on the mantel in unfinished, unfurnished space - it may not be an issue at all later on. But the floors, being the largest wood element that will not be painted will have a big influence on whether the mantel works as is or will need a color adjustment.

Gorgeous house - would love to see more of your reno and details of what is changing.
---
| | | |
| --- | --- | --- |
| RE: Paint results and Q re fireplace mantel | | |
I love your rooms, the colors you have chosen, and can't wait to see the finished project!

I think the fieldstone is wonderful with the paint colors. While the mantel works with the stone, I agree that it feels out of place a bit with the rest of the space.

This may seem a bit of an odd suggestion, but have you considered having the mantel clad in a swirled or brushed stainless? I think it would be a great balance with the stainless in the kitchen, and give a but of a modern tweak to the fieldstone.

You could also clad it in copper, but I think the stainless is a better fit with the rest of the space.
---
| | | |
| --- | --- | --- |
| RE: Paint results and Q re fireplace mantel | | |
Yayagal- thank you!! And the whitewashing is a great idea, but my husband would keel over if I suggested that, as he loves the natural stone.

Daisy- thanks so much for the positive feedback (and yes, I DO decorate around my goldens. I also dress around them...never wear black!!).

Funkyart- my DH was quite proud that he had given me the same advice as a GWer! Thanks for helping me take a step back. The project is coming to a close, the holidays are upon us, and I guess I'm feeling a bit frenetic.

DLM- great point....we are finishing the floors with a clear stain and have not yet determined whether we're going with the Bona HD waterbased or the oil...another reason to wait and see what things look like as they get pulled together.

Les- what an intriguing idea. That could be so unique and really fit the space. My roadblock will be DH, who wants it to remain some type of wood tone. He's deferred to me in so much of the decision-making in this project, that when he does put his wishes forward, I like to be sure they work their way in.

Thank you everyone for all the ideas and feedback. Hope your thanksgiving was safe and happy.
---
| | | |
| --- | --- | --- |
| RE: Paint results and Q re fireplace mantel | | |
I love the stone and would just restain the mantle to pick up on the brownish gray tones. We put some natural hand-hewn beams we rescued from the old house behind our woodstove and I love the color with the stone. Maybe you could head in that direction.
---
| | | |
| --- | --- | --- |
| RE: Paint results and Q re fireplace mantel | | |
Annie- I love that idea..the rustic could help warm up the space. But I am going to wait to see how things look when we have the furniture back in. Thank you!
---
| | | |
| --- | --- | --- |
| RE: Paint results and Q re fireplace mantel | | |
Yes -- the stonework of the fireplace is wonderful with your gorgeous rooms -- but a much larger and longer grey or weathered wood mantel would be perfect there .... a carpenter could make a larger "box" that would fit over the current mantel ....

LOVE your dog!! What a sweetie-pie face! :)
---
| | | |
| --- | --- | --- |
| RE: Paint results and Q re fireplace mantel | | |
I think the poster above meant to whitewash the mantel - not the stone. I think a whitewashed mantel would look nice on with the stone, or just strip the mantel to natural wood and coat it (like you're doing the floor).
---
| | | |
| --- | --- | --- |
| RE: Paint results and Q re fireplace mantel | | |
I love, love, love your rooms and I would stick with the grays (maybe very dark grays) only to introduce gold/beige in very small amounts along with dark browns and black. You have a very fresh look going on , don't date it with too much gold tone.
---
Post a Follow-Up
Please Note: Only registered members are able to post messages to this forum.
If you are a member, please log in.
If you aren't yet a member, join now!
---
Return to the Home Decorating & Design Forum
Information about Posting
You must be logged in to post a message. Once you are logged in, a posting window will appear at the bottom of the messages. If you are not a member, please register for an account.
Please review our Rules of Play before posting.
Posting is a two-step process. Once you have composed your message, you will be taken to the preview page. You will then have a chance to review your post, make changes and upload photos.
After posting your message, you may need to refresh the forum page in order to see it.
Before posting copyrighted material, please read about Copyright and Fair Use.
We have a strict no-advertising policy!
If you would like to practice posting or uploading photos, please visit our Test forum.
If you need assistance, please Contact Us and we will be happy to help.

Learn more about in-text links on this page here