Return to the Home Decorating Forum
|
Post a Follow-Up
---
| | | |
| --- | --- | --- |
| How to Antique a Picture Frame | | |
Posted by
jan_in_wisconsin
(
My Page
) on
Wed, Nov 9, 11 at 8:32
I found an antique picture frame from the '20s that I love. It is wood and painted a metallic gold, however, I think it would go better with the room if it were a dark antique gold. I plan to replace the picture with a family photo and hang it landscaped over the buffet with a tall buffet lamp on either side. So, I would like for it to coordinate with the buffet in a dark tone.

Any ideas on how to go about creating a darker finish for the frame in keeping with its age? I like complex looking finishes versus solid and flat.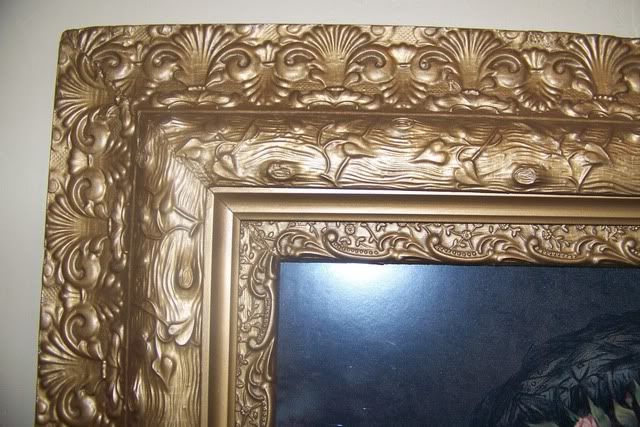 ---
Follow-Up Postings:
| | | |
| --- | --- | --- |
| RE: How to Antique a Picture Frame | | |
Antiquing is really easy, especially when you want to keep the same back ground color.

You can use umber colored Acrylic paint which is available at any craft store. Using a brush or soft cloth wipe on it on so it gets in the crevasses and then gently wipe off the excess so only the some of the crevasses are filled. I've also used dark shoe polish for this as well.

Since the frame you want to do this on is special and you've never done it before, I would first buy a cheap frame from a thrift store to practice with until you get the affect you want. Try to find one that has a lot of detail on it too and if it's dark, spray paint it a light color so you can see where you're antiquing is.
---
| | | |
| --- | --- | --- |
| RE: How to Antique a Picture Frame | | |
good advise above (practice before you jump in with the good frame!!) also if you add the color you choose (umber) to a glaze medium, it will give you more time to work with it, and will allow you to wipe it all off if you dont like how it looks. Just remember that it takes VERY little of the paint or stain etc mixed with the medium to do a small frame like this. Like litterally probably less than a teaspoon of color to a few teaspoons of medium
---
| | | |
| --- | --- | --- |
| RE: How to Antique a Picture Frame | | |
Thanks, I've heard of the burnt umber acrylic paint, and I agree that mixing it with a glazing medium will make it more forgiving and workable.
---
| | | |
| --- | --- | --- |
| RE: How to Antique a Picture Frame | | |
I would scream and yell that you would be altering a fine antique frame.....but it seems to have been sprayed with gold paint already, so no further harm....unless you break it.
I have made a finish I like a lot by first spraying the frame with a red orange....sort of a rusty color like rustoleum. Then spray a gold color of your choice over the top. Gold spray paint comes in lots of shades of gold....I prefer a darker sort of tarnished brassy color. Spray very lightly....you want to see some of the orange just barely showing in the deep spots.
And another thing.....but your frame is in too good a condition to do this.....if you find a frame like yours that has some of the plaster chipped off, you can soak that to get rid of the rest of the plaster.....and you have a wonderful simple pine frame.....sand lightly and varnish.
I used to buy all sorts of falling apart frames to soak and re use.
Linda c
---
| | | |
| --- | --- | --- |
| RE: How to Antique a Picture Frame | | |
What a pretty frame!

I will echo lukkirish's suggestion of shoe polish. The old-fashioned, waxy kind that comes in a little tin?

I would suggest using at least two colors... maybe a light and a dark brown. Dab some onto the frame, and then rub off the "high" spots.

And when you get the effect you want, just let it dry for a couple of days, then spray it with clear acrylic coating -- glossy or matte, your choice.

The advantage of shoe polish is that you can take your time, since it dries very slowly, you can manipulate it easily, do and re-do till you get what you want.
---
| | | |
| --- | --- | --- |
| RE: How to Antique a Picture Frame | | |
Lindac - The frame's plaster was restored by the party who sold it, and it appears that the gold was brushed, versus sprayed, as there are some brush marks on the wood backing. I wouldn't mind removing the finish, but I'm afraid I may damage the plaster in the process, the details of which look great right now.

I too prefer a dark brassy color. I think I may need to take the earlier advice and practice on a cheap frame of some sort (with detailing, though) to see if I can achieve a nice effect.

I know there are some cool metallic spray paints out there, but the trick is to get it to look layered, which I think is typically a multi-step process, as you suggested.
---
| | | |
| --- | --- | --- |
| Mostly Dark with Highlights | | |
mclarke - We must have been posting at the same time. I know the shoe polish you're talking about. It sounds like the simplest option. I would like the majority of the frame darker, with just highlights of gold (better yet, antique gold) showing through.
---
| | | |
| --- | --- | --- |
| RE: How to Antique a Picture Frame | | |
Beautiful job of restoring!!!
Ironically....those frames were originally painted white. With all that plaster detail it was impossible to apply gold leaf.....and gold spray paint didn't exist...:-)
---
Post a Follow-Up
Please Note: Only registered members are able to post messages to this forum.
If you are a member, please log in.
If you aren't yet a member, join now!
---
Return to the Home Decorating Forum
Information about Posting
You must be logged in to post a message. Once you are logged in, a posting window will appear at the bottom of the messages. If you are not a member, please register for an account.
Please review our Rules of Play before posting.
Posting is a two-step process. Once you have composed your message, you will be taken to the preview page. You will then have a chance to review your post, make changes and upload photos.
After posting your message, you may need to refresh the forum page in order to see it.
Before posting copyrighted material, please read about Copyright and Fair Use.
We have a strict no-advertising policy!
If you would like to practice posting or uploading photos, please visit our Test forum.
If you need assistance, please Contact Us and we will be happy to help.

Learn more about in-text links on this page here