Return to the Home Decorating & Design Forum
|
Post a Follow-Up
---
| | | |
| --- | --- | --- |
| can this work? | | |
Posted by
Sueshine
(
My Page
) on
Sat, Nov 24, 12 at 8:29
I want to change the look of my great room. I want to brighten it up by adding lighter colors.

The sofa and love seat has to stay, along with the fireplace and the recliner (hate it). All else can go. My concern is, would off white tables or pieces be okay with the dark wood fireplace?

I just added the pics of monkeys. Love them but will be toning the gold color down a bit to a pale gold. I would like to add two small ottomans/coffee table. Either off white with blue, dark wood legs with either blue or cream colored top or a a mirror mosaic table.

No rug is possible, due to cats that don't keep their food down very well. Also thinking of going with an off white kitchen table set.

I posted pics of the room and some items that I like, so you can see what I like.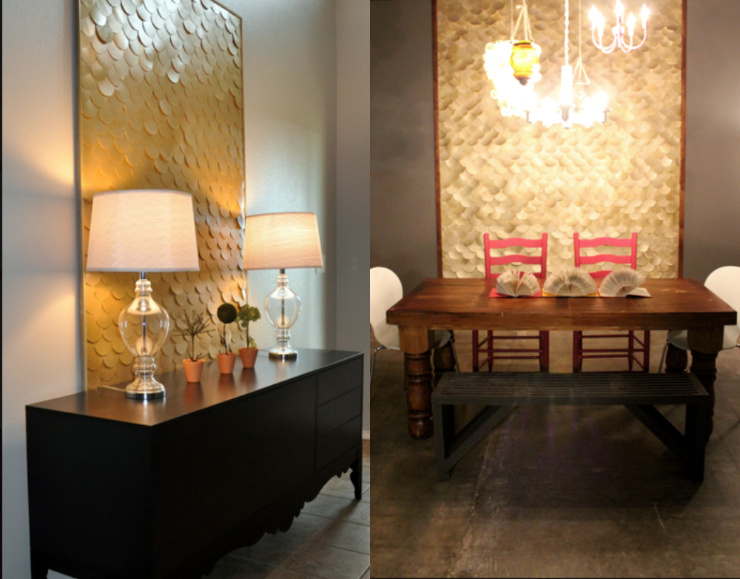 Thank you for your patience in getting thru all of these pics.
Susan
---
Follow-Up Postings:
| | | |
| --- | --- | --- |
| RE: can this work? | | |
HI Susan, will you be repainting some of the rooms ? if I understand well, you are only changing your coffee and side tables and accent pieces ? I like your table and chairs in the kitchen.

what strikes me is how the red kitchen wall colour is dominating your main floor, I would
pick a palest grey or cream to unify everything. Remove red as an accent colour. Pick a new fabric for the kitchen chairs, link/coordinate that fabric on your throw pillows in the LR. I think the dark woods and leather can cohabit with the light colours , and I love your new monkey prints, I would hang them both at the same level, and I would not change the gold tone, it's gorgeous.

you seem to have wonderful light in those rooms !
---
| | | |
| --- | --- | --- |
| RE: can this work? | | |
What I would like to see is a close up of that mosaic beneath the micro! It looks beautiful from what I can see of it!!!
I think your table and chairs works good to bridge the varying finishes inside and the rattan outside. And, there are a lot of different finishes going on. But what seems out of sync to me is the color in the living room. I love blues, but that blue is screaming baby nursery. IMHO (and I'm surely no expert)it doesn't play well with the persimmon.
I'm sort of fighting the same battle right now with a white kitchen and dark family room. I will be watching to see what you come up with. Good luck and have fun.
---
| | | |
| --- | --- | --- |
| RE: can this work? | | |
What I'm noticing is the lack of pattern. You have large expanses of solid color in the walls, floor, upholstery, and accessories. I think off-white tables or ottomans would just add more of the same.

Notice in your inspiration photos the pattern in the pillows and ottomans. They provide a focal point and interest to an otherwise quiet room.
---
| | | |
| --- | --- | --- |
| RE: can this work? | | |
I think you are on the right track with everything in your rooms, except the paint colors on your walls.

I agree with the above posters that the wall colors now do not create the same feeling as the inspiration photos you posted.

I suggest going to the sherwin williams or benjamin moore paint store and getting some of their brochures that show real rooms and colors working together. I think you will find that your current colors are not muddied down enough or paled out enough to get the same impact of serenity as in your inspiration. I also think that you might consider repainting the entire space in 1 single color for more visual flow and a less choppy look. Having the different colors has your eye stopping at the changes, and having a single color would keep the eye moving.

Picking paint is hard, often because the chips have a different overall look than an entire wall painted.

then I suggest you upload and try out some of the colors on the sherwin williams or benjamin moore painting websites and see how the room plays with different colors. This is very useful, as you can see the colors with your actual furniture and flooring.
Here is a link that might be useful: Sherwin Williams Naturally Neutral color brochure
---
| | | |
| --- | --- | --- |
| RE: can this work? | | |
I don't have any decor suggestions, but your comment about cats who don't keep their food down very well reminded me of how our cats used to be. One of our cats threw up undigested food at least twice a week, and the other developed IBD. After trying a lot of different things with no success, we switched them to a home made raw meat diet. This was 7 years ago. Now, no more vomiting and 2 healthy cats - 17 and 18 years old. I don't want to distract from your original post too much but I just thought I'd throw this out there for you.
Here is a link that might be useful: Feline nutrition
---
| | | |
| --- | --- | --- |
| RE: can this work? | | |
With your floor tile, I htink you need to stay with beige or greige, but not a pure cool gray because it will fight the warm beige in the tile.

In your last picture of your house, with the great kitchen table (I love that, BTW, try to keep it) you can see the exterior color of your house through the window. That patch of color seems soothing & serene. The color looks cooler than the glimpse of the foyer we see when looking past the kitchen. If you can get something that evokes a similar color, that would be great for the family room & kitchen.

It's hard because you want something "not too yellow" and "not too orange" in the wall color. If you h ave a Benjamine Moore nearby I would try Pale Oak or Sailcloth. Sailcloth might be too yellow, though, that's what we found when we tried it.

The other changes I would make are to add pattern like has already been suggested. Throws, the chair cushions on the kitchen table set, and throw pillows are all good places to start. I see a hint of green in the new monkey prints, you might try to pull that into the room for more of the cool, serene feeling. If you can find prints that incorporate that color it could be a nice jumping off point.
---
| | | |
| --- | --- | --- |
| RE: can this work? | | |
Sherwin williams Rainwashed needs to replace the blue. Your blue isn't gray enough and shouts. Same with the red. It needs to become a lighter greige. Not a cool gray. Something like SW Wool Skein. Light and much less in your face than the red.
---
| | | |
| --- | --- | --- |
| RE: can this work? | | |
I agree about changing the paint colors. If you lighten the other walls, I would consider going darker on the fireplace wall so the fireplace blends in better rather than standing out as dark as it does now....
---
| | | |
| --- | --- | --- |
| RE: can this work? | | |
I think white painted furniture will be too beachy.
Whether or not you repaint your walls, I would opt for natural rattan tables, to keep the balance of natural materials when replacing wood.

First, please hang your lovely monkeys at the same height, and about two inches lower than the lower one. It's easy to think that it will be more interesting your way, but it just looks peculiar, and they are quite interesting and attractive enough as they are.

Then replace the lamp on top of your stacked pieces with a floor lamp with a cream shade beside the sofa. Take down the red wreath, and hang a full length mirror there, at about the same height you'd hang one in a bedroom or bath, to reflect the light from your window by day, and the lamplight by night.

Replace the dark shade at your window with a lighter natural bamboo one.

Recover the dark red cushions with pale, pretty prints, and I think you'll get your result.
---
| | | |
| --- | --- | --- |
| RE: can this work? | | |
Oh my, I don't know where to start. I was only wondering if I can mix light colored furniture with the dark colors. Now I have some real work to do!
I still love my colors, but am ready for a change anyway. The only problem is, I love color, usually bright and bold. It is going to be a real job for me to chose a new color. Actually I am going to need to change my way of thinking color.
I am taking every bit of advise and will see what I come up with. I am sure I will be back for more.

Oh, and please don't stop with the advise and comments, the more I receive the more I will be able to move in the right direction.

Tinan - thanks for the cat advise. Right now I am trying to change their food to wet food and they are snubbing their noses to all. I will keep trying.

Sumac - Here is the pic of my mosaic over the stove. I made that myself. It was my first attempt at mosaics so I am pretty happy with it. Thanks for noticing.

Everyone, thanks again and I will be reading theses posts over and over until I figure out how to do it.

Susan
---
| | | |
| --- | --- | --- |
| RE: can this work? | | |
The mosaic is lovely, I was going to suggest leaving the bright color for the backsplash because it matched so well. However, I did not even notice that mosaic in your first pics. The wool skein mentioned would really let that stand out. Same for the lovely pieces on top of the cabinets.

Please paint before changing out anything else.
---
| | | |
| --- | --- | --- |
| RE: can this work? | | |
I want to change the look of my great room. I want to brighten it up by adding lighter colors.
Going back to your starting point of brightening the room, IMO, adding lighter colors will not accomplish that. Adding additional light sources will brighten the room easier than anything else. You appear to have only two lamps in the room, and I am guessing that neither of them put out much light, especially the one in the corner on the luggage. (Lights in ceiling fans don't count.)
I suggest you get at least one standing light fixture, a torchiere, that sends the light up to the ceiling to bounce around. It doesn't have to be expensive or fancy. It's going to sit in a corner.
Here is a link that might be useful: Variety of torchiere lamps
---
| | | |
| --- | --- | --- |
| RE: can this work? | | |
I agree with what the others have said about changing your wall color. And lighting.

You have nice furniture and interesting architecture to start with, but the bright candy colored walls create a tension that distracts from all of that. It takes away from your stuff, and all I see at first glance is that harsh wall color.

I would paint first, and paint the kitchen and living room all the same color, then see if the dark window shades still work in the room, then add another layer of window treatment. I think lightweight nubby linen panels would work. Add substantial lamps.

Add color and pattern with pillows, throws, and accessories. A good quality polypropelene rug is easy peasy to get cat barf out of. I'd choose a mid-tone, heavily pattered rug to hide stains and fur. Are you sure that cats aren't nibbling on the plants?

Your entryway is really lovely!
---
| | | |
| --- | --- | --- |
| RE: can this work? | | |
We have similar floor tile, with shades of beige and gray, cream colored trim. This wall color is "Parachute Silk" by Behr. Another color that I'm considering for my laundry room is "Vintage Linen" also by Behr.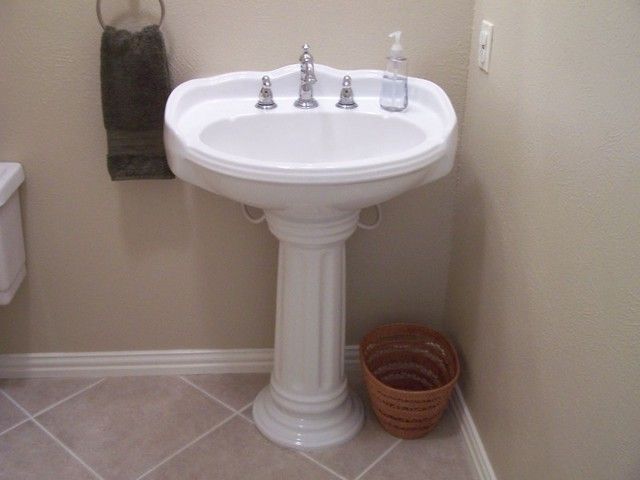 ---
| | | |
| --- | --- | --- |
| RE: can this work? | | |
I think if you neutralized the paint in the kitchen except the back splach. Paint the frames on the munkey prints dark brown so they would pop. Then add some big texture too the room with a really really chunky throw in the red you might be happier with the space . Most of your insperation photos show something with a lot of texture in the room that your rooms currently lack. Theres that big fishscaled wall hanging in two of the photos and hightly textured rug in the other one. A big textured knited brightly colored throw over the back of that couch just might be the missing peice for you. I would try those few changes and see if your happier with the space before tossing everything out is what is really a nice space already.
---
| | | |
| --- | --- | --- |
| RE: can this work? | | |
I think bright and bold and can work the red you have is too pink-ish and the blue too green-ish so to me they appear to clash. I would consider either a red with more orange or rust undertone, or keep the current red and replace the blue with a cream. I live the arched doorways and accent windows!
---
| | | |
| --- | --- | --- |
| RE: can this work? | | |
I hate to say it but I agree the wall colors are your primary problem. Maybe begin by finding some inspiration fabrics to use as window treatments, pillows, etc., and draw your wall color from them. I'd go softer on your wall color(s) and let your accessories bring the pop and personality. Yes to rehanging the monkey prints and painting the frames (after you have your colors chosen). Love your mosaic!!

We switched our cat to wet food (prescription) two years ago and, oh my, is he ever happier! Very rarely has issues w/keeping his food down now. Could throttle the vet who encouraged us to put him on dry food when we got him as a kitten!
---
| | | |
| --- | --- | --- |
| RE: can this work? | | |
I have a hard time reconciling your inspiration photo #3 (soft white rug on sisal with pale furniture) with the other inspiration photos. Those colors are classic beach house - subtle, nearly neutral except for blues. My intuition (which is limited by this format) says that while you appreciate that room, your own tastes runs more to the other photos. The other photos have more drama - high contrast color schemes, bold shocks of color, glittery materials with reflective qualities. I would suggest actually listing the qualities in the inspiration photos that most appeal to you. It's counter-intuitive, but sometimes converting the visual to the written yields insight.
---
| | | |
| --- | --- | --- |
| RE: can this work? | | |
I would get rid of the dark window treatments, the wreath on the wall, the stacked piece, and the tables, they are all dark.
Look for accessories that are silver. mirrored, pearl, crystal, etc. A floor lamp is a good idea. Some fabric pattern will help. I like the blue walls myself, but agree that doing the kitchen and living room in the same colors is a good idea, and you could choose a lighter shade of the same color for the living room.

For the kitties, mine had the same problem. For years, no matter what, she upchucked every time she ate. I'm at a loss to explain how she stayed alive. I solved it by giving her IAMS dry cat food, the indoor weight and hairball version. But I moisten it with a bit of water and let it set before giving it to her. She rarely loses it now.
---
| | | |
| --- | --- | --- |
| RE: can this work? | | |
I'll be a voice of dissent here. I have high contrast rooms, they're not open like yours, but visible from each room.

I like the blue of the dishes above your stove cabinets. What about repainting the LR that color? And your inspiration pics have lots of texture, your LR is to smooth. What about a textured throw and pillows? Definitely add something in a dark rattan and even some textural art pieces.

I don't like the red wreath, in fact, I don't like the red in your LR, I'd replace with more coral colors.

Can you replace your ceiling fan? It just looks too dated.

One question-WHAT is that on the lamp next to the chair in the 6th photo? Is it a cat?
---
| | | |
| --- | --- | --- |
| RE: can this work? | | |
What if you put a light fabric (sheet) over your sofa and side tables to get some idea of what a light ottoman would look like?
I actually like your blue as well as the kitchen table set. Maybe put a nice fabric pattern on the chair seats? I also like the stacked suit cases --- could you try them out as side table?--- and the bamboo blinds. (The only "problem" is the leather recliner, but I guess that's non-negotiable).
---
| | | |
| --- | --- | --- |
| RE: can this work? | | |
"One question-WHAT is that on the lamp next to the chair in the 6th photo? Is it a cat?" I wondered that too! Looks more like a stuffed cat than an actual cat? If it's an actual cat, I'm very impressed by its dexterity in sitting that way!
---
| | | |
| --- | --- | --- |
| RE: can this work? | | |
tinan, I would love to hear your experience with the raw diet if you want to start a thread in conversations. My vet said no to raw so I feed the no grain food and the vomiting stopped. The allergies are common. IBD is thought to precede gi lymphoma, a common site for lymphoma to occur.

I think your living room does lend itself to a greige. I like the really washed out blue walls in your example but not sure with so many dark pieces in the room. I like the idea of keeping the coral color in the niche over the cabinets. Just not so much of it.
---
| | | |
| --- | --- | --- |
| RE: can this work? | | |
I now have stacks and stacks of color books, chips, and pamphlets. Still am torn between what I really want. I know I love the soft colors with a little glimmer, yet love bold also. I do like the greige.
This is something I would love to have: Could it be accomplished with my sofa/loveseat and fireplace?

Oh, the strange thing on top of lamp is a beaver golf club cover, which was placed as a joke and forgotten about. Now removed. Funny how you can stop noticing objects after some time.
---
| | | |
| --- | --- | --- |
| RE: can this work? | | |
One more question:
What greige would be best if the color next to it is sw blonde?

Thanks everyone for all your suggestions and help.

Oh, and still trying to get my cats to eat moist food, will try wetting his dry food.
---
| | | |
| --- | --- | --- |
| RE: can this work? | | |
snookums2, where is the conversations forum?
---
| | | |
| --- | --- | --- |
| RE: can this work? | | |
There's a link in the heading right before the list of threads.
---
Post a Follow-Up
Please Note: Only registered members are able to post messages to this forum.
If you are a member, please log in.
If you aren't yet a member, join now!
---
Return to the Home Decorating & Design Forum
Information about Posting
You must be logged in to post a message. Once you are logged in, a posting window will appear at the bottom of the messages. If you are not a member, please register for an account.
Please review our Rules of Play before posting.
Posting is a two-step process. Once you have composed your message, you will be taken to the preview page. You will then have a chance to review your post, make changes and upload photos.
After posting your message, you may need to refresh the forum page in order to see it.
Before posting copyrighted material, please read about Copyright and Fair Use.
We have a strict no-advertising policy!
If you would like to practice posting or uploading photos, please visit our Test forum.
If you need assistance, please Contact Us and we will be happy to help.

Learn more about in-text links on this page here