Return to the Home Decorating & Design Forum
|
Post a Follow-Up
---
| | | |
| --- | --- | --- |
| revere pewter too formal? | | |
Posted by
secondhalf
(
My Page
) on
Sat, Nov 17, 12 at 8:19
hi everyone- we are coming to a close on our renovation and I need some paint guidance. The kitchen and attached breakfast room with the fireplace are in BM Edgecomb Gray, a beautiful color that almost glows in the light. I had planned on using Revere Pewter in the new family room, but after seeing it in the office, my husband is worried it's too formal for the family room. That room has a painted tongue and groove ceiling. It and all trim is in Marscapone - what do you all think? Do you know of any companion color to Edgecomb that would work? I want a neutral as I am pretty fickle about color and love the flexibility of changing it with pillows, throws, and accessories.
Thanks in advance for any help.

View from breakfast room into kitchen:

View of new family room- south wall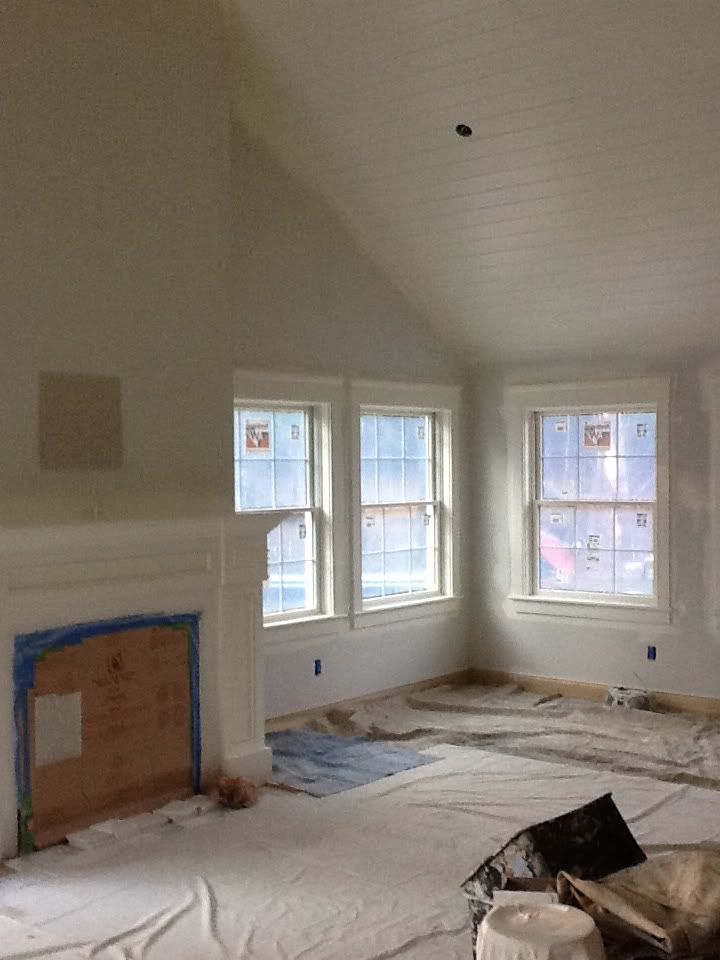 View of new family room -north wall (revere pewter is the swatch on left and Edgecomb is on right)

View of office with revere pewter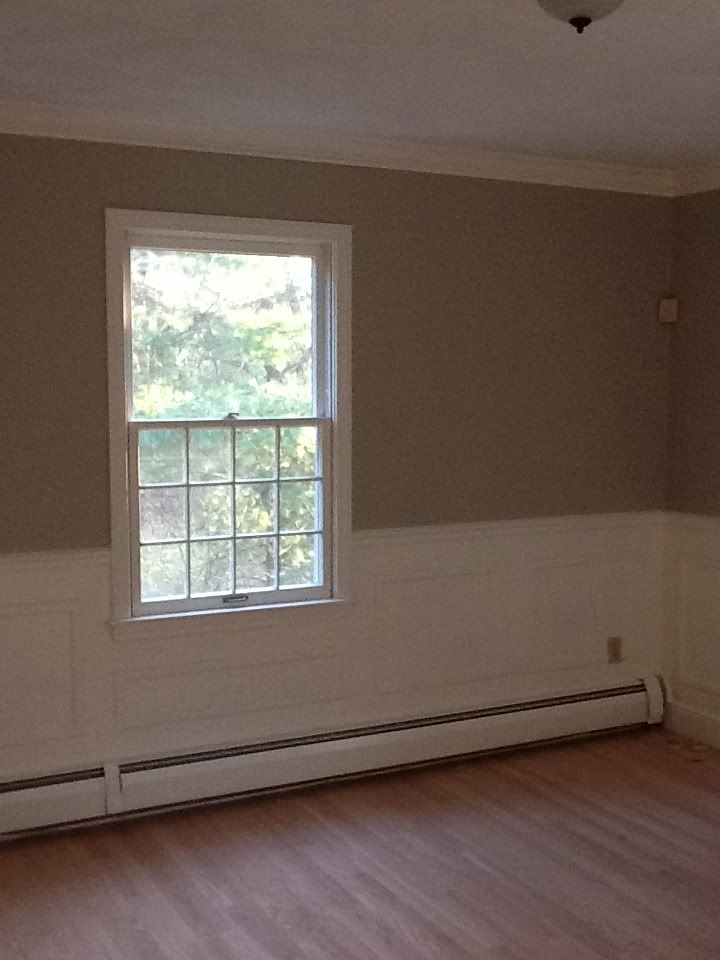 Another view of kitchen with Edgecomb - looking into breakfast room and beyond is new family room. Ignore the tan color near the fireplace- it just hasn't yet been painted in Edgecomb:

---
Follow-Up Postings:
| | | |
| --- | --- | --- |
| RE: revere pewter too formal? | | |
I love the Revere Pewter and I think the two colors would set each other off beautifully! Your kitchen is wonderful and the fireplace...marvelous. Also, the darker greys in the stone speak to the RP as well.

Can't wait for finished pics!
---
| | | |
| --- | --- | --- |
| RE: revere pewter too formal? | | |
I like the edgecomb gray better than the revere pewter for a large room. The more of a color the less strength--- which is why the pewter looks great in the smaller dining room by comparison. It's amazing how dated the tans look next to those au courant grays!
---
| | | |
| --- | --- | --- |
| RE: revere pewter too formal? | | |
I like the edgecomb gray swatch better in your room. But In my common areas I have revere pewter mixed at 50% and I love it. Its subtle and doesn't read as brown as the regular revere pewter.
---
| | | |
| --- | --- | --- |
| RE: revere pewter too formal? | | |
I like the edgecomb better, it's fresher looking to me.
---
| | | |
| --- | --- | --- |
| RE: revere pewter too formal? | | |
Twn85- do you have a picture of the revere pewter at 50%? Maybe I should consider that...

All the Edgecomb fans...I like it better too but my husband didn't want the same color in all three rooms.

Thank you for all the opinions!!
---
| | | |
| --- | --- | --- |
| RE: revere pewter too formal? | | |
Gray is definitely going to feel formal. We just painted our living room a (much darker) gray, and immediately, the room looked elegant and hip. We love it, but suddenly all our existing accessories look old or worn or almost cutesy. So bear that in mind.
---
| | | |
| --- | --- | --- |
| RE: revere pewter too formal? | | |
I have revere pewter in my kitchen and in my bedroom (trim in both rooms is also Mascarpone) and those two rooms couldn't be any farther from formal. And I do think it works really well with Edgecomb Gray.

I can't seem to get into Photobucket right now, but you can see a couple pics of the kitchen at the link below. (Note that the cabinets are not Mascarpone but (most of) the trim and the ceilings are).
Here is a link that might be useful: Revere Pewter/mascarpone kitchen
---
| | | |
| --- | --- | --- |
| RE: revere pewter too formal? | | |
| | | |
| --- | --- | --- |
| RE: revere pewter too formal? | | |
Sailor- yes...great blog!! Thank you for posting. I ended up going with the Revere in the new room and we are really happy with it. I will post pics why they finish...second coat is tomorrow.
---
| | | |
| --- | --- | --- |
| RE: revere pewter too formal? | | |
Chardie and secondhalf ... thank you!

I can't wait to see what it looks like, secondhalf!
---
Post a Follow-Up
Please Note: Only registered members are able to post messages to this forum.
If you are a member, please log in.
If you aren't yet a member, join now!
---
Return to the Home Decorating & Design Forum
Information about Posting
You must be logged in to post a message. Once you are logged in, a posting window will appear at the bottom of the messages. If you are not a member, please register for an account.
Please review our Rules of Play before posting.
Posting is a two-step process. Once you have composed your message, you will be taken to the preview page. You will then have a chance to review your post, make changes and upload photos.
After posting your message, you may need to refresh the forum page in order to see it.
Before posting copyrighted material, please read about Copyright and Fair Use.
We have a strict no-advertising policy!
If you would like to practice posting or uploading photos, please visit our Test forum.
If you need assistance, please Contact Us and we will be happy to help.

Learn more about in-text links on this page here