Return to the Home Decorating & Design Forum
|
Post a Follow-Up
---
| | | |
| --- | --- | --- |
| Irish Bar Exterior Design Help Please | | |
Posted by
Teacher_Guy
(
My Page
) on
Tue, Nov 20, 12 at 8:14
Long-time reader.

These are the simple ideas of a bachelor teacher with no design sense so any/all general tips are greatly appreciated.

Doing a long overdue exterior upgrade of bar/grill I co-own and am looking for design suggestions to give it more of an Irish bar look.

I was thinking painting the brown upper brick Kelly green, the light coloured lower wood a dark brown, add white grilles to windows, remove both canopies, change blue sign letters to gold and extend width of frontage (adding a logo (shamrock) on the left and smaller words Bar/Grill on the right. I'd also split/remove the deck (sorry, covered by plastic) to add a straight-on front entrance w/ high end solid wood door (brass? handles) with side panels(remove parking spaces).

I'd probably add extend patio the the whole way to the left but put 4' high enclosure w/ horizontal, spaced 1x3's - painted matching brown base colour so it blends in w/ base colour but can still be seen as a patio when in use (non-winter).

Thanks for your time and suggestions. BTW, site staff allowed this business post - not intended as advertisement.
---
Follow-Up Postings:
| | | |
| --- | --- | --- |
| RE: Irish Bar Exterior Design Help Please | | |
Have you ran an image search on google? There are tons of ideas showing existing Irish bars. The link below is one I like for comparison to yours. And they used shutters inside rather than changing windows for an affect. I wouldn't paint the brick, you have enough area to paint green for what is in the plans. Is there any way to change your sign, know this is expensive, but an Irish font would make a world of difference. Along with some old lamps across the windows.
Here is a link that might be useful: Irish bar
---
| | | |
| --- | --- | --- |
| RE: Irish Bar Exterior Design Help Please | | |
An excellent inspiration photo -- and the colors could be used here too -- with great effect on the viewer.

Yes -- a vote to paint the upper part and the brick in dark Kelley green. BUT -- consider painting the lower part in deep dark red. I do like the idea of shutters along with your idea to add mullions to the windows.

For your sign -- think of old European pubs -- and go for a true "sign" -- have the painters paint a border around the name and do not use the words "bar and grill" -- and go for the word "pub" instead. THEN you could place a wood sandwich sign on the front with a chalkboard for your daily specials or your special beer.

Yes -- an excellent idea to re-do the patio area. Always a great European touch. If you can -- think of adding a couple of wood barrels full of seasonal flowers to the front too.

Yes -- a great wood door would be visually stunning -- especially with brass handles.

Have a stylized shamrock or even a triquetra (a Celtic symbol) -- a little different symbol that might catch the eye.

And of course -- please hire local bands -- especially good Irish rockers like The Killdares (a local band) for your Friday night crowds. And don't forget to have football(soccer) and rugby nights too ...

Cheers! Slainte!
---
| | | |
| --- | --- | --- |
| RE: Irish Bar Exterior Design Help Please | | |
Excellent ideas! Love all the ideas floating around. Great touches are the wooden sandwich sign to place outside the front door with the daily specials (or just inside the door in bad weather) and do call it a 'pub'. If you have the space, double wooden doors would be nice. Irish bands are nice once in a while if you have one locally to play slip jig type of music.

Google McGuire's Irish Pub in Destin, FL for some additional photos and ideas in green. I can't post photos right now.
---
| | | |
| --- | --- | --- |
| RE: Irish Bar Exterior Design Help Please | | |
Here are three in my area. Only McGillin's which has been in operation since 1860 is in it's own building. The others have modified commercial storefronts pretty successfully.
---
| | | |
| --- | --- | --- |
| RE: Irish Bar Exterior Design Help Please | | |
This thread is making me crave a Guinness ... It's 5:00 somewhere, right?
---
| | | |
| --- | --- | --- |
| RE: Irish Bar Exterior Design Help Please | | |
Aye -- I have a 'half of cider and a ploughman's -- please .... and a bag of crisps ....

Oooo lovely widder (weather) we're havin' -- I'll be takin' me lunch oot to the patio ....
---
| | | |
| --- | --- | --- |
| RE: Irish Bar Exterior Design Help Please | | |
A! An dtiugeann tu Gaeliann? Ar mhaith rud eigan a ol?
---
| | | |
| --- | --- | --- |
| RE: Irish Bar Exterior Design Help Please | | |
Pal:

Ya dang young fool!! -- the auld tounge widd dae nae guid atall hereaboots ....

Loovely language -- but wasted on this side of pond! :)

Now pop up to the bar -- and see if ye canna find a decent drink ... I have nae hope atall at finding a decent cup of tay ...

((and no I haven't the brains to learn the Old Way -- according to ma grandma -- I have "enuf trouble learning the King's Own" ...)
---
| | | |
| --- | --- | --- |
| RE: Irish Bar Exterior Design Help Please | | |
Red and green is um, not something I would recommend.

This is a popular Irish bar around here with young people. There are others that look more formal, this was done a bit on the cheap.

An Irish pub is not supposed to look like a box of Lucky Charms.
---
| | | |
| --- | --- | --- |
| RE: Irish Bar Exterior Design Help Please | | |
Red or green are traditional Irish pub colors, as evidenced by these photos of "the real deal".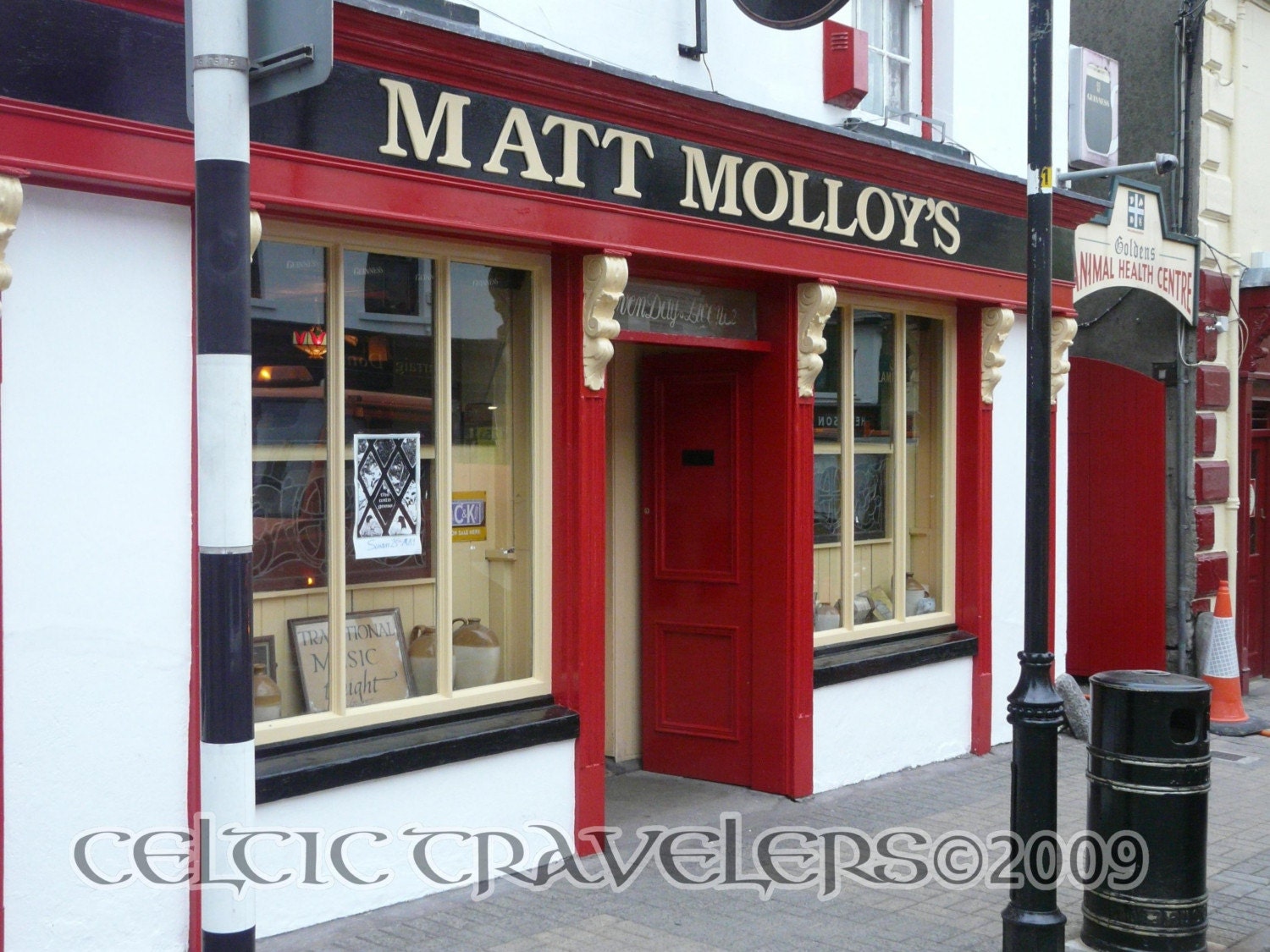 This one is garish, but would definitely get noticed!

I rather like this color combo:

---
| | | |
| --- | --- | --- |
| RE: Irish Bar Exterior Design Help Please | | |
Hmmm. Gus O'Connor's could be painted black, actually. It appeared dark green to me initially.
---
| | | |
| --- | --- | --- |
| RE: Irish Bar Exterior Design Help Please | | |
Where are the An Droicead Beag pubs located County/District-wise?
---
| | | |
| --- | --- | --- |
| RE: Irish Bar Exterior Design Help Please | | |
In Dingle, Kerry. My brother and sister-in-law visited earlier this year, and are planning to return next year. They were absolutely smitten!

Here's a photo from the pub's website. I can practically hear the music, just looking at the picture!
---
| | | |
| --- | --- | --- |
| Found it. | | |
This is in Dingle, Kerry. Do you think that An Droichead Beag or An Droicead Beag is an authetic Irish bar for tourists?

The Gaeiliann sign is a bit out of character in a part of Ireland where about 4% of the population speaks Gaelic. If it were in Donegal where 50% of the speak or understand Geailge, it would seem a bit more authentic. The other schemes that you posted with the blackened green with some gold leaf seem more genuine for the pubs catering to the locals.
Go raibh maith agat :)
---
| | | |
| --- | --- | --- |
| RE: Irish Bar Exterior Design Help Please | | |
Not sure what you're getting at, Palimpsest ... What do you mean by "authentic Irish bar for tourists"? (And please - I'm not going to learn Gaelic just to communicate with you here. ;-))
---
| | | |
| --- | --- | --- |
| RE: Irish Bar Exterior Design Help Please | | |
WOW! Thank you all for your creative input. The suggestions and pix have given me some ideas. Like the idea of a double door, shutters and authentic sign (celtic logo/font). Not sure if we can use the English word PUB here in Quebec (bar is OK as is Grill(e)). Worth checking out. Liked the suggestion for lamps and plants (all ours were stolen one summer between 4-6AM - replanted and stolen again!!!)

Really like the vibrant colours in the pix - never would have thought of any of those combinations. Do any of you think about using a sign like the Gus O'Connor Pub's at the top of the building (taking away the other sign)?

I might have neglected to mention that this bar is a neighbourhood bar catering to English and French so it's probably better to take on an "Irish-ish" feel.

More than I could have expected - THANKS! Any new takes greatly appreciated.
---
| | | |
| --- | --- | --- |
| RE: Irish Bar Exterior Design Help Please | | |
Just that I think that the subdued looking bars with the black-green paint and gold leaf are more representative of current culture there and more like the Irish-owned in "Irish" neighborhood bars here in North America.

An Droichead Beag is a bar that is promoting Gaelic identity and preservation of Gaelic culture, and in a high visibility way--it seems tourist oriented--and I believe all of this is very necessary where they tried to suppress the culture for over a century. And there is nothing wrong with the tourist trade either. But I would not go this far in the US, because it would be doubly out of place here. Particularly that far south, most Irish would not even know what the sign said, its like the Irish version of "Ye Olde Fifh and Chippes Shoppe" --there, necessary for cultural reasons, here, silly.
---
| | | |
| --- | --- | --- |
| RE: Irish Bar Exterior Design Help Please | | |
I'm sure you're right. However, an "Irish" bar in Quebec catering to the French and English will never be authentic, so I don't see anything wrong with having a bit of fun and playing up the colors to attract attention. (The OP seemed to like the bright hues!)

At any rate, it really is nearly 5:00 here, and I'm still craving that Guinness.
---
| | | |
| --- | --- | --- |
| RE: Irish Bar Exterior Design Help Please | | |
You mentioned you don't know if you can use the word "PUB"... well, how about "PUBLIC HOUSE" instead of Bar & Grill... afterall, that's what a "pub" is. Just a thought.

Here is a picture of a local pub in our American city. It's a great example of what you can do with an old building with a new bar and some paint. This pub is in a very Irish-American community, and we are very proud of our heritage. We may not understand Gaelic, but we understand our beer. :)
---
| | | |
| --- | --- | --- |
| RE: Irish Bar Exterior Design Help Please | | |
I'd favour a triquerta or Irish harp over the shamrock myself. Go with green, I'd prefer black accents I think, over red and green together. Include some antique looking lanterns on the exterior too. I like the Gus O'Connor side, that would work well I think.

I agree with teacats entirely about not using bar/grill use PUB. Tonnes of pubs in Mtl use the word pub, the word is found in French dictionaries. You can also get away with interior Irish (English or Gaelic) posters provided that they are strictly for decor and not advertising. Zoey - no way he could use "public house", it would never get by the language police. Pub should.
---
| | | |
| --- | --- | --- |
| RE: Irish Bar Exterior Design Help Please | | |
| | | |
| --- | --- | --- |
| RE: Irish Bar Exterior Design Help Please | | |
I haven't read all the posts, but I have a different question.

Are you sure you want to be an Irish Pub?

Unless you are really going authentic, which probably would be a waste of money, I think it can look very 80's/Cheers/Bennigans.

I like MCM vibe your place has now.,with a few tweaks in that direction. Go Mad Men, KWIM?
---
| | | |
| --- | --- | --- |
| RE: Irish Bar Exterior Design Help Please | | |
I was going to suggest public house but Zoey beat me to it...

Sochi, why would 'public house' not pass the language police???
---
| | | |
| --- | --- | --- |
| RE: Irish Bar Exterior Design Help Please | | |
Celticmoon, there are laws about using non-French signage in Quebec. Generally I support this (as it helps protect the French language in the sea of North American English), but occasionally enforcement gets a little silly.

Mtn, I like your idea too.
---
Post a Follow-Up
Please Note: Only registered members are able to post messages to this forum.
If you are a member, please log in.
If you aren't yet a member, join now!
---
Return to the Home Decorating & Design Forum
Information about Posting
You must be logged in to post a message. Once you are logged in, a posting window will appear at the bottom of the messages. If you are not a member, please register for an account.
Please review our Rules of Play before posting.
Posting is a two-step process. Once you have composed your message, you will be taken to the preview page. You will then have a chance to review your post, make changes and upload photos.
After posting your message, you may need to refresh the forum page in order to see it.
Before posting copyrighted material, please read about Copyright and Fair Use.
We have a strict no-advertising policy!
If you would like to practice posting or uploading photos, please visit our Test forum.
If you need assistance, please Contact Us and we will be happy to help.

Learn more about in-text links on this page here