Return to the Home Decorating Forum
|
Post a Follow-Up
---
| | | |
| --- | --- | --- |
| Split entry and staircases? | | |
Posted by
oceanna
(
My Page
) on
Tue, Nov 20, 07 at 8:09
Do any of you have split entries, where your guests enter the front door onto a small landing (no room for tables or much of anything) and are immediately faced with stairs up and stairs down, and a big blank wall up high over the stairs down?

Can you post pics of how you decorated this or a similar area? Or of how you decorated your staircases? Or do you have any ideas? Thanks - I'm finding mine very challenging.
---
Follow-Up Postings:
| | | |
| --- | --- | --- |
| RE: Split entry and staircases? | | |
My previous house was a bi-level with an entry such as you describe. I really didn't do anything to it. The stairs up and down were carpeted, the entry and the landing below (entry from the garage) were ceramic tile.

I had a console table at the top of the stairs you would see as you were walking up and a picture on the wall that you would see if looking downstairs.

I often thought about adding some artwork, but thought it would call too much attention. I preferred to focus attention on the rooms the we would enter into.

HTH,
---
| | | |
| --- | --- | --- |
| RE: Split entry and staircases? | | |
My sister-in-law has an entry like this. No pictures, but I'll describe it. The entry is tiled, and the stairs going up and down are carpeted, so the sound is always muted. She has a very narrow antique console table with some old family photos on it and a mirror and a couple of framed pictures above. She does a lot of what I call "vignettes" -- little tableaux of related objects, carefully arranged. Actually very pretty.

The main thing you notice when you enter, though, is that she always has candles burning, you can see the table set below, glass decanters, soft music playing, sparkly things. So it's an impression of soft fragrant warmth, very pleasant. It seems that the immediate impression on the senses is more than the actual decor.
---
| | | |
| --- | --- | --- |
| RE: Split entry and staircases? | | |
Thank you both for these wonderful thoughts! Karezz, at the top of my staircase is the hall entering the LR and the door to the kitchen is straight ahead. Talk about pressure to have a nice looking kitchen, huh?

Wooderlander, thanks for the lovely description of your sister's place. You posted a good reminder that ambiance is more than just appealing to the eyes, but to the other senses too.

I hate my carpet. I love carved inlaid carpets. If I had a whole lot more strenth and energy I'd think really seriously about doing inlaid carpets on my staircase.

At the least, one of these days I'd love to rip out all that awful carpet and do hardwood upstairs, and a pretty runner on the staircase. Heaven only knows what that staircase looks like under that carpet. Probably pretty rugged, with plaster drips and paint splashed on it. I could see the staircase done in a beautiful green with creme bands inset just a bit on each side... but I'm dreaming!
---
| | | |
| --- | --- | --- |
| RE: Split entry and staircases? | | |
Oceana, I think I've shared these on here before, but this is my old house in GA...split foyer & I had it all done up with a tapestry, columns with plants, etc. I loved the way it looked even though it was small. Hope these pics post, since I'm posting these from a private site.
If the pics don't show up, I'll copy & paste them later. HOpe you can see them & that this gives you some ideas. It was a very small space,but the railing opened up to the kitchen on one side, so it felt spacious.
---
| | | |
| --- | --- | --- |
| RE: Split entry and staircases? | | |
We have a split entry and recently removed the wall to wall carpeting. Used a hallway runner with brass rods on the stairs and have a classic white/black tile on the landing inside the front door. The high wall has been panelled, painted and currently is wall papered as an accent wall. The rest of the room is done in a very light yellow.(Just decorated!)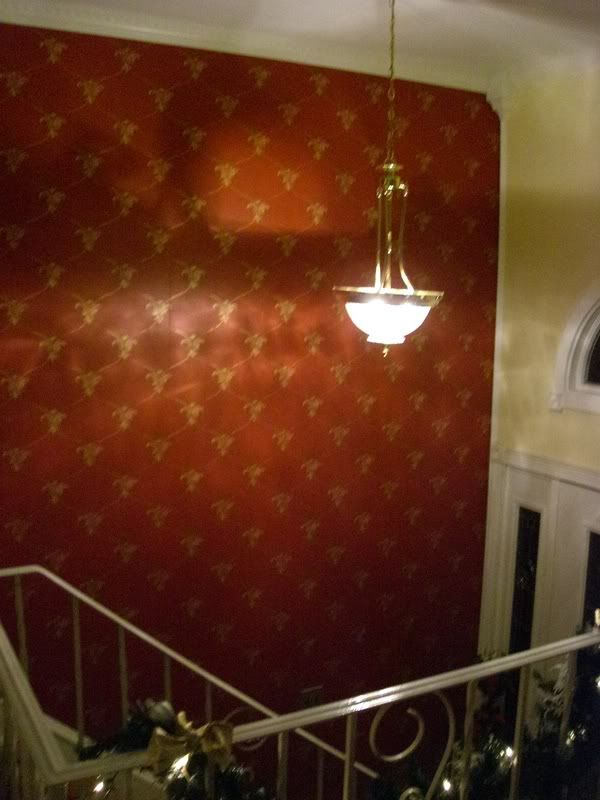 ---
Post a Follow-Up
Please Note: Only registered members are able to post messages to this forum.
If you are a member, please log in.
If you aren't yet a member, join now!
---
Return to the Home Decorating Forum
Information about Posting
You must be logged in to post a message. Once you are logged in, a posting window will appear at the bottom of the messages. If you are not a member, please register for an account.
Please review our Rules of Play before posting.
Posting is a two-step process. Once you have composed your message, you will be taken to the preview page. You will then have a chance to review your post, make changes and upload photos.
After posting your message, you may need to refresh the forum page in order to see it.
Before posting copyrighted material, please read about Copyright and Fair Use.
We have a strict no-advertising policy!
If you would like to practice posting or uploading photos, please visit our Test forum.
If you need assistance, please Contact Us and we will be happy to help.

Learn more about in-text links on this page here