Return to the Home Decorating Forum
|
Post a Follow-Up
---
| | | |
| --- | --- | --- |
| How do you know if your vision will work before you start? pics | | |
Posted by
boopadaboo
(
My Page
) on
Sun, Nov 14, 10 at 7:00
I hate my DR the way it is. I don't know if it is the furniture, the wallpaper, the rug, or the paintings on the wall. Well, I know I hate the wallpaper the PO put in there and this room is next up on DH's list.

This is pretty much what it looks like now.
I have actually redone this wall twice, but it is no better now. I think it is the large pictures, or the frames, I don't know. It just doesn't work.

I have been schlepping this DR set around for a long time and I do like it (just not the chairs so much) so I would like to keep it if I can.
This is shot of the DR set in my last house. I had a much easier time decorating that house. This house gives me problems. I think I am just drawn to a formal style of decorating and this house, and life with a toddler, just doesn't lend itself to that. I would like a more casual feel to this house.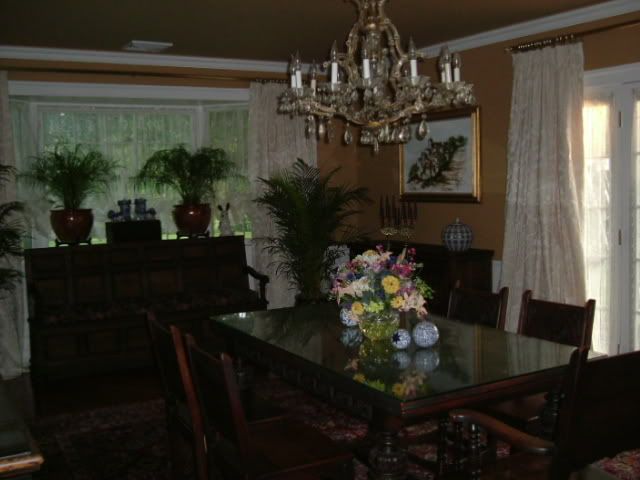 I am thinking I would like to lighten things up in the DR. I bought these curtains on ebay which DH and I really like.


I have been thinking of switching the rug out for this one: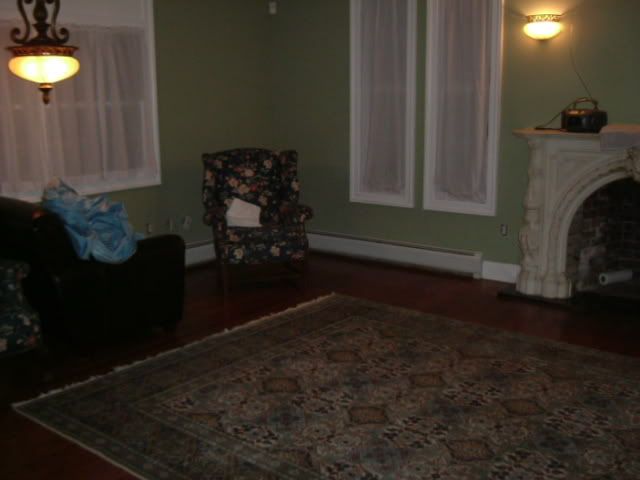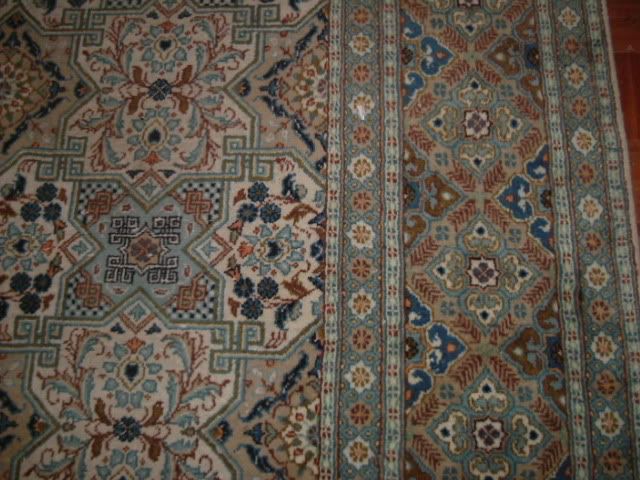 I would also like to change things up on the walls.
I am going to paint the walls the same Benjamin Moore blue color that is in the rest of the downstairs.
I have so many pictures from my last house that are not hung up in this one. I would rather look at them then have them up in the attic.
I also happen to love salon style and have many inspiration pics saved. I am just having trouble making it work.
I know the pictures that are in the DR are not working now, so I am thinking of hanging the black and whites that I have. I am not sure how to lay them out or if they will work with the rest of these changes.
I am thinking the large ones will work over the two buffets and maybe all the smaller ones on the large wall. I know salon style didnt work with the paintings, but I am thinking that it might with the smaller black and white etchings.
Here are some of the pictures in my last house of the small pictures for the salon wall: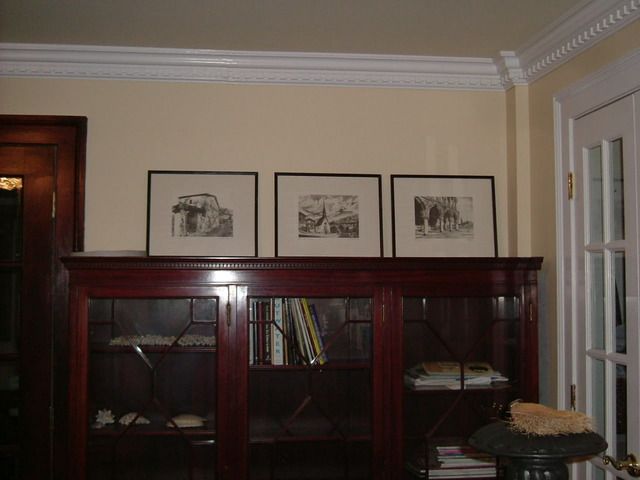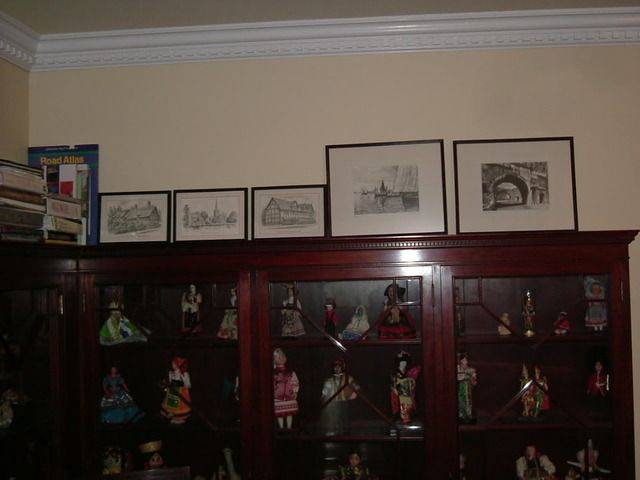 I also have some that have colored matts with Black frames: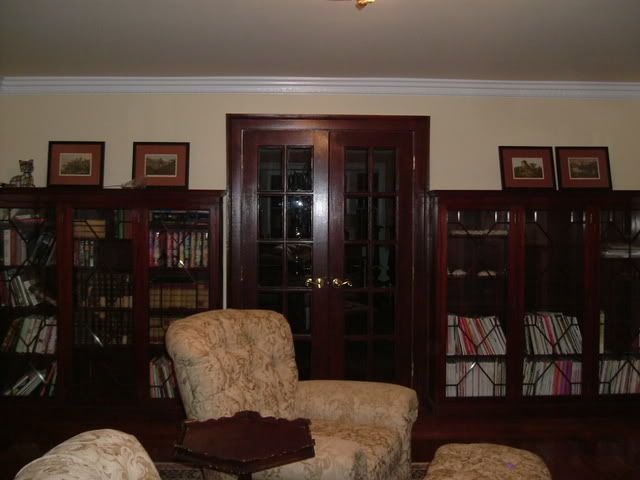 I can't seem to find any pictures of the larger black and white etchings I have. If it will help I will take pics of them.
Will the black and whites work with the furniture, new drapes, wall color and rug?
How do you know if something will work before you start?
Should I take down all the paintings and put up the black and whites to see how they will work before I paint the walls? that is what I am thinking should be the next step before DH takes down the wallpaper.
He won't be happy trying it, so I don't want to do it unless I have a pretty good idea it will work.
I could just hang the pictures in the walls that are in there the normal way too, but I kind of feel like that is giving up.
---
Follow-Up Postings:
| | | |
| --- | --- | --- |
| RE: How do you know if your vision will work before you start? pi | | |
Should I take down all the paintings and put up the black and whites to see how they will work before I paint the walls? that is what I am thinking should be the next step before DH takes down the wallpaper.
I agree, the paintings don't work there - at the moment. My guess is the wallpaper is throwing you off and you need to keep working on the positioning. Your paintings and certainly the etchings will look fine on the walls once the new paint is applied.
While your DH is working on the walls (lucky you!), you could make paper cutouts for each piece of artwork so that once the paint is dry and cured, you can play around with placement.
One other point. Don't think of your oils or etchings just as collections that need to stay together. Look at them also as individual pieces. In your second photo, the two long narrow paintings and the round ones below them might look better elsewhere. The current grouping looks heavy on the right.
---
| | | |
| --- | --- | --- |
| RE: How do you know if your vision will work before you start? pi | | |
Boop,

I like the window wall right now but it is formal. The picture wall, the pictures just need to be group differently, so that it has better balance.
The new wall color and rug seem to go well together, not so sure that the new curtains would :-/
If you are set on painting, then start there, paint and then start gradually adding back the other pieces, adjusting as you go until you are happy with the end result. Good luck, enjoy and most importantly, have fun :)
---
| | | |
| --- | --- | --- |
| RE: How do you know if your vision will work before you start? pi | | |
I will take a picture of the latest "salon wall" this afternoon. I just don't see how to make it work. Maybe it is the wall paper.

Thank you for answering graywings and punamy!

That is probably not the best picture of the wall color. It isn't really that bright.

I think the wall color will go with the drapes, and I think the wall color will go with the rug, are you saying you don't think the rug will work with the drapes?
---
| | | |
| --- | --- | --- |
| RE: How do you know if your vision will work before you start? pi | | |
I agree with previous poster about using blue paint with that curtain fabric and rug.

My suggestion would be the ivory color in the curtain fabric flowers and background of the rug, or maybe that color, but slightly darker and deeper like the tan in the rug. Something like the salon wall color in your pictures from the old house.

I think that the blue in the curtain fabric is a "grace note" color, (it's only on about 5% of the overall surface area of the fabric) and using it all over the walls would throw things off.

As to the wall decor, if that were my room I would have 1 picture over the lovely dry sink/sideboard piece. On the long passage wall, I would not have so many pictures. Maybe 1 picture with plates around it, or a series of 3 etchings. I think the pictures there now compete with each other (but I love the rectangular landscape on the bottom in the center) Right now the combo of landscapes and still lifes to me makes the wall seem too busy. But your diners will want some visual interest when seated at the table.
---
| | | |
| --- | --- | --- |
| RE: How do you know if your vision will work before you start? pi | | |
You have so many beautiful things to work with. I've always loved your previous dining room, and your Eddie Bauer Bungalow gold was the inspiration for the walls in our log cabin. I think a problem with your picture wall is the two pictures and the plates on the left are symmetrical, while the pictures on the right aren't. That makes it look "off". This is definitely a case for using templates to hang multiple pieces of artwork. I also question the use of the drapes with the rug, though both are gorgeous. Is the background of the drapes black or brown? What about a sisal or seagrass rug with the new drapes since you both love them?
Dee
---
| | | |
| --- | --- | --- |
| RE: How do you know if your vision will work before you start? pi | | |
First -- please take some more photos of the current dining room -- so we can see the whole room .....

Next -- I think the fabric of the new curtain is more "British Colonial" -- with visions of antique shell prints; exotic old maps and a sisal rug. Plus bamboo shades on the window with those new curtains.

Your artworks MIGHT compete with the busy fabric of the new curtains ....

The curtains in the OLD dining room worked so well because the fabric was SO neutral and did not compete with your artworks.

To test this theory -- simply take down the current curtains in the new dining room. Step back. And look again. Then take the new curtains and simply drape them across the table. Step back. Look around the whole room.

IF you use the new curtains -- you MAY have to re-consider the placement of the artworks. Those artworks MIGHT work well in the living room (or the the room with the wonderful fireplace ....) and the simpler etching might work as a grouping in the dining room.

Just some thoughts. Hope you don't mind!
---
| | | |
| --- | --- | --- |
| RE: How do you know if your vision will work before you start? pi | | |
Agree, the stripe wallpaper is not good.

******************
I love picture walls, but the wall of pictures is unbalanced ... you go from stacked big pictures on the right to two teensy plates under two skinny pics on the left.

If you want to balance things, make cutouts of the objects from newsprint or other paper and tape them to the wall and move them until you like it.

To hang small and large items on the same wall, cluster the small ones in a space that is the size of one of the large pieces. Get a piece of paper that is the same size as one of the larger pieces, lay it flat, and spread the small pieces to fill the area in a balanced way, (take a photo of it for reference) then use that piece of paper to represent the whole group.
---
| | | |
| --- | --- | --- |
| RE: How do you know if your vision will work before you start? pi | | |
I am surprised so many think the drapes won't work with the walls. I will have to take pics of the drapes against the blue walls, and near the rug I think although it is in the basement rolled up at the moment.

Thank you for the feedback - I would rather hear it like it is since I keep making mistakes with this room. I am really having a tough time with the stained trim in this house and trying to use things from a house that was just so different. I kept what I loved when we moved though and I would like to try to reuse it if I can.

juliekcmo - I hear what you are saying about a different paint color, but I almost think I would rather change the drapes. This is a pretty open floor plan, but small, and I dont think I like the idea of having the rooms with different colors in the downstairs. Everything but the DR and LR are the same blue, and once we get the wallpaper out of those rooms I was planning to paint them the same blue. (funny, I am not really a blue person, but it just seems to work)

Those wonderful rooms are from the old house teacats. :) New house has no such wonderful rooms. We downsized to have a baby, be in a location with good schools and a shorter commute for me, and be able to afford DH staying home with our son. Sigh. I still miss that house, but it was worth the move!

Funny - I tried to fight for those drapes in the old DR, but in the end caved and I didn't want to jeopardize the sale. I knew I would never be able to replace them for the money since they were from that second hand on line place that has since gone out of business.

Deeinohio - you are so sweet. I loved that color in that DR.

I started taking pics. I will take a few more. DR is a mess right now though! I will find some of the larger black and whites too and put them in place to see as well.
---
| | | |
| --- | --- | --- |
| RE: How do you know if your vision will work before you start? pi | | |
I did a little virtual mood board for you. I don't know if it helps or not, but this is often the way I look at my choices to see if I like them together. I use the Paint program to combine pieces of photos.
---
| | | |
| --- | --- | --- |
| RE: How do you know if your vision will work before you start? pi | | |
So what about painting the walls blue, use the rug, get a solid dark linen curtain at the windows, and cut up the patterned curtains from Ebay to cover the DR chairs?
---
| | | |
| --- | --- | --- |
| RE: How do you know if your vision will work before you start? pi | | |
OK, please excuse the mess....

This is the DR now with the one wall pics redone and the new curtains.
This is a shot of the curtain against the blue walls:
The rug with the curtains:
this is one of the black and whites I had handy:
Just to get an idea, I would obviously take the other pics down:
I think someone asked about the background of the curtains. It is brown.
The DR is a 20's fake gothic oak set. The chair are not comfortable they are just wood. Someday I would like to swap them out.
---
| | | |
| --- | --- | --- |
| RE: How do you know if your vision will work before you start? pi | | |
OK,

I did a very rough photoshop for you so you can kind of see how it would look like once painted blue. Tried to get as close as possible to your original wall color.
The picture wall looks much better, but I think the pictures need come little lower, like I tried to show on the mock-up.
---
| | | |
| --- | --- | --- |
| RE: How do you know if your vision will work before you start? pi | | |
I think I can see what's bothering you -- it reads as old-lady fussy and you're too young with too young a family to have an old-lady fussy DR.

I would *love* to see you pull a coral out of those drapes for your wall color -- I think that would be so appetizing (pun intended) and really, really make your artwork (whatever you end up choosing to hang) pop, and pop in a good way.

Like the rosy coral you see in the Bird of Paradise or the protea (for which I am gaga), or a golden coral from the pineapple. How inviting would that room be at night, lit up with the sparkly chandelier and / or candles? I'd want to be there!

I know you're thinking blue but coral is what first popped out at me. I think once the wallpaper's stripped, the new color and drapes up, it'll be easier to play around with which pictures and where.

Have fun!
---
| | | |
| --- | --- | --- |
| RE: How do you know if your vision will work before you start? pi | | |
I'd like to see a shot of the room with the initial drapes in it.....a full pic of the room like you did with the new drapes. I'm just wondering how they'd look with a grouping of the B&W art on the opposite wall.
One thing that may be throwing you off visually with the windows are the sheers. I think they need to be the same height as the rod and the same length as the drapes. Right now, my eye just bounces around at the different levels.

Sorry, but I'm not liking the gray frame with the other gold framed art. I also think the piece of art at the end wall doesn't go well with the black matted art that is on each side.

I would try hanging the large gold framed painting of a village (on the left wall) over the buffet on the end wall and place the black-matted art (one over the other) where the mirrors are. IMO, the mirrors are overpowering the drapes.

I know there are many varying views when it comes to hanging art, but I like grouping art based on subject matter and frame color.
---
| | | |
| --- | --- | --- |
| RE: How do you know if your vision will work before you start? pi | | |
I really have to get used to this new camera. My pictures are coming out horrible!.

I don't know how I missed those posts.

juliekcmo - all the rooms in this house are the same size and all rooms have two windows so I could for sure use either set of DR curtains elsewhere.

Thank you forhgtv! That mood board is wonderful. I appreciate the effort on my behalf.

Same for you punamytsike. I can see it so much better in my mind now. I do think I like the blue with the drapes. I am not so sure with the pictures. But I completely agree the ones on that wall should be lower if we leave them in that room.

Rmkitchen - it is good to "see" you. I hope all is well with you. Thank you for weighing in. I am excited by your suggestion!

I have blue and orange drapes and accents in the family room. If I could find an orange that would work with both sets of curtains I could see looking in to the DR from the family room and seeing orange on the walls. That would totally bring in the color from the family room/kitchen.

This is a picture of the two drapes together.
This is a picture of the rug in the family room.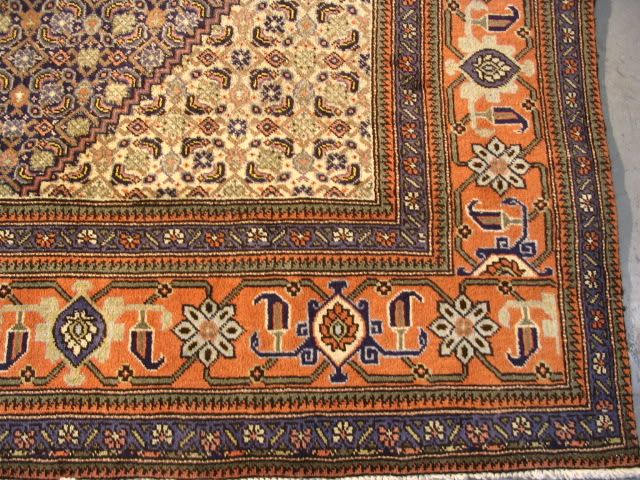 And this is a picture of the orange color I was going to paint my guest room in the last house before we decided to sell. I thought it worked well with the butterfly curtains, but it might be too strong for the DR. I wonder if I could even find the name again.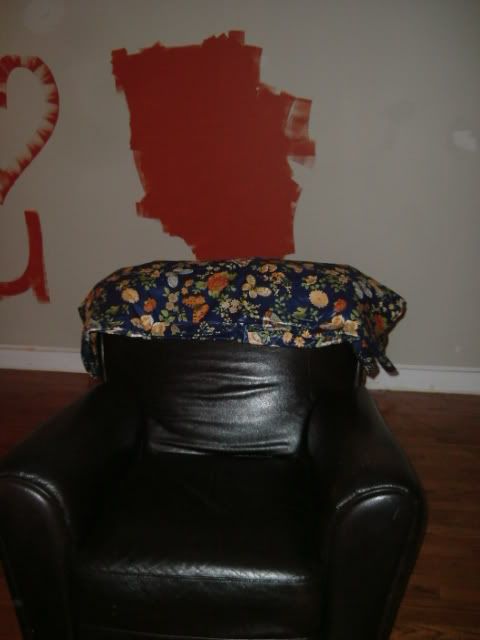 I have wanted an orange room ever since. I don't know if I would be able to convince DH though! :)
Is that crazy? More orange instead of Coral? I think the black and whites would look really good against an orange wall. I would probably need a color that is not as deep as the one I was planning to use in the last house.
---
| | | |
| --- | --- | --- |
| one more | | |
Thanks annz. I think we cross posted. I totally agree, those sheers are terrible. I think some kind of bamboo shade as someone above suggested would be much better.

In regards to the picture with the grey frame - do you mean the black and white? If I did the black and whites in that room I would replace all the pictures. I was just putting one in to see how it looked and because I can't get to the others in the attic. I need DH to bring them down from the attic.

I also agree with you, I am not in love with the picture in the back of the room over the long server.
---
| | | |
| --- | --- | --- |
| RE: How do you know if your vision will work before you start? pi | | |
I have a dining room that is a rust color similar to your orange and I think it would do great things for your room. With the furniture, curtains, rug and pictures it won't be too dark. I wouldn't make the color lighter because then it will lose its richness. Since you like the color, be brave and go for it.
---
| | | |
| --- | --- | --- |
| RE: How do you know if your vision will work before you start? pi | | |
Gosh, looking at those last pictures you posted, I like the family room rug with the brown curtains. Is it big enough for the dining room? Does the blue rug that you proposed for the dining room go with the butterfly curtains?
---
| | | |
| --- | --- | --- |
| RE: How do you know if your vision will work before you start? pi | | |
Boop,
I haven't read through all the posts above so forgive
me if I've missed something. I love your style and I love
having lots of pictures and fabrics to look at. I know you
Said you really wanted to paint your walls blue but
I am having a hard time seeing that as the best color
Choice. I like those photos you posted earlier today
Around 1400h with the new drapes up and from the
photos the wallpaper was hard to see and the walls
just looked cream. I think cream wall color will pull
out the yellowy color from the curtains and the cream
From the new rug and the gold from your picture frames.
Anyhow, you have a lot of nice things to work with and
I look forward to seeing what you decide.

I
---
| | | |
| --- | --- | --- |
| RE: How do you know if your vision will work before you start? pi | | |
I am not sure orange or coral will work ideally with gold frames. I see some green in the curtains that would be nice adjacent to your blue. It would be a smooth transition between rooms. I see green in your butterfly curtains as well.
Just a thought....
---
| | | |
| --- | --- | --- |
| RE: How do you know if your vision will work before you start? pi | | |
On the picture wall, I think the art pieces are all about the same size, so there's no dominant one that grabs the eye first. The eye just pinballs around at all of them, and the wall loses any impact. I think you should pick the one you like the best and get it reframed in a larger frame with some oomph--like a wide fancy molding. Then you might be able to come up with a display of the other ones based around it.
---
| | | |
| --- | --- | --- |
| RE: How do you know if your vision will work before you start? pi | | |
OK - lets say we scrap the pics in that room altogether. :) I will find somewhere else for them and put in all black and whites. I have PLENTY of them.

If I painted the DR orange I would probably paint the Living Room green, which is across the foyer from it.

No votes for orange?

Is orange not a popular color or won't work?

I think I have DH convinced, but it could just be he was tired of hearing about it. :)
---
| | | |
| --- | --- | --- |
| RE: How do you know if your vision will work before you start? pi | | |
Geez.....that butterfly drape is what was in the first pic?! I would have sworn it had a black background! : )
Just my taste, but I prefer the new drapes against a neutral wall. If you want color, go for it but I think a beige paint with the peach/orange undertones would look good with the brown drapes. Then you could add more of the orange with chair cushions and accessories. Don't I see orange in the urns?

I'm not against color on the walls! The walls in my LR are rust/red and the area rug has the same color, but I have no drapes. My rug is very visible so pattern comes from it. All the art is B&W. Still not tired of it after 7 years! My DR, visible from the LR, is a deep green.
---
| | | |
| --- | --- | --- |
| RE: How do you know if your vision will work before you start? pi | | |
While your getting ready to paint you may also want to consider putting up a picture rail. It will allow you to periodically/seasonally change your art and not make a million holes in the wall.

For the DR I would also consider a chair rail or some sort of wainscot. If you do a chair rail I would paint the upper and lower walls different colors. I prefer wallpaper or fabric over paint but that's just me. I would also consider doing a "built in" cabinet around the buffet to give you some much needed shelf space without having to add more furniture.

I don't think the wallpaper is that bad but think that there is too much going on. Rotate your art instead of trying to hang it all. You may even want to try a colored shear in those windows to diffuse a warmer tone into the room.
---
| | | |
| --- | --- | --- |
| RE: How do you know if your vision will work before you start? pi | | |
No no - :) Sorry if that was confusing Annz. the butterfly drapes are in the kitchen and family room. which is pretty open to the DR. I thought if I pulled an orange for the walls that matched both drapes it would bring the orange in to the DR from the other rooms which I would love to do.

The background for the drapes in the first picture is a dark blue. This is a close up of the fabric in the first picture above.

I could easily use these drapes in my bedroom if I ever get them hemmed.
DH would love to do some kind of paneling in the bottom half of the room. That is an interesting idea jey_1.
That might reduce the amount of orange in the room.
---
| | | |
| --- | --- | --- |
| RE: How do you know if your vision will work before you start? pi | | |
You have some lovely artworks. I second jenny's suggestion for a creamy paint color--something that will standback and allow you to appreciate the rich colors in your artwork. Any colored wall will throw off the colors in the painting different than was intended by the artist.
---
| | | |
| --- | --- | --- |
| RE: How do you know if your vision will work before you start? pi | | |
Boop, if you like orange, go with the orange, it is just paint ;) but I would not do another color paint and paneling. I think it would be way too busy, but to each their own. With paneling, I for sure would continue the same blue and if you do wood paneling, use the same stain as the woodwork you already have.
But orange is complimentary to blue, so I think with your love of colors, you will be happy :)
---
| | | |
| --- | --- | --- |
| RE: How do you know if your vision will work before you start? pi | | |
I wish I could do cream, I always think it looks so lovely in other people's rooms, but to me in my house, it looks unfinished. Like I didnt pick a color.

I think I am going to go for the orange.

I found this rug, but I dont think it will work with the drapes which I do really like too. I am tempted to get it though.
Maybe I just need to put it all together and then see what isnt working. That isn't usually the way I do things. I usually have all the pieces figured out before I start a room.
---
| | | |
| --- | --- | --- |
| RE: How do you know if your vision will work before you start? pi | | |
Well, I am excited so I'll keep talking to myself. ;) I think I found the perfect rug for the drapes! I wonder how "off" the browns will be and if it will matter.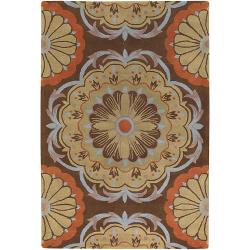 Of course I keep looking, but I think this one looks pretty good. I have never ordered from overstock though, so I am a bit nervous about that.
I dont think it will work in my DR either, so that means the curtains and the rug if I get it will go in the living room and I still have to find drapes to go with the rug I will be putting in the DR.
---
| | | |
| --- | --- | --- |
| RE: How do you know if your vision will work before you start? pi | | |
Wow.
I can't keep up.
How do the scales of rug and drapes match up?
What color is the floor in the LR?
I've ordered rugs from overstock. They were nice rugs. Watch out for slices on the back though.

--------End of LR----------

Back to DR..................
I thought you wanted to decorate the DR to showcase B/W art. Is that still the case? Is the orange-bordered rug going into the DR? With the butterfly drape?

My answer to your original question: I don't. My mind's eye is blind.
---
| | | |
| --- | --- | --- |
| RE: How do you know if your vision will work before you start? pi | | |
LOL thanks for pitching in Jamies.

I guess I am all over the place.

My house downstairs is basically like a 4 square:

------------- Front door-----------------

DR----------------------------Living Room

Kitchen-----------------------Family Room

The kithen and family room are open to each other completely. You can see the Dr from the Family room, but you can't see the Living room.

In the family room I have the butterfly drapes with the orange bordered rug:
That won't be changing (although the furniture has been moved around in the room.) And that is what am trying to coordinate with.
I am trying to figure out what to do with the DR and LR because I don't like them and they have terrible wall paper in them.
I think what you are saying or asking is if the drapes:
have a smallish scale print, that it won't work with this rug, which has a very large scale print:
Is that right? Forget about which room they end up, the scale won't work? I never thought about that before.

On to the DR. I have this rug I which I would like to use.
I guess popular opinion is that the rug won't work with the drapes in the picture which is why I am trying to find a different rug to work with those drapes.
I would like to put that rug in the DR and paint the walls orange. then I have to find drapes to go in the DR.
I have some inspiration pics I found yesterday of orange rooms:
So I feel better about the black and whites on the orange walls. Just have to figure out drapes to go with the orange walls and that rug. I am trying to load another pic of it but photobucket is not cooperating.
these are some fabrics from Calico corners: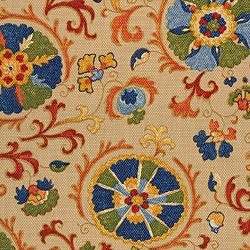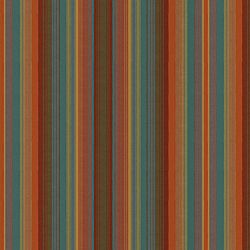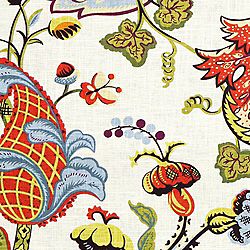 ---
| | | |
| --- | --- | --- |
| RE: How do you know if your vision will work before you start? pi | | |
By scale I meant repeat. I was hoping the circles on the O rug were large, much larger than the repeat on the drapes. I think you said they are. Good.

I am amazed at how things that don't work together actually work together. If you were on a budget I bet you could make the BOP and the blue rug place nicely in a DR where most things are either wood or accessories and upholstery would not compete.
---
| | | |
| --- | --- | --- |
| RE: How do you know if your vision will work before you start? pi | | |
IMHO, I see a lot of pattern already in what you own. Your butterfly drapes with patterned rug and brick wall is a whole lot going on.
I'd relocate the butterfly drapes to the dining room and put something solid or very mellow with the bricks and rug. The bricks on that wall are enough pattern on their own.

You also will be adding artwork, so things will be busy all over. I'd get a neutral rug to go with the relocated butterfly drapes.
---
| | | |
| --- | --- | --- |
| RE: How do you know if your vision will work before you start? pi | | |
I'm not crazy about the overstock rug w/the brown drapes. Yes, the colors are there but the design of the rug, IMO, does not go well with the drapes.

I'd suggest painting the wall, hanging the artwork, filter the accessories and then try different rugs to see what works. I think a sisal (real or faux) with a colored border of your choice, would look great with those drapes.
---
| | | |
| --- | --- | --- |
| RE: How do you know if your vision will work before you start? pi | | |
Well, I ended up with Thanksgiving at my house this year and put my dad and step mom to work while the turkey cooked. :)

I feel like I have all my pictures figured out and I really think they will look great against a burnt orange wall color. We narrowed it down to three colors. And they think the rug could work.

I think they are way better at figuring out the best arrangement. I just don't get it.

just excuse the rest of the mess! A few pictures need to be reframed or matted, and we werent trying to be exact with the spacing.



---
| | | |
| --- | --- | --- |
| RE: How do you know if your vision will work before you start? pi | | |
I would consider that the inspiration color pics are done in very different settings. Would love to see an orange, but not a "in your face" orange in the D/R. Should maybe be a little lighter than the darkest orange in the curtains. Are you married to those curtains? Reading very BC to me, especially with the wooden rings. That's fine but you have to carry out that entire look. There are alot of stores that support that British Colonial look that you could look to for inspiration. How I understand finding something that I want to use for an inspiration piece, and not being able to put my finger on what the entire room needs to achieve the best possible look. I would only do the B&Ws if you paint a dark orange.

Can't wait to see the finished room!
---
| | | |
| --- | --- | --- |
| RE: How do you know if your vision will work before you start? pi | | |
I love layering and having a variety of objets, but you DR is taking on the look of an antique shop w/too many unrelated things mixed together.
Edit.

To make art work together, have something the same that compliments one another - in my case, all my frames have gold in them, from completely gold leafed to a banding of gold.

I would add crown molding no matter what, just because your style is trad and it would finish the room - I would also add a chair-rail for the same reason.
If your heart is having orange walls, a chair-rail would give you another optional look by maybe a darker/lighter ver of orange above and below it.

A chair-rail will also help you with and pic arrangement by grounding it, BTW, the big pic over the buffet is too high and is floating and not forming a relationship with what's beneath it.
Unless your ceiling are extremely low, the other pics are hung too high as well w/the exception of the two between the windows.

I would also hang your chandelier lower(rule of thumb is 30"s above table) and I would add shades and chain cord cover.

You're lucky to start, because you have a nice variety of interesting things to work with, now it's pulling that look together,

Jim
---
| | | |
| --- | --- | --- |
| RE: How do you know if your vision will work before you start? pi | | |
I have withheld comments because I often can be too blunt, though I never intend or want to hurt feelings. But chijum said what I've been wanting to say. Your DR looks more like an antique shop than a calm modern dining room and I think all your problems stem from that. Every space is covered with pictures or collections and it all gets lost. You are trying to rearrange what basically is just too much stuff to begin with.

A decision on now adding busy drapes and rug has you spinning your wheels. I'd take everything off the walls and off the furniture and out of the room. Then I'd put up the drapes because you love that fabric and pick a paint color coordinating with the fabric.

Now you will have a blank slate to work with. Then and only then I'd start adding back maybe 1/4 of what you have in that room now. Maybe less than 1/4 of your stuff in complete honesty. Box it up, change it out periodically, but update your room into this century by making it an easy to live in home, not an antique store.
---
| | | |
| --- | --- | --- |
| RE: How do you know if your vision will work before you start? pi | | |
How does the saying go, to each their own? Not sure as I have never seen it written.
Boop, I am sure you will find a lovely orange. Get the walls done and then start putting the things back in. Keep adding them, all of them or more, as long as it makes you smile, until YOU are happy with the result.
Please keep sharing the progress along the way. Like I started my post, to each..., I am going back to even more longer ago time type of living arrangement/decoration. Not sure that I dear to share/post any of it, because I sure do not want my nose bitten off virtually LOL
---
| | | |
| --- | --- | --- |
| RE: How do you know if your vision will work before you start? pi | | |
I am confused by chijim's comments because all of the pictures that are on the walls now are black and whites and are framed in black. I think that does tie them together.

I am not focused on anything on any flat surface at the moment. That is a bunch of stuff from different rooms, or is cat food to be honest, because that is where the sick cats eat. At my DR table. I never actually eat there. :)

I have just been working on the wall color, drapes, and wall picture layout. At least that is what my focus was meant to be with this thread, and trying to see if the rug I have will work with it all.

I feel like it is coming together in my head. We shall see what the end result is. ;) No worries Punamytsike. I don't mind the comments. It helps to hear other opinions. I can't wait to see what you do with your new spaces which will be so different from your last house. I know it will be fabulous.

I think it is interesting that Chijim mentions crown molding. I have to say I was really against it, but DH voted for it, and my parents brought it up yesterday too, so I guess that is a battle I am going to lose. I just think it will bother me to have painted molding when all the other trim in the house is stained. Of course my dad said I should just paint all the trim, but the stained trim has grown on me and I don't really want to do that. If I had my way I would probably do some kind of stained funky trim, but I am sure that would not get many votes either.

I think I have convinced DH to do this room next, and he just finished tiling my bathroom, so hopefully we shall see some progress soon. I will keep posting updates in case anyone is interested. It helps me to type out my thoughts too. I know orange/blue is not everyone's cup of tea, and I guess I have a quirky style.
---
| | | |
| --- | --- | --- |
| RE: How do you know if your vision will work before you start? pi | | |
OP herself said she is looking for a more casual style to fit her new life in a new house with a toddler. I understand that completely. And I do love the fabric for the drapes and her updating to a more modern color scheme. The orange inspiration pictures are gorgeous.

However, she admitted she is naturally drawn to a more formal decorating style like she has had in the past. yet now wants more casual living. Putting all the same ornate and formal accessories into a room she is trying to make more casual doesn't seem to be working for her and causing her a great deal of frustration. Starting over with her favorite colors and the new drapes and going from there, even it means eliminating some of her favorite accessories used in her past style of decorating, might make achieving her goal possible.
---
| | | |
| --- | --- | --- |
| RE: How do you know if your vision will work before you start? pi | | |
I can't believe Nov 26 was the last time I posted on this topic. It seems like a long time ago and I don't feel like I have made much progress. Some people on this forum move so fast!

We have stripped most of the wallpaper and washed most of the glue off the walls. It was hung straight on the sheetrock, so not a fun job.

We have narrowed down the choices of oranges to two (shhh Don't tell DH but I have already decided it is not the one he likes more. :) )

I also found another set of drapes on ebay so I have a choice. These are less tropical I think....

If they don't work in the DR they may work in the foyer or the LR. I have decided to hang drapes in our foyer. Our front door is all glass and even with the sheers it is like living in a fishbowl at night.
I found these adorable to me rugs for the foyer too (the brown and orange ones) ....
So the hot topic at our house now is the crown molding. Two votes for paint grade and paint a glossy version of the wall color and one vote for stain grade and stain it the same as all the rest of the brown trim.
Not sure who will win at this point. I really hope we have it done in time for the holidays.
---
| | | |
| --- | --- | --- |
| RE: How do you know if your vision will work before you start? pi | | |
Post a Follow-Up
Please Note: Only registered members are able to post messages to this forum.
If you are a member, please log in.
If you aren't yet a member, join now!
---
Return to the Home Decorating Forum
Information about Posting
You must be logged in to post a message. Once you are logged in, a posting window will appear at the bottom of the messages. If you are not a member, please register for an account.
Please review our Rules of Play before posting.
Posting is a two-step process. Once you have composed your message, you will be taken to the preview page. You will then have a chance to review your post, make changes and upload photos.
After posting your message, you may need to refresh the forum page in order to see it.
Before posting copyrighted material, please read about Copyright and Fair Use.
We have a strict no-advertising policy!
If you would like to practice posting or uploading photos, please visit our Test forum.
If you need assistance, please Contact Us and we will be happy to help.

Learn more about in-text links on this page here