Return to the Home Decorating Forum
|
Post a Follow-Up
---
| | | |
| --- | --- | --- |
| rolling library ladder for closet? | | |
Posted by
mary_lu
(
My Page
) on
Fri, Nov 5, 10 at 1:15
We have 12 foot ceilings throughout our home. Our spare bedroom has no closet (old house) I want to build a closet across one end of the room from floor to ceiling in order to utilize all available space. Other closets in our home are not built in but are built out, so that is the plan for this closet as well.

I came across a picture on TOH site. It was actually of a wall of cupboards in a kitchen, but what I picture in my mind for the closet is very similar to what they built in the kitchen and could easily (I think) be converted/built as a closet.

I'm liking the idea of the rolling library ladder for accessing the upper parts of the closet without having to drag out a step ladder each time. How practical do you think this would be? Good idea or ?
Here is a link that might be useful: This Old House - Rolling Ladder
---
Follow-Up Postings:
| | | |
| --- | --- | --- |
| RE: rolling library ladder for closet? | | |
I think it is a fabulous idea if the interior of the closet allowed it. AND if what is up high will be accessed regularly. Otherwise, it would be in the way, I think, of the lower cabinets/drawers/shelves you were wanting to get at.

We have 10ft ceilig in our master closet. The stock mdf cabinets and shelves the builder put in, did not utilize the space at all. This past summer, we tore it all out and had a custom cabinet man do our built-ins. Having most of it done in solid ash with the shelves mdf with an ash veneer was less than half what two closet system people quoted for white melamine, with not as many drawers.

For a while, I wished that I had some type of ladder system in there, as I was using the step stool a lot. Then, I realized, I was using it just to put things back or find a place for in the new closet. Those things high up are not regularly accessed, and when they are, I take out the step stool (I did buy one just for the closet) and get what I need.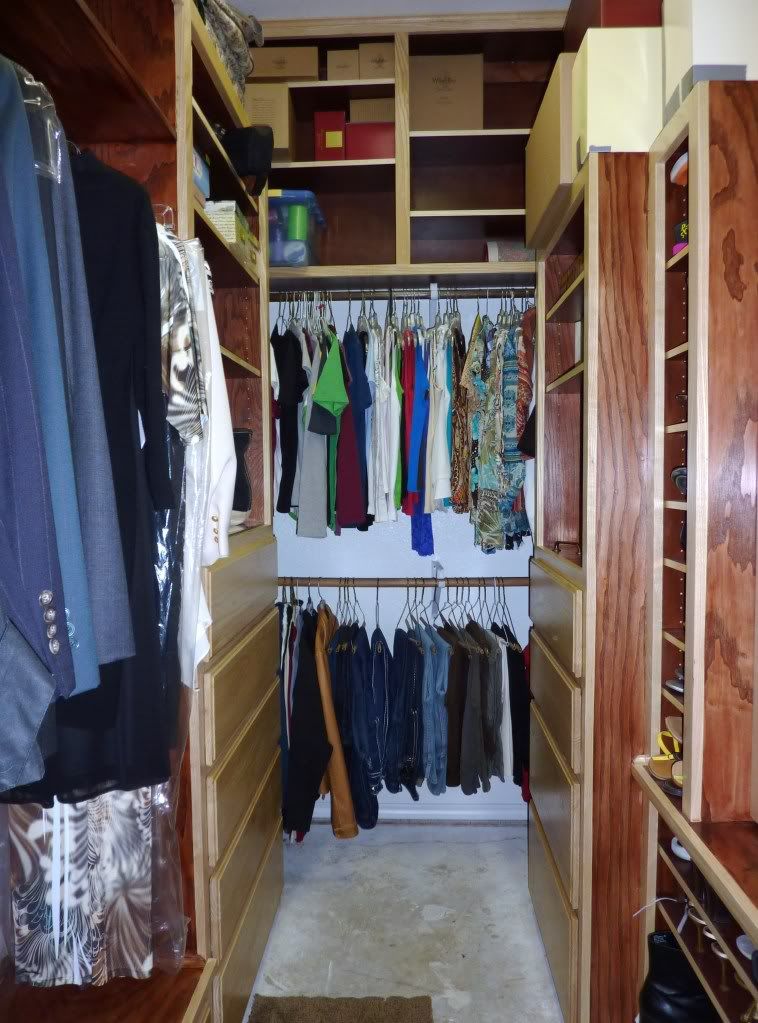 ---
| | | |
| --- | --- | --- |
| RE: rolling library ladder for closet? | | |
I should explain a little better. It would probably be considered a built in wardrobe, not a closet. Perhaps some pictures might help explain better.

These are cupboards that are built in our laundry/mud room and the wardrobe would be somewhat similar in appearance.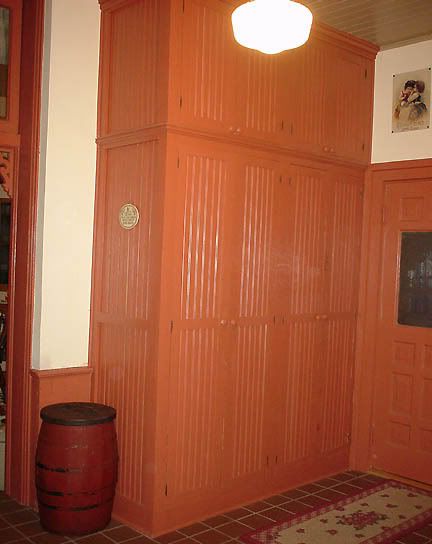 This is my inspiration for the bedroom storage.


This is the wall where the wardrobe would be built. Not sure if we should/would build over the bathroom door or not.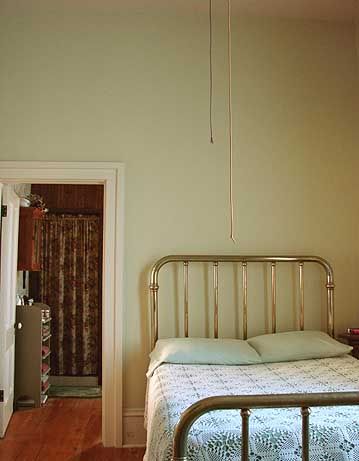 ---
| | | |
| --- | --- | --- |
| forgot | | |
Forgot to add, we would be moving the bed to the other end of the room. :-)
---
| | | |
| --- | --- | --- |
| RE: rolling library ladder for closet? | | |
Love the idea! I had actually shopped these library ladders a lot bc we needed one in our kids room to access a little play loft space we carved out over the closet in their bedroom. I found that they were super expensive! I eventually had my FIL just make one for me.
---
| | | |
| --- | --- | --- |
| RE: rolling library ladder for closet? | | |
My old house have 12 ft ceilings downstairs, including the master closet. What a PITA! And like you, I thought of the rolling library ladder solution. Aren't they gorgeous?

But like Gobruno, I found they were super expensive...

What I ended up with and would recommend you look into is called a 'Retrieval Pole' and it's used in retail stores to load/unload clothes from high hanging rods. It's a $6 solution to the problem. You can find them online, or in any store that sells 'retail fixtures'.
Here is a link that might be useful: Retrieval Pole
---
| | | |
| --- | --- | --- |
| RE: rolling library ladder for closet? | | |
Another option would be pull down closet rods.
Here is a link that might be useful: pull down rod
---
| | | |
| --- | --- | --- |
| RE: rolling library ladder for closet? | | |
Love the idea! I think the built out closets are so much in keeping with your lovely home, and I think that the rolling ladder would be fabulous.
Now that my arthritis is getting worse, I think I would want one with a handrail! LOL
---
| | | |
| --- | --- | --- |
| RE: rolling library ladder for closet? | | |
Since several of you mentioned the cost of the ladder I did some further investigation on-line last night. Looks like the ladder is not in our budget. I also looked at just the hardware kits and that is a possibility if I can get DH to agree to build the ladder.

I showed the picture to DH and he too thinks the built out close will work in that room. So hoping that after the holidays it will be a project we will work on.

Thanks everyone for your input.
---
| | | |
| --- | --- | --- |
| RE: rolling library ladder for closet? | | |
lovely inspiration pics, and i think the built-ins will look great in your room.
i'm doing a similar built-in closet in my mstr bdrm, though my ceilings are cathedral and i have a window 8" from the corner to contend with.
i like the library ladder, wonder if they make one which goes around a corner...
---
| | | |
| --- | --- | --- |
| RE: rolling library ladder for closet? | | |
Post a Follow-Up
Please Note: Only registered members are able to post messages to this forum.
If you are a member, please log in.
If you aren't yet a member, join now!
---
Return to the Home Decorating Forum
Information about Posting
You must be logged in to post a message. Once you are logged in, a posting window will appear at the bottom of the messages. If you are not a member, please register for an account.
Please review our Rules of Play before posting.
Posting is a two-step process. Once you have composed your message, you will be taken to the preview page. You will then have a chance to review your post, make changes and upload photos.
After posting your message, you may need to refresh the forum page in order to see it.
Before posting copyrighted material, please read about Copyright and Fair Use.
We have a strict no-advertising policy!
If you would like to practice posting or uploading photos, please visit our Test forum.
If you need assistance, please Contact Us and we will be happy to help.

Learn more about in-text links on this page here