Return to the Home Decorating Forum
|
Post a Follow-Up
---
| | | |
| --- | --- | --- |
| Has anyone used outdoor lights inside? | | |
Posted by
deborah1950
(
My Page
) on
Fri, Nov 6, 09 at 1:03
I am thinking about using outdoor lighting as inside sconces. Has anyone done that, and does it work as a good light source? I bought two oil rubbed bronze lanterns with hammered glass to be used in a family room with vaulted ceiling. Now I am wondering if this is what I want. We will need light, and I am not fond of overhead lights. Any suggestions? I thought it sounded fun, but I am interested in function. I will have lamps also.
---
Follow-Up Postings:
| | | |
| --- | --- | --- |
| RE: Has anyone used outdoor lights inside? | | |
I have one in my foyer and love the look.
It isn't wired, so I just use a battery tea light.
Give it a try~
---
| | | |
| --- | --- | --- |
| RE: Has anyone used outdoor lights inside? | | |
Thanks for the great pictures! Your home looks very welcoming! Like the light and the clock. I have already purchased the light and it will have to be wired. I didn't know that there was such a thing like the one you have! Do you mind my asking where you found it? What a great idea for over my stone fireplace where wiring would be costly! Thanks so much for the idea. Keep the ideas and pictures rolling out there.
---
| | | |
| --- | --- | --- |
| RE: Has anyone used outdoor lights inside? | | |
I'm sure this is done as I've seen many of those huge hanging lanterns that decorators are now using with the Belgian style and they must originally have been outdoor fixtures. As long as the wiring is to code I can't see a problem. Keep in mind the function of the light as sconces will be ambient light, not task. I have a dozen wired sconces in this house and I love the light they provide. Downside is that really tall furniture doesn't work with them and they limit wall decor.
---
| | | |
| --- | --- | --- |
| RE: Has anyone used outdoor lights inside? | | |
My neighbors have three huge outdoor lanterns over their 10ft kitchen island ... (photo from real estate ad before it was sold)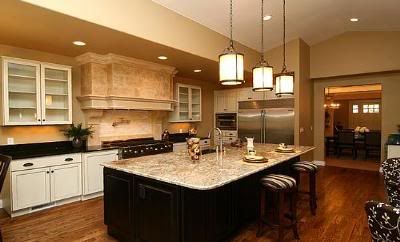 ---
| | | |
| --- | --- | --- |
| RE: Has anyone used outdoor lights inside? | | |
What a great idea! Yes, absolutely use an outdoor lantern if it fits with your decor.

I LOVE the clock in your house, Loribee, as well as the lantern by your front door.

I'm looking for new lights above my (little) center kitchen island and now you've given me ideas...mwhaaahaaa....always a dangerous thing!
---
Post a Follow-Up
Please Note: Only registered members are able to post messages to this forum.
If you are a member, please log in.
If you aren't yet a member, join now!
---
Return to the Home Decorating Forum
Information about Posting
You must be logged in to post a message. Once you are logged in, a posting window will appear at the bottom of the messages. If you are not a member, please register for an account.
Please review our Rules of Play before posting.
Posting is a two-step process. Once you have composed your message, you will be taken to the preview page. You will then have a chance to review your post, make changes and upload photos.
After posting your message, you may need to refresh the forum page in order to see it.
Before posting copyrighted material, please read about Copyright and Fair Use.
We have a strict no-advertising policy!
If you would like to practice posting or uploading photos, please visit our Test forum.
If you need assistance, please Contact Us and we will be happy to help.

Learn more about in-text links on this page here