Return to the Home Decorating & Design Forum
|
Post a Follow-Up
---
| | | |
| --- | --- | --- |
| Your thoughts on painted wood floors | | |
Posted by
pesky1
(
My Page
) on
Thu, Nov 22, 12 at 0:35
We pulled up the carpet throughout our house, except the front room. The wood floors were sanded & restained, but one day we will have them redone professionally.

Last year I finally pulled up the carpet in the front room, only to find the floor was in really bad shape...pet stained wood among other issues. I do not want to purchase a large (minimum 8x10) for the room, and getting the floors finished is not happening for a couple years.

I had the idea of painting the floor and perhaps doing a tone on tone harlequin pattern. But is that going to lead me to problems when it comes time to redo the floors? Honestly, I don't know if the wood in that room can be saved anyway, so that may be a moot point, but in case they can be saved, is painting them a bad idea? In a worst case scenario, I'd put in carpeting, but that would be if we sold the place some day.

Oh, and one other thing...there is a bay window in the room that was installed years after the house was built. So there is a bump out area, and they laid parquet flooring there...it's about 3/8" higher than the hardwood-I HATE it, but for now it's mostly covered by a piece of large furniture. To remove that now is out of the question, so paint it too? At least that way it'd be the same 'finish'. Thoughts please! This is going to be my after Christmas project, so I need to start planning it soon!
---
Follow-Up Postings:
| | | |
| --- | --- | --- |
| RE: Your thoughts on painted wood floors | | |
My SIL painted her family room floor at one point, because she could do it herself--the budget wasn't there for refinishing at the time.

It was painted for about 4 years and then they had it refinished. It looks fine. I think the paint was just sanded off by the people who were hired to refinish the floors.

Do you know what type of finish you have on the existing floor? That may be the big problem--getting the right paint so that it will adhere to the existing finish. Or you might need to remove the finish before painting. I have no clue about that.
---
| | | |
| --- | --- | --- |
| RE: Your thoughts on painted wood floors | | |
I painted my living room floor about 6 yrs ago with the intention of just a temporary fix but liked it so much I have kept it that way! I had plywood under the carpet in good shape, and it actually fun to do! I washed, sanded primed and then used porch paint.
---
| | | |
| --- | --- | --- |
| RE: Your thoughts on painted wood floors | | |
I love painted floors.

We painted our basement stairs in a previous house with terra cotta floor paint, and the paint held up really well, though my favorite painted floors are those with wear.

Dee
---
| | | |
| --- | --- | --- |
| RE: Your thoughts on painted wood floors | | |
My old old house in Wisconsin had badly damaged pine floors on the 2nd floor that could not be refinished. So I had painted it in a Sherwin Williams floor color which I had made up to match the stained maple wood on the stairs and the kitchen doors and windows.

Before: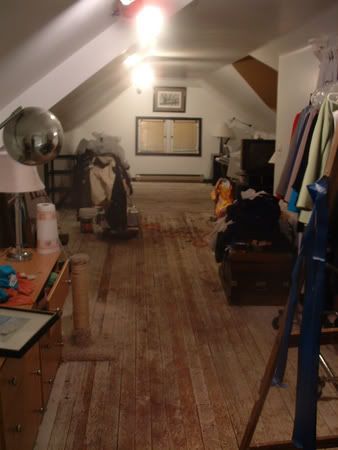 After: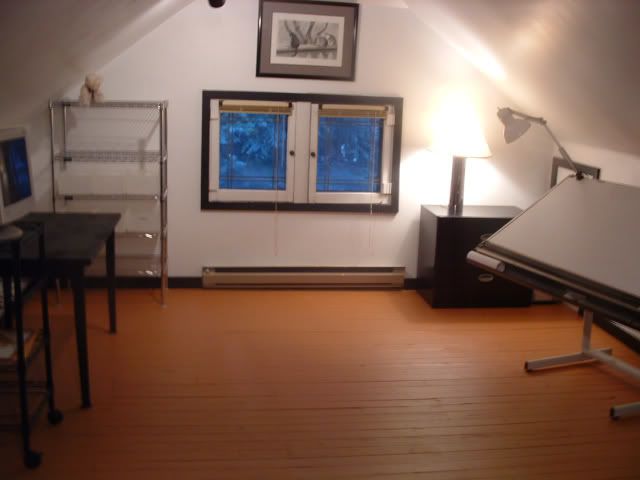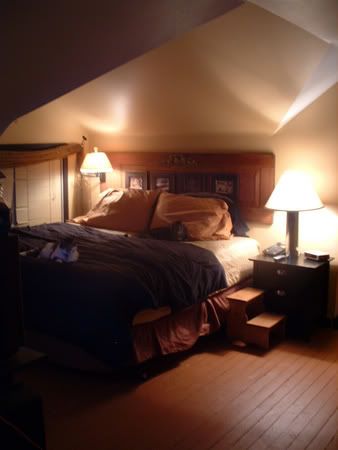 Stained stairs: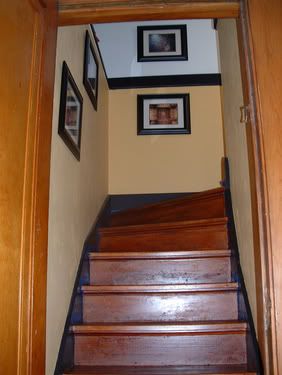 ---
| | | |
| --- | --- | --- |
| RE: Your thoughts on painted wood floors | | |
Pesky1, did you decide to paint your floors?
---
| | | |
| --- | --- | --- |
| RE: Your thoughts on painted wood floors | | |
I love painted floors - I think they look so crisp and fresh and are a little different.

I just painted our wooden stairs dark grey - they were beyond repair with years and years of carpets on them. It was so easy and inexpensive , and they look great with crisp white trim - I was nervous about it, but am really glad I did it!
---
| | | |
| --- | --- | --- |
| RE: Your thoughts on painted wood floors | | |
Yes, I've decided to paint just that front room. I love b/w checks, but I think I'm going to go for a tone on tone harlequin instead. In cream & taupe-y shades I think. The room gets a lot of morning sun and I think that would be a nice feature. I just need to figure out what to do about the transition between the HW and the painted floor.

We looked closely again at the pet stains; they've been there for at least a dozen years and realize they're probably not going to come out if we sand, so either paint or carpet that room-so paint it is.
---
Post a Follow-Up
Please Note: Only registered members are able to post messages to this forum.
If you are a member, please log in.
If you aren't yet a member, join now!
---
Return to the Home Decorating & Design Forum
Information about Posting
You must be logged in to post a message. Once you are logged in, a posting window will appear at the bottom of the messages. If you are not a member, please register for an account.
Please review our Rules of Play before posting.
Posting is a two-step process. Once you have composed your message, you will be taken to the preview page. You will then have a chance to review your post, make changes and upload photos.
After posting your message, you may need to refresh the forum page in order to see it.
Before posting copyrighted material, please read about Copyright and Fair Use.
We have a strict no-advertising policy!
If you would like to practice posting or uploading photos, please visit our Test forum.
If you need assistance, please Contact Us and we will be happy to help.

Learn more about in-text links on this page here