Return to the Home Decorating Forum
|
Post a Follow-Up
---
| | | |
| --- | --- | --- |
| Faux wood blinds vs real wood..???. | | |
Posted by
sandyinva
(
My Page
) on
Sun, Nov 21, 10 at 0:04
I purchased wood blinds for our kitchen windows several years back from Next Day Blinds, I think, and have been happy with them. A decorator from a local curtain shop gave us an estimate on some curtains, and blinds. I had told her I wanted to use wood blinds in the family room since I had them in my kitchen. (These are painted, not stained) Just noticed her estimate is for FAUX wood blinds. I asked her about the faux wood, and she said it is better for the environment and insulates better than the wood. I have not compared prices anywhere else, but I thought $620 was rather high for fake wood for a double window, and it is more than what I paid for my wooden blinds, for the same size window, plus two narrow side windows.

So is she right or off her rocker?
---
Follow-Up Postings:
| | | |
| --- | --- | --- |
| RE: Faux wood blinds vs real wood..???. | | |
She is being dishonest with you and failed to give an estimate for the purchase as specified by you, the customer. I wouldn't do business with her.

As for the price, it's hard to tell without knowing the rough dimensions of the window. But with that information, you can easily price compare on the internet, such as at the JCPenney website. Add in maybe $50 - $100 for installation (which is really simple and a DIY project).
Here is a link that might be useful: faux wood blinds at JCP
---
| | | |
| --- | --- | --- |
| RE: Faux wood blinds vs real wood..???. | | |
Window dimensions are 76 wide, 54 long. I have a pair of woood blinds, 38 inches wide. Is there a reason to consider faux over wood? Do they insulate better? One web site I checked said yes, another said no.
---
| | | |
| --- | --- | --- |
| RE: Faux wood blinds vs real wood..???. | | |
How much insulation do you need from your window treatments? If you have drafty windows and are looking for insulation, thermal drapes or a roman shade would be better options.

Do you plan to keep the blinds shut all winter? If you open the blinds to let the light in, it doesn't matter whether the blinds are wood or plastic.

Personally I wouldn't mind having nice faux wood blinds. But that's me. That size faux wood blind, made by Bali, is on sale at JCPenney for $250.
---
| | | |
| --- | --- | --- |
| RE: Faux wood blinds vs real wood..???. | | |
One nice thing about faux wood blinds is that they aren't subject to the humidity/dryness in the environment...they start out straight and remain straight---no warping.

I have used faux wood blinds (white) and was very pleased. You can't really tell the difference IMHO. However, I would suggest her price is steep. Look at local home improvement stores.
---
| | | |
| --- | --- | --- |
| RE: Faux wood blinds vs real wood..???. | | |
Hi SandyinVa.

I wouldn't buy any faux-wood blinds that were trying to look like wood for the same reason that I'd wouldn't buy a laminate floor that was trying to look like wood: they never do. What they look like is wood-grain Contac paper. Not a look I'm after.

But if it's painted faux-wood blinds we're talking about, that's a different story. They're great. I use them at my place because I pretty much live an old school life--both of my phones have cords coming out of the wall, and one has a dial--which means that while I have A/C, most of the time my windows are wide open to the breeze, and with it, to the dust & airborne grit off Lake Shore Drive, & the humidity off Lake Michigan. That's why I don't have wood blinds: their clear finish can degrade in direct sunlight and as that finish breaks down, they can warp from the humidity. Besides, the manufacturer doesn't really recommend putting wood blinds in the shower when the dust & grime build up. Not, of course, that the makers of faux-wood blinds recommend doing that, either, but I do it, and with no problems. Well, no problems so far. Knock on faux wood.

I won't get into the whole price issue, but I don't think there's much insulation value, either way. Then again, that's why we have curtains. At any rate, my painted faux-wood blinds' main function is to keep the sun out in hot weather, and that they do just fine. And at half the price of wood, they're a good buy. As long as they're painted.

Regards,
Magnaverde.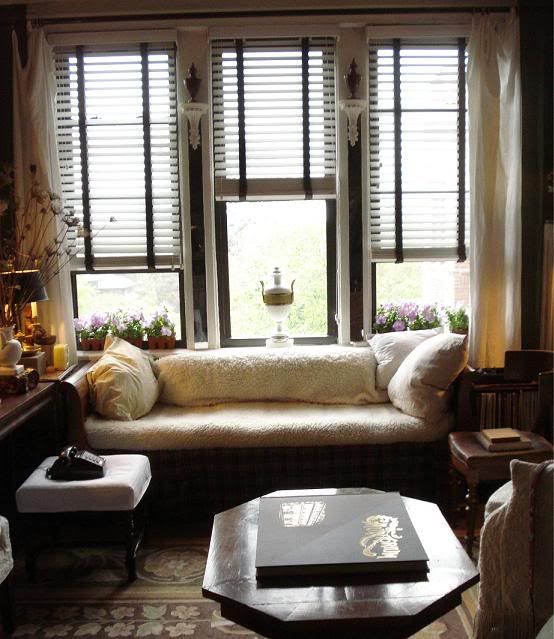 ---
| | | |
| --- | --- | --- |
| RE: Faux wood blinds vs real wood..???. | | |
Don't you just love when Magnaverde pops in? And we get glimpses of the lovely spaces - yes

I will echo what Mag & others have said about Faux wood - painted is totally different- I have them custom for our windows in 2 baths & in the sunroom -you really can not tell the difference.

I doubt there are significant differences with insulating value - besides who keeps blinds shut 24/7? - In the summer I keep them closed on HOT days - in winter closed at night.

I honestly forget what the price points were - but reasonable from JCP - who customized (Levelor brand)to fit inside mount. Yes $620 sounds unreasonable - by 50-75% to me.
---
| | | |
| --- | --- | --- |
| one more thing. | | |
Forgot to add 2 critical points on wood vs Faux

- Warping due to humid/wet (bathrooms) areas as well as due to exposure to sun - Yes real wood will warp - faux will not

good luck
---
| | | |
| --- | --- | --- |
| RE: Faux wood blinds vs real wood..???. | | |
magnaverde....wow! Nice room!

I agree about the warping. Faux won't warp, but it won't look like real wood either....
---
| | | |
| --- | --- | --- |
| RE: Faux wood blinds vs real wood..???. | | |
Faux wood blinds give you about a 1.5 R value. Not insignificant, but not an actual reason to select them, because frankly, if you're looking to "insulate" your windows, your money is much better spent on upgrading the actual windows themselves rather than the acoutrements to those windows.

I second the plus about putting the faux in the shower to clean them and the fact that if you want "wood" wood blinds, then there is no substitute with faux. Many DO look better than contact paper, and in fact can look quite convincing when new. It's just that they don't age well at all. Sort of like the plastic wrapped printed "molding" that gets applied to builder grade kitchen cabinets. It sorta matches OK at the beginning, but gets really yucky and faded by the end of the line.
---
| | | |
| --- | --- | --- |
| RE: Faux wood blinds vs real wood..???. | | |
I like the faux blinds for all the reasons stated.
Try IKEA when you are out shopping. They have some very reasonable options.
---
| | | |
| --- | --- | --- |
| RE: Faux wood blinds vs real wood..???. | | |
What an interesting response; I had anticipated a stronger response for the wood blinds, and If this was a room that was exposed to humidity or really dry conditions, then I think I would consider faux wood blinds. Since I already put wood ones in the kitchen, I think it may be best to continue with wood, since they are on the same floor, and in view of each other.

I guess it really matters on where you place them, and the factors of the room. I would not hesitate to put faux wood blinds in the upstairs bedrooms.
---
| | | |
| --- | --- | --- |
| RE: Faux wood blinds vs real wood..???. | | |
I have real cherry wood blinds in our family room- got them from Next Day Blinds about 12 years ago- they are on a southern exposure and I have not seen any fading or warping. I love the warmth of the wood- it is such a large space that it would be way too much white.
But I have the white faux wood in the bathroom, 2 bedrooms( 3 windows each) and the dining room ( huge window it takes two)
I don't shower with them like Magnaverde, but I do dip and swish in the bath tub, let them drip and then put them back up with a towel underneath to catch the rest.
---
| | | |
| --- | --- | --- |
| RE: Faux wood blinds vs real wood..???. | | |
Hi-
I just wanted to add my 2cents.. WHen we bought our first home (a townhouse) we were totally naive. We had two enormous picture windows that basically looked into our neighbors home so we HAD to do something immediately. I liked the look of the wood blinds and so we ended up spending close to $2000 (money we really did not have at the time- newlyweds and broke) but we didn't really know any better. We put the faux blinds in our kitchen but the real woos on the whole first floor. After living with them for a year and realizing they looked EXACTLY the same (we had painted white faux) and we could finally afford to buy blinds for upstairs (we had been using those temp. paper blinds for almost a year) we put the faux wood in all the bedrooms.

I can't make any claims as to the insulation factor, but they looked just as good. Granted this was 10 years ago, but we still ended up paying about $600 for 4 windows. Not sure if this will help or not but figured I would give you my experience.
---
| | | |
| --- | --- | --- |
| RE: Faux wood blinds vs real wood..???. | | |
When we bought our house 8 years ago, the PO had real wood blinds (white, painted) throughout most of the house. Our family room is 2 stories and the wall of windows did not have any blinds on the top part, but did have these wood blinds on the bottom. We bought the faux wood blinds (because that's what we thought we actually had) and they have been fine. They've been up nearly 5 1/2 years. Since they are on the same windows as the real wood blinds it would be really obviously if there was a huge difference bewteen them - and there is no difference at all.

One thing to remember about real wood blinds is that the paint can chip. This is happening to a few of ours that are right above the vent in the floor. They sway and hit the wall, so the paint is chipping off the edges.

I am really happy with the faux wood ones and would buy them again.
---
| | | |
| --- | --- | --- |
| RE: Faux wood blinds vs real wood..???. | | |
I have the fake wood blinds in white custom ordered from one of the big box stores - Lowes or Home Depot. I can't remember which. They are Bali brand, well made, and I love them. Someone came to my house, measured the windows, and returned to install them.

I think that price is absolutely outrageous, by the way. :)
---
| | | |
| --- | --- | --- |
| RE: Faux wood blinds vs real wood..???. | | |
Hi all,
Yes, the price I was quoted is high.... why would I pay more than what I paid for my wood blinds? Faux may be a great product, but its not a deal at real wood prices. I still may do wood in this room, as it is the next room over from, and in view of the kitchen, which has wood blinds. However, I am going to check out faux wood blinds out in person before I make any decisions. It'a definitely faux wood for the bedroom.
---
| | | |
| --- | --- | --- |
| RE: Faux wood blinds vs real wood..???. | | |
I have Lowes Levolor wood blinds in all my front windows and in my MBR. Our front windows face the street and they allow us the privacy we require without the cost of shutters. The MBR gets afternoon sun until around 6:30 in the summer. I have had no issues with our blinds. They have been hung for 2 yrs now. In our last house I had
custom wood blinds in the masterbath for 12 yrs. No warping or fading.

We bought off the shelf Levolors and sized the length ourselves using the directions provided in the box. Lowes can size the width. No sense in buying custom unless you want the taping strips (or whatver they are called). We are so satisfied with them that we are buying more for one of our bedrooms which also faces the front of the house.

This is just my thing but I really prefer wood vs plastic. It just would bother me to have plastic anything on my windows.
---
| | | |
| --- | --- | --- |
| RE: Faux wood blinds vs real wood..???. | | |
Just thought I would mention that if you are going to want a wood stain instead of white, the wood will look much nicer, imo.

However, I had pretty,real wood blinds stained medium dark in my living room for a few years and grew to hate them because they attracted DUST much more quickly than the faux white wood. Much faster. Furthermore, you could see the dust on the darker wood more easily, as well. Double whammy.

I couldn't wait to throw those things out!
---
| | | |
| --- | --- | --- |
| RE: Faux wood blinds vs real wood..???. | | |
The price she qouted you is in line with a shop at home retailer ( overly inflated prices). You can find the same time thing for a fraction of the cost online. Whether you choose to go real wood or faux you coust will be at least half. Also if you asked her for real wood and she quoted faux without telling you, I would drop her so fast. Her's an article that will eaxplain some of the pros and cons of wood vs faux wood...good luck
Here is a link that might be useful: Wood Blinds vs Faux Woods…and the Winner is
---
| | | |
| --- | --- | --- |
| RE: Faux wood blinds vs real wood..???. | | |
That link from Bob the Blind guy has some useful information, although the particular discussion he links to is sort of disingenuous. Its author seems to be "Admin", but then Admin starts out the discussion with...

"...For example, I was in the market for two blinds for my son's room. I avoided the local "shop at home" places because I know they are usually the highest priced. I went online and compared the price of a number of
different companies..."

OK, if you are "Admin"--alias Bob the Blind Guy--why are you "in the market for" blinds? You sell blinds.
And providing a direct link to your online store is probably good business practice--even though it's sort of against the rules around here--but then why turn around and phrase things in a way that makes it seem like you're a regular ol' consumer, not a vendor?
---------------------------------------------------------------------- -------------------------
Where's that rolling-eyes avatar when you need it?
---
| | | |
| --- | --- | --- |
| RE: Faux wood blinds vs real wood..???. | | |
I bought three faux wood white blinds from Lowes. These are the Levolor brand. They were cut to size in width but not in length.I loved the look so much so that I replaced all the blinds in the house .I searched on line and found The Blind Chalet, they were fantastic. I gave them the dimensions, picked out the blind and received them within 7 days perfectly cut, width and length and reasonable I might add.
---
| | | |
| --- | --- | --- |
| RE: Faux wood blinds vs real wood..???. | | |
magnaverde, I am a window treatment installer, I do not sell blinds nor do I have a online store. If I need blinds I have to shop for best price and quality like anyone else. I just been doing it for a long time that I know where the best deals are and yes I point readers in that direction. My web site is a blog that shares years of experience in the window treatment business. And yes I will change admin to Robert, thanks for pointing that out.
---
| | | |
| --- | --- | --- |
| RE: Faux wood blinds vs real wood..???. | | |
[Hi Bob. Thanks for the clarification. I'm more likely to listen to a professional painter's explanation of why Brand A paint is better than Brand X than I am to an explanation by a paid spokesman for Brand A, and the same thing goes when it comes to blinds. An independent voice with no vested interest in selling me something carries a lot more authority.

Here's the cause of my misunderstanding: the link that you posted went straight to your blog's specific discussion of the real-vs-faux question & skipped the page--and I'm assuming there is such a page: if not, there ought to be--that explains that while you install blinds, that don't sell them, and that we can't order them from you. Maybe such a one-line disclaimer at the top of each secondary page would eliminate that uncertainty for people like me, who don't arrive via the main page of your blog, where that's probably all made clear. Please accept my apologies for the confusion, and my error in thinking that you were a manufacturers' rep.

Actually, going by your comment today, it sounds like you & I are somewhat in a similar position, and that we offer similar sorts of service: that is, what we have to sell is not product, but expertise. Some decorators--including those shop-at-home people--offer "free" consultations, but that just means their actual costs (and, face it, none of us can afford to work for free) are hidden in jacked-up prices for the products they sell: in your case, blinds & curtains, in my case, those things as well as to-the-trade accent pieces & gussied-up throw pillows made out of discontinued fabric samples.

I don't sell that stuff. All I've got to offer are my taste, my eye, my knowledge, my experience & my ability to put all the pieces together to help people create a good-looking room. Makes it much easier at inventory time. Likewise, it's probably easier for to to sell your expertise than it would be to always be dusting samples of different manufacturers' Venetian blinds. Best wishes for your own continued success. M.]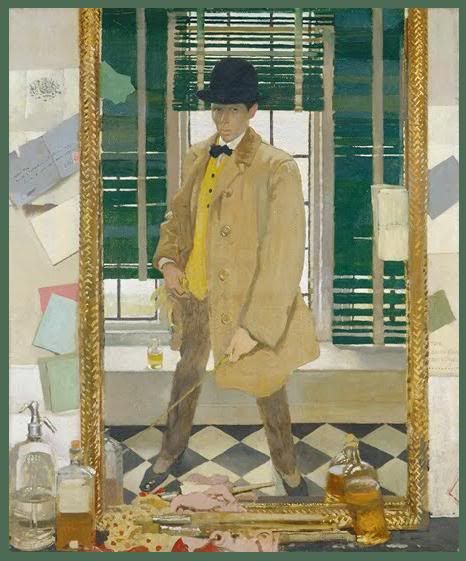 ---
Post a Follow-Up
Please Note: Only registered members are able to post messages to this forum.
If you are a member, please log in.
If you aren't yet a member, join now!
---
Return to the Home Decorating Forum
Information about Posting
You must be logged in to post a message. Once you are logged in, a posting window will appear at the bottom of the messages. If you are not a member, please register for an account.
Please review our Rules of Play before posting.
Posting is a two-step process. Once you have composed your message, you will be taken to the preview page. You will then have a chance to review your post, make changes and upload photos.
After posting your message, you may need to refresh the forum page in order to see it.
Before posting copyrighted material, please read about Copyright and Fair Use.
We have a strict no-advertising policy!
If you would like to practice posting or uploading photos, please visit our Test forum.
If you need assistance, please Contact Us and we will be happy to help.

Learn more about in-text links on this page here