Return to the Home Decorating Forum
|
Post a Follow-Up
---
| | | |
| --- | --- | --- |
| Pictures of shelf near ceiling, please? | | |
Posted by
roygbiv
(
My Page
) on
Tue, Oct 7, 08 at 21:00
I am looking for inspiration for shelving to place sports trophies and lego creations in my 10/ 2 year old son's room. I've seen a shaker peg shelf before around the entire perimeter about a foot from the ceiling. Anyone out there have anything like this? Thanks.
---
Follow-Up Postings:
| | | |
| --- | --- | --- |
| RE: Pictures of shelf near ceiling, please? | | |
We do. We didn't run it around the whole room - too many corners and weird bends. But we did run it around the two walls that have windows, and we used the shelf brackets as supports for the curtain rods. We are by no means carpenters, but I think it came out pretty nice!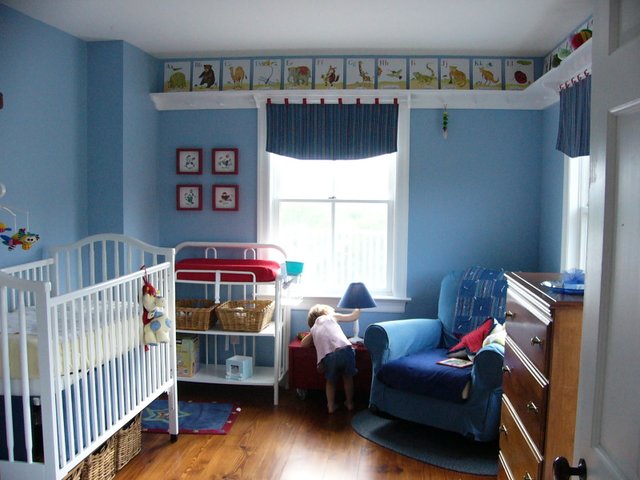 ---
| | | |
| --- | --- | --- |
| RE: Pictures of shelf near ceiling, please? | | |
ikplatow that room is adorable! You did a great job, made it special and kept it real. Just love those little pops of red.
---
| | | |
| --- | --- | --- |
| RE: Pictures of shelf near ceiling, please? | | |
lkplatow - fabulous! Thanks so much for the pic. Dh says that that is doable! Did you glue or nail the vertical wall board? Also, any suggestions for recreating your design? Thanks.
---
| | | |
| --- | --- | --- |
| RE: Pictures of shelf near ceiling, please? | | |
We ran a plexiglass shelf along one wall for DS's legos. His room has a "spaceship" theme so we used a lot of industrial/metal accessories including the shelf brackets. In addition, I spray-painted flatware containers to make display shelves for his Lego people.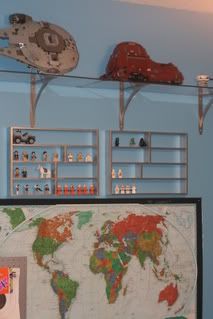 ---
| | | |
| --- | --- | --- |
| RE: Pictures of shelf near ceiling, please? | | |
I'm trying to remember exactly how we did it. We did my daughter's room first and learned some lessons there, so the pic above is our second attempt (much better looking). We primed and painted all the boards first to make it easier. We learned to use BIN on the knotholes because in my daughter's room, the knotholes bled through within the first 6 months and we had to BIN and repaint.

For construction, I'm pretty sure we measured the length for the flat horizontal boards and cut them so they'd miter together. Then we measured the vertical boards to fit between the spaces between the walls and window trim. Then we actually screwed the vertical boards and horizontal boards together measuring carefully to make sure we were lining things up right so they'd fit with the window trim. We used screws that went down from the top into the vertical boards, figuring no one would see the screw holes once the shelf was up. Finally, we screwed the vertical boards into the studs, countersinking the screws and filling the holes with spackle. In the corner where the top boards meet, we used some mending brackets (little metal plates that screw into the board) to hold the boards together. I think we also had to make a seam on the long wall because the flat horizontal board wasn't long enough - again, we used mending plates on top to strengthen the seam. (I'm sure a real carpenter would have had a much more professional way to do this, though!). We did make sure that seam was placed above one of the window brackets so that the bracket supported both boards and only the very end of the seam is really noticeable.

We then cut the little brackets with a scroll saw using a pattern I cut out of cardboard first (I made a few and held them up in the room to see what shape I liked). The brackets on the ends are screwed directly into the side wall using drywall anchors and the ones near the windows are screwed down from the top, I think. We drilled holes through the window brackets before installing them and used a 3/4" dowel as the curtain rods. And finally, we chose some random measurement for how far apart to put the shaker pegs (something like 9.5", iirc) and measured to make sure we were centering and equally spacing them within each segment of vertical board. Then we just drilled the holes and glued them in with wood glue. Wherever our less-then-professional carpentry skills left us with gaps or uneven seams, we used caulk to hide it. And then we painted over whatever needed touching up.
---
| | | |
| --- | --- | --- |
| more | | |
I'm rereading my instructions and wanted to make it clear that we did a lot of test fitting as we were screwing the vertical boards onto the horizontal boards. Also, the mending plates at the corner are on the top of the shelf so you don't see them from the room. (They do make that part of the shelf a bit bumpy, but since we mainly use it for stuffed animals, it doesn't matter.)
---
| | | |
| --- | --- | --- |
| and again | | |
Oh, and if you're going to use a dowel for the curtain rod, I'd recommend going with something bigger than 3/4" - we now have curtains on ours, not just valances, and they are sagging a bit in the middle. 7/8" or 1" would have been better, I think. Or perhaps a metal pipe instead of a dowel....
---
| | | |
| --- | --- | --- |
| RE: Pictures of shelf near ceiling, please? | | |
roygbiv, before you decide where to put your shelves, find out what the largest trophy will be. My dd had trophies in her bookshelf and I was glad they had adjustable shelves because some of those trophies are really tall. They wouldn't have fit in the foot above the window.
---
| | | |
| --- | --- | --- |
| RE: Pictures of shelf near ceiling, please? | | |
Ikplatow, what color of blue is the paint? I love it.
---
Post a Follow-Up
Please Note: Only registered members are able to post messages to this forum.
If you are a member, please log in.
If you aren't yet a member, join now!
---
Return to the Home Decorating Forum
Information about Posting
You must be logged in to post a message. Once you are logged in, a posting window will appear at the bottom of the messages. If you are not a member, please register for an account.
Please review our Rules of Play before posting.
Posting is a two-step process. Once you have composed your message, you will be taken to the preview page. You will then have a chance to review your post, make changes and upload photos.
After posting your message, you may need to refresh the forum page in order to see it.
Before posting copyrighted material, please read about Copyright and Fair Use.
We have a strict no-advertising policy!
If you would like to practice posting or uploading photos, please visit our Test forum.
If you need assistance, please Contact Us and we will be happy to help.

Learn more about in-text links on this page here