Return to the Home Decorating Forum
|
Post a Follow-Up
---
| | | |
| --- | --- | --- |
| Granite to go in my kitchen/pictures | | |
Posted by
gr8day
(
My Page
) on
Sun, Oct 9, 11 at 20:08
Will add a couple of more pictures not sure how to add them all at once. I have natural maple cabinets and want to keep my backsplash that is relatively new and has a little more color than shows in these pictures. I have Aurora Corian now that is quite scratched up. Looking at Juparana Tier as a possible, it has a lot of gray in it. Not keen on golds as the color of the cabinets is not a definitive gold, peach, blond or seemingly in the color wheel at all which has made this very hard. Don't really want to go black or dark, I like the light and airy look and would like to save that if possible.
---
Follow-Up Postings:
| | | |
| --- | --- | --- |
| RE: Granite to go in my kitchen/pictures | | |
| | | |
| --- | --- | --- |
| Island | | |
| | | |
| --- | --- | --- |
| other side of island | | |
My Golden Retriever blends right in : ) The island looks small and smushed here but it isn't it's 36 x 55 a decent size, I am thinking of taking the sink out of the island for more space, we never seem to use it as it is right behind the big sink. I think I need to let it go...
---
| | | |
| --- | --- | --- |
| RE: Granite to go in my kitchen/pictures | | |
We took the sink out of our island when we replaced the counter. It was a smaller sink almost identical to yours. I haven't missed it at all.
---
| | | |
| --- | --- | --- |
| Suggestions or photos would be greatly appreciated | | |
I think I forgot to ask for suggestions for granite for our kitchen. Have been looking for months. It seems things are either too gold, too peach, pink, brown, green, and we don't seem to have the selection that some places in the country do. But our yard may by able to get it so appreciate any and all help!!! I love this site and have learned so much for all of you. Thank so much for taking the time. xoxo, : )
P.S. Looking at these pictures I should have taken the time to stage my kitchen better but this is how it usually looks out there, a little messy!
---
| | | |
| --- | --- | --- |
| RE: Granite to go in my kitchen/pictures | | |
Thanks Hilltop, your reassurance is just the push I needed to make the decision to nix the sink! Appreciate the help. I had also considered painting the island black but am a chicken
to do that!!!
---
| | | |
| --- | --- | --- |
| RE: Granite to go in my kitchen/pictures | | |
do you dislike the corian? I think it looks nice and you can have it sanded down and refinished I believe.
---
| | | |
| --- | --- | --- |
| RE: Granite to go in my kitchen/pictures | | |
You have a lot of corian, and it can be restored to like-new for a whole lot less than replacing it all with granite. If it is change you are looking for, I'm sure you can find a far less expensive way to achieve a look you would love. Even having your cabs refinished would be cheaper, unless money is no object.

Your kitchen is beautiful.
---
| | | |
| --- | --- | --- |
| RE: Granite to go in my kitchen/pictures | | |
I'm with the others. Unless you really dislike the Corian (or have $$ burning a hole in your pocket!) I'd have it resurfaced. It's a warmer surface than stone and more forgiving in a lot of ways. Don't get me wrong - I love the look of stone and have stone in my kitchen but would not do it again partly for cost, partly for the environment and partly because there are easier care options. Your kitchen is lovely - are your cabinets Fieldstone by any chance? Oh - and the blonde in the last picture is precious!
---
| | | |
| --- | --- | --- |
| RE: Granite to go in my kitchen/pictures | | |
I too, like the white Corian....looks so clean and I am sure the scratches can be fixed.
---
| | | |
| --- | --- | --- |
| RE: Granite to go in my kitchen/pictures | | |
I think any of the attached granites would work beautifully.
Here is a link that might be useful: light granites
---
| | | |
| --- | --- | --- |
| RE: Granite to go in my kitchen/pictures | | |
I'm going to agree with the others. Have the Corian refinished. If you want a change, replace the Corian on your island with a fabulous exotic stone, something you probably wouldn't use on an entire kitchen of counters.

The Corian will let the new granite shine, and you'll save a ton of money

I might also rethink painting the island (maybe chocolate brown?). While I think the two-toned cabinet look is very trendy, islands are more often than not a different color than the cabinets so I think you're safe in not looking dated.
Dee
---
| | | |
| --- | --- | --- |
| RE: Granite to go in my kitchen/pictures | | |
Dee has a great idea - wish I'd thought of it! That's an easy place to put the stone if you're getting rid of the sink - no special cuts to make keeps the cost down.
---
| | | |
| --- | --- | --- |
| RE: Granite to go in my kitchen/pictures | | |
Thanks everyone for the great suggestions, I think you are right, by the time I replaced the Corian, the sink, etc, etc, it seems sort of wasteful and no I do not have money burning a hole in my pocket but if you could see the Corian in person it might help, these are just cell-phone pics. It's sort of a sandy pink color and it's just starting to look so tired. But I will take your suggestion to check into having it buffed out to start. That seems like a very good place to start and then find a granite for the island. I don't want to kill the "pretty" look and have it try to be something it's not by adding a rustic granite that would look great in someone elses kitchen. So, I will check out having it buffed out and taking the island to a different look that might satisfy the update in toto. I also know I probably need to get rid of the ivy on the tops of the cabinets, lol. Need to work up to painting the island!! Thanks to everyone.

dlm2000 the cabinets are made by Kitchen Craft, they are really good quality and I still really love them and they are holding up very well.

yayagal thanks for the link to some light granites can't wait to check them out thank you for taking the time.
---
| | | |
| --- | --- | --- |
| RE: Granite to go in my kitchen/pictures | | |
Won't changing the counter-top damage and/or ruin your lovely back-splash?

I agree with deeinohio, why don't you start by painting the island & adding a new counter-top there and see if that's enough of a change.

I suggest you check the Kitchen forum for additional ideas. There are many gorgeous kitchens over there and lots of good advice, both technical & decorative. And be prepared for many strong opinions on granite vs. man-made counter-tops. Some people are passionate about things feeling plastic or buying things from China (source of some granite) or being too trendy (when I think they mean faddish).
---
| | | |
| --- | --- | --- |
| RE: Granite to go in my kitchen/pictures | | |
I love your backsplash and light cabinets. I actually like your counters and I would wait to make changes to the island first and then see what you wish to do.
---
| | | |
| --- | --- | --- |
| RE: Granite to go in my kitchen/pictures | | |
I think you have a beautiful kitchen, and I have to say I could be biased because I have similar cabinets and HAD offwhite formica. I too wanted a light granite, and spent many months tryig to decide on the right one.right slab. I had some problems or concerns with the cabinets and granite sometimes being too pink, too gold or whatever. I actually ended up with sapphire blue granite (NOT light) and it looks great. But I do understand what you are thinking of and wanted to suggest DELICATUS granite for an example. I am linking a picture of it here, and if I can find another inspiration photo I had of a similar kitchen with light granite I will post that as well.
Here is a link that might be useful: more photos- delicatus
---
| | | |
| --- | --- | --- |
| RE: Granite to go in my kitchen/pictures | | |
Yay I found the inspiration photo- here it is .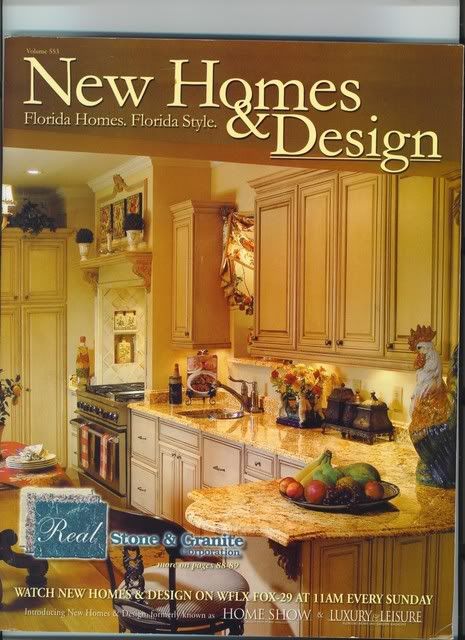 Also, I am posting a picture of another granite I loved- white spring.
---
| | | |
| --- | --- | --- |
| RE: Granite to go in my kitchen/pictures | | |
Thank you sooo very much everyone. Sheila I just love that Delicatus (thank you for the pictures). I almost swooned when I saw it on a huge island in a K&B showroom. The sparkles, the beauty! I just thought it was too taupe for my kitchen but maybe not!! While traveling I saw this piece of granite out in the yard of a K&B showroom. I pulled over to take a look! It was the most beautiful piece of White Spring I have ever seen! It was Sunday so I couldn't ask about it as they were closed. It had huge mica sparkling throughout. It was just beautiful too bad it was 100's of miles from my house!!!

hhireno I x-posted in kitchens and thank you for that. re: changing countertops- I was told that while it can damage the backsplash that it rarely does, they just have to have you sign off on it so they aren't held responsible but that they do it all the time. Hope they're right. I appreciate that as a very good reason for doing the perimeter only and that is what I have decided to do for now : ))
---
| | | |
| --- | --- | --- |
| RE: Granite to go in my kitchen/pictures | | |
gr8day, I also love the Delicatus Granite so much! What brand and style are your cabinets? I think with the right counter top, the kitchen will look updated.
---
| | | |
| --- | --- | --- |
| RE: Granite to go in my kitchen/pictures | | |
lynn2006 I just saw this today so sorry I didn't answer your question. My cabinets are Kitchen Craft available at K&B showrooms. I got mine at Diversified Cabinet Distributors in Norcross, GA. They've been wonderful. They are 14 years old and still look great, I would choose them again maybe in a different color but I still love the style. It's a raised panel door with rope moulding at the top with an additional 3 or 4 inch crown and a light skirt. I added the leaded glass later by taking out the panels and taking the doors to a glass artist. BTW the glass is siliconed in which has been a subject of interest lately here.

I decided to do Ivory Silk granite and the man is here right now as we speak doing the template. I hope I like it. It will be very neutral like I had with the Corian but with more texture and character. It really was scratched and stained in some places. But I have to admit it was still in decent shape after 14 years of careful use. This is my big, big birthday present this month as this is a mileSTONE BD year for me no pun intended and it's also for my anniversary, Christmas as well ~for probably the next 5 years, lol. I chose the Kohler Lakefield sink 70/30 (mostly due to husband and plumbing issues because that is what was there before) and the Grohe Bridgeford faucet. I did remove the small bar sink from the island. I am a little scared about that but we'll see in the future if that was a good move. It saved me $300 because of it being one less cut out and one less small sink. I'll post a picture when it's all installed which will be a week from now, they still build the template with the wood strips and take it back to fabricate so a whole week without countertops. He did not hurt the backsplash when it was removed. But what a mess!!! I thought I could save the Corian but it just couldn't be saved, they don't like to saw it because of dust so to take it out they just sort of bang it to death, glad I didn't see that part! It's all gone so there is no turning back now!! I used one of the pictures posted above here from Sheila to design the island top's new shape. I liked the end of that counter and we are doing that on the island so that barstool will finally have a little overhang to sit there and eat or have a cuppa. Thanks again for everyone's suggestions.
---
| | | |
| --- | --- | --- |
| Granite pictures slabs and a closeup | | |

Here is a picture of the granite. All of the pictures that I post are just from my Droid so they are poor quality to post detail, sorry! It's prettier in person. The lady at the granite warehouse said it was "soft" and I have to agree. It's not going to knock anyone's socks off but texture was what I was going for in a monochromatic scheme which I seem to like and always have for some reason!
---
| | | |
| --- | --- | --- |
| RE: Granite to go in my kitchen/pictures | | |
I like the granite - looks almost like marble - not too busy and has a bit of the cabinet color in it. Good choice!
---
| | | |
| --- | --- | --- |
| RE: Granite to go in my kitchen/pictures | | |
You have a beautiful kitchen, and I really like the grantite choice. I think you will be very happy with the finished product.

The Delicatus shown is so busy that is distracting, or overwhelmning to my eye. It has too much movement, IMHO. That granite would give me a headache just being in the kitchen surrounded by it. When viewing the picture, the only thing I saw in that kitchen picture was the granite, and that's not something I would want. Granite is beautiful, but you have to be careful not to make it so much of a focal point that it distracts or detracts from the other components that go into making a beautiful kitchen.

Can't wait to see the after installation pics. What have you decided about painting the island?
---
| | | |
| --- | --- | --- |
| RE: Granite to go in my kitchen/pictures | | |
Thanks so much cattknap and work-in-progress 08! I'll be sure and wind this thread up with the installation pics. They aren't going to do the final install until the 13th. It's been a long time in the works. I think I will move forward with painting the island either the chocolate brown with a glaze or even black. I am leaning more toward the chocolate brown with dark glaze because I think it would go the best with the granite but I'm still undecided on the color. I think it would be a fun change. Thanks again for the encouragement. : )
---
| | | |
| --- | --- | --- |
| RE: Granite to go in my kitchen/pictures | | |
Looking forward to seeing your new countertops! I love your choice of granite.
---
| | | |
| --- | --- | --- |
| RE: Granite to go in my kitchen/pictures | | |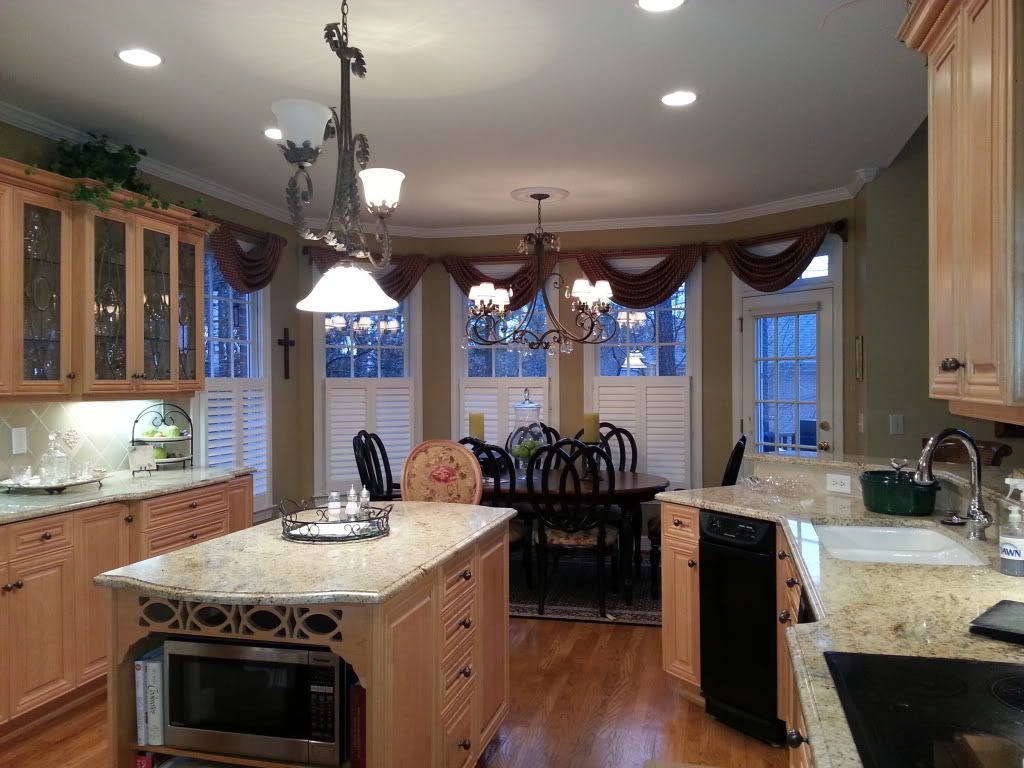 Just a quick update to show the finished install of the new granite, it has been in for at least two years, I think I started a new thread to show the installation at the time but since this thread has been revived I will tidy up with a photo! It looks nice with the existing backsplash that I didn't want to give up but it did limit my choices and I looked forever to find something to go with it. I still like it and it is now 2014. Had some problems along the way but getting it worked out.
---
| | | |
| --- | --- | --- |
| RE: Granite to go in my kitchen/pictures | | |
It looks really, really nice!
---
| | | |
| --- | --- | --- |
| RE: Granite to go in my kitchen/pictures | | |
It looks great, and changed the entire look of the kitchen!
---
| | | |
| --- | --- | --- |
| RE: Granite to go in my kitchen/pictures | | |
| | | |
| --- | --- | --- |
| RE: Granite to go in my kitchen/pictures | | |
I agree that the new granite is a perfect choice and looks so beautiful with your backsplash! I did a search for your name when I see your beautiful granite on the faucet post today. Thank you for sharing.

So this is that beautiful slab of the Ivory Silk Granite installed? It really is a perfect choice with your kitchen. What is the edge called?
---
| | | |
| --- | --- | --- |
| RE: Granite to go in my kitchen/pictures | | |
Love your granite choice-it flows beautifully with your cabs and backsplash. You added wonderful texture w/out jarring your other wonderfully serene elements. Great job!
---
| | | |
| --- | --- | --- |
| RE: Granite to go in my kitchen/pictures | | |
Ah, thank you all so much. You are all the nicest and sweetest people! Gardenweb is special and I must say has helped me in so many ways with the updates in my house one at a time. I would have never known about half the stuff I was able to update if not for the kind help of GWer's. Thanks so much again!

My kitchen still matches my dogs. : )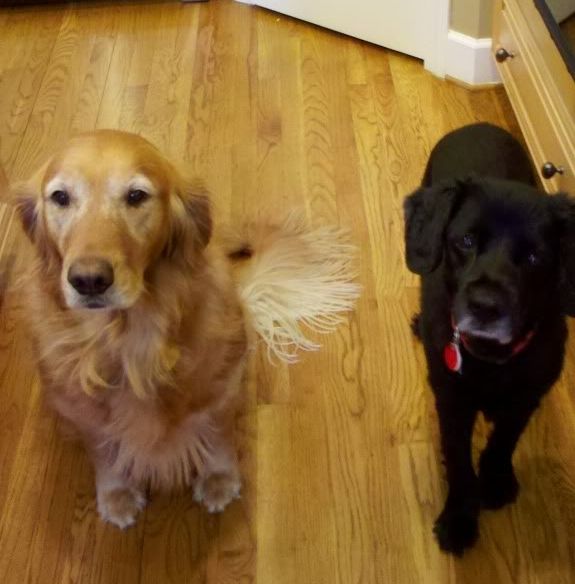 My floors aren't yellow though they look like it in the pix

It's so much prettier in person, nothing special in these photos. It has sparkly mica all over the soft color tones not dark or yellow like it shows in the photos.

---
| | | |
| --- | --- | --- |
| RE: Granite to go in my kitchen/pictures | | |
gr8day, Your doggies are so cute! I love your granite and your cabinets look wonderful with your choice. Thank you for sharing more pictures.
---
| | | |
| --- | --- | --- |
| RE: Granite to go in my kitchen/pictures | | |
You are so welcome! I am amazed at the comments, it's been a long time though it doesn't seem like it! I love my doggies too. Thanks again for the kind words everyone.

BTW lynn2006, the edge is the ogee edge.
---
| | | |
| --- | --- | --- |
| RE: Granite to go in my kitchen/pictures | | |
Thank you gr8day for letting me know that the pretty edge is an ogee edge on your beautiful counters.

Your two dogs remind me that I miss having more than one dog. When my tax season ends, I want to get my Sassy a friend as she is now so lonely since her "Fur-brother" died at the end of 2011 and her "Fur-Sister's" passed away at the end of December 2013 and beginning of 2014.
---
Post a Follow-Up
Please Note: Only registered members are able to post messages to this forum.
If you are a member, please log in.
If you aren't yet a member, join now!
---
Return to the Home Decorating Forum
Information about Posting
You must be logged in to post a message. Once you are logged in, a posting window will appear at the bottom of the messages. If you are not a member, please register for an account.
Please review our Rules of Play before posting.
Posting is a two-step process. Once you have composed your message, you will be taken to the preview page. You will then have a chance to review your post, make changes and upload photos.
After posting your message, you may need to refresh the forum page in order to see it.
Before posting copyrighted material, please read about Copyright and Fair Use.
We have a strict no-advertising policy!
If you would like to practice posting or uploading photos, please visit our Test forum.
If you need assistance, please Contact Us and we will be happy to help.

Learn more about in-text links on this page here