Return to the Home Decorating Forum
|
Post a Follow-Up
---
| | | |
| --- | --- | --- |
| Any pics of young girls' bedrooms? | | |
Posted by
annellis
(
My Page
) on
Sat, Oct 11, 08 at 19:14
I'm so tired of looking through a catalog for kid's bedrooms. All I want are ideas for a REAL bedroom. Mainly under 10 yrs. Not these pictures of 20x20 bedrooms that can house all this hoopla that no one can afford. Sure ideas are great, but so unrealistic.

Can you post your girls' bedroom pics for decorating ideas or share a neat idea that's worked well for them or you?

Thanks...We're about ready to redo and my dd is 8.
---
Follow-Up Postings:
| | | |
| --- | --- | --- |
| RE: Any pics of young girls' bedrooms? | | |
Hi, I wish my daughter was still that age, and we were doing her bedroom again. So many ideas and not enough kids. I wish I could articulate the suggestions I have but don't think it would be that easy to convey. But Rate my space on hgtv.com has some really fun pictures and great inspiration ideas especially if you go to the best rated section. I'd check out there.
---
| | | |
| --- | --- | --- |
| RE: Any pics of young girls' bedrooms? | | |
Annellis,
I know what you mean. Whatever happened to simple kids rooms, not redecorated on a seasonal basis?

You can check out the Gallery side of the Home Decor Forum for Kid Room Eye Candy! Kids to Teens, started by Oceanna, with inspiration photos. Some rooms even look like real kids live there *grin*.

-Lena
---
| | | |
| --- | --- | --- |
| RE: Any pics of young girls' bedrooms? | | |
| | | |
| --- | --- | --- |
| RE: Any pics of young girls' bedrooms? | | |
When it comes to redoing the girls rooms, I'm a bargain shopper. I always start with collecting furniture. Garage sales and Craigslist are great for finding stuff, pretty much anything in good solid shape can be brought back to life with a coat of paint. From there the next thing we do is pick bedding, bought on sale! Their recent stuff was from The Company Store and was bought on clearance. Once we have the bedding we can pull the colors from there to paint the wall and the for the accessories. For the accessories think out side of the box, shop dollar stores, shop big lots, etc. Everything behind the girls beds are from both, we repainted bins as needed. Things don't need to cost a fortune to be cute .. that's one of the reasons I love decorating for children! :)

Also .. while the big rooms you see in the catalogs and else where can be intimidating .. just pull ideas from them and scale it for your space. Now with that said the girls do have a large room, but three of them share it and it was the best use of space in our home. Before we redid this room for them I had done much smaller rooms for them and they were just as fun.
Beds before paint :
Garage sale finds, repainted. Roman shade bought from JcPennys on clearence.
Art table was a side of the road find ( read garbage picked ) that's been cleaned up with leftover floor enamel and paired with old school chairs we found for $2 a piece.
Old dresser bought on Craigslist before :
Bathroom Vanity after :
Ebay lighting before

The after, cleaned up and paired with on-sale shades that were 'polkadotted' with buttons and hot-glue.
---
| | | |
| --- | --- | --- |
| RE: Any pics of young girls' bedrooms? | | |
zipdee- all I can say is WOW! What a great room! Your creativity is inspiring and proves that it doesn't have to be expensive to be great!
Hope your girls enjoy their awesome space.
---
| | | |
| --- | --- | --- |
| RE: Any pics of young girls' bedrooms? | | |
Zipdee, I am in love with your daughters' room! It is functional, stylish, adorable, practical, thrifty..... in fact, just about every word for "wonderful" I could find in a thesaurus would apply to your efforts.

Just one more----FANTASTIC!
---
| | | |
| --- | --- | --- |
| RE: Any pics of young girls' bedrooms? | | |
Thanks for reposting the photos Zipdee. That room was one of the best makeovers I have ever seen, including those done on TV shows.
---
| | | |
| --- | --- | --- |
| RE: Any pics of young girls' bedrooms? | | |
Zipdee, the room is amazing, you are amazing. It's so inspiring!
---
| | | |
| --- | --- | --- |
| RE: Any pics of young girls' bedrooms? | | |
OMG!! Absolutely a stunning & creative room, zipdee! I can just imagine how excited your girls were, to walk into this happy room once it was completed! Good job!
---
| | | |
| --- | --- | --- |
| RE: Any pics of young girls' bedrooms? | | |
Awesome room zipdee. Also the links were great.
Thanks to all who gave me some ideas.
---
| | | |
| --- | --- | --- |
| RE: Any pics of young girls' bedrooms? | | |
It is a very cool room, zipdee. I have to say this is the first time I've posted something and felt like chopped liver. :)
---
| | | |
| --- | --- | --- |
| RE: Any pics of young girls' bedrooms? | | |
<<< I have to say this is the first time I've posted something and felt like chopped liver. :) >>>


Sarschlos_remodeler, I see the smile at the end of this, so I can't tell if your kidding or not. If I contributed to making you feel bad though, I'm very sorry, please accept my apology!

I posted because while I think the stuff in those catalogs are cute and great for drawing ideas, unless your buying on-sale from them the prices are rather eye watering! Kids rooms can be done for a whole lot less.

Thanks so much for all the kind comments folks. The girls and I had a lot of fun pulling this room together and they still very much enjoy their room a year and a half later.

Annellis, good luck with your daughters room. I'd love to see pics when you've completed it.
---
| | | |
| --- | --- | --- |
| RE: Any pics of young girls' bedrooms? | | |
goodness, I'm totally teasing, zipdee. It really is a very cute and creative room with lots of storage, and worthy of the kudos.
---
| | | |
| --- | --- | --- |
| RE: Any pics of young girls' bedrooms? | | |
I redid my dd's room while she was at 6th grade camp, geesh it has been 4 years now. She had already picked out the colors and we had shopped for the fabric for her duvet. It took me 2 days just to clear out the 'stuff', she was such a pack rat, much better now. She had inherited a bedroom set from her ggrandmother, that was a double bed and a 6 drawer dresser, of course she has the smallest room in the house!

So we had to think outside of the box. I took down her closet doors and the rod. We made this her dressing alcove with the dresser inside and shelves above for storage.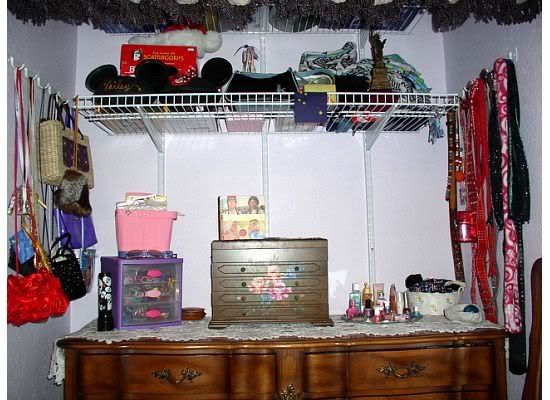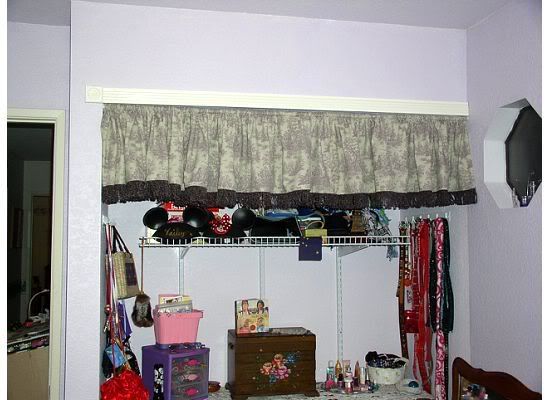 The mirror for the dresser was hung on the wall legnth wise so she could use it for dressing. We purchased a wardrobe from Ikea for her dresses and shoes.
Here is a pic of the bed with the toile/denim duvet.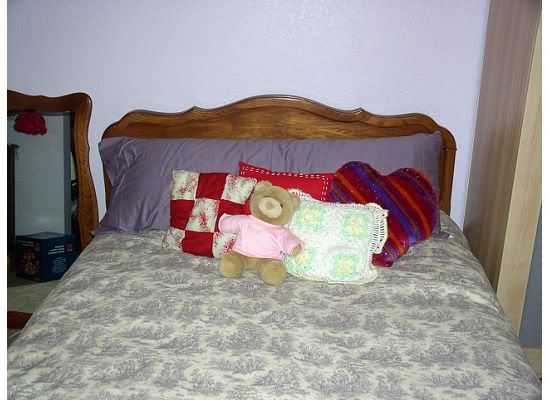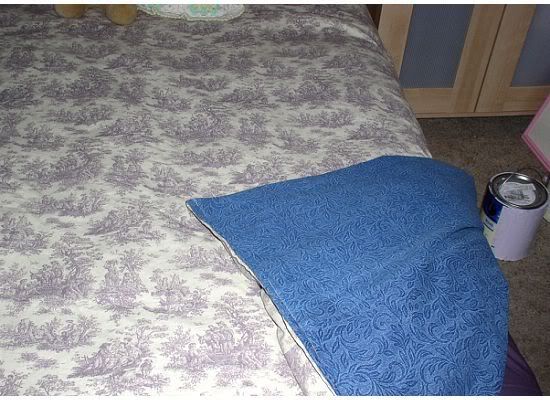 I will never make a duvet out of that heavy of fabric again!
I then purchased various 'K's and painted them to match the room. They are on the wall right as you come in.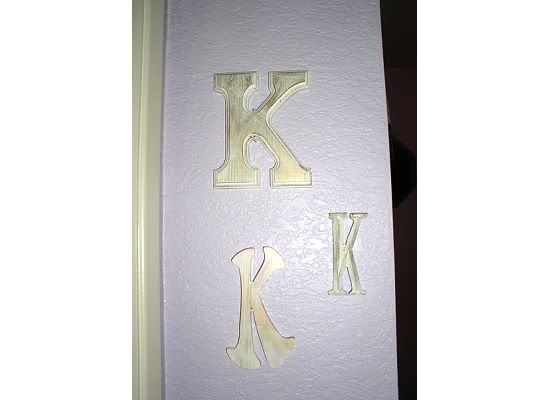 Of course she had modified it for a teenager now. Her idea of an ideal room would be to knock down the wall between her room and her brother's for a huge room. She want's him to move out, he is 19!
---
| | | |
| --- | --- | --- |
| RE: Any pics of young girls' bedrooms? | | |
Zipdee - can you share with us where you got the shelves behind the beds? I love how they look. I really do love how you put all the colors together. And I REALLY love the bargain prices...I wish I had a better eye for the deals.
---
| | | |
| --- | --- | --- |
| RE: Any pics of young girls' bedrooms? | | |
Sarschlos_remodeler, *LOL* sometimes it's hard to tell when people are kidding and when they are really hurt without out being able to read the body language to go along with the words. Anyhoooo .. glad things are good! :)
Twingirlsmom, the cubbie areas behind the girl's beds were built in place by my DH and I. It's actually blocking off the stair well, while providing personal storage area for the girls .. the back side/on the other side of the stairs houses their stuffed animal 'zoo'. Now I have seen pre-built cubbie areas at Wal-Mart, Target and Lowes, I've also seen little canvas storage crates that are supposed to go with them too.
Wal-mart cubbies:
http://www.walmart.com/catalog/product.do?product_id=8056054
Below I'm putting a link to their whole bedroom album as we were working on the room. If I've counted right ..
Picture #11 shows the stair well before cubbies
Pictures #59, #60, #61 better show the front of the cubbies, you can enlarge those pics.
Picture #62 shows the end of the cubbies, which we made a bookcase
Picture # 75 if you look past the table you can see the backside of the cubbies and the stuffed animals.
Picture #63 shows their video game area and toy storage area, which is again a cubbie like system, just on a much larger scale. We tried to build storage under knee-walls as not to take up useable floor space, their clothes drawers are built in the same way on the other side.
Here is a link that might be useful: Girl's room
---
| | | |
| --- | --- | --- |
| RE: Any pics of young girls' bedrooms? | | |
We also are space challenged in all of our three kid's bedrooms. One of the best investments I feel we made was to make the most of their closet space and install closet organization systems. In fact, we are presently redoing my 13-year-old DD's one now as the previous one is falling apart. For the girls we added mirrored closet doors which help make the rooms feel bigger and brighter and is also a space where they can check on their appearance--which becomes more important heading into the teenage years.

Below are some pics of my 7-year-old DD's room. I would not say it would win any decor contest. In fact, being the youngest she has all mismatched furniture--but it works for now--esp. as I have a 15-year-old DS it does not make any sense to put in any expensive bedroom set she may outgrow in a few years. When DS goes off to college she will inherit his computer desk/hutch which coordinates with her bed. In terms of functionality, I hope this may give you some ideas, though, for a smaller space:

Here is her closet organizers:
Her bed with a trundle below for sleepovers:
Her desk and dressor area. Mismatched, but plus is I absolutely do not care if she trashes this desk where she does lots of art stuff on it. In fact when taking this pic, I noticed some nail polish on the side. Real girls, real stuff.
This is a bookcase she recently retired from the family room and houses all her assorted stuft animals, books, etc. I used to have a cube system similar to zipdee's, but in a small room, you get more storage space if you can go up:
What we don't have and wish I had space for is a cozy chair or reading corner, though she does make the most of this little corner which is her play school area:
Children will change a lot from age 8 to age 12 so keep in mind you want furniture that will either grow with her as she ages or is inexpensive enough to replace in another 4 years. Decor--paint, curtain, bedspreads, of course will change as well and her ideas of what looks good may be very different from yours--hence why I am not sharing pics of my 13-year-old DD's room.
---
| | | |
| --- | --- | --- |
| RE: Any pics of young girls' bedrooms? | | |
Our DD's room posted above is very similar to Val's, except we found a little girl's bedroom set with the 9-drawer dresser, 3-drawer chest with bookcase hutch, and two 1-drawer nightstands at a consignment store for $300 (moral of this story: shop secondhand for kids). We also bought a trundle day bed for her big-girl bed so that she would have a place for friends during sleepovers (DS also will get a trundle for the same reason) and a place to sit and read (there's no room for a separate reading area).
---
| | | |
| --- | --- | --- |
| RE: Any pics of young girls' bedrooms? | | |
I have two girls, one is now 10 and the other is now 9. When we decided on decor for their rooms, they were 9 and 8 years old. Obviously it was just last year.

Now a year into it, I find that we are already wanting to redo my younger daughters room (she was 8, and is now 9). We were going for sort of a shabby chic look, and I think it turned out a little too "little girl" - ish. There is a quilt that I want to get for her that is black and pink. I think we can just switch the quilts out and redo some of the wall decorations to update it. But I hate that we are doing that already.
Here are a couple pictures of her room...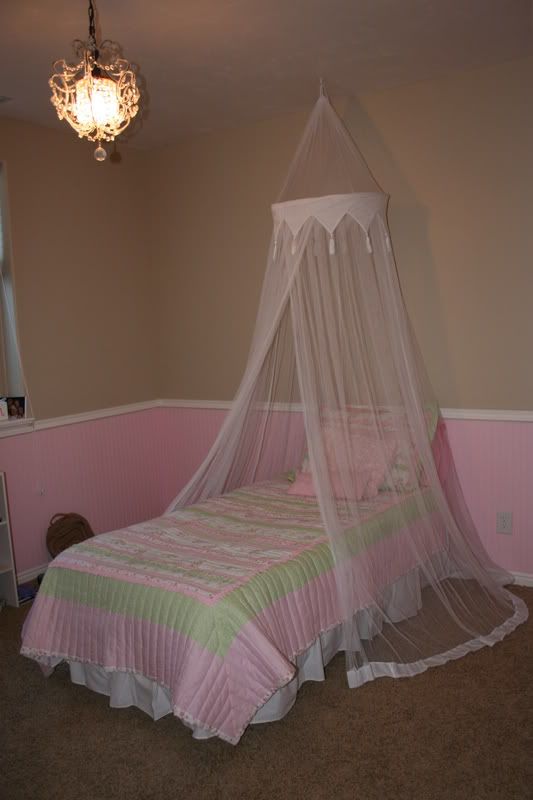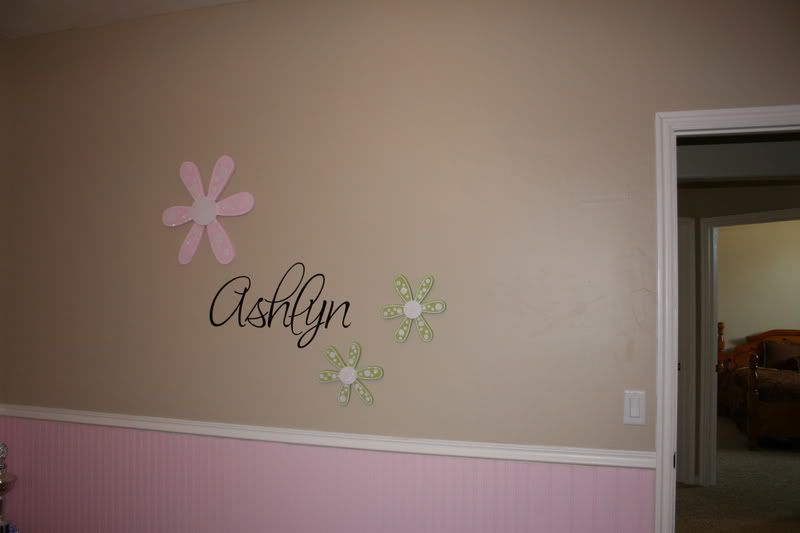 On the other hand, the other girl bedroom we did has been perfect. It's more grown up and I think it will last for a long time to come.... here are a couple of pics (dd is 10 now and still loves the colors)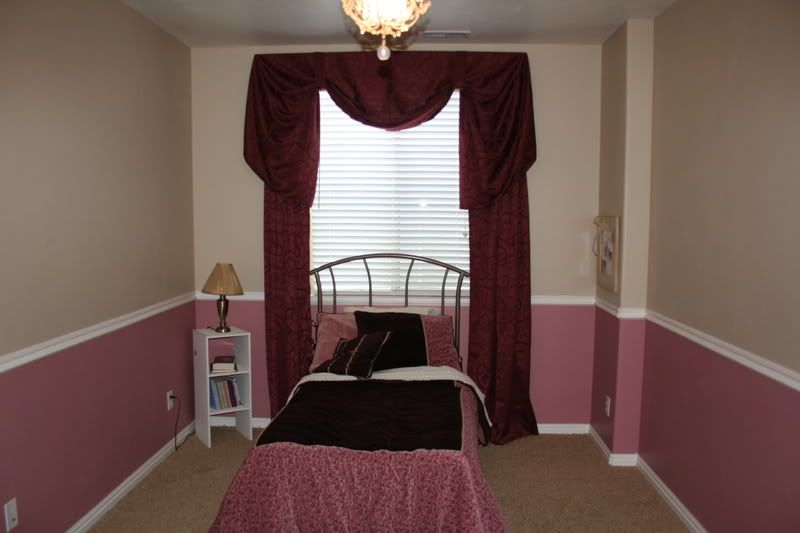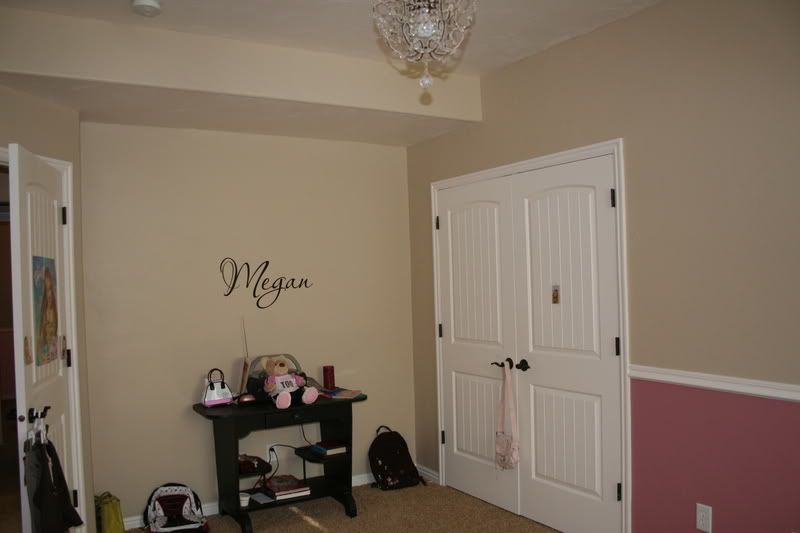 ---
| | | |
| --- | --- | --- |
| RE: Any pics of young girls' bedrooms? | | |
We redid our daughters room when she was 13. Now that I look at these pictures again, I have to say this is the most tidy her room has ever been :)

---
| | | |
| --- | --- | --- |
| RE: Any pics of young girls' bedrooms? | | |
Here are a couple of pics of my DD's room. Done on a budget and I plan to add more details. Others may remember Renofan's pink and black room for her daughter and I took inspiration from her - but I hate pink. :)

DD is 4 and I feel like this is a girly room but not too young, either. My mom thinks it is too "mature". LOL!

I have to be honest that I framed the pics to avoid the messy corners! (Also, my paint trials are in the album)
Here is a link that might be useful: Aqua and toile bedroom
---
| | | |
| --- | --- | --- |
| RE: Any pics of young girls' bedrooms? | | |
Zipdee

Your room brings back fond memories of my childhood bedroom. I am one of 5 girls and my dad built a huge bedroom where 4 of us slept. We were so proud of that room. At one point he tipped the sander over and put a dent in the floor( not big) and always showed people where he had made a mistake. The room was a nautical blue and we each had dusty rose chenille bedspreads.Two of us had one pattern and the other two another pattern. The curtains were whit sheers with venitian blinds. That was over 50 years ago! Loved that room and always felt bad for my youngest sister because she had to sleep by herself!
---
| | | |
| --- | --- | --- |
| RE: Any pics of young girls' bedrooms? | | |
this is a great post and so timely! I am also in the midst of redoing my girls' bedroom. We moved into a new house last year and I was pg at the time and never bothered to really "do" their room (too tired & lazy! haha) But now I'm trying to pull it together. My girls are 3 and almost 5 and share a fairly small room (thank goodness for their walk in closet though!)

I'd been searching for some twin beds for them and was getting ready to buy some basic ones from a furniture shop (nothing fancy but still $130/ea). But then I stumbled upon THE cutest beds at our Habitat for Humanity Resale shop! At first I only saw one and thought it was cute but I really wished they had 2 since I wanted them to match. Then I saw this headboard peeking out from under the other bed - it was a second bed hidden under the first bed! So I got 2 ADORABLE antique beds for $50 total! I was so happy :) When I got home I saw that they were stamped Dec 12, 1939 (It was fate because my dd's bday is Dec 12!). I'm in the middle of painting & distressing them off white. I'll try to post pics when I'm all done - they are so cute! :)

So my other dilemma is Lauren's favorite color is pink and Chloe's is blue. So I've been searching allover for some pink/blue bedding combos and there's not a lot out there. But then I just found this fabric and fell in love - I've ordered samples and they'll be here in a few days ...
I just love that aqua blue pattern! And the other colors will give me so many options to accent with. Now I just need to find someone to sew some duvets...
Sorry to hijack - I love seeing everyone's rooms. It's so fun decorating for girls. Thanks for sharing your ideas, and I'll post our room once it's done (hopefully in the next 2 weeks)!
Christy
---
| | | |
| --- | --- | --- |
| RE: Any pics of young girls' bedrooms? | | |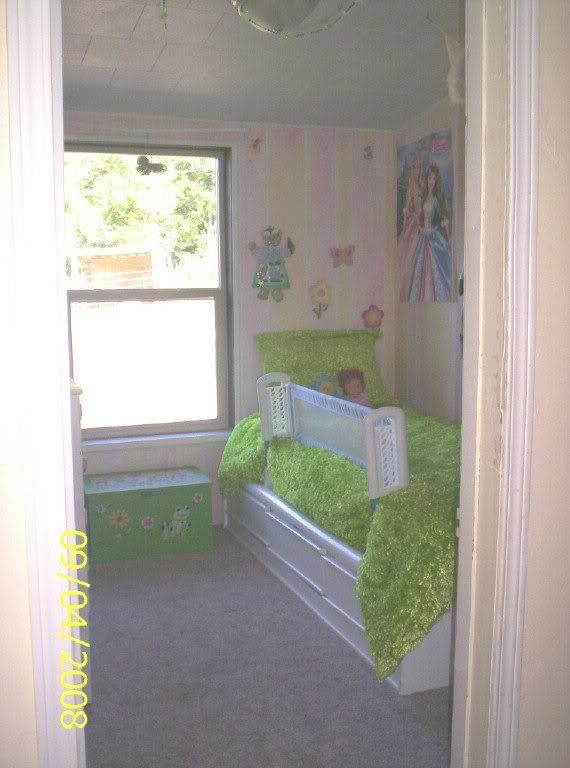 I don,t know how well it can be seen in this pic. but I painted the dark paneling white then washed the stripes in with watered down paint for a softer look. She is 4 and I just could not talk her out of the green comforter. I origenally put in a creamy white carpet but that only lasted about two minutes.
---
| | | |
| --- | --- | --- |
| RE: Any pics of young girls' bedrooms? | | |
I found a lot of pictures in this website
Here is a link that might be useful: Vesta Concept Store
---
| | | |
| --- | --- | --- |
| RE: Any pics of young girls' bedrooms? | | |
Very, very cute ideas. Did you all clean the room before the pics? LOL! I love zipdee's room. Colors are so fresh. I don't think I'm that energetic though.

But the one who mentioned that they'll change between 8 & 12, you're right. So I'll take that into consideration.
---
Post a Follow-Up
Please Note: Only registered members are able to post messages to this forum.
If you are a member, please log in.
If you aren't yet a member, join now!
---
Return to the Home Decorating Forum
Information about Posting
You must be logged in to post a message. Once you are logged in, a posting window will appear at the bottom of the messages. If you are not a member, please register for an account.
Please review our Rules of Play before posting.
Posting is a two-step process. Once you have composed your message, you will be taken to the preview page. You will then have a chance to review your post, make changes and upload photos.
After posting your message, you may need to refresh the forum page in order to see it.
Before posting copyrighted material, please read about Copyright and Fair Use.
We have a strict no-advertising policy!
If you would like to practice posting or uploading photos, please visit our Test forum.
If you need assistance, please Contact Us and we will be happy to help.

Learn more about in-text links on this page here