Return to the Home Decorating Forum
|
Post a Follow-Up
---
| | | |
| --- | --- | --- |
| Nice quality velvet upholstery source? Velvet knowledge? | | |
Posted by
jterrilynn
(
My Page
) on
Sun, Oct 16, 11 at 19:07
Can someone recommend how I would go about finding an online source for a more higher-end velvet upholstery fabric? I had no idea there was so much to know about buying velvet. I have read that something with an over 20,000 rub is luxy? I do know its better to see and feel it in person but would like an online starting place or any knowledge you have. I did go to my local fabric shop (joann) but everything looked so Elvis. I have two little tufted bench seats to recover and although I have put myself on a tight budget I can't bring myself to buy the Elvis stuff...please don't suggest microfiber-ish fabric. I think I may have to splurge a little.
---
Follow-Up Postings:
| | | |
| --- | --- | --- |
| RE: Nice quality velvet upholstery source? Velvet knowledge? | | |
Depending on the size of the town you live in, your local upholsterer may have high end fabric samples in their shop -ours does. Plus they can often order samples through the mail for you to check out even if they don't carry it in stock. The calico corners near us also carries very nice fabrics (Ralph lauren for example) and may be able to order others. Also an interior designer may also be able to order large samples for you to see. I think they would be fine to do so as long as you ordered through them.
---
| | | |
| --- | --- | --- |
| RE: Nice quality velvet upholstery source? Velvet knowledge? | | |
It has been my experience that all of the high end fabric is controlled by the "to the trade" cabal. And while I am a big fan of online, I don't imagine it is easy to sell high end fabric on line. People want to feel fabric and see it with their other choices.

Where do you live? In some areas there are design centers open to the public where you can look at most of the fabric lines. Failing that, why not google it and try to get some samples.
---
| | | |
| --- | --- | --- |
| RE: Nice quality velvet upholstery source? Velvet knowledge? | | |
I agree with Jenny. I live in a not so big town in the midwest and my upholsterer has a hole in the wall shop in a sketchy part of town. He has hundreds of fabric books in his shop. When the Kravet cut velvet I wanted was discontinued they called around for me and had a to the trade only sample from Highland Court sent out.

I recommend getting on a first name basis with a good upholsterer. They really know their stuff and can be very helpful.

If you are recovering it with more expensive fabric it may pay to hire it out. Gary always returns any leftover fabric to me when he's done. Typically there's only a couple of square feet left. I know from making my own box cushions that I have way more waste than that.
---
| | | |
| --- | --- | --- |
| RE: Nice quality velvet upholstery source? Velvet knowledge? | | |
I have ordered fabrics from these two online vendors. In the case of most of their fabrics, samples are available. Prices may not seem "low," but they are, compared to other sources for the same fabics. (I used a Bergamo tapestry on our kitchen counter stools and later saw the same fabric in a Barry Dixon project. And my late cat had a cushion covered in a spectacular, heavy, cream colored linen. LOL. I wish that I had purchased about 25 bolts of that stuff!)
Design Diva Fabrics
http://www.designdivafabrics.com/special-offer.php
I Luv Fabrix
http://www.iluvfabrix.com/
I have seen online complaints about these vendors, although I have never had a problem. I should mention that I haven't used the first for two years and the second for four. When I did order from these vendors, I was able to get better prices than I was from my upholsterer. I should mention that samples are an absolute necessity, as you already know. Colors, textures, and weights often look very different on my monitor than IRL.
---
| | | |
| --- | --- | --- |
| RE: Nice quality velvet upholstery source? Velvet knowledge? | | |
I've just ordered some velvet samples from Interiormall.com. They have loads of velvets on their website.

This company was recommended by someone on my "picking upholstery fabric" thread. I believe that someone was from that company though, but it was helpful. (so far)
---
| | | |
| --- | --- | --- |
| RE: Nice quality velvet upholstery source? Velvet knowledge? | | |
Thank you all (especially for the sites),

Boy was I ignorant about velvet fabric, thought I would just mossy on in a fabric store and find a color I liked. Why is there only crushed velvet? Ewww I don't like that! Since the housing crash the surviving design centers near have a very small boring limited selection. It seems most of the little designer fabric shops specialize in coastal and tropical. Now if I wanted to drive almost two hours south for my two yards of fabric choices would be plentiful as there are lots of places in or near Miami or probably Boca.
I'm going to try another little shop close but if I have no luck I will most likely order samples or the fabric online.

Did you ever try learning about velvet fabric? It's like a secret world or something or a guarded cult of velvet knowledge. I saw some truly beautiful velvet upholstered furniture on Houzz but did not find one mention of a particular makername/brand. When you try reading up on it so you have a bit of clue you come away with zip and only some knowledge of rubs. I guess I did learn something; the velvets with silk seem to be $125 a yard and up. I want to splurge a little but not that much. I would if I was doing it for myself but this is for my son. The little tufted benches I'm to upholster are where I'm planning on bringing in an accent color so it does need to look somewhat nice.

My wonderful wonderful upholsterer that I had for years has retired early. He did everything with true craftsmanship. His prices were low; he made his own hours and couldn't speak English well. He was a happy joyous man. Over the last few years word got out of his greatness in his craft. Once he became popular and was sought after by the decorators/designers and time lines and buried in work he became very unhappy.He nearly went mad finding employee's up to his standards to help with the load. So, I have no upholsterer but have been keeping my eyes and ears open. There are a few assembly line type upholstery shops in the book though. I can do small jobs myself (like the benches). I do plan on taking upholstery classes down the road.

My connections in the design world are non existent. I do not live in a very creative part of Florida. The few I have met around here are very standard. This is why I teach myself not only about products but also about install...and do the install as well. Don't get me wrong though, there are many lovely homes around here, lovely in the matchy matchy way.

It's always the little things...

---
| | | |
| --- | --- | --- |
| typo | | |
Correction from the typo queen...that would be Mosey on over to the fabric store. Not Moss-y!
---
| | | |
| --- | --- | --- |
| RE: Nice quality velvet upholstery source? Velvet knowledge? | | |
Velvet as an upholstery material is a lot trickier than using it as drapery material. It does get crushed, which is why you most often see examples of "pre-crushed velvet" used as upholstery. It's VERY pricy to get the good stuff. It was used a lot for furniture in the formal living room that no one ever sat in. For stuff that gets real life use, it's not such a great choice.

For a boy, I wouldn't personally do velvet. No how. No way. Too much money spent for something that will get Cheeto stains. Choose something cotton in a very fine print that gives the illusion of texture instead and that you won't feel bad about trying to spot clean and failing to get out the mud stains. Velvet CAN NOT be spot cleaned. It always shows the spot, even if you remove the stain, because it changes the fabric texture.
---
| | | |
| --- | --- | --- |
| RE: Nice quality velvet upholstery source? Velvet knowledge? | | |
Yum! I do a lot of reupholstering myself, for myself and others, and am a BIG fan of velvet. I'd do my whole house in velvet if it didn't make the place look like a Victorian brothel...

The best finds are mostly all online, unfortunately, so you have to rely on information about fabric content to tell you what kind of "hand" the fabric will have (= its thickness, weight, stretch and pliability), and tools like the Online Auction Color Chart to tell you what the color really looks like.

When you're searching:
If you want it to be super soft, look for pure cotton -- for better wear and tear, find cotton blends.

If you want it to be durable and have that great rich sheen without being too Elvis, look for mohair velvet.

For durability and a rich color depth, but without the sheen of mohair, get wool or a wool blend.

For toughness but monotone color and very little pile, get a "microfiber" fabric -- I don't really consider these true velvets, but the polyester can be soft and some folks love how easy they are to clean.

For lots of shine but less durability, and a slinkier more pliable fabric, get silk or a silk blend.

Avoid all rayon upholstery velvet - it wears terribly and can look cheap. Rayon is often marketed as "chenille" - avoid this fabric for furniture you're actually going to use. Crushed velvet for costumery (and what you found at Joanne's) is most often rayon.

Nylon is what makes upholstery fabric strong and wear-proof, but you don't want too much of it or the fabric becomes very stiff and scratchy -- think nubby fabrics from the mid-century era. My guy made me reupholster a gorgeous orange-nylon-upholstered sofa from 1962, because it was so rough and scratchy to bare skin that we avoided sitting on it. It's now happy in mohair velvet. :-)

Kravet, DuraLee, Knoll, Maharam, JB Martin, etc -- all the major brands -- have big velvet selections. Robert Allen quality is varying but often quite nice, and easier to find for the average consumer.

My recommendation: I've purchased dozens of different high end velvets over the past few years, virtually all from two places: certain sellers on eBay and the web site fabricguru.com. The eBay guys are great, they are in Michigan or North Carolina and purchase remnants and overstock from the big furniture factories.

designerfabrics*rr (great deals, I comb through his new listings every week): all this week's listings

silverstone fabrics (more expensive, but always lots of mohair): Silverstone Fabrics listings

FabricGuru.com -- super shipping, prompt service and very friendly. Great fabrics and excellent deals.

Hope that helps -- give me a holler if I can offer any more input. Happy hunting!
---
| | | |
| --- | --- | --- |
| RE: Nice quality velvet upholstery source? Velvet knowledge? | | |
Live wire oak, thank you, I do need to be reminded of staining.

Circuspeanut, I can't thank you enough for all this information. Have you ever though of starting a blog with velvet/fabrics info? I can't be the only one that would really appreciate your knowledge. I haven't gone through all the sites you listed yet but was wondering what you thought of the Travers epingle velvet (ebay site) for small tufted benches? Live Oak gave me a good reminder on the clean ability or lack of with good velvet. The epingle on there now is more yardage than I need but I'm thinking maybe I should keep an eye on this type? It says it's stain resistant. However, will I then be giving up a lot of wow factor? The site did not mention what blend the fabric is. Microfiber makes my skin crawl so I'm not interested in that sort of blend. What do you know about epingle?
---
| | | |
| --- | --- | --- |
| RE: Nice quality velvet upholstery source? Velvet knowledge? | | |
circuspeanut -- what a gift of a post! Thank you for sharing all that information -- fascinating, useful. Because of you I now have informed leads on fabric. Thank you!
---
| | | |
| --- | --- | --- |
| RE: Nice quality velvet upholstery source? Velvet knowledge? | | |
I can vouch for one of circuspeanut's sources. I've bought a lot of fabric from designerfabrics*rr (ebay) over the last several years and they are really great sellers. My experience has been so good that I don't buy from anyone else. I just wait until they have something that will work for me.
Here is a link that might be useful: designerfabrics*rr
---
| | | |
| --- | --- | --- |
| RE: Nice quality velvet upholstery source? Velvet knowledge? | | |
Circuspeanut, I think I can mostly count out Epingle velvet, or at least the Epingle that I love. I've been reading up on it and think the one I saw on ebay that said "stain free" must have been made of plastic. The good stuff can cost hundreds or thousands for a few yards. Guess I'm back to square one...every little thing I do takes soooooooooooooo much time. These are little ole habitat re-homing stools, who knew they would torment me so. Stupid stools...I'm going to read my book.
---
| | | |
| --- | --- | --- |
| RE: Nice quality velvet upholstery source? Velvet knowledge? | | |
I am on the verge of giving up, myself. I received my velvet samples today and they are about 3" x 5". Not very helpful. I was expecting ones 3 times that size.

Also I need at least 15 yards for my wing chairs and I can't find any bargains for that much. I really want to keep it under $30/yd. And I am petrified of making the wrong decision, not that anyone would care but me. Blue is not a very popular color. Maybe I should take that as a sign?

The 100% cotton one seems so much heavier than the cotton poly blend (that's a better color and has a higher "rub" rating.

Sorry to burst in this thread only to whine. I've started 3 threads about this project already! And I'm not getting anywhere :(

Commiserations,
Maureen
---
| | | |
| --- | --- | --- |
| RE: Nice quality velvet upholstery source? Velvet knowledge? | | |
Thanks all! Glad to help out. I'm just a fabric nerd, not sure it's all that blog-worthy, but I'm flattered by the interest.

OK. More on velvet/epingle: all fabric is made of many tiny woven loops. Velvet is made with longer loops, then they are sheared; the bed of resulting fibers is called the "pile" -- soft and can be bent one way or another under your hand (think shag carpet in miniature). It will have a rich deep sheen when you hold the fabric and look at it from one direction, and not from the other - this direction is called the "nap". Nap becomes very important for larger pieces like sofas - you want to design the cover so that the nap runs in the same direction on each part of the piece, or else it will look like the fabric changes color randomly (and not in a good way). This won't be an issue with a simple square or rectangular ottoman, unless it has a very obvious front side.

Epingle is velvet fabric that retains some loops unsheared, creating interesting patterns and textures. It's often very geometric. The real stuff takes a special loom which makes it really expensive. The good stuff is still pretty good; the bad stuff is horrid. Jterrilynn, most commercial upholstery fabrics are treated with stain repellent, thus the "stain free" label -- it doesn't necessarily mean it's cheap or plastic.

It gets harder when you want fabric that isn't treated with stain repellent, and I'm always on the lookout for general health reasons (cats, for instance, have been found to carry extremely heavy loads of these toxic chemicals, because they are perpetually sitting on soft treated fabric, then grooming themselves).

Jterrilynn, if you're doing tufts, I'd probably recommend staying away from any designs that are regular or linear; it can be difficult to calculate the folds exactly, and some furniture is not exactly proportioned, which could result in the pattern looking crooked. You might do better with a solid or generally textured velvet for your first try?

And what the heck, a few photos, although velvet is really hard to capture:
Here's some silk velvet I haven't found a use for yet:

Cotton/blend velvet is classic and a great all-purpose fabric. Definitely go for a higher end maker - I've made pillows of the cotton upholstery velvet Joanne's sells, and it's not nearly as thick or durable. Cotton is a little duller to the hand than silk. This is a chair I just did in 100% cotton velvet:
Wool velvet is thick and I find it scratchy, although it can be dyed in breathtaking colors and is insanely durable. I have thick insulating curtains made out of it; think Grandmother's winter swing coat:
Mohair's a little shinier than regular wool, depending on the type, but still thicker and stiffer than cotton, and not as shiny as silk; it's got the same sheen as a healthy animal's pelt. In fact, here's a beast on his favorite mohair velvet hummock:

Same beast, same mohair velvet, different chair:

---
| | | |
| --- | --- | --- |
| blue velvet | | |
Maureen, I've had this thread sitting there and didn't see your note - what shade of blue are you looking for?
---
| | | |
| --- | --- | --- |
| RE: Nice quality velvet upholstery source? Velvet knowledge? | | |
Hi Circuspeanut - I'm looking for a medium lapis/indigo color. I like the color of Toulouse Lapis (I think it's made by JB Martin but I'm not positive). It's 65% cotton / 35% poly, 250,000 double rubs, 16oz a yard - but it feels thin to me.

My cats do not care for these chairs but may change their minds when they're covered in velvet. Do velvets attract alot of hair?

jterrilynn - sorry for the hijack. I'll be back later
---
| | | |
| --- | --- | --- |
| RE: Nice quality velvet upholstery source? Velvet knowledge? | | |
Some designers claim linen velvet withstands wear and tear more successfully than other kinds. I have absolutely no idea whatsoever whether this is true, but I do know that several House Beautiful articles have included linen velvet covered pieces.
---
| | | |
| --- | --- | --- |
| RE: Nice quality velvet upholstery source? Velvet knowledge? | | |
Circuspeanut, I really thank you so much for taking all this time. The silk velvet looks very luxurious, and you say that if I get a commercial type of silk velvet it will be treated? I will keep a close eye on ebay for that. I now know I can eliminate wool velvet, don't want to sit on scratchy. I'm suddenly feeling inspired and encouraged.

Maureen please do not feel you are highjacking! This is a learning thread to be shared by all. Please feel free to ask or share what you know.
---
| | | |
| --- | --- | --- |
| RE: Nice quality velvet upholstery source? Velvet knowledge? | | |
A lot of upholstery velvet now contains viscose. Do not buy. Any liquid, even a splash of water, makes a permanent mark because the nap cannot be recombed to lie correctly.
---
| | | |
| --- | --- | --- |
| RE: Nice quality velvet upholstery source? Velvet knowledge? | | |
Exactly, Marcolo. Viscose = rayon. It also wears pretty badly, as I found in a series of chenille sofas that went bald before their time.
caveat: I've had cotton/rayon blends that wear just fine, as long as they are mainly cotton. Rayon is often added to cotton for extra sheen.

Jterrilynn, most upholstery fabric is pre-treated by the manufacturer -- this is definitely true of any fabric "sold to the trade" as most of the eBay remnants are, in order to pass federal law for upholstered products. It's a necessary evil and a tradeoff for stain resistance. I just wanted to mention it as a factor I'm more cognizant of now that I have cats in the house. Go for the silk if you find a good piece!

Mmmm, linen. Linen is also a great velvet, but depending on the manufacturer, I've found some of the pieces I've gotten to be a little loose/floppy, as in not woven quite tightly enough for the rigors of upholstering. But it's so gorgeous, with a deep pile and a lovely hand. Linen wears quite well as regular woven upholstery fabric, so I imagine linen as velvet does the same. It does stain and wrinkle easily, though. How many of those white Belgian linen sofas has Restoration Hardware actually sold..?

If you do get a spot on your velvet, which is really inevitable unless you live in a museum or use charming plastic sofa covers, you can always try a fabric steamer (or even a steam iron) to get the nap running the right way again after cleaning it. This has always worked for me; just be careful and use a towel between steam and velvet. Alternately, if it's relatively small, you can clean the entire piece in order to minimize the spot you've gotten wet. There are fabric cleaners that don't contain water (based on benzene or similar?) so they carry less spotting danger, ostensibly, but I find them a bit scary so haven't tried them.
---
| | | |
| --- | --- | --- |
| RE: Nice quality velvet upholstery source? Velvet knowledge? | | |
I have to apologize -- the photo I showed above of orange velvet is actually LINEN velvet, not silk. Doh!

A wee gallery.
Here is silk velvet in a similar color:

This was the linen:

Here's a cotton blend:

Pure cotton:

Cotton velveteen, which has a very low pile, almost like a brushed denim:

Mohair:

Alpaca wool:


I couldn't find a great image of alpaca wool fabric. At any rate, it looks a lot like this:
Rayon (viscose):

Rayon (viscose) chenille:

Microfiber:

---

Maureen, blue is definitely more difficult to find since it doesn't appear to have been trendy these past few years. Keep at it, though -- I had the same issue with my orange; it took me a long time but I finally found the perfect shade. Keep an eye on fabricguru.com's velvet listings, they often have larger yardage.
---
| | | |
| --- | --- | --- |
| RE: Nice quality velvet upholstery source? Velvet knowledge? | | |
Hi CP, thanks for clearing up the linen velvet picture. I do like the looks of that combination very much. Still like the silk/velvet too. I'm going to have to remain open though to get the colors wanted in a small yardage and a good price. I'll just stay away from the pesty rayon and viscose.
---
| | | |
| --- | --- | --- |
| RE: Nice quality velvet upholstery source? Velvet knowledge? | | |
Great photos circus peanut - It is good to see that all velvet has a drape and I shouldn't expect it to feel as stiff as other upholstery fabrics.

One chair is already at the upholsterers. I want to either pick this indigo fabric or just bring the chair home and forget about it. Now I am even wondering how much I like these chairs anyway. Crazy huh?

Jterrilynn - Thanks. I think with stools I would be much more adventurous. Especially as you are DIY. Are these for your son's house? My teenaged sons won't even let me pick out a t-shirt for them!
---
| | | |
| --- | --- | --- |
| RE: Nice quality velvet upholstery source? Velvet knowledge? | | |
Maureen, amazingly my difficult baby and tot grew up well. In his pre-school and early elementary days I had to buy him all wrinkle free school clothing and make him bath and dress (in his school cloths) the night before to bypass the morning fits on clothing selection. When he got to be a teen the one thing that brought us closer together was redecorating his room. We did this a few times and Mr. picky was always happy with how it all came out. It was fun for me to because I could get bold and use sometimes unusual color combinations not used in the rest of the house.

Circuspeanut, I hope I have been a good grasshopper and bought the right thing. I bought this Silverstone Netherlands Dutch Mohair. It's 100% mohair upholstery fabric with I believe a cotton back. Its a steamer so it was very inexpensive at $25 a yd. Maybe I did a bit of a gamble on a piece that will need parts steamed for wrinkles but I have a steamer and there will be just enough fabric leftover incase I screw one of the little tufted bench seats up. I did save the fabric I took off for a template; I think if I take my time I'll be able to get it right. The key word here is time; everything I do takes soooooooooooo much time.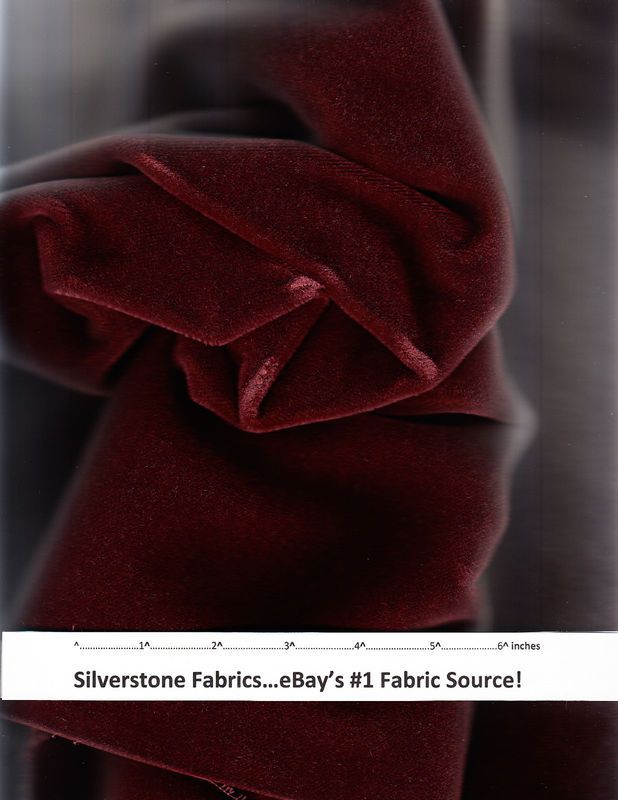 ---
Post a Follow-Up
Please Note: Only registered members are able to post messages to this forum.
If you are a member, please log in.
If you aren't yet a member, join now!
---
Return to the Home Decorating Forum
Information about Posting
You must be logged in to post a message. Once you are logged in, a posting window will appear at the bottom of the messages. If you are not a member, please register for an account.
Posting is a two-step process. Once you have composed your message, you will be taken to the preview page. You will then have a chance to review your post, make changes and upload photos.
After posting your message, you may need to refresh the forum page in order to see it.
Before posting copyrighted material, please read about Copyright and Fair Use.
We have a strict no-advertising policy!
If you would like to practice posting or uploading photos, please visit our Test forum.
If you need assistance, please Contact Us and we will be happy to help.

Learn more about in-text links on this page here