Return to the Home Decorating Forum
|
Post a Follow-Up
---
| | | |
| --- | --- | --- |
| Help with 1940's/1950's bedroom decor ideas? | | |
Posted by
jnh896
(
My Page
) on
Thu, Oct 21, 10 at 18:36
Hello,
I have my grandparents bedroom set in our guest room - a mirrored vanity with bench, chest of drawers, and poster bed. I believe it is the "waterfall" style of furniture. I love the furniture for sentimental reasons, but I've had a hard time decorating the room and feel that it looks "old lady." I would like to be true to the era of the furniture, but also a little funky and I don't mind kitsch. I've looked online and haven't found too many ideas for bedrooms (mostly ideas for vintage kitchens.) Unfortunately, I don't like chintz or cabbage rose type floral patterns, which seems to be the style of the 1940's that I keep seeing online, nor do I want a chenille bedspread. I would lean more to a MCM style, but I think the furniture is too ornate to be considered MCM. Maybe I can go Art Deco or Hollywood Regency? I've got a variety of other collectibles that I can add in (Fire King dishes, Manhattan glass, Lady Vase Heads, vintage hats, etc.)but I just can't quite bring it all together.

Can anyone help me with ideas for the appropriate style or color palette? Would a picture of the furniture help? Thank you!!
---
Follow-Up Postings:
| | | |
| --- | --- | --- |
| RE: Help with 1940's/1950's bedroom decor ideas? | | |
Do you like bark cloth? How about large scale plaids?

If you look at period decorating books both of these seemed to be pretty popular. The plaid in particular was interesting because when the curtains were open, they read as a horizontal stripe.
---
| | | |
| --- | --- | --- |
| RE: Help with 1940's/1950's bedroom decor ideas? | | |
I found this old ad for waterfall furniture.

It looks like a chenille bedspread in the picture. Maybe you could get a vintage one. You could even dye one a funky color that would look nice with the color of wood.
In any case, it's a fun ad to see/
---
| | | |
| --- | --- | --- |
| RE: Help with 1940's/1950's bedroom decor ideas? | | |
It could just be that you don't like the styles of the period when the furniture was made. Nothing wrong with that--most of us don't like some period of interior design.

What I would do is look at the colors that were popular at the time and use them, just not in prints if you don't like prints. Depending on the color of the furniture, it might look nice against turquoise walls, for example, with a yellow or orange quilt on the bed.

I think if you try to match the style of the period with your walls and curtains and accessories, you're going to end up in "old lady land." So I wouldn't try. I'd look at the furniture objectively and find colors that go well with it. Maybe some of the retro prints that I'm seeing a lot of right now would work for curtains and pillows on the bed.

Mix things up a little. In real life, someone bought that bedroom set in the 1940s, but used it during the 50s, 60s, 70s, 80s and 90s. At some point, they bought new bedding in a current style and repainted or rewallpapered in a new, current color/pattern. I love the look of a room that seems to have grown together over time, with bits of furniture and accessories from different eras, rather than one that looks like someone walked into the furniture store and said, "I'll have that and that and that and that."
---
| | | |
| --- | --- | --- |
| RE: Help with 1940's/1950's bedroom decor ideas? | | |
I actually saw a little bit of kitshy art deco/mid century modern in Rue's online magazine. You might want to fast forward to page 70 and look through the remaining pages.
Here is a link that might be useful: Rue magazine
---
| | | |
| --- | --- | --- |
| RE: Help with 1940's/1950's bedroom decor ideas? | | |
I have my parent's 40ish bedroom set and I got a nice quilted bedspread. Mine is patterned and got it from Horchow. I see they have some solid ones.
Here is a link that might be useful: quilts
---
| | | |
| --- | --- | --- |
| RE: Help with 1940's/1950's bedroom decor ideas? | | |
Hi Jnh896.

You must be new around here or you'd already know that we always want to see pictures. They don't need to be artistic masterpieces, just clear enough so we can see what we're talking about, which, at this point, I'm a little unclear on.

You say your furniture might be waterfall style, but that's more of a 193O & early 1940s style--not 1950s--and besides, I've never seen a waterfall-style set that had a poster bed. Those styling features were sort of at opposite ends of the decorating spectrum: traditional & fussy on one hand and sleek & streamlined on the other. So that's one thing throwing me for a loop, which is why a picture will definitely help us to help you.

The other thing is that you say you're not really happy with the old-ladyish vibe that's been going on so far. Now, I don't necessarily think that the descriptve term 'old-lady'--as applied to decor, anywa--is always a bad thing. Basically, I guess, it depends on which lady we're talking about. Either way, though, if you want to avoid the old-lady look, then the last thing you'll want to do is accessorize your room with kitchenware, lady-head vases & vintage hats.

The good news, though, is that there were not only plenty of non-gender-specific rooms in the period--whichever one that is, which we'll know once we see your furniture--there were also plenty of masculine rooms & even more lovely feminine rooms. Not every lady was old, even back then. Somewhere in there, there's a look that's got your name written all oevr it.

So post some pics & we'll have at it.
---
| | | |
| --- | --- | --- |
| RE: Help with 1940's/1950's bedroom decor ideas? | | |
Without seeing pictures, I can offer an idea for a direction: To step away from the current frustrations you are having with the old lady look -change the "location." Make it look like a world traveler in the 1930's decor. Bring in some Egyptian, Moroccan, Indian or asian stuff. Or give the room an old fashioned caribbean look. How about Key West? -decorate it like Ernest Hemingway would have done, more masculine than feminine.

Have I got any brain juices going?
---
| | | |
| --- | --- | --- |
| RE: Help with 1940's/1950's bedroom decor ideas? | | |
Vampiress and Dainaadele have great ideas with the quilted or matelasse bedspread and the updated Hemmingway tropical decor. You could go with greens and yellows and splashes of red and it would be more old world Key Westy with a tropical plant or fabric with the large tropical prints. I can see book cases and more masculine accessories, too, to tone down the old lady look. How funky is a little funky?
---
| | | |
| --- | --- | --- |
| RE: Help with 1940's/1950's bedroom decor ideas? | | |
I would love to see pictures as well, we are visual people here.
---
| | | |
| --- | --- | --- |
| RE: Help with 1940's/1950's bedroom decor ideas? | | |
Then again, although the well-intentioned suggestion to go for more of a "masculine" "Hemingway"-style decor sounds like a good option, that could turn out to be a false lead, since a little bit of study reveals that Hemingway's own real-life tropical decor--as opposed to what clever marketers have tried to get us to think it was--tended more than a bit toward the old-ladyish sytle.

At least, that's how some people might decribe a room that features powder blue walls, a pale oriental rug, a peachy Post-Victorian sofa and a girly chandelier that seems better suited for a tiny boudoir than the living room of the Carribean retreat of Mr. Macho Man himself. What can I say? Life's full of surprises.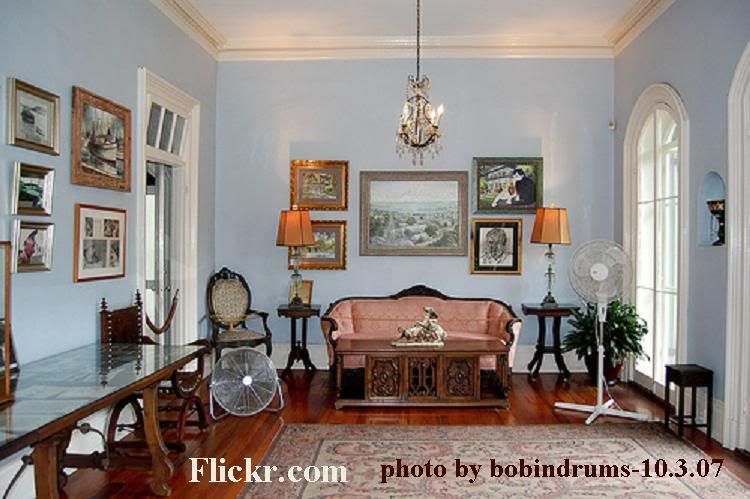 ---
| | | |
| --- | --- | --- |
| RE: Help with 1940's/1950's bedroom decor ideas? | | |
A vote for the classic candlewick or even a chenille bedspread (check on sources like ebay or etsy). With a folded satin comforter at the end of the bed.

Then add some movie posters from the era -- great colors and graphics! Maybe look for an old record player -- and add a stack of cool records!
Here is a link that might be useful: example of white candlewick bedspread
---
| | | |
| --- | --- | --- |
| RE: Help with 1940's/1950's bedroom decor ideas? | | |
The room below doesn't have waterfall furniture but does have poster beds, it's of the period, with it's brown-&-beige scheme has a non-girly feel & also has both the simple cotton candlewick bedspread & the satin comforter that that Teacats mentioned. The wonderful paintings, done for House & Garden magazine three quarters of a century ago, are by Pierre Brissaud. When trying to channel the spirit of an earlier era, it's best to go straight to period sources, not rely on contemporary attempts at the style.

Regards,
Magnaverde.
---
| | | |
| --- | --- | --- |
| RE: Help with 1940's/1950's bedroom decor ideas? | | |
I think waterfall-style bedroom furniture is really pretty. Please share a photo of the furniture and the room--don't be shy :-)

Personally I think you could avoid "old lady" by pairing the furniture w/more masculine colors (paint, bedding etc).
---
| | | |
| --- | --- | --- |
| RE: Help with 1940's/1950's bedroom decor ideas? | | |
Hi everyone,
Thanks for all the thoughtful replies. I have mostly been a lurker so I will try to conquer my fear of posting pictures.

I guess I do contradict myself in saying that I have antiques and collectibles, but don't want to look "old lady." There was a thread here recently about what exactly the definition of "old lady decorating" is and the reply that stuck out to me was that it's decorating once and never changing it. I grew up next door to my grandparents and their house never changed in the 25 years that I knew them. LOL. So, even though I really like this furniture and want to pay tribute to them, I don't want the room to look stale. I also don't want to try to make it something that it's not.

Thanks again and I will talk to y'all tomorrow.
---
| | | |
| --- | --- | --- |
| RE: Help with 1940's/1950's bedroom decor ideas? | | |
I think that if that were my furniture to decorate with,I would go with a bit of what I will call Funky California/South Beach type of style.

I picture a bedspread in quilted white soft cotton, in a diamond pattern, with a wide 3 inch ribbon frame on the top in a amethyst purple satin ribbon with black topstiching. A shiny silvery glass lamp, and danish MCM side chair painted white with grey wool seat cushion, and a throw pillow on the bed in a mod print like marimekko print (check out crate and barrel)
---
| | | |
| --- | --- | --- |
| RE: Help with 1940's/1950's bedroom decor ideas? | | |
A friend inherited her mom's stuff & took a very Art Deco looking bedroom set with large round mirror, rounded edges on the furniture & added a cartoon character from a movie from within the last 5 years. A witch or other female with crazy hat & attitude, She painted the character on the wall & had it cover whole area over headboard & going on past. Should have been a nightmare but it was brightly colored & really perfect for the room. I took pics but they are lost in my computer. Cartoon character had odd name & seemed like she was into big feathered hat. Think her name started with R or Z don't think she was the main character but maybe, I don't watch any of that stuff. But point is she took Art Deco furniture & put it with modern cartoon & really had a winner. Everyone at the shower had to come & see her guest room. Everyone loved it. I'll see if DD remembers the cartoon.
---
| | | |
| --- | --- | --- |
| RE: Help with 1940's/1950's bedroom decor ideas? | | |
One of my friends just got a divorce and moved into her own house. She was so excited about picking up a whole set of matching waterfall bedroom furniture at a flea market. I must admit, I was sketpical -- my experience with waterfall has been a lot like everyone elses here, it seems - old lady-ish, chenille, the whole bit.

She moved it into her bedroom (a blank white box in a newly constructed townhome) and kept the accessories sleek and minimal -- she has a simple satin-y coverlet, some solid colored floor length drapes, and that's about it. Since there's nothing else to distract your eye (unlike some of those wallpaper patterns in the ads above - eeks!), the furniture has really become the focal point in the room. You really notice the lines and the beautiful inlays and hardware. Her lamps and dresser accessories lean toward vintage glamor -- a vintage dresser, silver hand mirror, crystal perfume bottle -- she even has some vintage makeup containers from the 40s that she's scattered here and there on the vanity. The room is vintage without being dated, glamorous without being over the top, and basically very much suits a midlife woman moving on with the rest of her life instead of screaming "granny furniture". Like I said, I was skeptical, but I'm a convert.....just keep the lines simple and let the furniture do the talking.
---
| | | |
| --- | --- | --- |
| Inland homes | | |
Every body get a new home facility Please in our site and get a new service.Click this link [url=http://www.modularhomes.org/Alaska]Alaska Modular Homes[/url]
Here is a link that might be useful: Alaska Modular Homes
---
| | | |
| --- | --- | --- |
| RE: Help with 1940's/1950's bedroom decor ideas? | | |
Well, I can't find my camera *and* my post got spammed! Guess a misplaced camera will force me to clean up the office. :)
---
Post a Follow-Up
Please Note: Only registered members are able to post messages to this forum.
If you are a member, please log in.
If you aren't yet a member, join now!
---
Return to the Home Decorating Forum
Information about Posting
You must be logged in to post a message. Once you are logged in, a posting window will appear at the bottom of the messages. If you are not a member, please register for an account.
Please review our Rules of Play before posting.
Posting is a two-step process. Once you have composed your message, you will be taken to the preview page. You will then have a chance to review your post, make changes and upload photos.
After posting your message, you may need to refresh the forum page in order to see it.
Before posting copyrighted material, please read about Copyright and Fair Use.
We have a strict no-advertising policy!
If you would like to practice posting or uploading photos, please visit our Test forum.
If you need assistance, please Contact Us and we will be happy to help.

Learn more about in-text links on this page here