Return to the Home Decorating & Design Forum
|
Post a Follow-Up
---
| | | |
| --- | --- | --- |
| Can you help me decide - pics included | | |
Posted by
msannie48
(
My Page
) on
Mon, Oct 29, 12 at 17:39
I have not posted here in a long time but would really like to get some input on painting and arranging my living room.
I lost my husband last year and feel like I really need a change.

The walls are presently SW Whole Wheat. The room is supposed to be a living and dining area, but I have a large table in my kitchen so have not set up a dining area. My home is a duplex so there are only windows on one side.
At this time I want to keep the Sofa, Love Seat, Leather chair and the valance part of the Window treatments, I have never been crazy about the draperies and have wondering if just changing them instead of painting would make a big enough change - I also need new carpeting.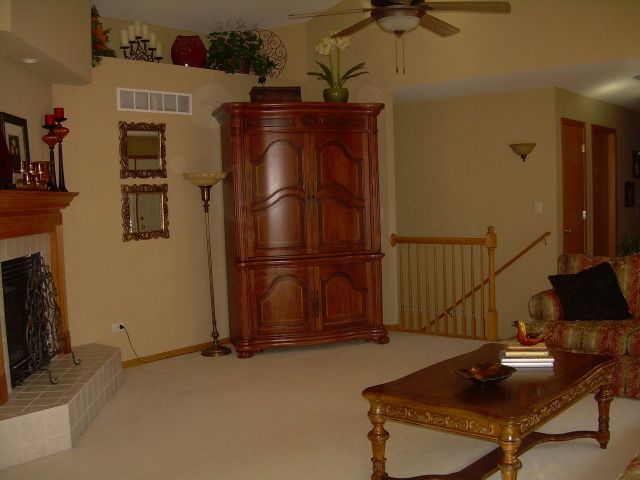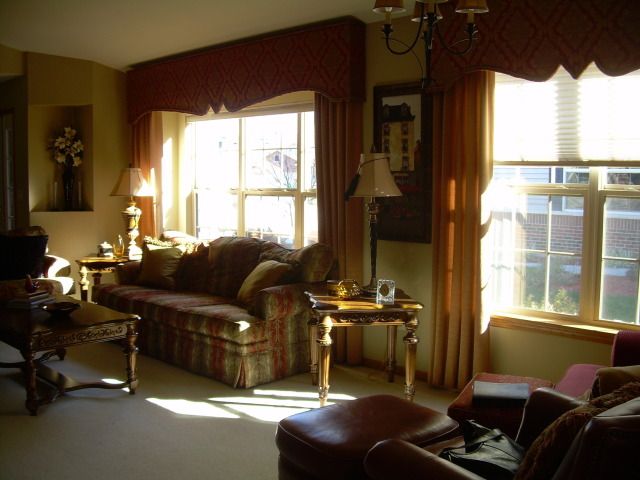 ---
Follow-Up Postings:
| | | |
| --- | --- | --- |
| RE: Can you help me decide - pics included | | |
MsAnnie.. I so get the need for change-- especially after you've been through something big. I think changing the wall color is a great idea! I immediately thought a yellow/gold would brighten things up without changing the "feel" of the room too much-- but in one of the photos, I saw a close up of your sofa and wasnt sure how well it would work. It's so hard to tell with photos.

I also think a sage green would work well. I know it's a color you see everywhere, but it is one of my "comfort colors". I just always feel good when wearing or seeing the various gray-greens and gold-greens.

What colors make you feel good? Warm or cool?
---
| | | |
| --- | --- | --- |
| RE: Can you help me decide - pics included | | |
Msannie, I just wanted to tell you what a lovely home you have! One little suggestion might be to move the chairs~~place one in front of the window, remove the table next to the sofa and angle it in the corner, place the other chair on the other side of the table. This would create a cozy little reading corner, with the hanging light finishing it off nicely. The lamp wouldn't be necessary, but maybe you could use it in a bedroom/guestroom.

It's hard to tell the placement of the sofa, but you might need to move it down slightly to accommodate this arrangement.
---
| | | |
| --- | --- | --- |
| RE: Can you help me decide - pics included | | |
Just this morning, I thought possibly of a green. I have SW Harmonic Tan in the kitchen, which looks green in there and yet looks almost the same color as the Whole wheat when they come together in the opeing between the rooms. I always like it. I have a gray green in the bedroom which I like as well and I have BJ Baby Turtle in the Hall bathroom. I like them all but was thinking maybe it would be too much green. I like the way the gray green or brown green goes with the oak wood better than with the Gold colors. - Think I like "warm colors" but am not opposed to "cool".
---
| | | |
| --- | --- | --- |
| RE: Can you help me decide - pics included | | |
I am seriously considering painting my entire house green-- all except the bedrooms. Like I said, it is my comfort color and a great backdrop for all the other colors I love. My plan is to use the green for continuity and visual flow but to use the decor and furnishings in each room to develop distinct spaces and characters.

My new home will be small.. so I think this will work well for me. I can't see enough of your other rooms but my first reaction is that you should use the colors you love-- and clearly green works for you!

I love BM baby turtle and have considered giving it a try in my home.. do you have any left to try on a sample board?
---
| | | |
| --- | --- | --- |
| RE: Can you help me decide - pics included | | |
funkyart, that is a good idea. I think I will try a sample board of the Baby Turtle, It would really be different in there. It does look well with reds and gold because that is what I have in the hall bath. The Sofas are a Burnt red color with gold and hints of taupe and black.
---
| | | |
| --- | --- | --- |
| RE: Can you help me decide - pics included | | |
Oh yes.. do give it a try. One of the things about BT is that it changes character in different lighting so while it's the same color, it will likely read differently in each room.

The other thing I like about it for you is that it's on the warm side of green-- and I can now see that you really tend to the warm throughout the house.

Give the sample board a try and then go from there!
---
| | | |
| --- | --- | --- |
| RE: Can you help me decide - pics included | | |
I agree with the baby turtle. i had in in my last house in the MB with golds and reds. Such a great color!
---
| | | |
| --- | --- | --- |
| RE: Can you help me decide - pics included | | |
Thanks so much for all advice.

Patty cakes, I tried the chair arrangement but it didn't seem to work too well. I am really up for suggestions on that end of the room. I just recently put those chairs there, just to experiment. There is actually a pleasant view out of the window sitting in one of those chairs. I did have the leather chair between the fireplace and the Amoire.

I have considered buying a twin set of smaller chairs or moving the Bombe Chest over to that wall with some skirted Parsons chairs on either side.

This room is very difficult because of the angled fireplace and the long, one sided effect.

I would welcome any suggestions.
---
| | | |
| --- | --- | --- |
| RE: Can you help me decide - pics included | | |
First...I'm so sorry about your loss~

You have great taste and a lovely, formal home.
What about making it more casual for a different feel?
If you remove the cornice and add more casual pillow covers- say stripes or ikat maybe, I think the room might look very different.
What about working with the angled FP?
Can you move the couch opposite it and place a chair on either side? Could the tv armoire go where the 2 chairs currently are?
What about a 5x8 simple area rug as well?
As one who enjoys switching my rooms around, I get the need for change! :)
---
Post a Follow-Up
Please Note: Only registered members are able to post messages to this forum.
If you are a member, please log in.
If you aren't yet a member, join now!
---
Return to the Home Decorating & Design Forum
Information about Posting
You must be logged in to post a message. Once you are logged in, a posting window will appear at the bottom of the messages. If you are not a member, please register for an account.
Please review our Rules of Play before posting.
Posting is a two-step process. Once you have composed your message, you will be taken to the preview page. You will then have a chance to review your post, make changes and upload photos.
After posting your message, you may need to refresh the forum page in order to see it.
Before posting copyrighted material, please read about Copyright and Fair Use.
We have a strict no-advertising policy!
If you would like to practice posting or uploading photos, please visit our Test forum.
If you need assistance, please Contact Us and we will be happy to help.

Learn more about in-text links on this page here