Return to the Home Decorating & Design Forum
|
Post a Follow-Up
---
| | | |
| --- | --- | --- |
| Help Pep up the Dining Room | | |
Posted by
BergiesGirl
(
My Page
) on
Wed, Oct 16, 13 at 17:29
Sorry my camera phone lighting is awful, the wall color is neither pink nor blue/green, it's actually light French grey which is actually a very light true grey. The table, the bench and painting have to stay, everything else is flexible. We need chairs for the head of the table, the chandelier has to go, not sure if a simple drum would be the right way to go.

We wanted to add a console table and place the mirror that is laying on the wall above it, or we could go with a piece of art with some color. I know I have a lot of darker woods, but didn't know If a grey/white wood tone would work. Any ideas are appreciated, it's just so blah right now. Our house I an 80's ranch, but it so wants to be a contemporary cottage :)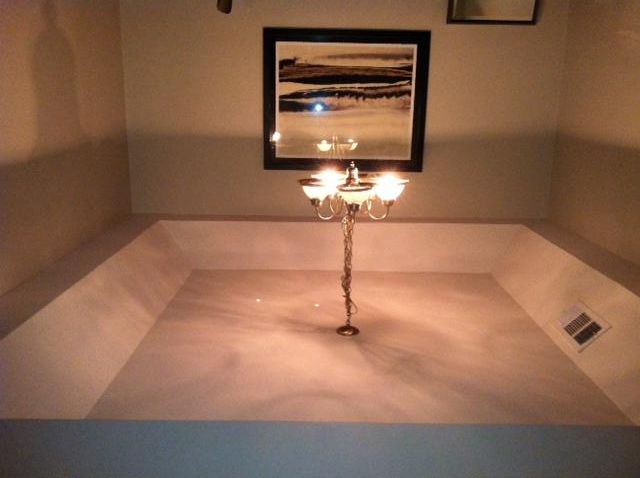 The console table we would like to add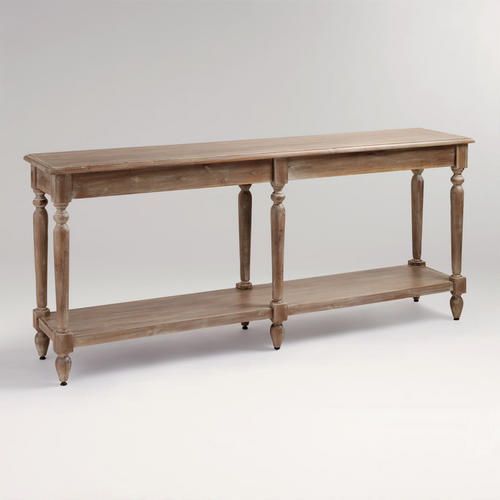 I was living for this chandelier and DH liked it too, but C&B no longer carries it. Anyone else carry this?

We were going to buy these for the eat in kitchen, not sure if they work better than the chairs we have now for the formal.
---
Follow-Up Postings:
| | | |
| --- | --- | --- |
| RE: Help Pep up the Dining Room | | |
Why do you want to keep the bench? I like your table and I like the sofa table you picked, but not together. Is the rest of your house modern, or a mix?

I like the style of the chair you picked, but that particular one looks uncomfortable. The seat is really flat and that nail head or wood button on the cross piece would hit right in my spine.
---
| | | |
| --- | --- | --- |
| RE: Help Pep up the Dining Room | | |
Thanks Marti8a maybe I should keep looking for another table, do you think metal and glass would work better. The chairs are actually pretty comfortable, the nailhead in the middle is actually farther behind than it looks so your back doesn't touch it. We sat in them at World Market and even the hubby was good, as for the metal tub chairs I also had my eye on those we're so uncomfortable. I think they go with the sofa table so they are probably better off in the eat in.

The bench has to stay because we really want to get away with only buying 2 arm chairs, for now. If we got rid of bench, the chairs that are there would go to eat in table and we would want at least 6 material covered chairs and 2 arm chairs. That would come out of my kitchen budget, and you haven't seen our wallpapered horror, the kitchen needs it.

I lean contemporary casual and I love to add vintage pieces and DH leans traditional, so we are a mix.
---
| | | |
| --- | --- | --- |
| RE: Help Pep up the Dining Room | | |
I think everything you have planned will look great together. The table is what is not jiving with the other pieces. What is your budget for a table? I also think that a rug would warm it up, thus speaking to your husbands traditional taste.
---
| | | |
| --- | --- | --- |
| RE: Help Pep up the Dining Room | | |
I like the idea of a drum shade chandelier in this room, but suggest you consider an oval or rectangular shape. It will complement the length of your table & work better in the room.
---
| | | |
| --- | --- | --- |
| RE: Help Pep up the Dining Room | | |
To constrast your dining table, I would suggest a console table in metal, metal and stone, or metal and wood, .........artistic or industrial in its styling. See the images below for inspiration. The finish on your table is so very unique you'll never match it with the console, so consider something that will contrast it nicely.
---
| | | |
| --- | --- | --- |
| RE: Help Pep up the Dining Room | | |
I think the room could use some help acoustically & some soft surfaces, so I'd suggest a chair with upholstery. Any of these selections from World Market could work in your room.

I love that French wood bistro chair you like, but when compared to the table, the chair would be a bit dwarfed in scale. Looks like a great kitchen chair
---
| | | |
| --- | --- | --- |
| RE: Help Pep up the Dining Room | | |
Aktillery thank you I think I will go ahead and nix the original console table. I started looking at metal and glass tables and the the ones I like are in the $300-$600 range.

Beverly , I am loving the first two light fixtures and am surprisingly really drawn to the last. Can you tell me where they are from. I adore the last console table, but it's way out of the price range. Where is the first console table from, I liked looks very similar to the ones you suggest. I think we will get the xback chairs for the kitchen and we can wait on new end chairs.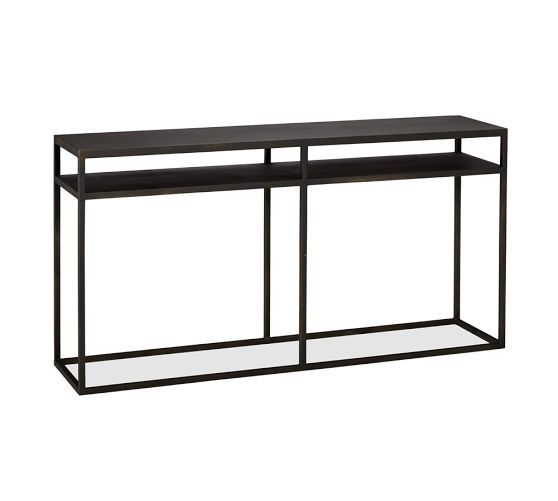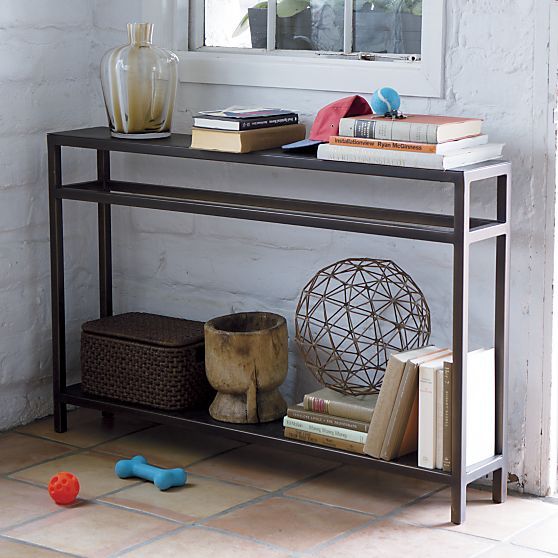 ---
| | | |
| --- | --- | --- |
| RE: Help Pep up the Dining Room | | |
This post was edited by BergiesGirl on Thu, Oct 17, 13 at 22:19
---
| | | |
| --- | --- | --- |
| RE: Help Pep up the Dining Room | | |
Here are the links for the chandeliers:

http://www.lampsplus.com/products/ansmith-collection-42-inch-wide-oval-pendant-chandelier__t7377.html

http://www.lightingdirect.com/murray-feiss-f2751-6-adan-6-light-single-tier-chandelier/p2044070?source=gg-gba-pla_2044070____21028929089&s_kwcid=PTC!pla!!!50838404009!g!!21028929089&gclid=CLP2kqG5oLoCFTJp7AodXVAAXA

http://www.bellacor.com/productdetail/hinkley-3208br-hampton-brushed-bronze-oval-four-light-chandelier-485592.htm

http://www.bellacor.com/productdetail/dainolite-mel448-811-720-obb-melissa-four-light-oil-brushed-bronze-oval-pendant-w-a-gold-and-709728.htm

http://www.wayfair.com/Artcraft-Lighting-Scandia-Three-Light-Oval-Chandelier-in-Brushed-Nickel-SC784-YFT1443.html

http://www.lampsplus.com/products/hinkley-hampton-collection-30-inch-wide-nickel-pendant-light__m4254.html
---
| | | |
| --- | --- | --- |
| RE: Help Pep up the Dining Room | | |
Here are links for the console tables:

http://www.wayfair.com/White-x-White-Bree-Console-Table-13-009-WHXW1048.html

http://www.downhomefurnishings.com/industrial-console-table

http://www.amazon.com/Accent-Metal-Wood-Console-Table/dp/B007YS8O22

http://www.appliancesconnection.com/stein-world-57251-i296684.html?ref=froogle&gclid=COyAs5a8oLoCFejm7AoddmkAVw
---
| | | |
| --- | --- | --- |
| RE: Help Pep up the Dining Room | | |
I love your table!
I'd suggest going with IKEA Henriksdal slipcovered chairs for the head or even all chairs (range 69.00-99.00/chair). Just be careful because the newer ones are fairly wide. You can also check CL; there are usually a bunch of them for sale, and slipcovers are cheap, 29.00 for the white long cover below, and I think about 15.00 for the short one.

For lamps, I'd look at www.overstock.com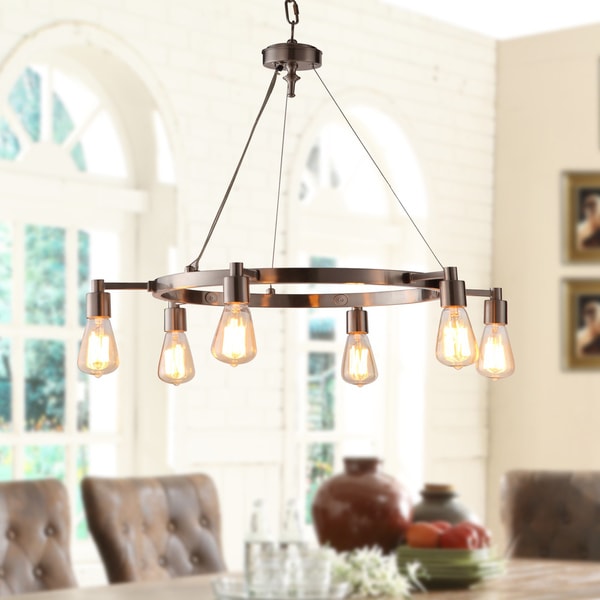 189.00 (also comes with 9 lights)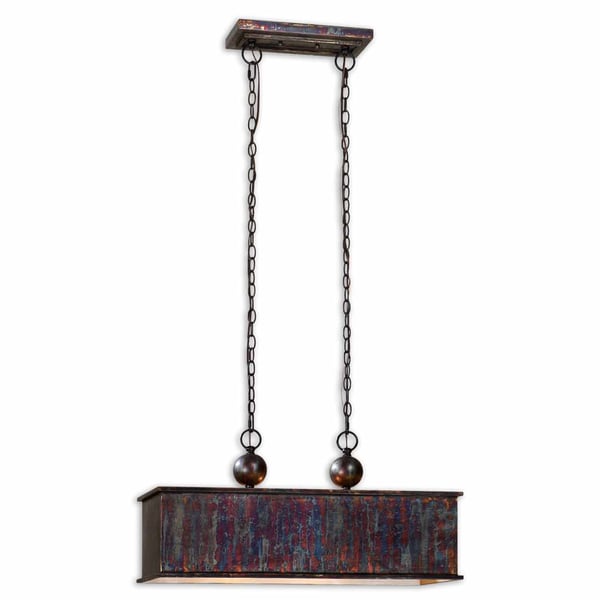 bronze, 219.00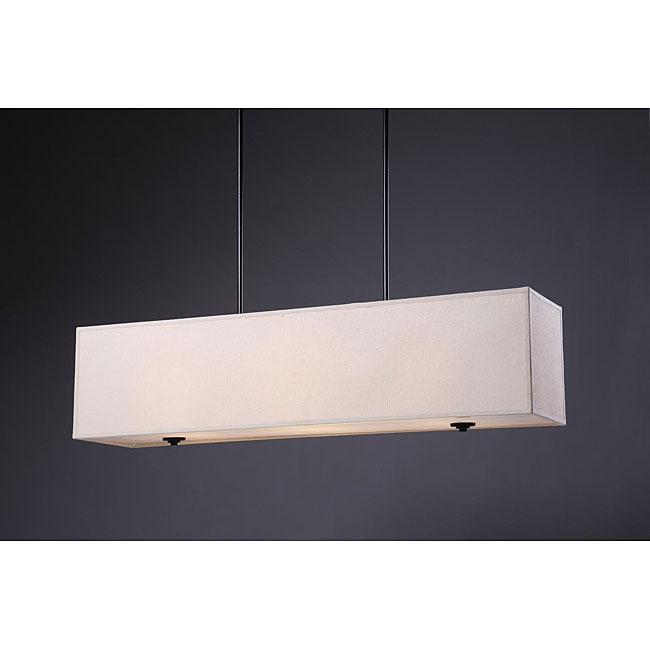 175.00
I also like the Stockholm flat-woven rug (8x10) for 399.00

or the yellow Stockholm or Alvine from IKEA
---
| | | |
| --- | --- | --- |
| RE: Help Pep up the Dining Room | | |
I don't have many pictures with gray and brown, but your dining room did remind me of this photo, which I really think is beautiful! Maybe a touch of green would work? I think your console table and second chairs you posted, would look great in the room :)
---
Post a Follow-Up
Please Note: Only registered members are able to post messages to this forum.
If you are a member, please log in.
If you aren't yet a member, join now!
---
Return to the Home Decorating & Design Forum
Information about Posting
You must be logged in to post a message. Once you are logged in, a posting window will appear at the bottom of the messages. If you are not a member, please register for an account.
Please review our Rules of Play before posting.
Posting is a two-step process. Once you have composed your message, you will be taken to the preview page. You will then have a chance to review your post, make changes and upload photos.
After posting your message, you may need to refresh the forum page in order to see it.
Before posting copyrighted material, please read about Copyright and Fair Use.
We have a strict no-advertising policy!
If you would like to practice posting or uploading photos, please visit our Test forum.
If you need assistance, please Contact Us and we will be happy to help.

Learn more about in-text links on this page here