Return to the Home Decorating Forum
|
Post a Follow-Up
---
| | | |
| --- | --- | --- |
| Table runner length question? pics anyone? | | |
Posted by
mimi_2006
(
My Page
) on
Sat, Oct 25, 08 at 15:12
I'd love to get a runner for my dining room but every time I look at them I walk off frustrated because I don't know what length to get. Should they always hang off the ends? how far? My table length is 96" (which includes a 24" leaf) and the width is 47". I leave it extended all the time to accommodate the 8 chairs. I've seen a few runners that are 120" and many that are 70" or 90". What's the rule of thumb and what looks good? I'd love some suggestions and/or pics. I'm a table runner newbie :-) Here's the table in question.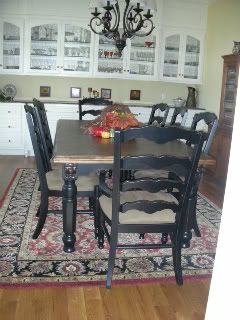 ---
Follow-Up Postings:
| | | |
| --- | --- | --- |
| RE: Table runner length question? pics anyone? | | |
I don't think there are any rigid rules, although the average seems to be a 6" overhang. For example, a 60" runner was once recommended to me for a 48" table, and a 72" runner for a 60" table. That would be 6" for each side. Some people seem to prefer 8" or 10". There are also some that are meant to sit on the table top and don't hang over the side. So it seems that you can choose your own "hangover" : )

I have a friend who leaves the runner on when she extends the table and the runner doesn't reach out to the edge of the table. But she can decorate it in a way that will make it work.
---
| | | |
| --- | --- | --- |
| RE: Table runner length question? pics anyone? | | |
I do not have a photo but mine goes over the edge about 10-12 inches on each side. So I would think 120 inches would look good on your table.
---
| | | |
| --- | --- | --- |
| RE: Table runner length question? pics anyone? | | |
So does it look better to have it hang over if it's pointed with the tassel on the end and if the end is squared it could more easily not reach the end?
---
| | | |
| --- | --- | --- |
| RE: Table runner length question? pics anyone? | | |
When they are pointed with tassel I like them to hang over. If the squared off doesn't hang over I like it shorted and not to the end of table, somewhere around 2/3's of table. I don't know if there is any rules tho.
---
Post a Follow-Up
Please Note: Only registered members are able to post messages to this forum.
If you are a member, please log in.
If you aren't yet a member, join now!
---
Return to the Home Decorating Forum
Information about Posting
You must be logged in to post a message. Once you are logged in, a posting window will appear at the bottom of the messages. If you are not a member, please register for an account.
Please review our Rules of Play before posting.
Posting is a two-step process. Once you have composed your message, you will be taken to the preview page. You will then have a chance to review your post, make changes and upload photos.
After posting your message, you may need to refresh the forum page in order to see it.
Before posting copyrighted material, please read about Copyright and Fair Use.
We have a strict no-advertising policy!
If you would like to practice posting or uploading photos, please visit our Test forum.
If you need assistance, please Contact Us and we will be happy to help.

Learn more about in-text links on this page here