Return to the Home Decorating & Design Forum
|
Post a Follow-Up
---
| | | |
| --- | --- | --- |
| white exterior paint advice | | |
Posted by
renovation728
(
My Page
) on
Sun, Oct 13, 13 at 14:20
We are getting ready to paint our newly renovated home and would like to choose a white color for the exterior - not too bright white, but not too creamy either. Does anyone have any suggestions? If you've used a white and love it, photos would be so helpful. Has anyone used BM Snowfall White, BM Glacier White, or Farrow and Ball Strong White? House is 2 story traditional and shutters will be black.
Thanks!
---
Follow-Up Postings:
| | | |
| --- | --- | --- |
| RE: white exterior paint advice | | |
We wanted a white, painted brick for the exterior of the home. I looked and looked...I didn't want creamy or warm, and I definitely didn't want any pinkish tones. We chose SW Eider White and have been very pleased. It is not a stark, blinding white...just nice and cool.

Just after we moved in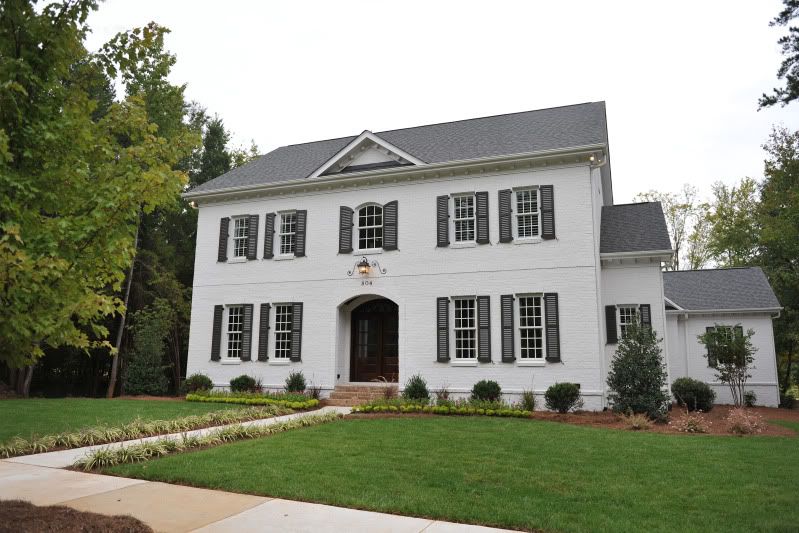 In the "snow" (or what passes for snow here in the south! That was the extent of our snowfall last year. :) )
---
| | | |
| --- | --- | --- |
| RE: white exterior paint advice | | |
nini804 - Thanks for your response and the photos! Your house is beautiful and I do really like the color. Will add it to my list of samples to get.
---
| | | |
| --- | --- | --- |
| RE: white exterior paint advice | | |
BM Simply White is a really nice white - it really is simply white! We used it for our kitchen cabinets, also did not want any yellow or pink undertones.
---
| | | |
| --- | --- | --- |
| RE: white exterior paint advice | | |
I would recommend Benjamin Moore's White Dove. I've used it on the exterior of two different homes. It comes across as a warm white. It looks clean and crisp, but not blinding.
---
| | | |
| --- | --- | --- |
| RE: white exterior paint advice | | |
| | | |
| --- | --- | --- |
| RE: white exterior paint advice | | |
BM Decorator White. Not yellow or gray or green. It's used a lot as the trim white for colored walls. We paired it on the exterior with BM Black Forest Green, a very dark almost-black green.
---
| | | |
| --- | --- | --- |
| RE: white exterior paint advice | | |
We used SW Oyster White on our currently-under-construction house. I love it- not blindingly white, not yellow-ish. Sorry for the cell phone picture quality...
---
Post a Follow-Up
Please Note: Only registered members are able to post messages to this forum.
If you are a member, please log in.
If you aren't yet a member, join now!
---
Return to the Home Decorating & Design Forum
Information about Posting
You must be logged in to post a message. Once you are logged in, a posting window will appear at the bottom of the messages. If you are not a member, please register for an account.
Please review our Rules of Play before posting.
Posting is a two-step process. Once you have composed your message, you will be taken to the preview page. You will then have a chance to review your post, make changes and upload photos.
After posting your message, you may need to refresh the forum page in order to see it.
Before posting copyrighted material, please read about Copyright and Fair Use.
We have a strict no-advertising policy!
If you would like to practice posting or uploading photos, please visit our Test forum.
If you need assistance, please Contact Us and we will be happy to help.

Learn more about in-text links on this page here