Return to the Home Decorating Forum
|
Post a Follow-Up
---
| | | |
| --- | --- | --- |
| Painting Vaulted Ceilings | | |
Posted by
oakleyok
(
My Page
) on
Sat, Oct 25, 08 at 14:18
I wish I had a picture to post but the construction hasn't started yet on the new Great Room, which should start in a week or so.

We will be building a 600 sq. ft. Great Room with a vaulted ceiling. Not sure yet exactly how the ceiling will be shaped. There will be a fire place in the corner of the room.

I don't believe we'll have any beams or anything. Is it too much to ask of some of you to post pictures of your rooms with vaulted ceilings so I can figure out if I want to paint the ceiling the same as the walls....by the way, the whole room will have white bead board going about 3-4 feet up. The walls will NOT be white. lol.

I never knew choosing paint would be so hard. I thought I had everything figured out. Riiight. :)
---
Follow-Up Postings:
| | | |
| --- | --- | --- |
| RE: Painting Vaulted Ceilings | | |
While our situations may be different, here in Fl. our walls and ceilings are done in knock-down which is a sprayed on plaster then knocked down when set, and to me it looks like a brocade fabric pattern and so I had all walls and ceilings painted in semi gloss/satin white wanted white and would never have flat paint can't wash.
here's close up of knock-down:


And vaulted ceiling paint also in great room, whole house infact.

---
| | | |
| --- | --- | --- |
| RE: Painting Vaulted Ceilings | | |
Oh my, I love your ceiling! I have a question I forgot to ask earlier. Should vaulted ceilings be darker than the wall (like one or two shades darker) or vice versa?
---
| | | |
| --- | --- | --- |
| RE: Painting Vaulted Ceilings.. reply | | |
Mine are the same "pure white' is the shade of white never shows up quite right on pics. due to shadows etc.
---
| | | |
| --- | --- | --- |
| RE: Painting Vaulted Ceilings | | |
We chose to paint the "flat" part of the ceilings white. The slopes are painted the same colors of the walls. FWIW the ceiling height is 16 1/2'.

Here's a pic of the GR that shows the flat and one of the sunroom that shows the slopes. :o)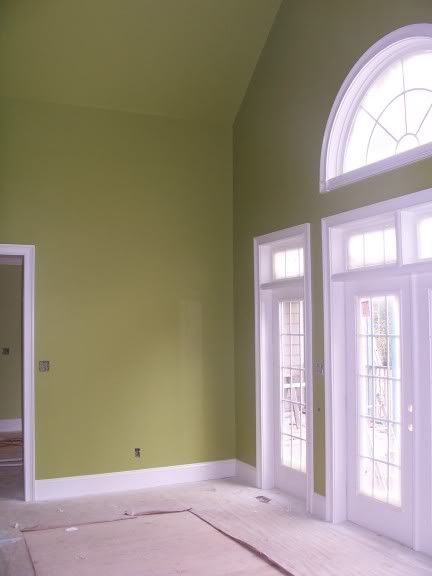 ---
| | | |
| --- | --- | --- |
| RE: Vaulted Ceilings | | |
Almost forgot...if you're going to have really high ceilings, please consider using the taller beadboard. It can look a little skimpy in a large room if it's too short. Although I haven't seen your space, it sounds like 3' would be too short for a 600 SF room with vaulted ceilings (IMHO). :o)

Although this is judge's paneling it can give you an idea of the scale. The paneling is 52" tall and the ceiling height is 11'.
---
| | | |
| --- | --- | --- |
| RE: Painting Vaulted Ceilings | | |
My ceilings are white and the rooms different colors. It really depends on how you want to room to feel. I have seen it done with darker, lighter and the same paint and they all look nice to me. I have even seen them with a different color and that worked. I choose to keep them white because I don't like painting them and at times I will repaint the walls before the ceiling needs to be done.
---
| | | |
| --- | --- | --- |
| RE: Painting Vaulted Ceilings | | |
I'm picture-posting challenged but we have both cathedral and vaulted ceilings in 3 rooms. Originally I had them painted white which I liked for awhile. Walls were colors not white tones. Last time we painted I realized how tall the ceilings really are and that the rooms were perhaps less comfortable to live in because of the color choice. So we painted the ceilings in the den (greyed sage) and in our master bedroom (spice brown) the same color as the walls. These are mid-tone colors and the ceiling color looks different, either lighter or darker, depending on light conditions/time of day. I always like the way they look and would never go back to white ceilings. These rooms have lots of natural light and our bedroom is mainly lit with low lighting in the evening and I love the cosy, romantic look. We did the great room ceiling a paler shade than the walls mainly for ease of transition to the colors on the upper level walls but I think it may look even better if they were either the same as the walls or almost. Vaulted ceilings really change how rooms feel and I find our colored ceilings have a softer, more welcoming feel without changing the expansiveness of the space. Of course white works and is definitely the standard in many areas and a very usual choice.
---
| | | |
| --- | --- | --- |
| RE: Painting Vaulted Ceilings | | |
Sometimes I paint the ceiling white, sometimes I match the wall color. It really depends on the where the vault starts in the room and how high the ceilings are. Our dining room is two stories high - that ceiling will never get repainted.
Here is a link that might be useful: Pictures of some of my ceilings
---
| | | |
| --- | --- | --- |
| RE: Painting Vaulted Ceilings | | |
We did it different ways in our house too. Master Bedroom vaulted ceiling is the same as the walls. Restoration Hardware, Cappuccino:
Great room has high ceilings (14') with beams but not vaulted and they are a shade lighter than the walls, RH Latte.
And here is the Guest room where the ceiling is sloped but not vaulted. We did the lighter color again but wish we had done it all the same. Actually, I'm thinking of changing this whole room...I hate it!
---
| | | |
| --- | --- | --- |
| RE: Painting Vaulted Ceilings | | |
What I did in both my master bedroom and great room is paint the walls a midtone color on the paint strip and then did the ceilings the lightest color in double strength.
---
| | | |
| --- | --- | --- |
| RE: Painting Vaulted Ceilings | | |
My house is 13 years old. Back in 1995 vaulted ceilings were big. I wish I could go back and do it all over again. Would much prefer another closet/storage space upstairs! It is an echo chamber, hard to light, hard to decorate and pricey to heat and cool... oh and I hate my fireplace too!! But enough about me, back to your question:

We have 9 ft ceilings which angle up to a 14 ft flat. We originally left the flat part white.... but have recently been told to paint it the wall color. (by everyone I ask) and the fireplace brick too. everything. to warm up the cavernous space. In a perfect world, I would add beams, get rid of the fan, add a chandy down from a beam.. but..so not happening right now.. so paint it is for me.

This photo was taken after we redid our floors back in March. Before we put back in all the curtains and rugs etc...
---
| | | |
| --- | --- | --- |
| RE: Painting Vaulted Ceilings | | |
Everyone's rooms are so nice, and I'm still at a loss! I wish someone would come over and help me with paint. The great room will lead into my sitting area that leads into the dining room with kitchen opposite. The first color I picked out is wallpaper for one wall only in the dining room, which has a black background with large floral groupings of yellow, pink, green and red. All the rooms will be a different color but they have to flow with each other from the wallpaper.

Nora, I'm really looking forward to the fireplace, we've never had one and are going with a Rumford, with dark stone (real stone) for the surround.

I don't think the ceiling in the great room will be too huge because it's being built off the old house which has 8 foot ceilings. There will be an arched entryway into the great room.

I'm just stuck on what to paint the great room, though, and my sitting area. The dr and Kitchen will be THE palest yellow I can find. Which is another post. :)
---
Post a Follow-Up
Please Note: Only registered members are able to post messages to this forum.
If you are a member, please log in.
If you aren't yet a member, join now!
---
Return to the Home Decorating Forum
Information about Posting
You must be logged in to post a message. Once you are logged in, a posting window will appear at the bottom of the messages. If you are not a member, please register for an account.
Please review our Rules of Play before posting.
Posting is a two-step process. Once you have composed your message, you will be taken to the preview page. You will then have a chance to review your post, make changes and upload photos.
After posting your message, you may need to refresh the forum page in order to see it.
Before posting copyrighted material, please read about Copyright and Fair Use.
We have a strict no-advertising policy!
If you would like to practice posting or uploading photos, please visit our Test forum.
If you need assistance, please Contact Us and we will be happy to help.

Learn more about in-text links on this page here