Return to the Home Decorating Forum
|
Post a Follow-Up
---
| | | |
| --- | --- | --- |
| Low Natural Light - Share Your Paint Pics! | | |
Posted by
justagirl
(
My Page
) on
Mon, Oct 6, 08 at 13:26
My master bedroom has low natural light. My bedding is dark pewter/grey (Vera Wang "City Nights") and my sheets are lavender and my throw pillows are dark rich royal purple. My bedroom furniture is merlot finish, which looks like a very dark espresso with a hint if purple undertone.

SO..with all that said, I need a **warm** wall color to balance the room out so it's not like a dungeon.

I was REALLY loving BM AF-150/Cotswald. It's a soft taupe-grey. But after buying the sample, it's not much different than what I already have in the room – which is WAY to dark. I want a taupe, but something warmer that would compliment my dark grey and purple's.

Can anyone suggest a paint color?

I would also love to see pics of color with low natural light.

Here's a pic of the bedding – the wall color pictured isn't bad but seems a bit yellow.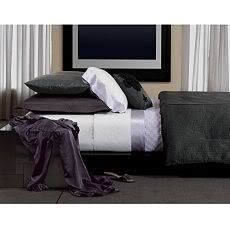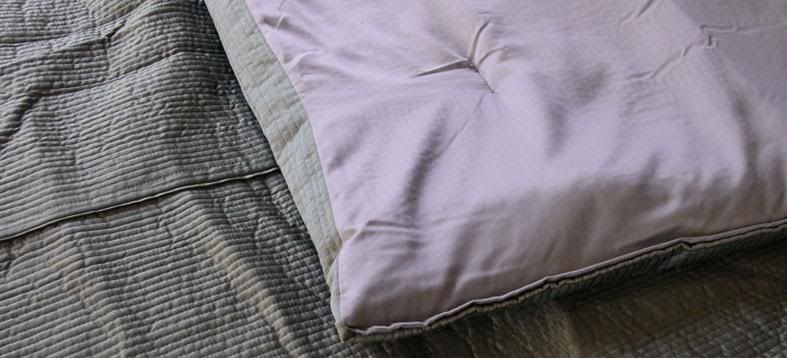 Here's a great inspiration pic – I like how the wall is very natural and bright/fresh looking.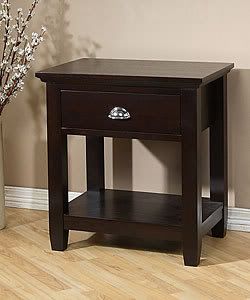 ---
Follow-Up Postings:
| | | |
| --- | --- | --- |
| RE: Low Natural Light - Share Your Paint Pics! | | |
This room is in the basement, so it doesn't get the same amount of light as the main floor.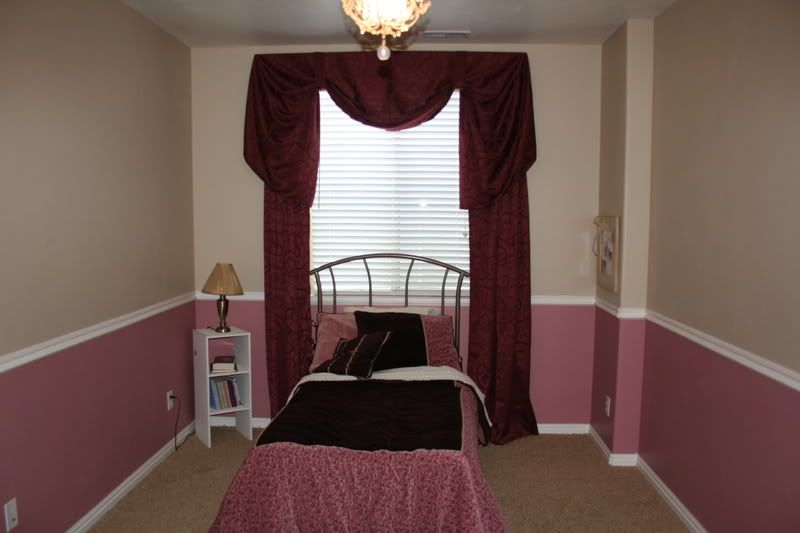 Same color, different room which has a lot of natural light:

---
| | | |
| --- | --- | --- |
| RE: Low Natural Light - Share Your Paint Pics! | | |
Robin2007 - I love your rooms! And the color you've chosen is awesome - what color is it?
---
| | | |
| --- | --- | --- |
| RE: Low Natural Light - Share Your Paint Pics! | | |
What about a gray that leans toward green? To get an idea, take a look at Thunder AF-685. It is certainly lighter than Cotswold, a bit less pink and has some warmth to it.
Take a look at Secret, Sanctuary and Thunder together. That's just my guess at your existing colors. Do you have "paint matches" for the bedding, etc? It might be easier to fine tune that way...
---
| | | |
| --- | --- | --- |
| RE: Low Natural Light - Share Your Paint Pics! | | |
We're using BM Litchfield Gray from their historic colors collection specifically because I wanted a gray-taupe color (something warm, but will transition well with the cool blue-grays that I love so well for bathrooms and bedrooms). I lvoe the color. Depending on the time of day, the color changes from a warm taupe to a warm gray, and it looks spectacular from the gray and gray-blue rooms in the house. Looks particularly good with blacks and grays, but warmer toned items such as our dark wood furniture bring out the warmth of the color.

I haven't taken a new picture yet, but here is an "in transition" photo of our catwalk (the railing is now matte black, but I continue to lose the daily battle of the gooey baby fingerprints on the plexiglass):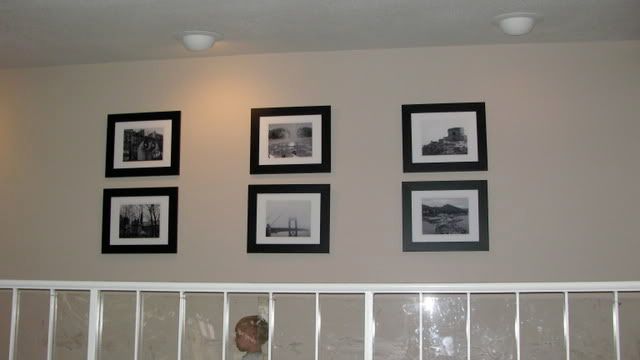 More views in from dining room (daytime and night):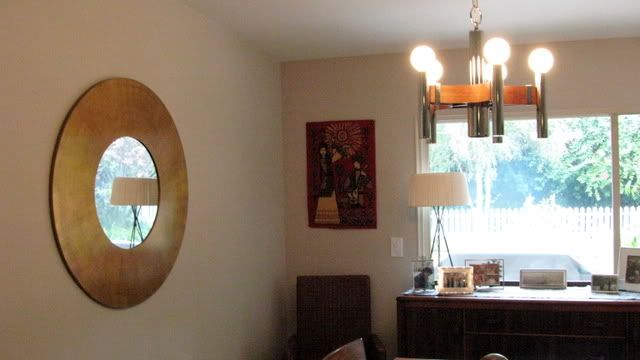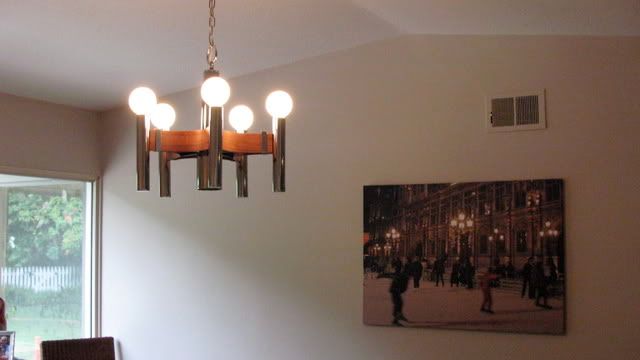 Hard to see, but here is the view from our gray-blue kitchen (BM Pigeon Gray):

Here's what BM's advertising folks say about Litchfield Gray (I agree with the assessment in our house at least): "Litchfield Gray HC-78 The perfect neutral that spurs the 2008 transition to gray from yesterday's beige and taupe. This is a complex hue – not too hot and not too cool – but just the right balance! A natural fit to almost any décor style, Litchfield Gray is destined to become a classic."
Here is a link that might be useful: BM Litchfield Gray
---
| | | |
| --- | --- | --- |
| RE: Low Natural Light - Share Your Paint Pics! | | |
Please, consider Benjamin Moore Wet Concrete! It's a grayed lavender with a touch of tan and will look gorgeous with the deep purple, lavender, pewter and espresso/merlot - it sure did in the living room in our previous house which had natural light for about 3 hours a day IF the sun was at the right angle which is when I took most of my pictures. In winter it was pretty dark all day because the sun didn't clear the trees surrounding the house. Here are several pictures in varying light levels.

I like using midtones in rooms with crappy natural light because it gives a very cozy feeling, and supplementing with lamps for nighttime. The really pale colors and whites "drab out" and get very shadowy in minimal light - PO had painted most of that house interior cream, which we hated for that reason. It was just depressing.
---
| | | |
| --- | --- | --- |
| RE: Low Natural Light - Share Your Paint Pics! | | |
So many good choices, you guys are great! I love the pictures – very helpful! I purchased the BM color software and it doesn't even come close to providing real world color representation – so the pics are much appreciated! I only wish I could easily translate these wall colors into my room. I feel so lost with color, which is surprising and disappointing to me. I thought that I was a "stylish" person and could easily pick paint color to coordinate my style and projected room ambiance. NOT!!! This is so much harder than I thought it would be. I think what's really throwing me is the lack of natural light. That REALLY makes a huge difference in the samples when I get them home.

Amyrsq – Thank you for your suggestion. I can see where green would make a lot of sense since it's the opposite of purple. However, the taupe I have in the room now (don't remember the name) looks like it has a green hue to it and it's not working for me. I will check out the colors you suggested and what a great idea about paint matches for the bedding! I've been taking my pillowcases with me.

sarschlos_remodeler – I LOVE YOUR COLOR! I'm going to get a paint chip of this for SURE!! OMG, LOVE IT!

johnmari – WOW, another hot contender! Your room looks awesome and we have twin flooring! My only concerns is that it would generate very dark in my low-light bedroom. But I'm going to pick-up a swatch of this color as well!

Please keep the suggestions coming!
---
| | | |
| --- | --- | --- |
| RE: Low Natural Light - Share Your Paint Pics! | | |
jsutagirl -- a warning on relying on the paint chip: it doesn't do this color justice. Make sure you get a sample pot (I bought a quart locally -- now I have enough left over for touch ups -- but you can also get a smaller samples from My Perfect Color dot com which seems to cost less, except then they tack on a huge shipping fee so I think it comes out to about the same price). We used the Litchfield Gray in the BM Aura matte. LOVE the finish of the Aura matte.
---
Post a Follow-Up
Please Note: Only registered members are able to post messages to this forum.
If you are a member, please log in.
If you aren't yet a member, join now!
---
Return to the Home Decorating Forum
Information about Posting
You must be logged in to post a message. Once you are logged in, a posting window will appear at the bottom of the messages. If you are not a member, please register for an account.
Please review our Rules of Play before posting.
Posting is a two-step process. Once you have composed your message, you will be taken to the preview page. You will then have a chance to review your post, make changes and upload photos.
After posting your message, you may need to refresh the forum page in order to see it.
Before posting copyrighted material, please read about Copyright and Fair Use.
We have a strict no-advertising policy!
If you would like to practice posting or uploading photos, please visit our Test forum.
If you need assistance, please Contact Us and we will be happy to help.

Learn more about in-text links on this page here