Return to the Home Decorating Forum
|
Post a Follow-Up
---
| | | |
| --- | --- | --- |
| Does this look like driftwood....? | | |
Posted by
celticmoon
(
My Page
) on
Sun, Oct 23, 11 at 13:25
This $25 coffee table is headed for the reluctant-French-country-hopefully-funky coastal place.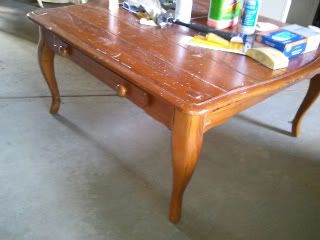 I don't like the orange pine color, but I'm not keen on painting the top. It will take a beating and there will be other painted pieces. So I was thinking of a cerused or driftwood look for the top and painting the rest.
Trying out some washes this morning using art supplies, including a little irridescent silver.
Close??? Work in some black? Darken those grooves more?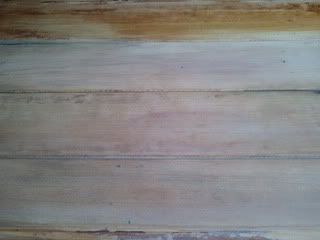 I have no clue what I am doing....
---
Follow-Up Postings:
| | | |
| --- | --- | --- |
| RE: Does this look like driftwood....? | | |
I like it, but I'm seeing pink tones. Maybe gray it up som more?
---
| | | |
| --- | --- | --- |
| RE: Does this look like driftwood....? | | |
Wow -- you are doing great! To me, the second photo is reading truer driftwood, and that's because in it I can see more of the dark grey (like charcoal) in the crevices.

Keep up the good work and please post more pics -- I am really proud of you!
---
| | | |
| --- | --- | --- |
| RE: Does this look like driftwood....? | | |
I think you are headed in the right direction, but part of the issue for me, besides some of the orange coming through, is that the finish is too smooth to have a driftwood feel - this looks more like a pickled piece. What if you were to take a hammer and a meat tenderizer tool and perhaps an awl or ice pick, and texturize the wood some? It would also add some depth if you used a very watered down black or grey to brush on and wipe off.

Change out the knobs to something in pewter or a rusty dark metal, too.
---
| | | |
| --- | --- | --- |
| RE: Does this look like driftwood....? | | |
Ditto. Looking very driftwood coastal. Good job.
---
| | | |
| --- | --- | --- |
| RE: Does this look like driftwood....? | | |
Better?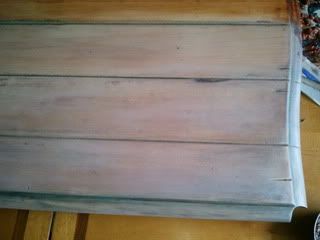 Put some more gray and white on. Color in the pix looks pinker and bluer than real life. Les, the piece isn't that smooth and has a good bit of 'distressing' - but I can bang it up and rough it up more. Good idea.
(This is a lower shelf I am practicing on - not the top.)
---
| | | |
| --- | --- | --- |
| RE: Does this look like driftwood....? | | |
Blue is the opposite of orange on the color wheel....if you put a very sheer thin wash of blue over it it will erase the orange tones.
If you are unsure if it will work, buy some cheap kid's water colors and make a wash and try it on a spot.... and if you don't like it wash it off.
Linda C
---
| | | |
| --- | --- | --- |
| RE: Does this look like driftwood....? | | |
Have to stop because it is dark in the garage. I think the key will be getting ALL the orange out, bleaching if necessary.

Beating on it is fun.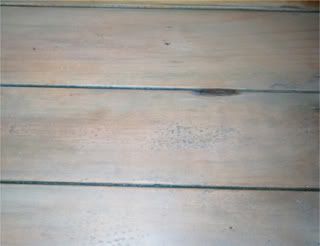 ---
| | | |
| --- | --- | --- |
| RE: Does this look like driftwood....? | | |
AHA!!

Striation - that's the ticket!

I can't make the deep furrows like oak would get, but a little striation looks good!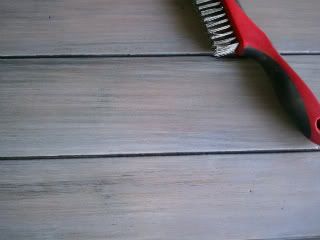 I think a sealer and then a wipe with a dark wash to emphasize the dings, another combing, and we're there.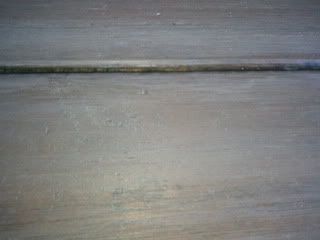 Thanks for the eyes and advice!!
---
| | | |
| --- | --- | --- |
| RE: Does this look like driftwood....? | | |
I'm coming in way late here, but I'd say you're doing a great job. Looking forward to seeing the finish piece.
---
| | | |
| --- | --- | --- |
| RE: Does this look like driftwood....? | | |
ooh yeah! The darker striations are doing the trick. I want to do something like this with my fireplace mantle. I'd love to know your materials and technique.
---
| | | |
| --- | --- | --- |
| RE: Does this look like driftwood....? | | |
LOL I feel like Goldilocks -

It was looking good after the dark wash - but too dark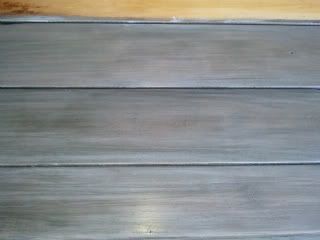 So I dry brushed a little lighter gray then combed it. It's not as shiney as the flash makes it look. It's about right.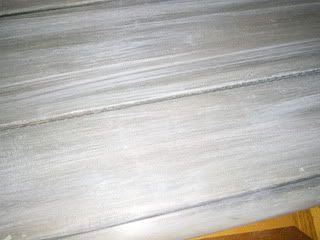 alex9179, I will post once I figure out which steps to keep. There have been way too many and I am sure some undid previous ones! I am using stuff I have lying around: water based espresso stain (for the very dark), artist acrylic colors and flat white latex wall paint(to mix grays), acrylic transparentizer and water to thin the washes, and a water based sealer.
I am thinking the necessary steps are: strip off the finish and color; bleach if necessary; base coat of light gray wash; seal it; beat and scrape it; dark gray wash into the grooves. (If the base is light enough, this last bit of dry brushing on some light gray shouldn't be necessary. The sealing should give enough work time to get the excess dark off. But as we see today, dry brushing is an option if the end result isn't light enough...)
---
| | | |
| --- | --- | --- |
| RE: Does this look like driftwood....? | | |
CM, a smidge of black shoe wax rubbed sparingly along the edges of the slats may do the trick.

I swear, I use the stuff for everything, lol
---
| | | |
| --- | --- | --- |
| RE: Does this look like driftwood....? | | |
You're doing great! The last picture looks wonderful, can't wait to see the finished piece.
---
| | | |
| --- | --- | --- |
| RE: Does this look like driftwood....? | | |
Huh...

Lightened it a little more when I started the other half. And a little dark waxing as Paulines suggested would finish it off nicely (Can't futz after waxing so that has to be last.)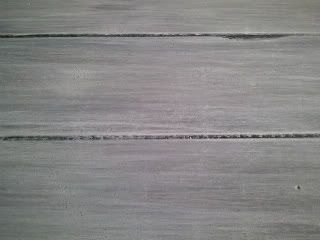 It is pretty much dead on what was in my head.......but now I'm thinking I like the plainer light wash better. Like is on the far side at the top of this picture. More muted and less cool a gray. Pickled? Yeah, I guess. Pickled. There, I said it.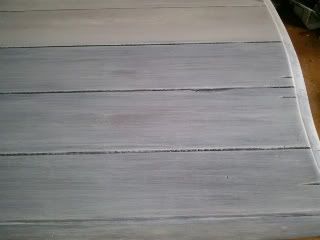 For this piece anyway. I realize I hadn't thought ahead about the Queen Ann legs on this coffee table. The driftwood look doesn't work with those so well.
But at least I figured out how to do it. I'll probably do it on this CL piece instead. Seems a much better fit.
Live and learn. I have a lot to work on.
---
| | | |
| --- | --- | --- |
| RE: Does this look like driftwood....? | | |
What if you wrapped the legs in heavy rope - think that would disguise the legs?

I like the headboard alot (the design reminds me of waves), would chalk painting it go with your freachy (French Beach)theme? That little chest is awesome, perfect for your driftwood treatment, now that you've perfected it ;)
---
| | | |
| --- | --- | --- |
| RE: Does this look like driftwood....? | | |
Ha, Paulines! I had the exact same thought to wrap the cabriole legs with rope!! Taping on some painters sticks to straighten the curves. Hmmm. Maybe I just need to warm the gray more.

Still thinking...still playing with layers...
---
| | | |
| --- | --- | --- |
| RE: Does this look like driftwood....? | | |
| | | |
| --- | --- | --- |
| RE: Does this look like driftwood....? | | |
Post the finished pics! You are brave. And talented. Oh man, I can only imagine how that would look if I attempted it myself.
---
Post a Follow-Up
Please Note: Only registered members are able to post messages to this forum.
If you are a member, please log in.
If you aren't yet a member, join now!
---
Return to the Home Decorating Forum
Information about Posting
You must be logged in to post a message. Once you are logged in, a posting window will appear at the bottom of the messages. If you are not a member, please register for an account.
Please review our Rules of Play before posting.
Posting is a two-step process. Once you have composed your message, you will be taken to the preview page. You will then have a chance to review your post, make changes and upload photos.
After posting your message, you may need to refresh the forum page in order to see it.
Before posting copyrighted material, please read about Copyright and Fair Use.
We have a strict no-advertising policy!
If you would like to practice posting or uploading photos, please visit our Test forum.
If you need assistance, please Contact Us and we will be happy to help.

Learn more about in-text links on this page here