Return to the Home Decorating & Design Forum
|
Post a Follow-Up
---
| | | |
| --- | --- | --- |
| ugly bathroom needs help | | |
Posted by
pommy_girl
(
My Page
) on
Sat, Oct 27, 12 at 12:11
My downstairs bathroom needs some help...badly.

I want to paint the beadboard/paneling on the walls and the ceiling. The ceiling is very low as you can see. The flooring is laminate and about the same color/tone as the beadboard is.

There is one window that faces south, but there is a garage there (to the south) so it doesn't get as much light as it should.

I want to keep the yellow dresser and shelf if possible (nowhere else for them to go).

if you have some ideas, throw them out there. I'm very open to any suggestions that don't require a complete gut :)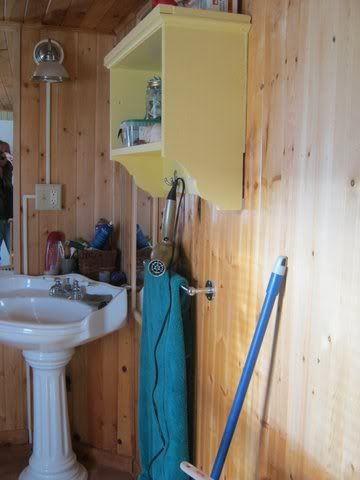 ---
Follow-Up Postings:
| | | |
| --- | --- | --- |
| RE: ugly bathroom needs help | | |
I agree that painting the pine paneling will make a world of difference. My preference would be a white.
I don't care for those towels hanging there. Can the hooks go behind the door if you need to use those particular towels?
Nicer towel on the rod folded over neatly would be more pleasing to the eye.
Maybe where the hooks are, a nice piece of art or picture?
Hard to see the window treatment, but looks like maybe something else there. Have you seen My3dogs window treatments? Google her threads and take a look.
All in all, this is a nice bathroom.
Also, I could be mistaken, but your little cabinet looks a bit high for the room?
---
| | | |
| --- | --- | --- |
| RE: ugly bathroom needs help | | |
Beefier trim around the window?
---
| | | |
| --- | --- | --- |
| RE: ugly bathroom needs help | | |
I agree with ellendi, paint the paneling white to match the sink. It will totally brighten up the room. Next,I have to say that the outlets and their exterior wiring is kind of odd. Is there only one light fixture in the room-it looks like a single light. Perhaps a double light would bright en things up?
---
| | | |
| --- | --- | --- |
| RE: ugly bathroom needs help | | |
Definitely paint the bead board white. In our last house we installed beadboard and painted it. It made a huge difference in what had been a dark and dingy bathroom.
---
| | | |
| --- | --- | --- |
| RE: ugly bathroom needs help | | |
Thanks guys
Ellendi, Yes, I will be purchasing new towels to coordinate with the new paint and such. The towels are there because it's too far to walk from the shower over to the door (especially when its cold in the winter!)

The cabinet isn't that high...the ceiling is that low! I will be moving it when I paint, so I'll see how far down I can put it. The window treatment is tucked up out of the way right now to let more light in.It isn't something i like, or I'll be keeping. I'll check out My3dogs threads and have a look for some inspiration.

redwheelbarrow, I agree, a nice wide trim will look a lot better.

ratherbesewing, yes, the wiring is strange (we didn't do it). It's an old house that has been renovated (and I use this term VERY loosely) by several of the previous owners. We can't hide the wiring unless we strip this room down to the studs. We have done this in other rooms, but it's not the bathoom's "time" yet. There are 2 other lights in this room - one over by the door and one above the towel hooks.

Jenangelcat, I love that white beadboard bathroom! It's very pretty, and cottage-y.

Looks like white paint for the walls is a winner.
---
| | | |
| --- | --- | --- |
| RE: ugly bathroom needs help | | |
I think that cabinet above is bothering me....from the way the picture was taken, it is very bad feng shui....meaning I feel like if I go in, I'll whack my head on it...esp at eye level like it is. I would put the shelf over the pot if there's room so that it is out of the way of the entrance.

I would also move the yellow dresser so it is centered under the window...it would make a lot more sense there. Are there 2 mirrors, one on either side of the sink? I would try to replace it with a single mirror behind the sink, hung on brackets so it is angled out the same way the sink is to fill in that corner.

I think, once the space becomes more organized, it will feel better. Painting the paneling will help unify the space.

What is that box at the ceiling over the towels on hooks? Is that an exhaust unit?
---
| | | |
| --- | --- | --- |
| RE: ugly bathroom needs help | | |
I am wondering if an enclosed cabinet might work better, it would hide your stuff and could be less deep.

Love the idea of painting the beadboard white.
---
| | | |
| --- | --- | --- |
| RE: ugly bathroom needs help | | |
I have started to paint the paneling white! Thanks guys, it looks better already.

Annie, I can move the yellow shelf left a couple of feet so it is over the toilet. There was an old cupboard there but I have removed it.

I thought the mirror idea was great until I remembered my electrical is in the way :(. That "box" above the towel hooks is a heater/light/fan.

gmp3, the yellow cupboard is more for decorative items. I have a collection of beach glass and sand dollars that I would like to have on display. I suppose I could display them on the dresser instead.

I have found another home (in my home) for the yellow dresser if need be. I have an antique, dark wood, 3 drawer dresser that is much smaller to take its place if that would work better.
---
| | | |
| --- | --- | --- |
| RE: ugly bathroom needs help | | |
Choose what your secondary/accent color is going to be to go with the white--too much white is just as bad as any other color...
If you want to have sea glass and shells--maybe a soft blue? or sand?

What are you doing with the floor/flooring?
Large area rug? Seagrass/natural rug to make it more beachy with your seaglass?
If you got a jute or seagrass rug you could paint/stencil a design on it--at least around the edges to bring in some color
Or paint the linoleum with good quality marine paint in maybe a large checkerboard pattern with white and accent color--then coat with poly to seal it...
lots of directions for doing that online

Also you could replace the window shade with woven wood or Roman shade--something that would let light through but since the view is not that great, the shade doesn't need to be open...
right now there is too much going on at that window with little positive impact...

I would say try the dark wood cabinet--
Add a flat 2x4 or 2x6 at tall chair rail height and put hooks into it for your towels in that area by the shower
paint it your accent color and get some beach/nautical hooks
adding something taller in contrasting color might help draw the eye upward...

This photo from Houzz has room with lower ceiling and vertical stripes painted on wall to create "lift"
note that the ceiling in it has rafters effect either because that was there first or from design/addition...
also photo with taller chair rail with hook for towel...
Here is a link that might be useful: beach bath styles
---
| | | |
| --- | --- | --- |
| RE: ugly bathroom needs help | | |
An electrician can hide those electrical lines and install outlets, without tearing into your walls, so consider calling one for an estimate before you think about tearing into the walls. Getting rid of those external conduits will open up a lot of wall space.
Also, you can get rid of the overhead heater by converting to a heat panel....see link below. We used the panels in a relatives tack room and BR of their barn and the panels heat those rooms with no problems. They're safe since they don't get hot enough to cause burns if someone (or a child) touches them. Really warm to the touch, but not 'hot'.
Here is a link that might be useful: Heat panels
---
| | | |
| --- | --- | --- |
| RE: ugly bathroom needs help | | |
I'd get an estimate from an electrician for aligning the outlets/switches/cabling - then at least you'll know what that'd sock you for. Also, have him include changing out the heater/fan/light to a new style. Look up a Panasonic on Amazon. they have some really nice ones. Or at a local lowe's/HD store.

not really seeing much of the room I think that after painting it white decide on an accent color and maybe paint the shelf and vanity cab that color. Align the vanity under the window. Hang the shelf over the toilet for display or storage. I'd choose a deeper color for accent over a pastel - it'll give some brightness to the room. Then use that color for a vase, in the window covering, some towels, rug for in front of the shower etc.

have you thought about one of those mirrors on an extension arm for 'over' the sink area? you can pull it forward when needed and push it back more when not.

one of your longer mirrors might fit over the left side of the vanity cab.

I'd put 1 hook next to the shower to hold the towel for the person taking a shower - otherwise I'd fold them over the towel rack. They do have some over the door hooks that might be used over the shower doors. but a hook on the wall outside the door should work fine.

you could also put one of those over the door towel racks over the entry door to hang extra towels.

A new 'blind' for the window will make a big difference also - I'd hang it up a bit from the top of the window so when pull up (if that type) you get light from the whole of the window.
---
| | | |
| --- | --- | --- |
| RE: ugly bathroom needs help | | |
If you have a small, awkward bathroom, keep as little as possible in it. Go function.

The decorative things in the cabinet are just taking up space that could be used for towels or something useful.

When you redo the bath, make a specific place for the decorative items.
---
| | | |
| --- | --- | --- |
| RE: ugly bathroom needs help | | |
Once you have a couple of nice matching towels you've chosen for the space, I think the towel hooks will be nice there. Cool hooks, by the way!

The white paint will look great. Electricians in our area will come by and bid on a job at no cost. I'd check into aligning the outlets and hiding the wiring.

Your display items are right up my alley. I'd keep them in the bath if you can find a display area/location you like. You could always move the cute yellow shelf elsewhere and find or make something more shallow for your shells and glass.

Looking forward to seeing it when it's all done!
---
| | | |
| --- | --- | --- |
| RE: ugly bathroom needs help | | |
So far I have 2 coats of white paint on the walls. i haven't started the ceiling yet as DH is going to do that. At the moment I'm thinking of using the yellow for the trim around the door and window and using a very dark brown (possibly black) for the mirror trim. I have a much smaller antique dark wood dresser that I can use instead of the yellow one. I have an antique chair that might look nice in there too (it doesn't look like it from the photo, but there's quite a bit of room in the bathroom). What do you think about a blind and cushion (for the chair) made from a funky yellow/black/gray fabric?

The electrical is staying as is until we totally renovate this room, at that time we'll remove all the beadboard and redo the walls. I will look into a nicer heater/fan thingy.

I like the mirror on an extension arm idea. I will look online and see what I can find.

As much as I love the look of towels folded neatly over a rail, I need to be honest with myself and say, that's just not going to happen. I'm just not that neat and tidy.

Thanks for all the great ideas. I'll post some pictures as soon as I can, so you can see how it's going.
---
| | | |
| --- | --- | --- |
| RE: ugly bathroom needs help | | |
I thought you were going for sort of beachy/coastal vibe when you mentioned your shells and sea glass...
that pattern is very dynamic

too busy for your space?
I don't know cause we don't have good idea of overall size of room

I wouldn't be my choice but doesn't mean it couldn't work....
---
| | | |
| --- | --- | --- |
| RE: ugly bathroom needs help | | |
Definitely suggest the smaller, dark cabinet if you're going with the white walls. I like the fabric, it's bold, but you're really not going to be using a lot of it and it'd add a nice smile to the room.

I think I'd like to see a different fixture over the sink area...that one seems undersized to me. If you move the shelf above the toilet, you'll lose storage by the sink...what about some open shelving with baskets to hold things? Or even a skinny bookcase? I think something tall there would be good, and if you added the bookcase then you could put the cool hooks on that for the hand towels and the towel bar over by the shower.
---
| | | |
| --- | --- | --- |
| RE: ugly bathroom needs help | | |
I know what ya mean about the towels. I have a rail on my shower doors. 1 inside and 1 outside. I just fold it in half lengthwise and slip over the outer rail - that's it. but, it is just me. I use an older towel on the floor (for now anyway) and I toss it over the top of the shower door.

the fabric - wouldn't be my pick either - but it is your bathroom - if you love it, use it! Yrs ago I had a vinyl wallpaper on my bathroom walls in brown, ylw and gold ovals - I loved it and got lots of compliments on it but most wouldn't have been brave enough to choose it. I lived there about 12 more yrs and never tired of it. I still think back to it and still love it. Tho, I'm more into purple and grn now.
---
| | | |
| --- | --- | --- |
| RE: ugly bathroom needs help | | |
I would put small shelves up over the electrical wire covers. Just notch the backs and add nice wood or iron brackets. Even a tall thin bookcase in white with openings in the back. Actually you could add a bookcase or tall thin cupboard and frame with trim. Would need to be lower than the light. Just painting the electrical the same as the walls will help make it go away somewhat.

I am one who uses towel hooks, live in a dry climate and like them done this way. It takes up less room in my little bath.

The hanging cupboard looks too high relative to the sink. Think this is the perspective others are seeing. It needs to be either higher or lower. In your case with short ceilings, lower.

Not sure about the sink and your overall room layout, but the sink could easily be moved against the right wall. A simple diy. Even though there is plumbing in the corner, a small table or even extending the corner out would give a bit more balance and allow mirrors over the sink. This is something I would personally do if the room were mine. The sink is a nice design and should be shown more.

Actually, you have a fun room to play with. Keep us up to date on the changes. I already want to see the painted walls.
---
| | | |
| --- | --- | --- |
| RE: ugly bathroom needs help- UPDATED! | | |
Well, I've been working away at the bathroom and it's coming along nicely. I'm not quite done yet (I still have cans of paint on the floor and brushes by the sink :))

The yellow fabric needs to be made into a static roman blind valance, not just hung over the curtain rod! I will also use a piece of this fabric to make a cushion cover. I have a piece of coordinating dark brown fabric for some accents/borders for the cushions and blind.

I still need to purchase a couple of fluffy yellow towels, and some new glass shades for the 2 lights.

Thanks to everyone for all the suggestions.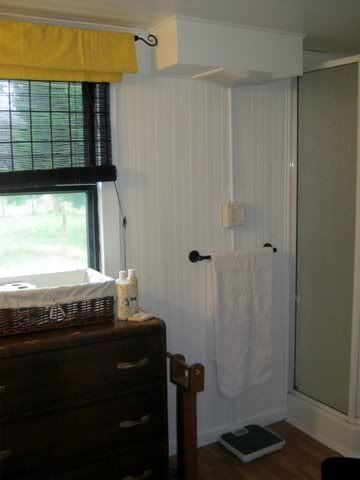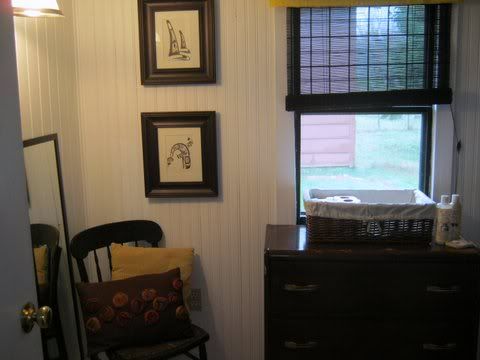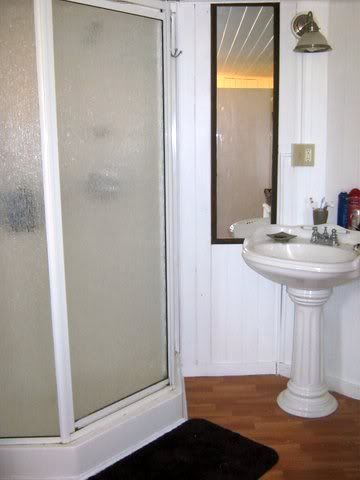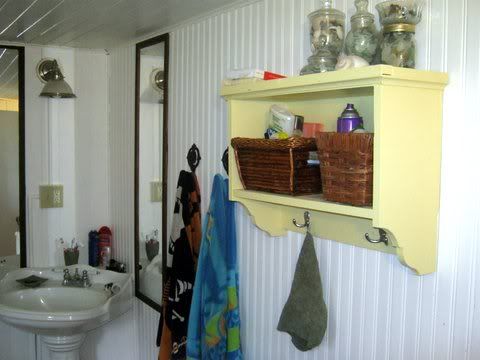 ---
| | | |
| --- | --- | --- |
| RE: ugly bathroom needs help | | |
Color me impressed! What a fantastic job you're doing. I hadn't seen the thread before today, so I didn't comment. Had I done so, I might have told you that, outlier that I often am, I actually liked your panelling as it was. But now that I've seen what you've done so far: what a difference a coat of paint, some trim, and a bit of shopping can do!
---
| | | |
| --- | --- | --- |
| RE: ugly bathroom needs help UPDATED | | |
Thanks lynxe, I couldn't stand the paneling as my entire house was covered in it. Getting rid of some, makes for a far happier me :)
So far the only money I have spent was $14 for fabric, $9 for a bathmat, and $35 for one gallon of paint. I spray painted my old towel rail, found a different dresser and old chair and pillows. It was a thrifty makeover that's for sure.
---
| | | |
| --- | --- | --- |
| RE: ugly bathroom needs help | | |
Looks great. It's amazing what a can of white paint can do!
---
| | | |
| --- | --- | --- |
| RE: ugly bathroom needs help | | |
Wow! You have transformed that bathroom. As Jen pointed out, it IS amazing what a difference paint can make! You have a whole new room. I love it. Very charming.

Target is worth checking out for bath stuff, Pommy. I just saw so many wonderful towels there this afternoon. I brought home a couple myself for my guest bath. I also like TJMax & Marshalls for towels. Have fun putting icing on the pretty cake!
---
| | | |
| --- | --- | --- |
| RE: ugly bathroom needs help | | |
That looks amazing. Love everything you did. Paining really made the exterior electrical lines much less noticeable too, they blend in with the beadboard now. Love your budget too...shows what you can do with work and creativity.
---
| | | |
| --- | --- | --- |
| RE: ugly bathroom needs help | | |
Thank you everyone :) Painting the walls AND ceiling seems to make the room look a little taller (or maybe that's just wishful thinking). The unpainted beadboard was just sucking all the light out of the room. This is now a pretty and live able room.

stinky gardener, Thank you. I will check out those stores next time I'm in town. Some nice fat, fluffy towels are definitely needed. Once I have those, and make the window treatment and cushion cover, it will all be tied together.

jenangelcat, the photos you posted really gave me some inspiration.Thanks

gmp3, Thank you. The electrical will get hidden when we redo the entire room one day. I get a "kick" out of working with a small budget, and reusing what I can. I even trimmed out the window with old molding from a door frame (it was broken but there was plenty there for the window).
---
| | | |
| --- | --- | --- |
| RE: ugly bathroom needs help | | |
Great job!Just goes to show how a little can go a long way.
---
| | | |
| --- | --- | --- |
| RE: ugly bathroom needs help | | |
Wow! What a tremendous improvement....so much more welcoming. Great job!
---
| | | |
| --- | --- | --- |
| RE: ugly bathroom needs help | | |
It looks fabulous! You did so great! I love all the dark accents with the pops of yellow.
---
| | | |
| --- | --- | --- |
| RE: ugly bathroom needs help | | |
Looks fantastic!

I also use yellow in my bath as an accent, and love it. I got the yellow towels at Target.

Dee
---
| | | |
| --- | --- | --- |
| RE: ugly bathroom needs help | | |
Vastly improved!
Good choices, all.

The one thing I would recommend doing is replacing the yellow wall cabinet with a pair of simple white shelves on brackets, one deeper to hold your baskets, and one shallower above for the jars of shells.

The unit, with its solid sides, is boxy and heavy in that spot. If there were a cabinet under it, which you clearly don't want or have room for, it would make more sense, but I think it is too chunky for the room, and obstructs your sight line too much, to work with your lovely transformation.

Your new towels will be just the right touch of yellow with the very nice brown and white you have going, and being able to look past the shelves with no side boards will open the room considerably.
---
Post a Follow-Up
Please Note: Only registered members are able to post messages to this forum.
If you are a member, please log in.
If you aren't yet a member, join now!
---
Return to the Home Decorating & Design Forum
Information about Posting
You must be logged in to post a message. Once you are logged in, a posting window will appear at the bottom of the messages. If you are not a member, please register for an account.
Please review our Rules of Play before posting.
Posting is a two-step process. Once you have composed your message, you will be taken to the preview page. You will then have a chance to review your post, make changes and upload photos.
After posting your message, you may need to refresh the forum page in order to see it.
Before posting copyrighted material, please read about Copyright and Fair Use.
We have a strict no-advertising policy!
If you would like to practice posting or uploading photos, please visit our Test forum.
If you need assistance, please Contact Us and we will be happy to help.

Learn more about in-text links on this page here