Return to the Home Decorating Forum
|
Post a Follow-Up
---
| | | |
| --- | --- | --- |
| Thoughts on spray painting 'wood' furniture? | | |
Posted by
jaymie
(
My Page
) on
Fri, Oct 3, 08 at 12:08
Hi all,

I am doing a surprise bedroom makeover while DH is out of town.

I will be painting the walls and moving furniture out of the room. I have been trying to decide between SW Blonde or SW Restrained Gold.

Here's my problem - Our furniture is a light colored pine. A headboard, two nightstands, a mirror and two dressers. All of this "wood" is pressed wood with a contact paper like covering that looks like wood. Because of the color that I've picked for the walls, I think that Espresso colored furniture would look the best. At least much better than light pine.

Because the construction of our furniture is not real or anything resembling real wood, I think that I could prime, then spray paint everything. We are currently looking for a new bed, but the one I want is close to $2500 (bed only, nothing else) and I just can't spend that right now.

Has anyone ever done anything like this? Is this a foolish thing to do?
---
Follow-Up Postings:
| | | |
| --- | --- | --- |
| RE: Thoughts on spray painting 'wood' furniture? | | |
If you aren't in love with what you currently have, I say go for it. Use a good primer (Zinnser) and spray away. What's the worst that can happen?? You live with horrible stuff until you are able to get the bed you really want?? There could be worse things in the world =)
---
| | | |
| --- | --- | --- |
| RE: Thoughts on spray painting 'wood' furniture? | | |
I believe in painting stuff that you don't like as-is. It has been my experience that it takes ALOT of cans of spray paint to cover a piece of furniture. I think you'd be better off with a can of good primer and paint and a foam roller.
---
| | | |
| --- | --- | --- |
| RE: Thoughts on spray painting 'wood' furniture? | | |
Dixiedo - My thoughts too, were "worst case scenario, I *have* to buy new furniture sooner?"

Darn.

valzone5 - I hadn't thought about the amount of cans that I would need. That's an excellent point.
---
| | | |
| --- | --- | --- |
| RE: Thoughts on spray painting 'wood' furniture? | | |
I know I'm a broken record (I've posted these pictures before) but I just want to say that I 100% support your effort!

Long before I met him, my now-husband purchased a kind of schlocky set of furniture, inc. a white melamine covered particleboard (like IKEA's, only not as nice ...) dresser: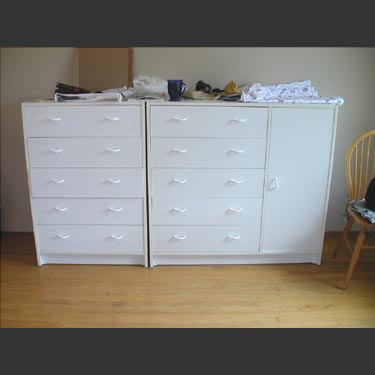 When we started to live together I used it because in my previous home I'd had built-in storage which obviously didn't travel with me. As is, it wasn't my taste but I didn't have the money to get what I really wanted, so I attacked it with sticky primer (a primer which will create a "tooth" on plasticky furniture) and then Benjamin Moore's high gloss for metal and glass. (I cannot recall the exact name of the paint, but it's something like that.) I also attached some petite moulding to the dressers and changed the hardware to "dress them up."
And this is what I ended up with: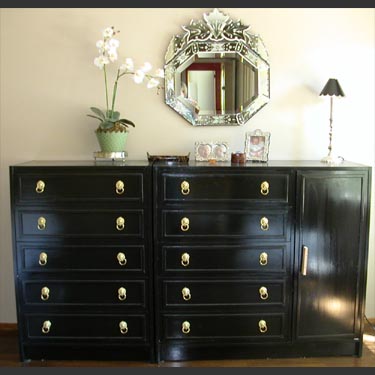 I liked it so much that even when I could afford what I wanted I didn't purchase it -- I was so happy with my recreation. You never know, you might feel the same way as well!
GOOD LUCK!!!
---
| | | |
| --- | --- | --- |
| RE: Thoughts on spray painting 'wood' furniture? | | |
I was thinking of spray painting some oak frames that I would like to switch to black. I thought that it would give it a cleaner look to spray vs. paint on the finish.

As for furniture, I tend to agree with valzone--that would take an awful lot of paint. I know when I painted a frame of my DD's recently I did about 4 coats with a light sanding and at the end rubbing with 0000 steel wool to get a nice smooth finish.

How about just borrowing or renting a sprayer to apply the paint?
---
| | | |
| --- | --- | --- |
| RE: Thoughts on spray painting 'wood' furniture? | | |
rmkitchen - I don't recall seeing those pictures before. I'm in awe! They look fantastic!

Carrie
---
| | | |
| --- | --- | --- |
| RE: Thoughts on spray painting 'wood' furniture? | | |
Wow, rmkitchen, you have me thinking of painting an old melamine/veneer(?) desk I have in my DD's room which I will phase out as she gets older and needs a larger desk.

The symmetry in me, however would like to see you put the paneled cabinet in the center.
---
| | | |
| --- | --- | --- |
| RE: Thoughts on spray painting 'wood' furniture? | | |
I painted my oak blanket chest an espresso color to match my bedroom furniture. I used a sponge roller, primed it and used the same paint to paint it as I used on my stairs. It was very easy to do, and I got great results.
---
| | | |
| --- | --- | --- |
| RE: Thoughts on spray painting 'wood' furniture? | | |
I love that black redo...fantastic job on that. I remember seeing it before & it really is a wow factor.

As for painting furniture black, I've done a lot of that & have found that larger pieces like beds & dressers, etc. can really get splotchy with spray painting. I always use a Satin finish and smaller items like picture frames or small candlesticks can easily be spray painted & that's what I always do. But, with the bigger pieces, I've found that using a small foam roller and rolling it on works better for a smoother finish. I just finished painting a large bookcase & used the foam roller method. I sprayed a sleighbed one time and could see the overlap marks of the spray paint, so since then I use a roller for big items.

Hope this helps!
---
| | | |
| --- | --- | --- |
| RE: Thoughts on spray painting 'wood' furniture? | | |
WOW!!!! rmkitchen that is amazing! I love it. What a huge difference!

I bit the bullet and did it. I painted my walls SW Ceremonial Gold and the furniture SW French Roast. SW suggested I use an enamel, which I did and it is perfect. What an unbelievable transformation. I took some photos last night to post here, but am having trouble with the lighting. I'll try again today to see if it's any better.

When my husband came home, he asked me to go get something from off of his dresser (aka endless pit of junk). I told him I couldn't at the second and could he? I gave him a little head start and then went up to see his reaction. He was blown away and very happy with the furniture now. He agrees that we can live with the furniture for a lot longer now. The ultimate goal was achieved. He and she are both happy.

Thanks to everyone for their advice! You all are so awesome.
---
| | | |
| --- | --- | --- |
| RE: Thoughts on spray painting 'wood' furniture? | | |
I did something similar that rmkitchen did to her two chests. Only instead of adding just trim I added beadboard too. However, I was lazy and didn't prime it. My hubby doesn't like painted furniture. Even though this was a piece of wood-look like your's is, he still wasn't thrilled at my painting it. So I did it on a minimal budget and used only cheap spray paint.
Here's the finished product and then a link that shows the before too.

Here is a link that might be useful: Click then scroll down please......
---
| | | |
| --- | --- | --- |
| RE: Thoughts on spray painting 'wood' furniture? | | |
Rmkitchen -- Once again you are inspiring me. I have a home depot special bathroom vanity (curses you POs who took out a floating wall vanity for that atrocity) with doors that are heavy and plasticky. I had though we would need to replace the vanity completely, but it sounds like I might be able to paint after all? What primer did you use?
---
| | | |
| --- | --- | --- |
| RE: Thoughts on spray painting 'wood' furniture? | | |
justgottabeme: You did an amazing job with the cabinet. Love the little ball feet. TDF
---
| | | |
| --- | --- | --- |
| RE: Thoughts on spray painting 'wood' furniture? | | |
I agree! justgotabme -- that is stupendous! I loved seeing your before-and-after; thanks for the link.

jaymie -- please do try and post photos -- I'd love to see them!

sarschlos -- the primer I used is XIM bonding primer: it ruined the brush (it is really sticky!), but when I described my project to the paint guys that's what they recommended, and it worked. I recently used it again on two Parsons-esque tables from IKEA (they're plasticky / melamine, maybe?), and it worked really well both times. (We don't have an IKEA in Colorado which pretty much sucks, but even with shipping [which was one penny less than the combined cost of the two tables: $24.98 for the two tables and $24.97 for shipping] the two tables cost far less than any other Parsons / Parsons-like table out there.) The reason I used the Benjamin Moore Glass & Metal is because, again, that's what the paint guys recommended. I wonder if their Impervo would work as well .... I loved valinsv's suggestion of using fine steel wool. I didn't, but I think in a large piece like the chest of drawers it could've made a great difference.

Here's the IKEA Lack table I painted:


I think it looks terrific -- you'd never know it was loving-hands-at-home ....
---
| | | |
| --- | --- | --- |
| RE: Thoughts on spray painting 'wood' furniture? | | |
Thanks, rmkitchen! I think it's worth a try. It can't hurt anything, anyway, since if I'm stuck with that vanity in its current form, it will be headed over to ReStore for some other poor schmuck to inflict on his house. :) Love the idea of not removing the vanity. I'm sure DH will appreciate it as well.

Oooh, not replacing the vanity might give me an excuse to spend a teensy bit o' change on fabrication of a marble or granite remnant countertop. :)
---
| | | |
| --- | --- | --- |
| RE: Thoughts on spray painting 'wood' furniture? | | |
Rmkitchen -- one more question: Did you sand before using the XIM primer (which is not easy to come by around here, btw, it must have some nasty chemical in it that is making it hard to acquire in CA.)
---
| | | |
| --- | --- | --- |
| RE: Thoughts on spray painting 'wood' furniture? | | |
No I didn't sand because I didn't want to breathe any of the plastic particulates which might become airborne.

I can believe that that particular primer might be difficult to find (it was stinky in addition to sticky) -- as California goes so goes the nation! (Yea for CA!)

But do ask someone you trust (not that yahoo who "helped" your husband but didn't understand how to cut a paint formula) at a paint store which primer they'd recommend for a melamine surface. That's just what I purchased (first in CA four+ years ago and then again here in CO), but I'm sure there are other good, strong products out there.

And I want to say THANK YOU! You totally inspired me to attack our main floor guest bath. (It, along with the laundry room and built-ins around the family room fireplace have been put on long-term hold as we figure out how to spend the least amount of money on our already over-improved house ....) It has a builder's grade oak vanity with a crazy laminate top. (It's the kind which narrows into a ledge running across the top of the toilet, and as we put in a comfort height toilet that means if we'd ever need to get into the tank we couldn't without removing the ledge. Fine by me!)

My project this autumn / winter (when Li'l Bit naps) will be to paint the vanity, and after reading your post I called the fabricator who did our kitchen countertop / backsplash (we have a lot of marble left over). She told me that for <$250 they can fabricate / install a new (marble) countertop and undermount sink. Hip hip hurrah! And you planted that seed for me. Thank you!!!

My fingers are crossed you find a remnant you love for your bathroom.
---
| | | |
| --- | --- | --- |
| RE: Thoughts on spray painting 'wood' furniture? | | |
Thank you Val and RmK. Sorry it took so long for me to get back here and thank you. Our daughter was home on leave so I only took computer time when she was with friends.
I really enjoy redoing things instead of buying new all the time. Helps keep the right side of my brain happy.
~Becky <><
---
| | | |
| --- | --- | --- |
| RE: Thoughts on spray painting 'wood' furniture? | | |
Justgotabme, fantastic job!!!! I had seen it before but always amazed at how well it turned out.

Impervo is fantastic for painting over wallpaper once you have "jointed" the seams and sanded. You cannot tell there is wallpaper under there and it bonds it to the wall to keep it from peeling off. It's great to use in a kitchen or bathroom if you have wallpaper there and want to paint over it. I just peel the seam if it is peelable just a bit, then sand with fine steel wool, add joint compound and paint with Impervo. IT is so much easier than removing wallpaper.

So, when I hear others say you cannot paint over wallpaper and make it work, they cannot tell me it does not work. We did that in our MasterBath 15 years ago and it has been repainted 5 times and no signs of any wallpaper peel even in a room that is a "wet room" like that.
---
| | | |
| --- | --- | --- |
| RE: Thoughts on spray painting 'wood' furniture? | | |
Thank you Patricia. I wish I could find another one just like it so I could have two of them. I did on Craigslist once, but was too late to get it. Still looking and hoping to find another one.

I was checking in, in hopes to see if Jaymie finished her project and had shared pictures. Where are you Jay....mie.......?
---
| | | |
| --- | --- | --- |
| RE: Thoughts on spray painting 'wood' furniture? | | |
There are so lovely pictures on here.

Here is my problem. The piece that I want to paint, the veneer has water damage to it and has places that has "bubbled up" and some places it has just chipped away. Any suggestions on what I should do? I am tryin to give my bedroom an "old World" appeal.
---
| | | |
| --- | --- | --- |
| RE: Thoughts on spray painting 'wood' furniture? | | |
McAllister, is the part where it's bubbled on the top? You can easily remove the top section of veneer by using your iron, set on low, (or a heat gun) to soften the glue, then peel it off. Then sand, prime and paint. I did that to an old chest I bought at an auction...the veneer was chipped and lifted in some sections.
---
| | | |
| --- | --- | --- |
| RE: Thoughts on spray painting 'wood' furniture? | | |
I spray painted a whole bedroom set in guest suite it was yellow made it white with mauve accents, turned out great! it was a gaudy yellow, and yellow does not fit into color scheme of my home..I just used walmart spray paint..
chest:
headboard:
---
| | | |
| --- | --- | --- |
| RE: re-doing a headboard, footboard and nightstand | | |
I have a headboard, footboard and nightstand that are about 55 years old. They are real wood, but need to be redone. I have never done anything like this before. There is a small amount that is intricut. What steps do I take? Sand? Prime? Better to use roller for large parts with a paint brush for intricut or a paint sprayer? What finish would you sugest? What type of paint (flat, enamel, etc)? HELP
---
| | | |
| --- | --- | --- |
| RE: Thoughts on spray painting 'wood' furniture? | | |
Note to all: If you are using an oil based paint, add "Penetrol" to your paint and it will level out even better than usual. No brush or roller marks.
If you use water base, (latex), use "flotrol".
Both of these products are from Flood Company and available where paint is sold. Definitly use a closed foam roller and the best quality brushes cuz you cant get best results with lesser tools.
---
| | | |
| --- | --- | --- |
| RE: Thoughts on spray painting 'wood' furniture? | | |
I also just did my first furniture painting project. My mother had a very inexpensive chest-of-drawers that had badly yellowed and was in the "give away or throw away" category - so if it turned out awful, no loss! I hand sanded and painted it with high-gloss white oil based rustoleum (primarily used for outdoor furniture). I applied two coats and only used about 1/3 of a quart of paint (about $8 a quart). I didn't take a picture of the "before" but it was an very yellowed. The after picture looks like the drawers are a different color but that is just the reflection of the mirrored closet doors to the right - the color is the high-gloss white you can see on the far right of the chest. I also put new hardware on it (yes - I'm missing one knob but because it is on back order). Anyway - I'm planning on doing the other pieces in the guest bedroom. I used a paint brush on this but will try the foam roller next time.
---
Post a Follow-Up
Please Note: Only registered members are able to post messages to this forum.
If you are a member, please log in.
If you aren't yet a member, join now!
---
Return to the Home Decorating Forum
Information about Posting
You must be logged in to post a message. Once you are logged in, a posting window will appear at the bottom of the messages. If you are not a member, please register for an account.
Please review our Rules of Play before posting.
Posting is a two-step process. Once you have composed your message, you will be taken to the preview page. You will then have a chance to review your post, make changes and upload photos.
After posting your message, you may need to refresh the forum page in order to see it.
Before posting copyrighted material, please read about Copyright and Fair Use.
We have a strict no-advertising policy!
If you would like to practice posting or uploading photos, please visit our Test forum.
If you need assistance, please Contact Us and we will be happy to help.

Learn more about in-text links on this page here