Return to the Home Decorating & Design Forum
|
Post a Follow-Up
---
| | | |
| --- | --- | --- |
| Any plum color suggestions for front door? | | |
Posted by
katrina_ellen
(
My Page
) on
Wed, Oct 3, 12 at 11:15
I want to paint my entry door either a plum, or a berry that leans towards purple. Can you suggest anything you have used or seen used that you really liked? I am looking for a color that is not really dark, but a mid-tone to a little darker. My house has white siding, and a brown roof with a red undertone, so nothing too dark, but something that will brighten up the entry way. Thanks in advance for any suggestions, I really appreciate it!
---
Follow-Up Postings:
| | | |
| --- | --- | --- |
| RE: Any plum color suggestions for front door? | | |
Farrow & Ball "Pelt" for a good rich dark one - in a gloss finish, of course.

In Pratt & Lambert's Williamsburg group, Robert Carter Plum, CW101.

Benjamin Moore Dark Purple, or Autumn Purple.
---
| | | |
| --- | --- | --- |
| RE: Any plum color suggestions for front door? | | |
bronwynsmom - I don't want to hurt your eyes or anyone elses, but here's what I am working with. I had another thread going, but I changed the subject because I decided I wanted to paint a plum or berry door color. I took a look at the BM dark purple and really like it, but is it too much for this litte cottage house? Would it be totally declasse?
Thanks in advance for any and all ideas!!!!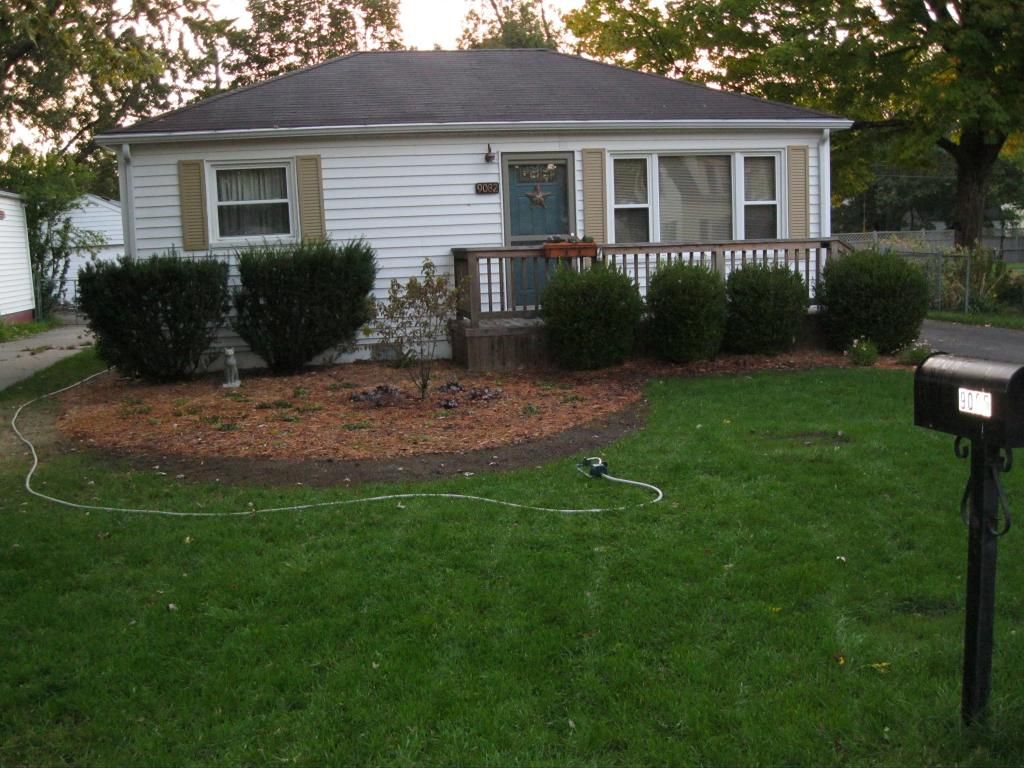 ---
| | | |
| --- | --- | --- |
| RE: Any plum color suggestions for front door? | | |
First -- consider painting the front porch in white to blend in with the main body of the house ... and switch to longer white window boxes for the edge.

Next -- paint the shutters in medium-to-dark gray to work with the roof color -- and with the new front door color.

Yes -- plum or purple would look wonderful -- just add purple and gray foliage or flowers to the garden and window box/es.

Add a much larger lantern to the left of the front door.
---
| | | |
| --- | --- | --- |
| RE: Any plum color suggestions for front door? | | |
I'm seconding what teacats suggests, with one alteration - I'd paint the structure, floor, and hand rail of the porch the same dark gray as the shutters, and paint the balusters white.

I think you want to get the gray very dark, because colors like these usually look much lighter and brighter outside.

And a garden with purple and creamy yellow and chartreuse along with lots of green. I would bite the bullet and take out the two shrubs to the laft of the porch, and plant four George Lindley Tabor azaleas instead. They are evergreen, they grow quite large, and they bloom in a lovely shade of pale lilac with a creamy and pink throat. They don't need much pruning, except to keep them from growing too tall, and the only attention they need is a nice thick acidic mulch (like pine bark or pine tags). If you wanted to do that, be sure to plant them half the mature spread out from your house to give them room to attain that lovely natural look.
---
| | | |
| --- | --- | --- |
| RE: Any plum color suggestions for front door? | | |
teacats - I love the dark grey suggestion for the shutters. I tried it on the BM site and it looked very pretty. My landscaping is in process, and am going to have my brother make a deeper wood window box that hangs lower over the edge of the railing - longer and deeper to support plant life. Thanks for the feedback, its good to have a confirmation about the purple. My neighbor's house is green so it will look good with theirs as well. Thanks again!
bronwynsmom - I can't wait to start painting - I'm excited about this project! Next spring will be the deck, I have to strip off the old stain first. I really like the deck colors you are suggesting - that will be a huge change, and thanks for the info. on the gray looking brighter and lighter outside - my house faces west so it really has that effect, so glad you mentioned that! I would love to get those ratty looking yews out of there, but I thought I would try drastically pruning them in the dormant season and shaping them into a hedge, same for the boxwoods by the deck - everythings getting cut to a foot and re-shaping to a hedge to ground the house. Part of the plan is to build a lattice screen panel angling out to the left of the yews, paint it white, and grow a flowering vine on it. Thanks so much for the beautiful azela suggestion - if I take out the yews at some point - after my other projects are completed, I will know some beauties to put in! Those are just gorgeous!!! Thanks for the visual.
---
| | | |
| --- | --- | --- |
| RE: Any plum color suggestions for front door? | | |
BM dark purple

I used Martha Stewart Purple Elderberry in my library. It has a touch more gray in it. Either would work.

---
| | | |
| --- | --- | --- |
| RE: Any plum color suggestions for front door? | | |
I would really look at Pelt. It is a lovely color and you can get it mixed in a cheaper paint if you'd rather (although purists way wince).
---
| | | |
| --- | --- | --- |
| RE: Any plum color suggestions for front door? | | |
Here is a link that might be useful: pelt
---
| | | |
| --- | --- | --- |
| RE: Any plum color suggestions for front door? | | |
Thanks for the suggestions Annie & mtnrdredux - beautiful colors. I ended up taking the BM dark purple and BM autumn purple color strip home with me. Going off of the roof color, I think the Autumn purple wins out - at least in the color strip. BM had a dark grey for the shutters called Deep Space that seemed to compliment the roof. SW is having a sale, I am going to see if they can mix up samples of those. I'm not a purist, due to budget constraints, but that Pelt color is beautiful. But I think the Autumn Purple will give just enough brightness for a darker color. I'll give it a try anyways.
Thanks all for your suggestions, I truly appreciate it.
---
| | | |
| --- | --- | --- |
| RE: Any plum color suggestions for front door? | | |
Careful using a dark color and a storm door as the sun will bake your the door. If it is a composite or steel door the warranty may very well be voided by using a dark color and a wood door the finish will not last as long.
---
| | | |
| --- | --- | --- |
| RE: Any plum color suggestions for front door? | | |
I would seriously reconsider pulling up the yews to the left of the porch. Even if you decide not to plant anything right away, I think it would give a nice horizontal line to coordinate with the porch and make the house look longer and less boxy. I know your plan is to cut all the yews back but when they grow back you will have much the same issue as you do now. It looks as if the house is being taken over by the plants, and not in a good way. To me it makes the house look smaller which seems to be what you are trying to avoid.

Don't have any particular suggestions on paint though - sorry. I agree with the others about painting the shutters, the color you have now does not "not" go, but it doesn't complement the house. I would search for a lighter color plum than some of the ones shown. IMHO

PS. Not certain as to what the "tree" is that is planted in front of the yews on the left but be warned, tiny trees can grow very big - I have a huge tree that the PO planted so close to the house that all you can see when you look at the front of my house is this huge trunk. It is most unattractive and will cost us a fortune to remove.
---
| | | |
| --- | --- | --- |
| RE: Any plum color suggestions for front door? | | |
Millworkman-where did you come from? Ha! Just in the nick of time. I actually decided to go with a lighter color - my house faces west and gets the intense afternoon sun, so - back to the drawing board!
lynn r ct- thanks for the response, but I think the yews serve a purpose, to hide the foundation, its just block wall where the siding ends. I think it will look good when I reduce them to hedge size, it will take some pruning but thats OK. If it doesn't work out at that point, I will reassess. Thanks for the caution, but the tree looks closer in the photo than it actually is. I confirmed with a lanscaper its in a good spot for the size it will get, but thanks for the caution.

I am looking for a much lighter color now, still in the same range of hue as the autumn purple, which I love - a warmer tone, but much lighter. Any suggestions for a much lighter plummish color? Has anyone used BM african violet, or iris bliss? OR? Thanks in advance!
---
| | | |
| --- | --- | --- |
| RE: Any plum color suggestions for front door? | | |
I think the yews are fine, but just need a hedge trimmer to shape them up. They can be kept to the same size if trimmed annually.
---
Post a Follow-Up
Please Note: Only registered members are able to post messages to this forum.
If you are a member, please log in.
If you aren't yet a member, join now!
---
Return to the Home Decorating & Design Forum
Information about Posting
You must be logged in to post a message. Once you are logged in, a posting window will appear at the bottom of the messages. If you are not a member, please register for an account.
Please review our Rules of Play before posting.
Posting is a two-step process. Once you have composed your message, you will be taken to the preview page. You will then have a chance to review your post, make changes and upload photos.
After posting your message, you may need to refresh the forum page in order to see it.
Before posting copyrighted material, please read about Copyright and Fair Use.
We have a strict no-advertising policy!
If you would like to practice posting or uploading photos, please visit our Test forum.
If you need assistance, please Contact Us and we will be happy to help.

Learn more about in-text links on this page here