Return to the Home Decorating Forum
|
Post a Follow-Up
---
| | | |
| --- | --- | --- |
| Dining room color - help please | | |
Posted by
jessica07
(
My Page
) on
Thu, Oct 18, 07 at 11:10
Hi all. We're in the process of building a house (a little house, thank goodness!) and have decided to paint colors right away. We're doing the painting ourselves and decided to go with Behr or SW paint. I would love to use BM or EK paint, but they are just way out of our budget for painting an entire house!

With all that said...I need a suggestion for our dining room. We are going with Behr's Mocha Accent for our great room/kitchen (which you can see from the dining room - open floor plan). So what color goes with a medium brown? We were thinking a shade of green...maybe. We're putting a light blue in the foyer and that also touches the dining room (ugh! starting to hate open floor plans!). I'm open to suggestions. Since all stores can color match, it doesn't matter what brand. Picking colors has become a complete nightmare!

Here's our floor plan (hope it helps):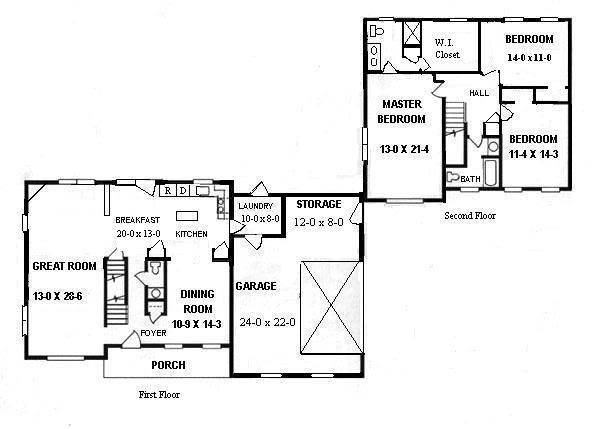 ---
Follow-Up Postings:
| | | |
| --- | --- | --- |
| RE: Dining room color - help please | | |
Looking at your floorplan, I would not put two different colors in the dining room and foyer. They share a wall. I would choose a muted green or maybe a creamy tan. Do you have any furniture for the dining room yet? What is the flooring? Is there a rug that you need to match? What about the kitchen since that flows together too. Nice floorplan

Lindy
---
| | | |
| --- | --- | --- |
| RE: Dining room color - help please | | |
I noticed the shared wall after I posted too. It so hard to picture it without having actual walls to look at!

Dining room furniture - Very light oak table/chairs. The flooring is Pergo...our choice of 10 or so colors. That's a whole other discussion in itself. I *think* we're going with "reclaimed barnwood", which looks like this:


So what looks good with a dark floor and light furniture?
Kitchen - Flooring is laminate, a color called "greigestone" and looks like this:

Dark cherry colored cabinets with this countertop:
Unfortunately, whatever I use in the dining room and foyer, should probably go up the stairs and in the hall upstairs, huh?
---
| | | |
| --- | --- | --- |
| RE: Dining room color - help please | | |
Ok, if no one has any suggestions here...any idea where I can get color ideas/advice?
---
| | | |
| --- | --- | --- |
| RE: Dining room color - help please | | |
What would you think of using colors that are next to Mocha Accent for all of your downstairs rooms? Don't think I would do blue, brown and green in your open plan.
Hope someone else will chime in with suggestions.
---
| | | |
| --- | --- | --- |
| RE: Dining room color - help please | | |
I did take a look at the Mocha Accent you picked out. It's very gray...almost a stone color. I like it but wonder if it's too dark to work with on such an open plan?? Personally, I would choose a nice creamy tan that would work well in each room. Continue that color all the way up the stairs. Maybe do an accent wall in the dining room of a darker shade of brown.

Then if you're really wanting some different colors, you could do something fun in the bathrooms and bedrooms.
Just my .02

Lindy
---
| | | |
| --- | --- | --- |
| RE: Dining room color - help please | | |
I agree with Lindy. A nice neutral light tan will work with everything. That's what we did in our house and we love it. (We used Kelley-Moore's Wise Owl, which is a regional paint.)

Good luck!
---
| | | |
| --- | --- | --- |
| RE: Dining room color - help please | | |
I agree with Lindybarts.

My home also has an open floor plan. I will be using one neutral color in the family room and kitchen. My Dining Room will probably be some sort of dark brown (the walls are configured a little differently then yours).

Try looking at Valspar Natural and Valspar Cocoa. I used these colors in my finished basement/office. They are really nice together. Everyone compliments the Cocoa.
If you want to use SW or Behr, they can copy anyones colors. Check it out at Lowes.

You can always use light blue for accessories.

We just painted our powder room RH Atmosphere Blue (ceiling too). It's gorgeous. We have an expresso floating vanity.
---
| | | |
| --- | --- | --- |
| RE: Dining room color - help please | | |
Behrs mocha accent looks a little gray to me. You have the gray in your countertops but the floor picks up more green than gray. I'm not sure how the gray would really accent the darker cherry cabinets. I'd suggest trying some samples of something more khaki (green or golds in family hall and pumpkin/rust in the kitchen. I personally dont have anything against Behr paints, but I always have a really hard time finding the right shades. Most of their samples are too eclectic or modern for my personal tastes. Browsing their site, I'd try shortgrass prairie and tiny fawn combo. (hard to tell exact shades though online). You might look at those and then compare to the Ralph Lauren (sherwinn williams) stuff Depot sells. You could pick the shades from RL, which is sometimes easier and then have them mix it in behr. Lowes also sells Valspar which isnt bad. I'd keyed in on the eddie bauer palm/reed/butternet/raffia shades http://www.valsparatlowes.com/explore-colors/choose-a-color.html?collection=EB Alternatively, you can get the pottery barn and/or affinity color wheel from Benjamin moore. All the colors on those wheels are meant to accent one another. You can pick from there and then mix in Behr. I always need to go to paint chips for dummies (wheels that have accenting colors without 1000000 and 1 options or I go insane trying to pick)
Good Luck
---
| | | |
| --- | --- | --- |
| RE: Dining room color - help please | | |

Maybe paint the hallway/stair area the a darker or lighter shade of the dining room.
I was going to ask you what color your furniture was for the greatroom and dining room? I dont know what the mocha color looks like exactly but I wanted to mention that if you put that in the kitchen does it look good with the cherry cabs?
I was thinking that if you like the blue color idea I think SW rainwashed or SW quitude would look great for the kitchen with the floor and countertop and cab.(that is if my monitor is seeing that correctly) Again I dont know what colors are in your greatroom furniture.
And then you could use the mocha color for your dining room/ foyer.
A few other color suggestions that probably would go well with mocha (brown) I have for your dining room are SW grassland or SW svelte sage or maybe a red color like SW fireweed or SW flowerpot . Again I don't know what your style/tatstes are. I kinda color coded your pix to show an idea of where to put the paint.. (for some reason I couldnt get colors to show up) Im new at that kinda thing)

.
---
| | | |
| --- | --- | --- |
| RE: Dining room color - help please | | |
Check out Benjamin Moore's Pittsfield Buff. I think it would look very classy with your counter. It's a neutral, yet it packs more punch than plain beige.

Good luck!
---
| | | |
| --- | --- | --- |
| RE: Dining room color - help please | | |
Jerseygirl...your Powder Room sounds awesome. Did you take any pictures yet? I'd love to see.

Jessica, have you checked out the Browns/Tans thread in the gallery? Lots of photos of great looking neutral colors in there.

I love bigideaslittlefunds (cute name) ideas of how to paint.
---
| | | |
| --- | --- | --- |
| RE: Dining room color - help please | | |
Thanks everyone! I'm going to go look up a lot of the suggested colors. The kitchen cabinets are stained "black cherry" but have a red undertone to them. In direct light, you can definitely see the "red" in it. We figured the floor with green undertones would work well.

The foyer and hall are ceramic tile - a neutral tan. And the carpeting we picked out is tan also. Furniture in the great room is undecided. We're getting new once we move in.

We like darker colors so that's why we went with Mocha Accent. But everyone's right, it does have a gray tone to it. We had also picked out "Toffee Crunch" but in the end stayed with the Mocha. Maybe we should go back to Toffee Crunch? Does a gold tan go with redish cabinets?
---
| | | |
| --- | --- | --- |
| RE: Dining room color - help please | | |
Here's what I did with my dining room and the rooms that are off of the dining room. First, I used Olympic paint from Lowes. It is very low odor, and has a very even, one-coat coverage. If you do a search here, you will find that Behrs is not consistent and a lot of people have had bad experiences with it, depending on the color used. I previously used SW in my dining room and it tended to fade which caused problems with touch-ups. Both Behrs and SW are more expensive than Olympic.
My dining room is currently painted in olypic which has been color matched to RH cappuccino. Off of the dining room is an archway with a guest bedroom and bath and that area is painted RH silver sage, also color matched in Olympic. The hall on the other side of the dining room is also painted in silver sage, which can be blue looking or green looking depending on the light and what other colors are used with it.
I'm glad you don't have a problem with color-matching, and I hope that you will at least try a quart of the olympic, it really is very good paint.
---
| | | |
| --- | --- | --- |
| RE: Dining room color - help please | | |
| | | |
| --- | --- | --- |
| RE: Dining room color - help please | | |
Jessica-- I forgot to mention if you look up paint colors online --to me they dont look at all like seeing the actual swatch from the store. I have paint deck of SW -- I think they will even borrow one to you but I paid 10.00 for mine. That way you dont have to make to many trips for more samples. :)
---
| | | |
| --- | --- | --- |
| RE: Dining room color - help please | | |
Jessica, I don't think you want something with much gold in it at all. I like your idea of more of a brown or coffee colors but not Mocha Accent. I did see Toffee Crunch online and it's really pretty. I think it would look great with all your options you chose. Here's a pic from Behr's website:

Toffee Crunch

I also have coffee colors and I love them. (RH Cappuccino, Flax and Latte)
And I agree with bigideaslittlefunds that looking at paint swatches up next to all your choices is the best way to decide. Do you have a sample of your cabinet too? Can you lay it all out and look at it in different lighting?
I hesitate to say this because you've already picked things out and I don't want to offend you but are you sure you want a floor with so much green when you have countertops with blue, gray and brown? Okay, you can shoot me now!
Lindy
---
| | | |
| --- | --- | --- |
| RE: Dining room color - help please | | |
Toffee Crunch was our #2 vote getter (yes, we polled ALL of our family and friends, haha) and Harvest Brown came in #3. Those were the 3 colors we liked. I do have the actual color swatches at home from Behr. And yes, I also have a sample of our kitchen cabinet stain. We do plan on ordering actual paint samples from the Behr website too. That way we can actually see the color on the wall before committing.

The floor is actually a lot more gray in person than green. Unfortunately I don't have a real sample of it (to take a pic of).
---
| | | |
| --- | --- | --- |
| RE: Dining room color - help please | | |
I have Behr Harvest Brown in my bathroom and love it. It is definitely a darker beige/tan with no gray in it. If you look in the Beige thread, MrsMarv's bathroom is Harvest Brown. Another color that I considered which is a gray beige is Behr Gobi Desert. It is much lighter than Harvest Brown so it may look nice in your open floor plan.

IMHO, Behr is a far superior paint than SW - easier to apply, not as runny, don't need as many coats, looks smoother on th walls. We painted our house ourself and used Behr, Sw, BM and BM Aura. Yes BM is the best but not worth the extra $$. If I had to choose between Behr and SW, I'd go with Behr, esp if I'm doing the painting.
---
Post a Follow-Up
Please Note: Only registered members are able to post messages to this forum.
If you are a member, please log in.
If you aren't yet a member, join now!
---
Return to the Home Decorating Forum
Information about Posting
You must be logged in to post a message. Once you are logged in, a posting window will appear at the bottom of the messages. If you are not a member, please register for an account.
Please review our Rules of Play before posting.
Posting is a two-step process. Once you have composed your message, you will be taken to the preview page. You will then have a chance to review your post, make changes and upload photos.
After posting your message, you may need to refresh the forum page in order to see it.
Before posting copyrighted material, please read about Copyright and Fair Use.
We have a strict no-advertising policy!
If you would like to practice posting or uploading photos, please visit our Test forum.
If you need assistance, please Contact Us and we will be happy to help.

Learn more about in-text links on this page here