Return to the Home Decorating & Design Forum
|
Post a Follow-Up
---
| | | |
| --- | --- | --- |
| Wishing You All A Happy Halloween! | | |
Posted by
lynninnewmexico
(
My Page
) on
Wed, Oct 31, 12 at 10:05
I realize that under the circumstances, it may be a tough one for those still reeling from the effects of Hurricane Sandy, but I did want to inject just a little bit of happy wishes to everyone.
Tonite will be our 25th annual Homemade Soups & Breads Halloween dinner party. Everyone invited brings along a pot of homemade soup and/or bread to share. When our kids were young, after dinner the dads would take them all together our trick-or-treating while we moms would sit on our friends' front porch, chatting and sipping hot mulled cider while we handed out candy. Our DD was the youngest of the kids. She's now a freshman in college but, happily, we have our friends' 2 little grandsons to celebrate with this year.

To keep this appropriate for this decorating side of the forum, do you have any decs you'd like to share with us?What are your plans to today, if any?

Mine are the same as last year because I don't have room for any new decs and I really like the ones I have (LOL).
Lynn
Dining room table: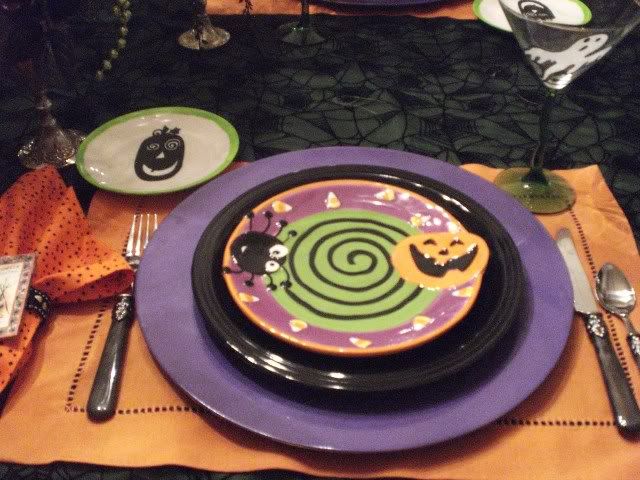 ---
Follow-Up Postings:
| | | |
| --- | --- | --- |
| RE: Wishing You All A Happy Halloween! | | |
| | | |
| --- | --- | --- |
| RE: Wishing You All A Happy Halloween! | | |
Our plans for today?
Staying dry and warm.

Trick or Treating has been postponed until Saturday.
---
| | | |
| --- | --- | --- |
| RE: Wishing You All A Happy Halloween! | | |
Lynn, your "Soups and Breads" party sounds like a wonderful time! I know you'll all enjoy your evening.

Trail - what a precious little pumpkin you have there! Learning to walk ... already? My, how time does fly!

Here's the extent of my Halloween decor. This is "Cynthia" (or, as she's more appropriately known - "SINthia", because her big ol' pumpkin head is full of high calories chocolate goodies). She's been leading everyone in my office astray all month.
---
| | | |
| --- | --- | --- |
| RE: Wishing You All A Happy Halloween! | | |
What a cute little pumpkin, Trailrunner! I love your decorations, Lynn. I kind of wimped out on Halloween decor this year. I put the wreath on the front door, but that's about it. Thanks for reminding me with your ghost picture that I have one of those morphing pictures that I can put out.
---
| | | |
| --- | --- | --- |
| RE: Wishing You All A Happy Halloween! | | |
Trail, he's adorable!
LuAnn: yes, stay warm and dry!
Jen, she's wickedly cute!
Fun: thanks.

Well, the dogs have been fed and walked and the trash taken out. I need to get started on the French Onion soup I'm taking to our party tonight.
---
| | | |
| --- | --- | --- |
| RE: Wishing You All A Happy Halloween! | | |
Great pics. You know you are on the Home Decorating forum when Tommy is on the TV in the background. I will try to get a yard picture tonight.
---
| | | |
| --- | --- | --- |
| RE: Wishing You All A Happy Halloween! | | |
Sunny, fun and lynn thank you ! He has been walking over a month now and his 1 yr bday is tomorrow 11/1. His Momma is holding his hands I think cause of the funny feet on the suit :)

We are on our way up there to have a belated Halloween/Bday/10th Wedding Anniversary with them next week. He is indeed precious. The pic was taken at the local hospice center. The Mom's group went and had a parade for the residents , all the children were in costume. DIL said everyone seemed to enjoy it. Sweet of them to do it.

Great pics Lynn !! I gave all of my Halloween decorations to DD a couple years ago since she has an Oct birthday. She loves to decorate and I am not interested any more.

Hope others post pics. c
---
| | | |
| --- | --- | --- |
| RE: Wishing You All A Happy Halloween! | | |
I'll be going trick or treating with my 2 cutest decorations! ;o)
---
| | | |
| --- | --- | --- |
| RE: Wishing You All A Happy Halloween! | | |
Here on Lot 13 Block 13 on Cemetery Hill -- the cemetery is built and ready to go! :) Lots of ghouls, skeletons and assorted odd skulls are placed out -- and I added a bit of cobwebbing around the large tombstone ...

Our next-door neighbours on each side have built some great cemeteries too -- so we'll be partying on the sidewalk -- and we give out the candy at the end of the front walkways.

We think we may have about 150 trick-and-treaters visit this year ....

It is surprising to us that there are so few houses that decorated around here this year ...

Best and Spookiest Wishes to You All!

Cheers! :)
---
| | | |
| --- | --- | --- |
| RE: Wishing You All A Happy Halloween! | | |
I wish it were Halloween - then I could get of this candy before I finish all of it myself.

We're in NJ and due to the storm our town postponed Halloween until Friday.

But I just received another automated phone call alert from our police department - Gov. Christie has issued a state wide postponement until Monday Nov. 5.

It probably makes sense and it's safer but now I have 5 more days of ignoring the Butterfingers, Reese's peanut butter cups and Snickers. Woe is me :(
---
| | | |
| --- | --- | --- |
| RE: Wishing You All A Happy Halloween! | | |
They've postponed Halloween in our area towns as well. We treat ourselves and will be going out to dinner tonight....

Only thing is the ghouls won't care that there's no power and should be out in full force as every Halloween....
---
| | | |
| --- | --- | --- |
| RE: Wishing You All A Happy Halloween! | | |
Happy Halloween all!

We had kids trick or treating at work on Saturday, so got my spooky fun that way. Think we had almost 100 kids in...and then I ran out of candy :( No tricks thank goodness! So fun seeing the little ones now that dd is in her twenties.

My favorite time of year for movies too. All horror all the time!

A Halloween quote...

'ÄúPeople think that I must be a very strange person. This is not correct. I have the heart of a small boy. It is in a glass jar on my desk.'ÄĚ

~Stephen King
---
| | | |
| --- | --- | --- |
| RE: Wishing You All A Happy Halloween! | | |
deedee...eeeww..read that to DH and DD...eeeww...haha..

we don't put out candy but DH and I were sitting on the porch in the dark waiting on DD to come and have a late Bday celebration. As folks and their kids walked by they would call to us and ask if we were giving out candy. I said no but said we were taking donations ! We got several nice treats from kids that came up on the porch and donated candy. Then I bartered with some for chocolate ..gave them Skittles ! So it was a fun time all around.

Bday with DD was also wonderful. c
---
| | | |
| --- | --- | --- |
| RE: Wishing You All A Happy Halloween! | | |
I have a weird Halloween complex. I refuse to be the one to go to the door. Won't do it. I sit on the couch with a glass of wine and watch TV.

But as soon as the door opens, I get as excited as the kids and try to peek at the costumes. I demand to know exactly what was said by whom. If I hear the kids say thank you, I practically require a Valium. Last year, a very tiny little girl got a bunch of Whoppers, and she whispered to her mother, "Score." I almost had to call myself an ambulance. I even got a big smile at the really fat little kid whose mother ill-advisedly decided to dress as a pumpkin.

I have no idea why I have this reaction. I actually detest children.
---
| | | |
| --- | --- | --- |
| RE: Wishing You All A Happy Halloween! | | |
Morning After Report:

Over 200 kids -- just wonderful!

Lots of little voices saying ""thank you"" ... and really cute costumes too! :)

And no tricks here ....

We bought LOTS of candy -- and used almost every single piece!! :) We JUST barely had enough candy!

And MANY of the parents were SO thankful too -- and told us that there were not many decorated homes in their neighbourhoods ........ we had families from 10-20 miles away!

Cheers -- off to bring in the dead (that means the ghouls, skeletons, tombstones etc.)
---
| | | |
| --- | --- | --- |
| RE: Wishing You All A Happy Halloween! | | |
As happens in most years, not one single trick-or-treater rang my doorbell. I keep thinking that the family with three children two houses down will visit, but they never do.
---
| | | |
| --- | --- | --- |
| RE: Wishing You All A Happy Halloween! | | |
Enjoyed hearing the happy stories here.
We never get any trick-or-treaters up here in our mountain community. That's why we have our annual Halloween Homemade Soups & Bread dinner parties down at our friends' home in town. The party was fun and my homemade French Onion soup was a huge hit. Thank goodness I kept out enough for DH & I to have another bowl tonite, as the rest was eaten up quickly.

Trail, you made me laugh out loud! I can just picture you two sitting out on your steps waiting for candy donations (LOL)!

Maire cate: I know, Halloween candy is so hard to ignore!So are the cookies. My friend snuck a bag of her (delicious!) homemade ghost cookies into my empty soup pot before we left last night and they've been calling my name all morning long!

Annie: hope you had a great meal last night!

Deedee: oooooh, scary movies, did you watch "Signs" (my fav)???

Patty: that's the best way to celebrate ;')

Fun: I know, kind of sad really. Same here.

Teacats: your Halloweens always sound like such fun! The kids in your area are so lucky!

Marcolo: I'm still shaking my head, trying to understand your post, and chuckling over it (LOL)! And, seriously, you "actually detest kids"?
---
| | | |
| --- | --- | --- |
| Wishing You All A Happy Halloween! | | |
Marcolo is getting softer with age, your post says it all.

Trail, adorable little pumpkin indeed.

I flew to Florida yesterday, 2 flights, I only realized it was Halloween when I went to buy chocolate at the Houston airport, the staff at the store wore costumes. it made me enjoy my Rollos even more.

I changed my Facebook profile picture to the cat pumpkin for yesterday .
---
| | | |
| --- | --- | --- |
| RE: Wishing You All A Happy Halloween! | | |
Sunny, your Sinthia is adorable, must have put a smile on everyone's face !
---
Post a Follow-Up
Please Note: Only registered members are able to post messages to this forum.
If you are a member, please log in.
If you aren't yet a member, join now!
---
Return to the Home Decorating & Design Forum
Information about Posting
You must be logged in to post a message. Once you are logged in, a posting window will appear at the bottom of the messages. If you are not a member, please register for an account.
Please review our Rules of Play before posting.
Posting is a two-step process. Once you have composed your message, you will be taken to the preview page. You will then have a chance to review your post, make changes and upload photos.
After posting your message, you may need to refresh the forum page in order to see it.
Before posting copyrighted material, please read about Copyright and Fair Use.
We have a strict no-advertising policy!
If you would like to practice posting or uploading photos, please visit our Test forum.
If you need assistance, please Contact Us and we will be happy to help.

Learn more about in-text links on this page here