Return to the Home Decorating & Design Forum
|
Post a Follow-Up
---
| | | |
| --- | --- | --- |
| Revere Pewter for my dining room | | |
Posted by
angel9603
(
My Page
) on
Tue, Oct 30, 12 at 8:29
From a previous thread, gray was suggested in my dining room. Thank you to all who suggested colors. I did test heirloom shade funcolors, it is beautiful but it's not quite right in our lighting. I got a bunch of other benjamin moore samples to look at. I believe Revere Pewter looks good but I'm horrible at this. So what do you think? Revere Pewter in the dining room. We would put edgcomb gray in the hallway next to the dining room. then we have a foyer that will be ??? with edgecomb gray in the formal living room on the other side of the foyer. Here's the dining room room furniture and floor. thoughts on revere pewter in here?
---
Follow-Up Postings:
| | | |
| --- | --- | --- |
| RE: Revere Pewter for my dining room | | |
Personally, I think Revere Pewter is one of those amazing neutral colors that works with damn near anything and I really do think it would work well in that space, from what you've shown us.

We have it in our master bedroom:

And the kitchen: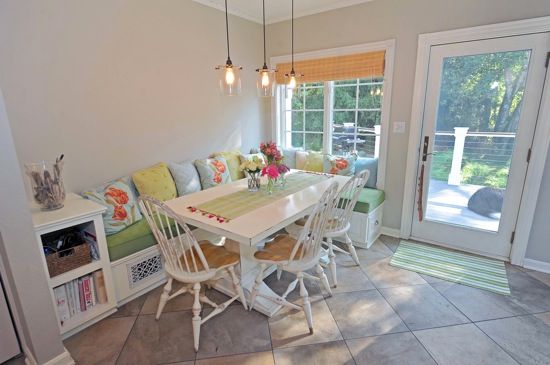 ---
| | | |
| --- | --- | --- |
| RE: Revere Pewter for my dining room | | |
I don't remember seeing your earlier thread, and while I do agree that Revere Pewter is a wonderful neutral, I'd go with more color in that room. The main reason is your furniture.

In all the rooms above, there is a lot of white. The Revere Pewter goes very well with white, but I don't think it is the best with your light furniture. Dining rooms are good places for richer color, so I'd go darker, at least, and maybe a bit less neutral.

There are so many grey and grey/brown colors, but something like Kingsport Grey would give you more warmth and dress up the room while staying neutral. I saw Evening Dove in the color trends 2013 group and think that would look great with your furniture and floor, but it is less neutral -- more a grey blue or blue grey. You could go into greens -- maybe even an eggplant like Beekeeper's wife did. It's only half a wall to begin with and windows, doors and a china cabinet are probably taking half of that out of the equation. This is really one place you can let go of the fear of color and pick color over neutral. That would be my choice anyway.
---
| | | |
| --- | --- | --- |
| RE: Revere Pewter for my dining room | | |
I agree with lascatx. You need a stronger gray to balance your furnishings and add warmth.
---
| | | |
| --- | --- | --- |
| RE: Revere Pewter for my dining room | | |
Beautiful room sailor girl! It looks great in your space. lascatx and caminnc, thanks for your insight. Came home from work today and my husband new this was a color we were considering. Seems he purchased it while I was gone today. I'm going to test it and see how it looks. Is it easy to tint it darker? I know nothing really about paint. I would love to do eggplant but that it way too wild for hubby's taste. His prior condo was entirely white. We are taking baby steps, lol.
---
| | | |
| --- | --- | --- |
| RE: Revere Pewter for my dining room | | |
The one time they listen or do something without being asked several times..... LOL

Yes, you can add more pigment if you want to go darker, but you are somewhat limited in direction by the initial choice and possibly the patience of the paint folks. Or maybe the RP will work in the foyer and be the transition between the darker color and the other grey?

Have you shown DH the photos of bee's DR? You might make a color convert out of him. Bathrooms and dining rooms, esp ones with wainscoting are the easiest ones to totally transform with a coat or two of paint. One gallon of paint and a few hours can totally transform that dining room of yours.

White walls are a legit choice and can be striking, but they aren't for every room. And most whites are all that white, but that's another story. But you've got a gallon of paint -- check it out and if it seems washed out and a bit too bowl of oatmeal-y, you have an idea which direction to take it.

At least he bought the paint you talked about.
---
| | | |
| --- | --- | --- |
| RE: Revere Pewter for my dining room | | |
Isn't that the truth! Lol. I feel bad because he was so excited to show me that he purchased and and was ready to start painting! Here is a quick test patch. The furniture is not against the wall so the lighting is a little off.

Natural light
With overhead light
I do like it and it has more contrast with the white then I thought it would. What do you guys think? I need to make a decision by later tonight or early tomorrow as our painter is just about done with the living room. Edgecomb gray looks fabulous!
---
| | | |
| --- | --- | --- |
| RE: Revere Pewter for my dining room | | |
Hey are you the one who bought my ole dining set? Wouldn't that be strange? Anyway, I think overall your room will look a bit anemic with your sample color especially certain times a day.
What sort of look are you going for? This set looks absolutely gorgeous with eggplant painted walls! Plus, the right eggplant shade will go with most other existing colors be they light or dark. I think you and husband need to get jiggy with some paint.
---
| | | |
| --- | --- | --- |
| RE: Revere Pewter for my dining room | | |
Thanks jterrilynn. Nope wasn't us lol but that would be a small world. I haven't seen bee's eggplant dining room. Did u do your prior room in eggplant. If so I'd love to see photos to share with my husband. Suggestions on eggplant colors?? Might be a long shot but worth discussing. Thanks!!
---
| | | |
| --- | --- | --- |
| RE: Revere Pewter for my dining room | | |
Angel, a deeper color would be beautiful with your light furniture. Here's the thread to Bee's DR. ;o)
Here is a link that might be useful: dining room
---
| | | |
| --- | --- | --- |
| RE: Revere Pewter for my dining room | | |
Sorry, I still think it needs to be darker. I know it's hard to commit to but I think you will be glad you did when you see how rich it looks.
---
| | | |
| --- | --- | --- |
| RE: Revere Pewter for my dining room | | |
Angel, sorry I do not have pictures, this was in my last house. It was in the days of glazed walls. I started with a sort of fuchsia-ish base and did about seven layers of glazed colors for gorgeous depth. The over all color was a bit eggplant-y in the end but with depth.
---
| | | |
| --- | --- | --- |
| RE: Revere Pewter for my dining room | | |
RP contrasts enough with white trim -- it's the light wood furniture and the different undertones that aren't working. Your low contrast art adds to the effect. If the furniture stays, I'd look at the RP for the hall and more color in the DR.

RP would go great with eggplant if you are considering that direction. The eggplant would also look good with the teal glass in your cabinet. The new photo with the test swatch of RP also shows some Asian china pieces. This grey was one I mentioned earlier (evening dove) and it would look great with the orange/paprika color as well as the dark blue in those. You can see the pairing with peachy and orange tones in the pillows and flowers. Might be easier for DH to handle a deeper grey too. Some guys can't deal with anything resembling purple (you could tell him it's warm or fruity cocoa -- LOL). I think it would also transition well with RP in the entry (look at the ceiling -- a similar idea).
Looking at RP on the BM website, they show it with mink and dalton blue-- that goes to a darker grey brown (almost a slightly greyed cocoa) and a pale grey blue (that could go on the ceiling if you get adventurous). Your crystal chandelier (see it in the reflection) would be very pretty against any of these darker colors.
Have we confused you more? Will the RP work in the entry so the painter can keep painting? LOL
---
| | | |
| --- | --- | --- |
| RE: Revere Pewter for my dining room | | |
Well that photo showed up when I previewed the post.... Not sure where it went. At least you have the color names and can find them on the BM site or in the store. Sorry about that.
---
| | | |
| --- | --- | --- |
| RE: Revere Pewter for my dining room | | |
Can you stand back further and get the floors in the picture so we can see how RP looks with it? Beautiful floors BTW. What kind are they?
---
| | | |
| --- | --- | --- |
| RE: Revere Pewter for my dining room | | |
Thank you Patty for posting Dee's gorgeous dining room. it is beautiful! I remember the gray she had previous and I really liked it too. Go figure! He's really not excited about eggplant, but I think I've exhausted him at this point and he said just do whatever you want. We entertain a lot and he will spend time in this room so I want him to be comfortable and now he's just defeated lol.

I loved Edgecomb Gray so much that we are going to use that through the main foyer, into the great room and the hall that connects to the dining room. I do love the light and airy look of it. Is there another deeper gray that would compliment the Edgecomb? lascatx, what about the evening dove, would that coordinate well with edgecomb hallway. The art work will eventually be replaced as we find something we like.

On their website, edgecomb works well with appalachian brown or squirrel tail. Not sure if either of these would work better with the furniture. This is the last day I have to make a decision! The revere pewter won't go to waste as I can put it in my study that is off the formal living room which is also edgecomb gray.

Thanks msrose, I can take another pic when I get home from work. The floors are tigerwood. They are beautiful but softer than I wanted. They don't hold up well to a family of 4 and a dog!!
---
| | | |
| --- | --- | --- |
| RE: Revere Pewter for my dining room | | |
Take a look at Spalding Gray from Sherwin Williams. I have used it personally and am in love with it. It is neutral but depending on what furniture and accessories you pair it with, projects a hint of color. It might be a good compromise between gray and the eggplant that's being suggested, as it can give off a plum effect in the right light. Here it is used in a dining room.
---
| | | |
| --- | --- | --- |
| RE: Revere Pewter for my dining room | | |
lacatx - evening dove too blue :( for our taste. what are some eggplant colors I could look at? I want to minimize the pink in the furniture as much as possible. sorry, feel like this post is starting to ramble, very confused!!
---
| | | |
| --- | --- | --- |
| RE: Revere Pewter for my dining room | | |
Squirrel tail appears to have a bit of green to it, which might work as a compliment to the peachy in your wood tone. It is also a bit darker which will give you a little more contrast.

As for a purple -- what about something like Plum Martini -- not too purple, and grayed down? Or Night Shade -- which is as much brown as purple? Carbon Copy is almost a charcoal and is shown with Edgecomb. That give you three different directions to look. I'm sure you will get some other suggestions too.
---
| | | |
| --- | --- | --- |
| RE: Revere Pewter for my dining room | | |
I think Behr- Creek bend 790F-4 or the darker Behr- Amazon stone 790F-5 would be perfect. I know how this dining set works with certain colors being that I owned one like it. These are lovely grays!
I painted the next shade up from the above colors in the med tone "Behr Porpoise" in my sons house and did the half bath/ utility room in Revere Pewter. They very nice together! The Porpoise is in the above color family but I think you need at least one shade darker, Creek or Amazon. Don't be afraid of the chits looking purple, I have used these shades and only the first two lightest colors in the chit "Suble Touch and Gentle Rain show a bit more purple than gray in certain light. The others do not. The darker shades are a gorgeous gray with depth.
---
Post a Follow-Up
Please Note: Only registered members are able to post messages to this forum.
If you are a member, please log in.
If you aren't yet a member, join now!
---
Return to the Home Decorating & Design Forum
Information about Posting
You must be logged in to post a message. Once you are logged in, a posting window will appear at the bottom of the messages. If you are not a member, please register for an account.
Please review our Rules of Play before posting.
Posting is a two-step process. Once you have composed your message, you will be taken to the preview page. You will then have a chance to review your post, make changes and upload photos.
After posting your message, you may need to refresh the forum page in order to see it.
Before posting copyrighted material, please read about Copyright and Fair Use.
We have a strict no-advertising policy!
If you would like to practice posting or uploading photos, please visit our Test forum.
If you need assistance, please Contact Us and we will be happy to help.

Learn more about in-text links on this page here