Return to the Home Decorating Forum
|
Post a Follow-Up
---
| | | |
| --- | --- | --- |
| What to put over sofa--long wall? | | |
Posted by
love2weed
(
My Page
) on
Fri, Oct 7, 11 at 8:08
Yet again another post about this darn FR--here's a pic of FR before we started our "update". The sofa wall has a tapestry hanging over the sofa--I'm getting rid of it--it's too dark and I'm trying to lighten up the room. I'm going to move the sofa down the wall and put the leather chair in the corner by the fireplace. The sofa will not be centered and I'm at a loss on what to put on that wall where the sofa and the chair will be. The wall is 18 ft long--pictures tend to look small.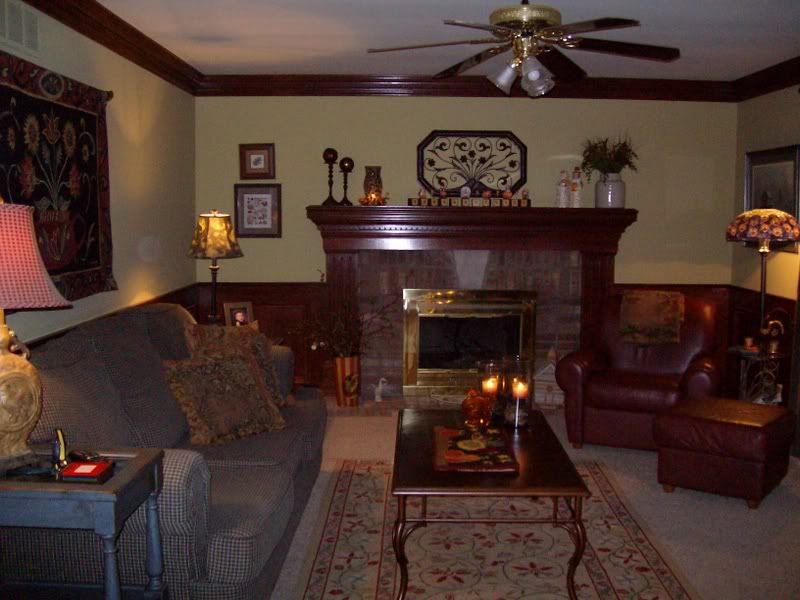 ---
Follow-Up Postings:
| | | |
| --- | --- | --- |
| RE: What to put over sofa--long wall? | | |
This isn't the most creative of ideas, but I would put a large landscape over the sofa, one with lighter tones and maybe a metallic frame - gold or maybe ORB. Find one that covers a substantial distance of the sofa - 3/4 to 7/8 the length of the sofa.

I notice that all of your lamps aim down. Have you considered a torchiere lamp that would shoot some light up to the ceiling?
---
| | | |
| --- | --- | --- |
| RE: What to put over sofa--long wall? | | |
I'm okay with a landscape over the sofa, but if I move the sofa down the wall (away from the the fireplace end), I just don't know what to do with the other end. That long wall was a problem until I put up the large tapestry--but I'm so over that dark thing.
---
| | | |
| --- | --- | --- |
| RE: What to put over sofa--long wall? | | |
I sure don't have an answer--still haven't settled on what to put over my own sofa-- but a photo showing the sofa wall straight-on might give others more ideas about what might work. Maybe if you arrange the furniture the way you plan to and take a photo with the whole length of wall showing, folks can weigh in?
---
| | | |
| --- | --- | --- |
| RE: What to put over sofa--long wall? | | |
What's across from the sofa?

I have a large mirror flanked by cande sconces, but I have a triple window across from the sofa so the mirror really helps some light bounce around in a room that trends toward darker.
---
Post a Follow-Up
Please Note: Only registered members are able to post messages to this forum.
If you are a member, please log in.
If you aren't yet a member, join now!
---
Return to the Home Decorating Forum
Information about Posting
You must be logged in to post a message. Once you are logged in, a posting window will appear at the bottom of the messages. If you are not a member, please register for an account.
Please review our Rules of Play before posting.
Posting is a two-step process. Once you have composed your message, you will be taken to the preview page. You will then have a chance to review your post, make changes and upload photos.
After posting your message, you may need to refresh the forum page in order to see it.
Before posting copyrighted material, please read about Copyright and Fair Use.
We have a strict no-advertising policy!
If you would like to practice posting or uploading photos, please visit our Test forum.
If you need assistance, please Contact Us and we will be happy to help.

Learn more about in-text links on this page here