Return to the Home Decorating & Design Forum
|
Post a Follow-Up
---
| | | |
| --- | --- | --- |
| Is too much brown a bad or good thing? Need opinions | | |
Posted by
weezkreegz
(
My Page
) on
Mon, Sep 24, 12 at 23:49
Hi. I absolutely would love get your feedback on my couch dilemma.

We just moved into a house - and had medium to dark hardwoods installed. We have existing dark furniture (espresso colored) media cabinet, side tables, and accents like frames etc.

My question is this....we don't know if a brown leather couch will be too much BROWN in our family room. Is it brown overload? Or should we get the black leather couch?!?! So torn and need advice - this is keeping me awake at night ;) I know we can use color accents - but wondering if too much brown is a bad or good thing. The black couch would be a bit starker/colder - but at least it would break up the brown.

THANKS!!! I'll try and post pics.

(a little history...need a leather couch since baby is on the way and don't want to deal with microfiber or cotton for cleanup. Also, don't like light color leather. So only choice is chocolate brown or black leather couch)
---
Follow-Up Postings:
| | | |
| --- | --- | --- |
| RE: Is too much brown a bad or good thing? Need opinions | | |
Perhaps you should look at distressed brown, it's would give a contrast to all the brown you already have, of course there are lots of leather sofa's in dark caramel, dark green, my favorite cordovan, dark mustard. Google leather sofas and then click on google images and you'll see plenty. I don't think black would work at all.
---
| | | |
| --- | --- | --- |
| RE: Is too much brown a bad or good thing? Need opinions | | |
Espresso is a black brown. Just go lighter brown for the sofa. That will add contrast. Once you install drapes and other accessories, your doubts will go away.
---
| | | |
| --- | --- | --- |
| RE: Is too much brown a bad or good thing? Need opinions | | |
We have dark brown floors, dark brown furniture, dark brown sofa and dark brown woodstove, and we added dark brown ottomans, but I don't think it's too much as there's other stuff going on in the room. You can lighten it up with walls, accessories, window treatments and carpeting. Also there is variation in the shades of brown so it adds a bit more interest.
BTW, this is definitely not something to lose sleep over....war, hunger, disease, suffering, sure....brown sofa, not so much.
---
| | | |
| --- | --- | --- |
| RE: Is too much brown a bad or good thing? Need opinions | | |
No, it is not too much brown and I would not get a black sofa.
---
| | | |
| --- | --- | --- |
| RE: Is too much brown a bad or good thing? Need opinions | | |
I wouldn't buy a sofa because you're afraid a baby could mess it up. I don't know of any baby that ruined a sofa. I think it's a misconception.

I do think a brown or black sofa would be overload on darkness and it will eventually drive you nuts! Not even throw pillows will lighten up the room.

Can you show a picture of the room?
---
| | | |
| --- | --- | --- |
| RE: Is too much brown a bad or good thing? Need opinions | | |
Have you thought about a medium toned grey? Maybe w/a bit of a pebbled texture. I think Clayton Marcus has some pretty grey tones. I had a medium brown leather sofa and chair for years, loved it! It can have limitations on what colors you use w/it to make things pop! I don't think I would like a black sofa - unless your space is very modern.

Annie - Is your paint color in that room Philadelphia Cream? If not, can you share the color? Is your trim white or cream? The room is light and very pretty!
---
| | | |
| --- | --- | --- |
| RE: Is too much brown a bad or good thing? Need opinions | | |
I have a leather sectional and 2 young children. I agree with the above posters that a baby probably won't mess up your couch. Toddlers on the other hand, they run around with toys and could definitely scratch a leather couch. Books with hard corners are a huge culprit too. So if you're going leather, I would definitely consider distressed. Another thing to consider with leather, a lot of jeans these days have zippers on the back pockets and those will scratch leather.
---
| | | |
| --- | --- | --- |
| RE: Is too much brown a bad or good thing? Need opinions | | |
Annie - yes, agree - more important things to lose sleep over. I think I'm just in the 'nesting mode' getting ready for baby.

I'll post pics later. Does anyone have instructions on how to post pics...sorry, i'm new to this.

Thanks for the feedback everyone.
---
| | | |
| --- | --- | --- |
| RE: Is too much brown a bad or good thing? Need opinions | | |
My favorite rooms are various brown/beige tones. It's soothing to me, but it's not everyone's cup of tea (on here.) If it's pleasing to your eye, do it.

My living room is a dark brown leather sectional, dark brown hardwood and various other beige shades and textures mixed in. We love the room. I should add that the room has white cabinetry and gets plenty of light, so it doesn't ever feel too dark.
---
| | | |
| --- | --- | --- |
| RE: Is too much brown a bad or good thing? Need opinions | | |
Too much of anything is not good....but what you have described is not too much brown. surely you will have an area rug, wall color, draperies, lamps and accessories which will provide a contrast.
And my advice is, if you are ordering your furniture rather than buying off the floor, ask for the sample of possible leathers and take it home and try to stain, scratch and poke the sample you are considering. That will tell you how fragile it is.
---
| | | |
| --- | --- | --- |
| RE: Is too much brown a bad or good thing? Need opinions | | |
Thanks jeannie01. Glad you like it.

The walls are BM Wilmington Tan, the ceiling is BM Powell Buff and the trim is BM Bone.

The way I post pics is to copy the image address... such as xxx.jpg .... and put it in a phrase as follows, replacing the ( ) with the pointy brackets ... less than and greater than signs... instead

(img src="xxx.jpg")

if the picture comes out too wide, then add a width parameter as follows

(img src="xxx.jpg" width="500")
---
| | | |
| --- | --- | --- |
| RE: Is too much brown a bad or good thing? Need opinions | | |
My advice is to go with a classic brown leather sofa. It will ever go out of style and you can dress it up or down with throw pillows of just about any color. Our family room has brown brick floors. Until recently it had a wonderful brown leather sofa and other brown furniture as well. I lightened things up with throw pillows (prints with yellow, red or green backgrounds) cream colored walls, framed artwork, and other bright accents. Over the years I changed the artwork, pillow covers, throws and lamps but always loved that room. Our sofa lasted through 2 kids and several dogs. Loved it! Here's a pic:
Lynn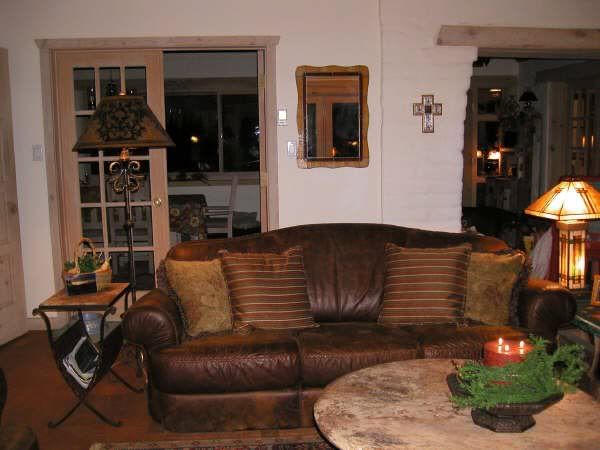 ---
| | | |
| --- | --- | --- |
| RE: Is too much brown a bad or good thing? Need opinions | | |
I had your exact problem and it did end up being brown overload. Super dark brown hardwoods + super dark brown couches = I felt like I was living in the inside of a shoe. In addition to the color, my couches were HUGE chesterfields (50" deep!) with really tall arms/back so that was a factor in their overwhelming my room. If I had lighter floors and added a white area rug like I had previously it would have been OK, but now we have black dogs so I needed a medium to dark colored patterned rug to hide the dirt they track in from the backyard plus the ridiculous amounts of fur the German Shepherd mix sheds :)

When I bought new couches I went for a cognac/camel color which you say you do not like. I would say that if you can have a pale area rug so the dark couches are not resting on the dark floor to make a sea of brown, and/or the couches are not so large they really overwhelm the room, you will be OK.
---
| | | |
| --- | --- | --- |
| RE: Is too much brown a bad or good thing? Need opinions | | |
Weez, there are two ways to post pictures that I know of.

1. See the gray box under "Post a Follow-Up?" If your picture is downloaded on your computer, click on "Browse" to the right of the gray box. It will bring up all the pictures on your computer.

Then click on the picture (maybe a double click) and the jpg will appear in the box.

Click on "Preview Message" so you can see if the picture shows up.

Unfortunately, doing it this way you can only add one picture to a reply.

The other way I know is Photobucket, where you copy the URL and add it to your post.
---
| | | |
| --- | --- | --- |
| RE: Is too much brown a bad or good thing? Need opinions | | |
I think the area rug is the key here. If you have dark floors, and a light rug, I think it'd be a nice contrast to the dark brown sofa. I think this would look better if you get a large rug so that all of your furniture is able to be placed on it, as opposed to only the front legs, etc. That way the couch would be completely surrounded by light rug, which would be surrounded by dark floor. Then you can do what you like with accessories and throw pillows. I agree with the others that it can be tricky to mix brown and black.

This photo is an example of the light rug contrasted with dark floors and sofa - not exactly the same colors you're talking about, but you get the idea.
Here is a link that might be useful: Example
---
| | | |
| --- | --- | --- |
| RE: Is too much brown a bad or good thing? Need opinions | | |
I think brown hardwood floors and a brown leather sofa and brown tables are fine, as long as they are balanced with some other colors/tones in the rooms. Some people do like the look of brown on brown on beige on tan, but it's too much brown for me. I agree with the others that adding other non-brown elements (paint, drapes, rug, other furniture pieces) can go a long way to preventing brown overload. I personally would avoid beige walls and beige rugs. Otherwise, it sounds like your selections are all very classic color choices.
---
| | | |
| --- | --- | --- |
| RE: Is too much brown a bad or good thing? Need opinions | | |
Great advice! thank you everyone. The pictures are on my phone, and my phone just died - so i can't post pics while at work.

I think the key here is a big rug and lots of other colors though. I'm spending a lot of money on a sofa and just want it to be right, so maybe I'm over thinking it - the sofa came in brown and black. Maybe a black leather sofa would be a nice alternate?!?!

Appreciate the feedback.
---
| | | |
| --- | --- | --- |
| RE: Is too much brown a bad or good thing? Need opinions | | |
My current color scheme is light brown walls, medium brown hardwood, brown upholstered furniture, and mostly dark/medium dark wood tones. Might seem like a lot of brown but the ceilings are a lighter tone of the walls; the rugs patterned with brown, cream, green, red, blue; the curtains cream; pillows various colors depending on the season; and white trim. I also have a lot of art, wall decor, and decorative accessories that provide color. There are lots of windows with views and trees and a skylight so it's not dark during daylight. There are various types of lighting so it can be dark and moody or bright at night depending on how many lights I turn on.

Brown is good if you like it and can be used as an effective backdrop for color. It's not so good if you don't like it.

I like the combination of brown and black but I think one needs to use a lot of white with it. A patterned fabric with brown and black would help marry the two.

In your situation where the brown wood tones are very dark I think I'd choose a medium brown sofa and use a color on the walls such as sage green, gold, or even a greyed blue tone. Before choosing wall color find a patterned fabric with cream background and color of your choice and coordinate wall color to that.

BTW a good quality microfiber is very easy to clean and doesn't absorb spills or stains. There is a lot of poor quality microfiber around tho and that's why it gets a bad rap.
---
| | | |
| --- | --- | --- |
| RE: Is too much brown a bad or good thing? Need opinions | | |
I don't know why your sofa has to be black or brown. I could live for decades with a sapphire blue or red sofa.
I had a paisley blue sofa years ago that I adored, when I sold it ten years later, it was snapped up.
---
| | | |
| --- | --- | --- |
| patterned fabric | | |
Meant to say use the patterned fabric for WT's but you probably figured that out!
---
| | | |
| --- | --- | --- |
| RE: Is too much brown a bad or good thing? Need opinions | | |
Depending on the style of your room and style of sofa, I'd have to say NO on a black leather sofa. Again depending on style of sofa, brown leather can be timeless.

I currently have dark brown leather LR funiture, couch and chair and when I'm ready to get new furniture I plan to get brown leather again, just a different style.
---
| | | |
| --- | --- | --- |
| RE: Is too much brown a bad or good thing? Need opinions | | |
I KNOW I had updated pictures of our Cowboy Chic den but can't for the life of me find them. The 24x26 room isn't a brown brown, more of a orangy brown. Walls and sectional pretty much the same color. The carpet is an antelope print (that's what it's called but it's really an axis deer print, same as the skin on the coffee table)with brown in it. My punches of color are the pillows on the sectional. They're all the same style pillow in brick red, sage green, brownish green, orange, dark brown and gold. Even the tile is close in color and dark brown wood coffee table and end tables. This is the only picture I can find...oh, AND the ceiling in this large room is wood too. I think it's a personal preference whether or not you think it's too much of the same color. We've got a 10 foot long white Austin Chopped stone fireplace (goes all the way to the ceiling) that breaks up the color and plenty of other accessories on the walls (plus 10 windows).
Monotone-ish den
Vaulted ceiling
Couch. We've had THREE couches in this den in 9 years :o
The first leather sectional broke (handle) and was replaced under an extended warranty. The second leather set, I never liked. It was uncomfortable and too formal looking for our room. The third time was the charm and it's NOT leather. It's our favorite by far! We have two grandchildren that are here as often as they can talk their momma into letting them come over LOL At least 3 days a week. Even tho food and drink isn't allowed in there and shoes are supposed to come off at the door, stuff happens. Hands don't get wiped or they'll sneak a leaky sippy cup in there while I'm not looking. This is some kind of microfiber that at first glance and especially at a distance, looks like leather. A wipe with a damp microfiber cloth is all it takes to clean it. It's definitely a miracle fabric :) And the baby on the couch...he's the best accessory :)
---
| | | |
| --- | --- | --- |
| RE: Is too much brown a bad or good thing? Need opinions | | |
I love brown sofas more than black. I have a reddish brown sofa, and regular brown leather antique chair, and a cream
leather chair that we just re-upholstered. Everything in my family room is brown. I love brown; all colors go with brown.

Just so you know, the leather you have on your current sofa has some value, tell your upholster you want it back.
We covered our small chair in the FB with the leather we stripped off our old leather sofa.

This is the chair we re-upholstered in the leather from our old sofa. The chair is 100 yrs plus.

---
Post a Follow-Up
Please Note: Only registered members are able to post messages to this forum.
If you are a member, please log in.
If you aren't yet a member, join now!
---
Return to the Home Decorating & Design Forum
Information about Posting
You must be logged in to post a message. Once you are logged in, a posting window will appear at the bottom of the messages. If you are not a member, please register for an account.
Please review our Rules of Play before posting.
Posting is a two-step process. Once you have composed your message, you will be taken to the preview page. You will then have a chance to review your post, make changes and upload photos.
After posting your message, you may need to refresh the forum page in order to see it.
Before posting copyrighted material, please read about Copyright and Fair Use.
We have a strict no-advertising policy!
If you would like to practice posting or uploading photos, please visit our Test forum.
If you need assistance, please Contact Us and we will be happy to help.

Learn more about in-text links on this page here